Should you skip breakfast? It depends on your weight
Knowing how fat responds to when we eat could lead to better weight loss programs.
06 December, 2017
There are all kinds of new diets out there where one skips meals, intermittently fasts, or only eats between certain hours. These have been hailed for weight loss. But does it work for everyone? The most common meal to omit is breakfast. Yet, the research conducted so far has conflicting results as to whether or not this is a good idea.
---
One study found that skipping breakfast increases the risk of atherosclerosis, or the "hardening of the arteries." This is one of the hallmarks of heart disease, as it can lead to heart attack or stroke. Another study on teenage girls ages 11-15, found that skipping breakfast had no ill health effects and in fact had one benefit, consuming fewer calories. Then there's a recent study published in the Journal of Nutrition, which found that eating breakfast helped people better control their BMI.
Scientists at the University of Bath in the UK, their heads spinning from all these conflicting reports, decided to look into the matter themselves. They wanted to find out exactly how skipping breakfast influenced weight loss, and what metabolic mechanisms are at play. What they found was more nuanced than previous studies—skipping breakfast can be healthy for thin people, but isn't so great for the obese. Their findings were published in the Journal of Physiology.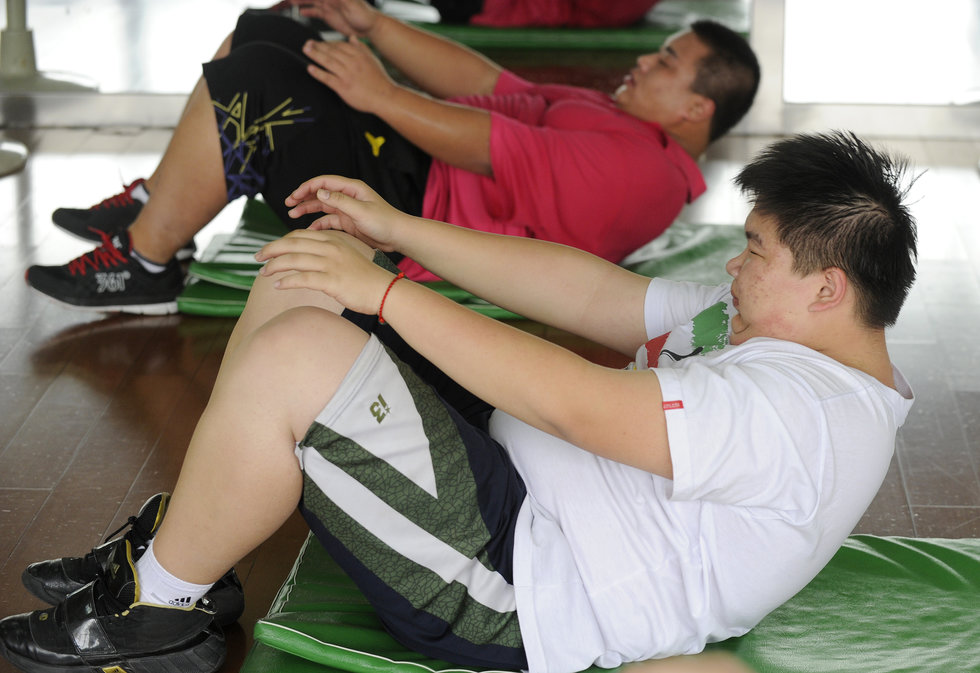 While lean people saw a weight loss benefit from skipping breakfast, the obese did not. Getty Images.
Javier Gonzalez, Ph.D. led the study. He and his team recruited 49 individuals. 29 were lean and 20 obese, which was determined by each person's BMI. A mix of thin and obese volunteers were put into one of two groups. The first consumed breakfast every day before noon and the second skipped eating until noon. The study went on for six weeks. Researchers also examined participants' heart health, metabolic health, body fat distribution, and appetite responses. In addition, they monitored 44 genes responsible for insulin sensitivity.
Each day of the study, participants donated two subcutaneous abdominal adipose tissue (SCAT) samples. This took place before and after either morning fasting or breakfast consumption. SCAT is a type of abdominal fat. The samples were evaluated for metabolic mechanisms. Gonzalez said, "[B]y better understanding how fat responds to what and when we eat, we can more precisely target those mechanisms."
For thin people, skipping breakfast actually helps activate certain genes which burn fat and boost the metabolism. But for the obese, this wasn't the case. Skipping breakfast actually had a negative effect on their health. Obese volunteers who skipped breakfast absorbed much less glucose than those who were lean, meaning their fat cells may have become more insulin-resistant.
Gonzalez and colleagues believe this might be a protective mechanism, helping fat cells avoid taking in more glucose than needed and storing it as fat. One limitation of the study was the type of breakfast participants consumed. It was high-carb. Would a high protein breakfast say, give the same response? Gonzalez says future studies will look at what impact exercise and eating breakfast has on fat storage.
To learn more about diet and nutrition, click here:
Related Articles
How a cataclysm worse than what killed the dinosaurs destroyed 90 percent of all life on Earth.
Credit: Ron Miller
Surprising Science
While the demise of the dinosaurs gets more attention as far as mass extinctions go, an even more disastrous event called "the Great Dying" or the "End-Permian Extinction" happened on Earth prior to that. Now scientists discovered how this cataclysm, which took place about 250 million years ago, managed to kill off more than 90 percent of all life on the planet.
A new study discovers the "liking gap" — the difference between how we view others we're meeting for the first time, and the way we think they're seeing us.
New acquaintances probably like you more than you think. (Photo by Simone Joyner/Getty Images)
Surprising Science
We tend to be defensive socially. When we meet new people, we're often concerned with how we're coming off. Our anxiety causes us to be so concerned with the impression we're creating that we fail to notice that the same is true of the other person as well. A new study led by Erica J. Boothby, published on September 5 in Psychological Science, reveals how people tend to like us more in first encounters than we'd ever suspect.
Using advanced laser technology, scientists at NASA will track global changes in ice with greater accuracy.
Firing three pairs of laser beams 10,000 times per second, the ICESat-2 satellite will measure how long it takes for faint reflections to bounce back from ground and sea ice, allowing scientists to measure the thickness, elevation and extent of global ice
popular
Leaving from Vandenberg Air Force base in California this coming Saturday, at 8:46 a.m. ET, the Ice, Cloud, and Land Elevation Satellite-2 — or, the "ICESat-2" — is perched atop a United Launch Alliance Delta II rocket, and when it assumes its orbit, it will study ice layers at Earth's poles, using its only payload, the Advance Topographic Laser Altimeter System (ATLAS).
Big think's weekly newsletter.
Get smarter faster from the comfort of your inbox.
See our newsletter privacy policy
here
Most Popular
Most Recent
Big think's weekly newsletter.
Get smarter faster from the comfort of your inbox.
See our newsletter privacy policy
here
© Copyright 2007-2018 & BIG THINK, BIG THINK EDGE,
SMARTER FASTER trademarks owned by The Big Think, Inc. All rights reserved.