By 2050, There Will Be More Plastic in the Ocean Than Fish
Fortunately, there are a few things you can do to help stop the flow of plastics into our oceans.
19 November, 2017
Deep-Sea Stingray (Shutterstock)
It's no secret that disposable plastics are strangling the ocean. Besides the so-called "Great Pacific Garbage Patch," estimated to be a million square miles, another in the South Pacific is just as impressive. It's bigger than Mexico. These aren't collections of plastic bottles and bags per se, but of microplastic particles which get pressed together, making them really hard to clean up.
---
How prevalent is the plastic problem? Consider there are a number of garbage patches throughout the world. Over eight million tons of plastic enter the waste stream each year. 91% of it isn't recycled. That means it sits in landfills and eventually makes its way to the ocean. It's also long-lived. Plastic takes 400 years to break down.
There's estimated to be 6.3 billion metric tons of plastic waste on Earth. By the middle of this century ton for ton, they'll be more plastic in the ocean than fish. All of this we've known. What we haven't know until now, is how deep this oil-based refuse has sunk.
While most of the microplastic collects or is peppered throughout the surface, a study probing creatures from the deepest parts of the ocean found that many if not most of the organisms there had ingested plastic. Even our deepest places aren't safe. Each of the world's deepest ocean trenches were probed, all of them over seven miles deep (7-10 km). These are the Mariana, New Hebrides, Japan, Izu-Bonin, Peru-Chile, and Kermadec trenches.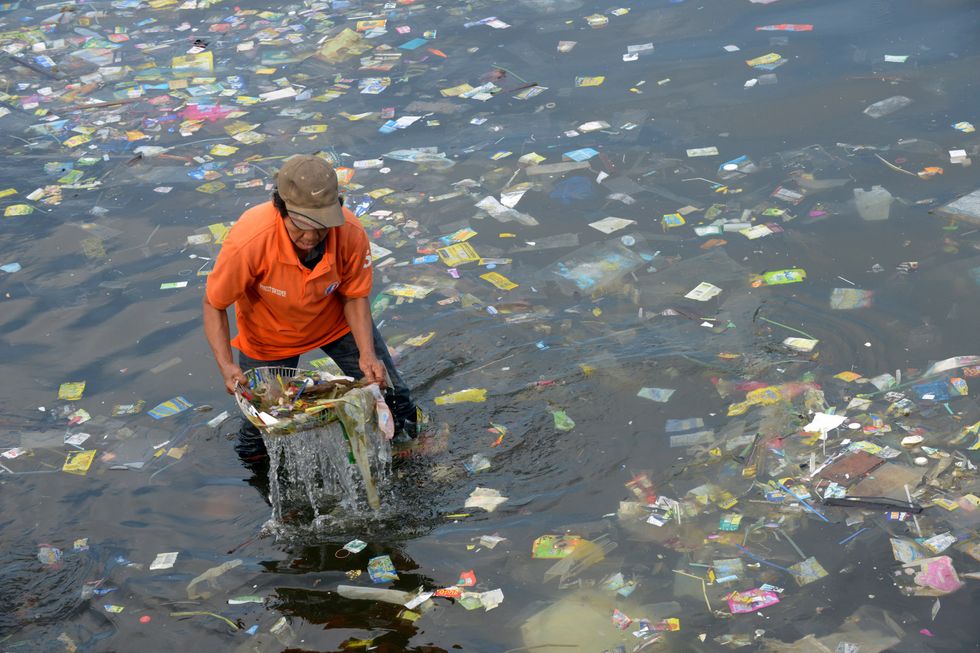 Plastic refuse is choking the ocean both above the surface and within its deepest depths. (Getty Images)
The study was led by Dr. Alan Jamieson of Newcastle University in the UK. He developed a special free fall "lander" specifically designed for the mission. It was dropped over 200 times.
90 deep sea creatures were captured and examined in total. Plastic ingestion ranged from 50-100% of specimens across all trenches. The Mariana Trench for instance—the world's deepest at 36,070 feet (10,994 meters)—saw 100% of organisms had ingested plastic or semi-synthetic fibers. 
Dr. Jamieson explained,
Deep-sea organisms are dependent on food raining down from the surface, which in turn brings many adverse components, such as plastic and pollutants with it. The deep sea is not only the ultimate sink for any material that descends from the surface, but it is also inhabited by organisms well adapted to a low food environment and these will often eat just about anything.
To see how specimens were collected, click here:
Credit: Newcastle University.
Jamieson and colleagues found lots of microfibers in the stomachs of these organisms. These come from textile products made of Rayon, Ramie, Lyocell, and more, which are used in consumer plastics and certain kinds of clothing, such as active wear. According to Jamieson, "The results were both immediate and startling." He added, "These observations are the deepest possible record of microplastic occurrence and ingestion, indicating it is highly likely there are no marine ecosystems left that are not impacted by anthropogenic debris."
Furthermore, the study shows that it isn't an isolated but a global problem. Jamieson said, "We felt we had to do this study given the unique access we have to some of the most remote places on earth, and we are using these samples to make a poignant statement about mankind's legacy."
We all must pitch in to help stem the flow of plastics into the ocean. What can you do? First, purchase clothing that's made of 100% natural material, such as cotton, silk, hemp, wool, linen, or cashmere. Stay away from polyester, nylon, rayon, acrylic, or anything resistant to static or stains. Disposable plastic bags are common in the ocean and kill species. Purchase reusable shopping bags instead. Also, steer clear of disposable plastic water bottles and get a sturdy, reusable one.
Be sure and recycle plastic as much as you can, and when you have an alternative, consider purchasing the non-plastic item made of natural materials, instead. Also, try and reuse items or repurpose them as much as possible. The green mantra is: reduce, reuse, recycle. Reduce the amount of waste you produce, reuse and re-purpose items as much as possible, before throwing them away, and when you do toss them, be sure and recycle as much as you can.
To learn more about the scope of the plastic problem and some larger scale solutions to, click here:
Universities claim to prepare students for the world. How many actually do it?
Sponsored by Charles Koch Foundation
Many university mission statements do not live up to their promise, writes Ben Nelson, founder of Minerva, a university designed to develop intellect over content memorization.
The core competencies that students need for success—critical thinking, communication, problem solving, and cross-cultural understanding, for example—should be intentionally taught, not left to chance.
These competencies can be summed up with one word: wisdom. True wisdom is the ability to apply one's knowledge appropriately when faced with novel situations.
This is what the world will look like, 250 million years from now
On Pangaea Proxima, Lagos will be north of New York, and Cape Town close to Mexico City
Surprising Science
To us humans, the shape and location of oceans and continents seems fixed. But that's only because our lives are so short.
A new study may help us better understand how children build social cognition through caregiver interaction.
Personal Growth
Scientists speculate imitation helps develop social cognition in babies.
A new study out of Lund University shows that six-month-olds look and smile more at imitating adults.
Researchers hope the data will spur future studies to discover what role caregiver imitation plays in social cognition development.
Researchers at UT Southwestern noted a 47 percent increase in blood flow to regions associated with memory.
Photo: Johannes Eisele/AFP via Getty Images
Surprising Science
Researchers at UT Southwestern observed a stark improvement in memory after cardiovascular exercise.
The year-long study included 30 seniors who all had some form of memory impairment.
The group of seniors that only stretched for a year did not fair as well in memory tests.
Videos
According to a man that knows more than 20 languages, the key is to start in the middle.
Scroll down to load more…