By 2050, There Will Be More Plastic in the Ocean Than Fish
Fortunately, there are a few things you can do to help stop the flow of plastics into our oceans.
19 November, 2017
It's no secret that disposable plastics are strangling the ocean. Besides the so-called "Great Pacific Garbage Patch," estimated to be a million square miles, another in the South Pacific is just as impressive. It's bigger than Mexico. These aren't collections of plastic bottles and bags per se, but of microplastic particles which get pressed together, making them really hard to clean up.
---
How prevalent is the plastic problem? Consider there are a number of garbage patches throughout the world. Over eight million tons of plastic enter the waste stream each year. 91% of it isn't recycled. That means it sits in landfills and eventually makes its way to the ocean. It's also long-lived. Plastic takes 400 years to break down.
There's estimated to be 6.3 billion metric tons of plastic waste on Earth. By the middle of this century ton for ton, they'll be more plastic in the ocean than fish. All of this we've known. What we haven't know until now, is how deep this oil-based refuse has sunk.
While most of the microplastic collects or is peppered throughout the surface, a study probing creatures from the deepest parts of the ocean found that many if not most of the organisms there had ingested plastic. Even our deepest places aren't safe. Each of the world's deepest ocean trenches were probed, all of them over seven miles deep (7-10 km). These are the Mariana, New Hebrides, Japan, Izu-Bonin, Peru-Chile, and Kermadec trenches.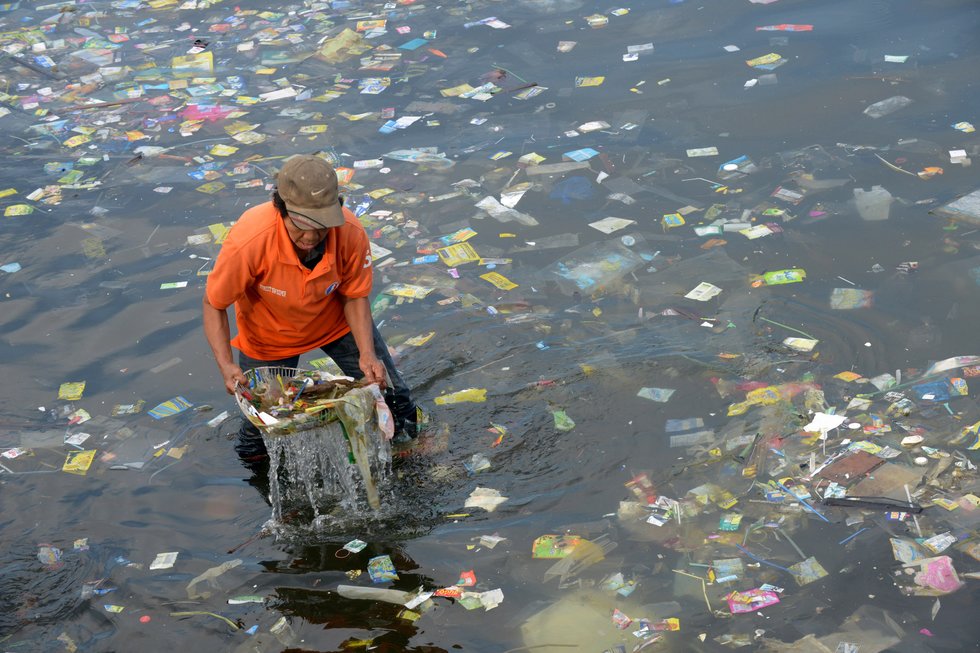 Plastic refuse is choking the ocean both above the surface and within its deepest depths. (Getty Images)
The study was led by Dr. Alan Jamieson of Newcastle University in the UK. He developed a special free fall "lander" specifically designed for the mission. It was dropped over 200 times.
90 deep sea creatures were captured and examined in total. Plastic ingestion ranged from 50-100% of specimens across all trenches. The Mariana Trench for instance—the world's deepest at 36,070 feet (10,994 meters)—saw 100% of organisms had ingested plastic or semi-synthetic fibers. 
Dr. Jamieson explained,
Deep-sea organisms are dependent on food raining down from the surface, which in turn brings many adverse components, such as plastic and pollutants with it. The deep sea is not only the ultimate sink for any material that descends from the surface, but it is also inhabited by organisms well adapted to a low food environment and these will often eat just about anything.
To see how specimens were collected, click here:
Credit: Newcastle University.
Jamieson and colleagues found lots of microfibers in the stomachs of these organisms. These come from textile products made of Rayon, Ramie, Lyocell, and more, which are used in consumer plastics and certain kinds of clothing, such as active wear. According to Jamieson, "The results were both immediate and startling." He added, "These observations are the deepest possible record of microplastic occurrence and ingestion, indicating it is highly likely there are no marine ecosystems left that are not impacted by anthropogenic debris."
Furthermore, the study shows that it isn't an isolated but a global problem. Jamieson said, "We felt we had to do this study given the unique access we have to some of the most remote places on earth, and we are using these samples to make a poignant statement about mankind's legacy."
We all must pitch in to help stem the flow of plastics into the ocean. What can you do? First, purchase clothing that's made of 100% natural material, such as cotton, silk, hemp, wool, linen, or cashmere. Stay away from polyester, nylon, rayon, acrylic, or anything resistant to static or stains. Disposable plastic bags are common in the ocean and kill species. Purchase reusable shopping bags instead. Also, steer clear of disposable plastic water bottles and get a sturdy, reusable one.
Be sure and recycle plastic as much as you can, and when you have an alternative, consider purchasing the non-plastic item made of natural materials, instead. Also, try and reuse items or repurpose them as much as possible. The green mantra is: reduce, reuse, recycle. Reduce the amount of waste you produce, reuse and re-purpose items as much as possible, before throwing them away, and when you do toss them, be sure and recycle as much as you can.
To learn more about the scope of the plastic problem and some larger scale solutions to, click here:
Malcolm Gladwell teaches "Get over yourself and get to work" for Big Think Edge.
Big Think Edge
Learn to recognize failure and know the big difference between panicking and choking.

At Big Think Edge, Malcolm Gladwell teaches how to check your inner critic and get clear on what failure is.

Subscribe to Big Think Edge before we launch on March 30 to get 20% off monthly and annual memberships.
We take fewer mental pictures per second.
Mind & Brain
Recent memories run in our brains like sped-up old movies.
In childhood, we capture images in our memory much more quickly.
The complexities of grownup neural pathways are no match for the direct routes of young brains.
A consortium of scientists and engineers have proposed that the U.S. and Mexico build a series of guarded solar, wind, natural gas and desalination facilities along the entirety of the border.
Credit: Purdue University photo/Jorge Castillo Quiñones
Politics & Current Affairs
The proposal was recently presented to several U.S. members of Congress.
The plan still calls for border security, considering all of the facilities along the border would be guarded and connected by physical barriers.
It's undoubtedly an expensive and complicated proposal, but the team argues that border regions are ideal spots for wind and solar energy, and that they could use the jobs and fresh water the energy park would create.
Melting ice is turning up bodies on Mt. Everest. This isn't as shocking as you'd think.
popular
Mt. Everest is the final resting place of about 200 climbers who never made it down.
Recent glacial melting, caused by global warming, has made many of the bodies previously hidden by ice and snow visible again.
While many bodies are quite visible and well known, others are renowned for being lost for decades.
The bodies that remain in view are often used as waypoints for the living. Some of them are well-known markers that have earned nicknames.
For instance, the image above is of "Green Boots," the unidentified corpse named for its neon footwear. Widely believed to be the body of Tsewang Paljor, the remains are well known as a guide point for passing mountaineers. Perhaps it is too well known, as the climber David Sharp died next to Green Boots while dozens of people walked past him- many presuming he was the famous corpse.
A large area below the summit has earned the discordant nickname "rainbow valley" for being filled with the bright and colorfully dressed corpses of maintainers who never made it back down. The sight of a frozen hand or foot sticking out of the snow is so common that Tshering Pandey Bhote, vice president of Nepal National Mountain Guides Association claimed: "most climbers are mentally prepared to come across such a sight."
Other bodies are famous for not having been found yet. Sandy Irvine, the partner of George Mallory, may have been one of the first two people to reach the summit of Everest a full thirty years before Edmund Hillary and Tenzing Norgay did it. Since they never made it back down, nobody knows just how close to the top they made it.
Mallory's frozen body was found by chance in the nineties without the Kodak cameras he brought up to record the climb with. It has been speculated that Irvine might have them and Kodak says they could still develop the film if the cameras turn up. Circumstantial evidence suggests that they died on the way back down from the summit, Mallory had his goggles off and a photo of his wife he said he'd put at the peak wasn't in his coat. If Irving is found with that camera, history books might need rewriting.
As Everest's glaciers melt its morbid history comes into clearer view. Will the melting cause old bodies to become new landmarks? Will Sandy Irvine be found? Only time will tell.
<div class="ad-tag"> <div class="ad-tag__inner"> <div class="gallery_ad"></div> </div> </div>
Big think's weekly newsletter.
Get smarter faster from the comfort of your inbox.
See our newsletter privacy policy
here
Most Popular
Most Recent
Big think's weekly newsletter.
Get smarter faster from the comfort of your inbox.
See our newsletter privacy policy
here
© Copyright 2007-2018 & BIG THINK, BIG THINK EDGE,
SMARTER FASTER trademarks owned by The Big Think, Inc. All rights reserved.