Big ideas.
Once a week.
Subscribe to our weekly newsletter.
Scientists Suspect Genetic Underpinnings to Human Monogamy
A groundbreaking study from a Harvard University team suggests that monogamy may be genetically programmed within some mammals.
21 April, 2017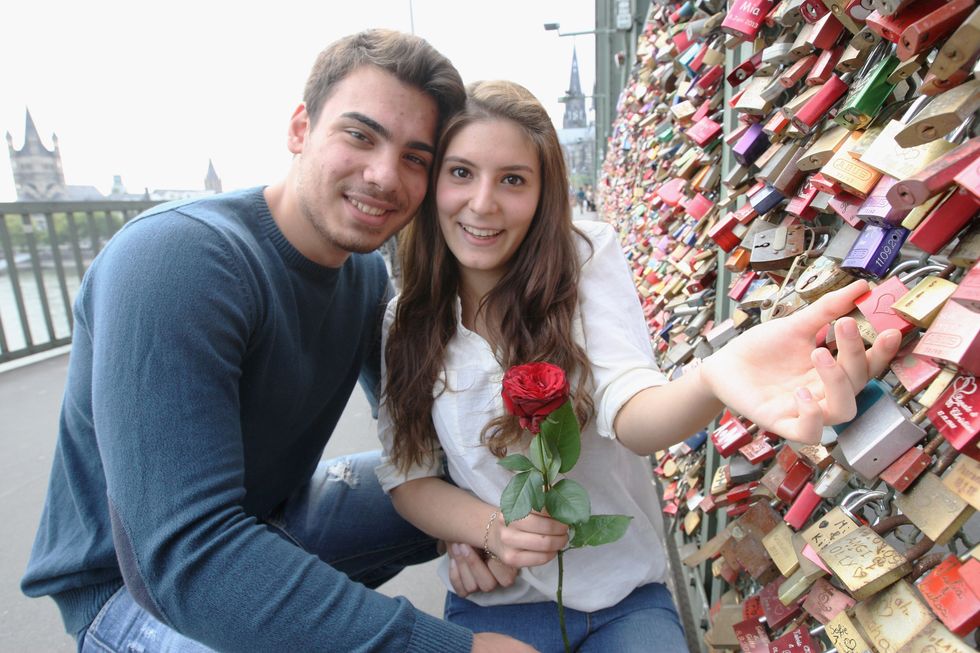 Cute couple. Getty Images.
Evolutionary anthropology has for some time tried to understand what natural relationship pattern humans follow, if there is one. In his book Sex at Dawn psychologist Christopher Ryan posits that our prehistoric ancestors practiced multiple kinds of sexual and romantic relationships.
---
Monogamy became a social institution and one that made sense. Polygamy was the most common practice in the ancient world, but it made women a commodity. Rich men could keep multiple wives for themselves, whole harems, which caused a lot of strife among others, fighting over those who were left. Monogamy however, eliminated this problem and helped seed societal stability.
Even so, multiple societies around the world still practice different forms of pair bonding other than monogamy. Even the most strident monogamist will admit that marriage can prove difficult. There's things like the four year slump and the seven year itch. Some evolutionary biologists have explained these as a cessation of the pair bonding process.
When we were hunter-gatherers, we traveled in tight-knit bands. Children were raised not only by their parents but by the whole village itself. When the child was old enough to be a little more independent, the parents were free to go off and explore other relationships.
According to renowned anthropologist and love expert Dr. Helen Fisher, there are actually four different, unique personality types when it comes to human love. Each is driven by a preponderance of a certain neurochemical or hormone in the person's system. And some are better suited for monogamy than others.
In this case, nature may have made some people naturally polyamorous and others monogamous, to ensure stability for raising children, while at other times, ensuring variety within the gene pool and to that end, aiding our survival.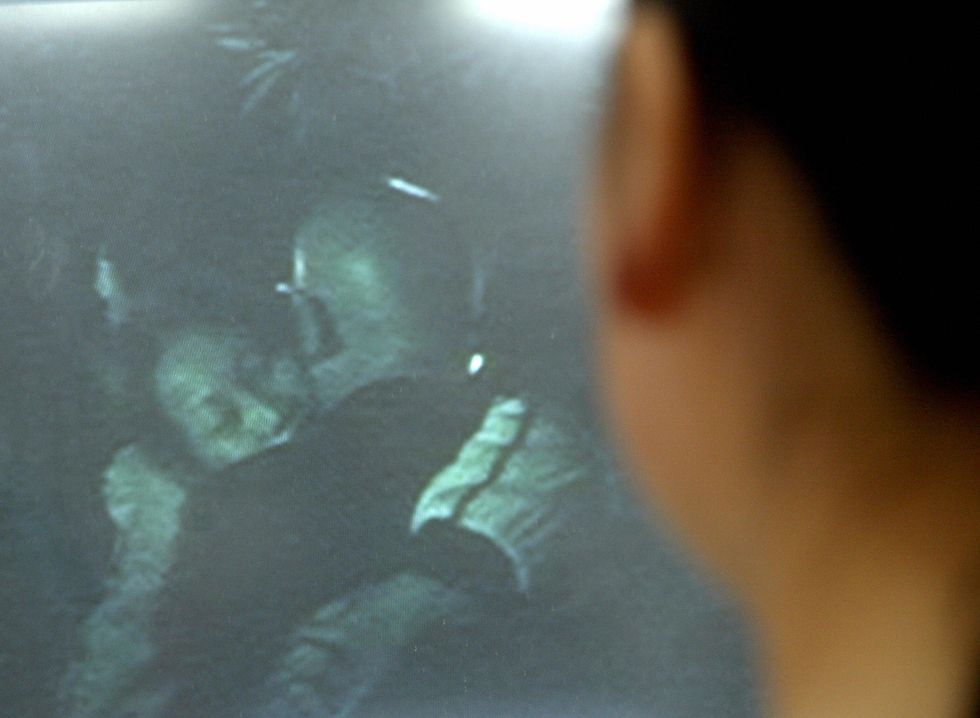 Is there an evolutionary basis for cheating? Getty Images.
Now, a groundbreaking study published in the journal Nature suggests that monogamy may be genetically programmed within us, or at least in mice, to ensure offspring receive proper care. "Parental care is essential for the survival of mammals, yet the mechanisms underlying its evolution remain largely unknown," the authors write. Researchers at Harvard University studied two breeds of mice to arrive at this conclusion.  
The first was the oldfield mouse (Peromyscus polionotus), one of those rare monogamous animals. Only 5% of mammals practice monogamy. Both sexes of this breed are known to be doting parents. They will, together, build an elaborate nest for their young and lick or clean them.
The second breed was the deer mouse (Peromyscus maniculatus), who are promiscuous by nature, and look upon their oldfield cousins as helicopter parents. In most mammalian relationships, males mate with as many females as possible, but do little to help raise the offspring. What researchers discovered, by looking at these two mouse breeds, was distinct genetic variations, which coincided with each type's relationship style.
Hopi E. Hoekstra was the senior author of the study. She's an evolutionary biologist. Though oldfield and deer mice won't mate in the wild, if a male and female are put into the same tank alone together, they will. The resulting offspring are healthy. It was a variety of such hybrids that led them to understand whether or not parenting and relationship styles are genetically influenced.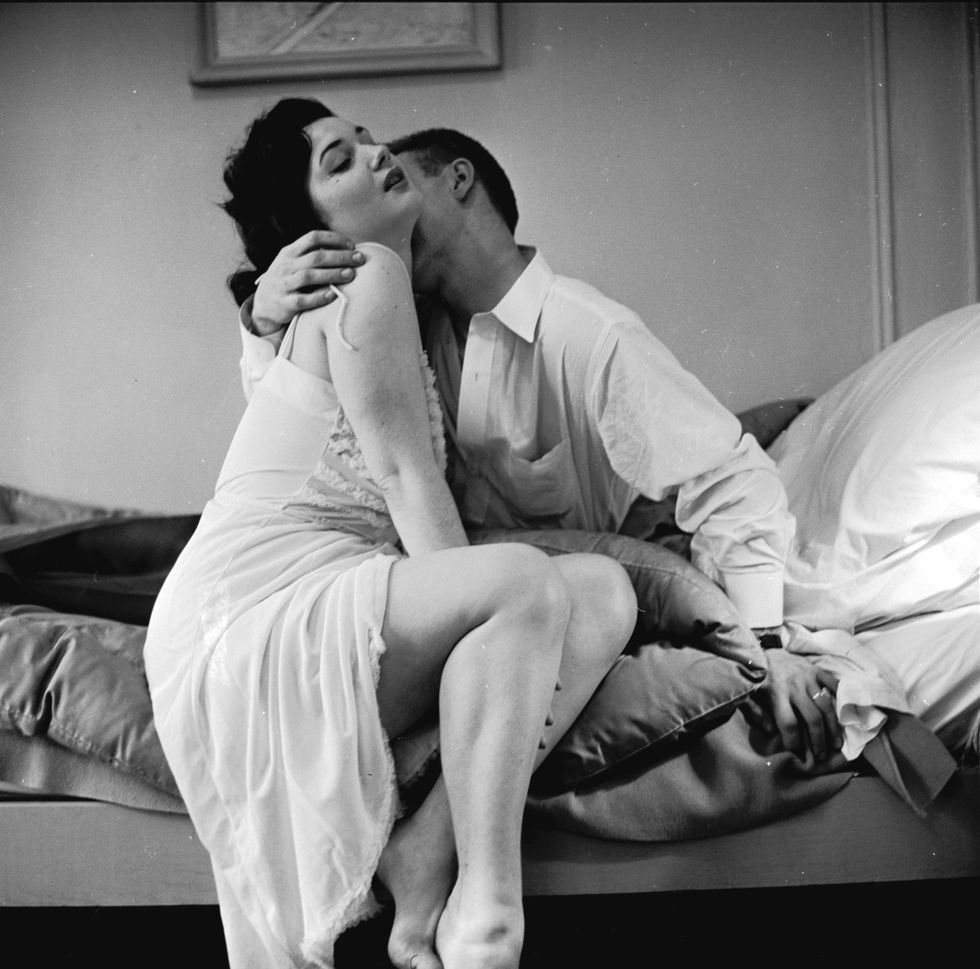 Is monogamy in our nature, polyamory, or a combination? Getty Images. 
In a previous study, Hoekstra and her team took the pups of each type of mouse and placed them in each other's nest. Researchers wanted to know if the mice acted this way because they were raised to tend to pups, or if each breed of mouse had an instinctual parenting style. The latter proved true. Once this was found, researchers went about investigating each type's DNA.
They bred five mice, who created 30 hybrid offspring. These were bred and another 769 hybrid mice were born. Researchers looked at the second and third generations, to see what type of parenting each took up. Some put in minimal effort, others were completely aloof, and others still attentive parents. This wide variety of styles allowed researchers to hone into the mice's DNA and find the differences. They came upon 12 areas or loci which were associated with parental instincts.
Researchers found that one loci controlled just one behavior, nest building, while others controlled more than one. These loci varied in terms of sex. One loci when activated, seemed to make fathers more attentive, but not mothers. Unfortunately, each loci carries many genes, so it's hard to hunt down which is responsible for what behavior.
In their most recent study, these Harvard researchers looked at one biochemical in particular, vasopressin. This is a bonding neurotransmitter in many species, including rats and humans. Deer mice contain three times the amounts as oldfield mice, however. To find out what role it played, researchers injected oldfield mice with it. Instead of elaborate nests, they acted more like deer mice, and made simple ones. Yet, in terms of care, they were still doting parents.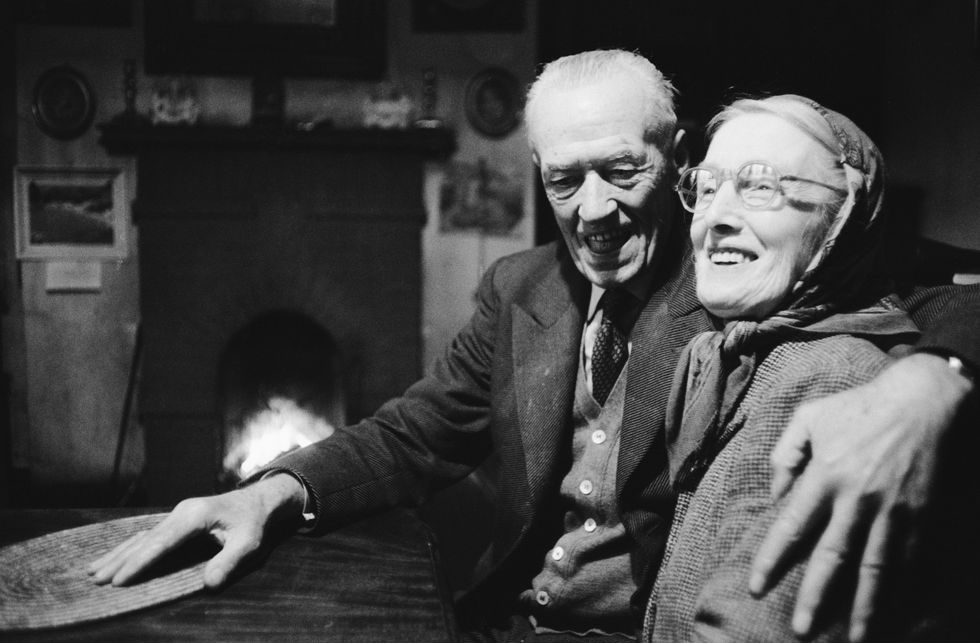 Studies show that some may be better suited for monogamy than others. Getty Images.
According to their genetic research, the vasopressin gene only accounts for 6.7% of nest building instincts in male oldfield mice, and 2.9% in females. This opens the door to whether or not human pair bonding and parenting could be influenced by an instinct imprinted on our DNA. Though we're a far cry from mice, we share many of the same neurotransmitters and hormones, along with other mammals.
Differences in biochemical makeup or neurotransmitters may signal how a species cares for its young, and whether it's monogamous, promiscuous, or a mixture of the two. In exploring other species and working our way up, we may find out more about ourselves, even what relationship pattern or parenting style works best. Perhaps, we'll find the genetic underpinnings of Dr. Fisher's theory.
To learn what similar genetic underpinnings have so far been identified in our species, click here: 
Inventions with revolutionary potential made by a mysterious aerospace engineer for the U.S. Navy come to light.
Credit: Getty Images
Surprising Science
U.S. Navy holds patents for enigmatic inventions by aerospace engineer Dr. Salvatore Pais.
Pais came up with technology that can "engineer" reality, devising an ultrafast craft, a fusion reactor, and more.
While mostly theoretical at this point, the inventions could transform energy, space, and military sectors.
The U.S. Navy controls patents for some futuristic and outlandish technologies, some of which, dubbed "the UFO patents," came to light recently. Of particular note are inventions by the somewhat mysterious Dr. Salvatore Cezar Pais, whose tech claims to be able to "engineer reality." His slate of highly-ambitious, borderline sci-fi designs meant for use by the U.S. government range from gravitational wave generators and compact fusion reactors to next-gen hybrid aerospace-underwater crafts with revolutionary propulsion systems, and beyond.
Of course, the existence of patents does not mean these technologies have actually been created, but there is evidence that some demonstrations of operability have been successfully carried out. As investigated and reported by The War Zone, a possible reason why some of the patents may have been taken on by the Navy is that the Chinese military may also be developing similar advanced gadgets.
Among Dr. Pais's patents are designs, approved in 2018, for an aerospace-underwater craft of incredible speed and maneuverability. This cone-shaped vehicle can potentially fly just as well anywhere it may be, whether air, water or space, without leaving any heat signatures. It can achieve this by creating a quantum vacuum around itself with a very dense polarized energy field. This vacuum would allow it to repel any molecule the craft comes in contact with, no matter the medium. Manipulating "quantum field fluctuations in the local vacuum energy state," would help reduce the craft's inertia. The polarized vacuum would dramatically decrease any elemental resistance and lead to "extreme speeds," claims the paper.
Not only that, if the vacuum-creating technology can be engineered, we'd also be able to "engineer the fabric of our reality at the most fundamental level," states the patent. This would lead to major advancements in aerospace propulsion and generating power. Not to mention other reality-changing outcomes that come to mind.
Among Pais's other patents are inventions that stem from similar thinking, outlining pieces of technology necessary to make his creations come to fruition. His paper presented in 2019, titled "Room Temperature Superconducting System for Use on a Hybrid Aerospace Undersea Craft," proposes a system that can achieve superconductivity at room temperatures. This would become "a highly disruptive technology, capable of a total paradigm change in Science and Technology," conveys Pais.
High frequency gravitational wave generator.
Credit: Dr. Salvatore Pais
Another invention devised by Pais is an electromagnetic field generator that could generate "an impenetrable defensive shield to sea and land as well as space-based military and civilian assets." This shield could protect from threats like anti-ship ballistic missiles, cruise missiles that evade radar, coronal mass ejections, military satellites, and even asteroids.
Dr. Pais's ideas center around the phenomenon he dubbed "The Pais Effect". He referred to it in his writings as the "controlled motion of electrically charged matter (from solid to plasma) via accelerated spin and/or accelerated vibration under rapid (yet smooth) acceleration-deceleration-acceleration transients." In less jargon-heavy terms, Pais claims to have figured out how to spin electromagnetic fields in order to contain a fusion reaction – an accomplishment that would lead to a tremendous change in power consumption and an abundance of energy.
According to his bio in a recently published paper on a new Plasma Compression Fusion Device, which could transform energy production, Dr. Pais is a mechanical and aerospace engineer working at the Naval Air Warfare Center Aircraft Division (NAWCAD), which is headquartered in Patuxent River, Maryland. Holding a Ph.D. from Case Western Reserve University in Cleveland, Ohio, Pais was a NASA Research Fellow and worked with Northrop Grumman Aerospace Systems. His current Department of Defense work involves his "advanced knowledge of theory, analysis, and modern experimental and computational methods in aerodynamics, along with an understanding of air-vehicle and missile design, especially in the domain of hypersonic power plant and vehicle design." He also has expert knowledge of electrooptics, emerging quantum technologies (laser power generation in particular), high-energy electromagnetic field generation, and the "breakthrough field of room temperature superconductivity, as related to advanced field propulsion."
Suffice it to say, with such a list of research credentials that would make Nikola Tesla proud, Dr. Pais seems well-positioned to carry out groundbreaking work.
A craft using an inertial mass reduction device.
Credit: Salvatore Pais
The patents won't necessarily lead to these technologies ever seeing the light of day. The research has its share of detractors and nonbelievers among other scientists, who think the amount of energy required for the fields described by Pais and his ideas on electromagnetic propulsions are well beyond the scope of current tech and are nearly impossible. Yet investigators at The War Zone found comments from Navy officials that indicate the inventions are being looked at seriously enough, and some tests are taking place.
If you'd like to read through Pais's patents yourself, check them out here.
Laser Augmented Turbojet Propulsion System
Credit: Dr. Salvatore Pais
She helped create CRISPR, a gene-editing technology that is changing the way we treat genetic diseases and even how we produce food.
Courtesy of Jennifer Doudna
Technology & Innovation
This article was originally published on our sister site, Freethink.
Last year, Jennifer Doudna and Emmanuelle Charpentier became the first all-woman team to win the Nobel Prize in Chemistry for their work developing CRISPR-Cas9, the gene-editing technology. The technology was invented in 2012 — and nine years later, it's truly revolutionizing how we treat genetic diseases and even how we produce food.
CRISPR allows scientists to alter DNA by using proteins that are naturally found in bacteria. They use these proteins, called Cas9, to naturally fend off viruses, destroying the virus' DNA and cutting it out of their genes. CRISPR allows scientists to co-opt this function, redirecting the proteins toward disease-causing mutations in our DNA.
So far, gene-editing technology is showing promise in treating sickle cell disease and genetic blindness — and it could eventually be used to treat all sorts of genetic diseases, from cancer to Huntington's Disease.
The biotech revolution is just getting started — and CRISPR is leading the charge. We talked with Doudna about what we can expect from genetic engineering in the future.
This interview has been lightly edited and condensed for clarity.
Freethink: You've said that your journey to becoming a scientist had humble beginnings — in your teenage bedroom when you discovered The Double Helix by Jim Watson. Back then, there weren't a lot of women scientists — what was your breakthrough moment in realizing you could pursue this as a career?
Dr. Jennifer Doudna: There is a moment that I often think back to from high school in Hilo, Hawaii, when I first heard the word "biochemistry." A researcher from the UH Cancer Center on Oahu came and gave a talk on her work studying cancer cells.
I didn't understand much of her talk, but it still made a huge impact on me. You didn't see professional women scientists in popular culture at the time, and it really opened my eyes to new possibilities. She was very impressive.
I remember thinking right then that I wanted to do what she does, and that's what set me off on the journey that became my career in science.
CRISPR 101: Curing Sickle Cell, Growing Organs, Mosquito Makeovers | Jennifer Doudna | Big Think www.youtube.com
Freethink: The term "CRISPR" is everywhere in the media these days but it's a really complicated tool to describe. What is the one thing that you wish people understood about CRISPR that they usually get wrong?

Dr. Jennifer Doudna: People should know that CRISPR technology has revolutionized scientific research and will make a positive difference to their lives.
Researchers are gaining incredible new understanding of the nature of disease, evolution, and are developing CRISPR-based strategies to tackle our greatest health, food, and sustainability challenges.
Freethink: You previously wrote in Wired that this year, 2021, is going to be a big year for CRISPR. What exciting new developments should we be on the lookout for?
Dr. Jennifer Doudna: Before the COVID-19 pandemic, there were multiple teams around the world, including my lab and colleagues at the Innovative Genomics Institute, working on developing CRISPR-based diagnostics.
"Traits that we could select for using traditional breeding methods, that might take decades, we can now engineer precisely in a much shorter time."
DR. JENNIFER DOUDNA
When the pandemic hit, we pivoted our work to focus these tools on SARS-CoV-2. The benefit of these new diagnostics is that they're fast, cheap, can be done anywhere without the need for a lab, and they can be quickly modified to detect different pathogens. I'm excited about the future of diagnostics, and not just for pandemics.
We'll also be seeing more CRISPR applications in agriculture to help combat hunger, reduce the need for toxic pesticides and fertilizers, fight plant diseases and help crops adapt to a changing climate.
Traits that we could select for using traditional breeding methods, that might take decades, we can now engineer precisely in a much shorter time.
Freethink: Curing genetic diseases isn't a pipedream anymore, but there are still some hurdles to cross before we're able to say for certain that we can do this. What are those hurdles and how close do you think we are to crossing them?
Dr. Jennifer Doudna: There are people today, like Victoria Gray, who have been successfully treated for sickle cell disease. This is just the tip of the iceberg.
There are absolutely still many hurdles. We don't currently have ways to deliver genome-editing enzymes to all types of tissues, but delivery is a hot area of research for this very reason.
We also need to continue improving on the first wave of CRISPR therapies, as well as making them more affordable and accessible.
Freethink: Another big challenge is making this technology widely available to everyone and not just the really wealthy. You've previously said that this challenge starts with the scientists.
Dr. Jennifer Doudna: A sickle cell disease cure that is 100 percent effective but can't be accessed by most of the people in need is not really a full cure.
This is one of the insights that led me to found the Innovative Genomics Institute back in 2014. It's not enough to develop a therapy, prove that it works, and move on. You have to develop a therapy that actually meets the real-world need.
Too often, scientists don't fully incorporate issues of equity and accessibility into their research, and the incentives of the pharmaceutical industry tend to run in the opposite direction. If the world needs affordable therapy, you have to work toward that goal from the beginning.
Freethink: You've expressed some concern about the ethics of using CRISPR. Do you think there is a meaningful difference between enhancing human abilities — for example, using gene therapy to become stronger or more intelligent — versus correcting deficiencies, like Type 1 diabetes or Huntington's?
Dr. Jennifer Doudna: There is a meaningful distinction between enhancement and treatment, but that doesn't mean that the line is always clear. It isn't.
There's always a gray area when it comes to complex ethical issues like this, and our thinking on this is undoubtedly going to evolve over time.
What we need is to find an appropriate balance between preventing misuse and promoting beneficial innovation.
Freethink: What if it turns out that being physically stronger helps you live a longer life — if that's the case, are there some ways of improving health that we should simply rule out?
Dr. Jennifer Doudna: The concept of improving the "healthspan" of individuals is an area of considerable interest. Eliminating neurodegenerative disease will not only massively reduce suffering around the world, but it will also meaningfully increase the healthy years for millions of individuals.
"There is a meaningful distinction between enhancement and treatment, but that doesn't mean that the line is always clear. It isn't."
DR. JENNIFER DOUDNA
There will also be knock-on effects, such as increased economic output, but also increased impact on the planet.
When you think about increasing lifespans just so certain people can live longer, then not only do those knock-on effects become more central, you also have to ask who is benefiting and who isn't? Is it possible to develop this technology so the benefits are shared equitably? Is it environmentally sustainable to go down this road?
Freethink: Where do you see it going from here?
Dr. Jennifer Doudna: The bio revolution will allow us to create breakthroughs in treating not just a few but whole classes of previously unaddressed genetic diseases.
We're also likely to see genome editing play a role not just in climate adaptation, but in climate change solutions as well. There will be challenges along the way both expected and unexpected, but also great leaps in progress and benefits that will move society forward. It's an exciting time to be a scientist.
Freethink: If you had to guess, what is the first disease you think we are most likely to cure, in the real world, with CRISPR?
Dr. Jennifer Doudna: Because of the progress that has already been made, sickle cell disease and beta-thalassemia are likely to be the first diseases with a CRISPR cure, but we're closely following the developments of other CRISPR clinical trials for types of cancer, a form of congenital blindness, chronic infection, and some rare genetic disorders.
The pace of clinical trials is picking up, and the list will be longer next year.
A school lesson leads to more precise measurements of the extinct megalodon shark, one of the largest fish ever.
Credit: Catmando / Adobe Stock.
Surprising Science
A new method estimates the ancient megalodon shark was as long as 65 feet.
The megalodon was one of the largest fish that ever lived.
The new model uses the width of shark teeth to estimate its overall size.
A Florida student figured out a way to more accurately measure the size of one of the largest fish that ever lived – the extinct megalodon shark – and found that it was even larger than previously estimated.
The megalodon (officially named Otodus megalodon, which means "Big Tooth") lived between 3.6 and 23 million years ago and was thought to be about 34 feet long on average, reaching the maximum length of 60 feet. Now a new study puts that number at up to 65 feet (20 meters).
Homework assignment leads to a discovery
The study, published in Palaeontologia Electronica, used new equations extrapolated from the width of megalodon's teeth to make the improved estimates. The paper's lead author, Victor Perez, developed the revised methodology while he was a doctoral student at the Florida Museum of Natural History. He got the idea while teaching students, noticing a range of discrepancies in the results they were getting.
Students were supposed to calculate the size of megalodon based on the ancient fish's similarities to the modern great white shark. They utilized the commonly accepted method of linking the height of a shark's tooth to its total body length. As the press release from the Florida Museum of Natural History expounds, this method involves locating the anatomical position of a tooth in the shark's jaw, measuring the tooth "from the tip of the crown to the line where root and crown meet," and using that number in an appropriate equation.
But while carrying out calculations in this way, some of Perez's students thought the shark would have been just 40 feet long, while others were calculating 148 feet. Teeth located toward the back of the mouth were yielding the largest estimates.
"I was going around, checking, like, did you use the wrong equation? Did you forget to convert your units?" said Perez, currently the assistant curator of paleontology at the Calvert Marine Museum in Maryland. "But it very quickly became clear that it was not the students that had made the error. It was simply that the equations were not as accurate as we had predicted."
Found in North Carolina, these 46 fossils are the most complete set of megalodon teeth ever excavated.Credit: Jeff Gage/Florida Museum
The new approach

Perez's math exercise demonstrated that the equations in use since 2002 were generating different size estimates for the same shark based on which tooth was being measured. Because megalodon teeth are most often found as standalone fossils, Perez focused on a nearly complete set of teeth donated by a fossil collector to design a new approach.
Perez also had help from Teddy Badaut, an avocational paleontologist in France, who suggested using tooth width instead of height, which would be proportional to the length of its body. Another collaborator on the revised method was Ronny Maik Leder, then a postdoctoral researcher at the Florida Museum, who aided in the development of the new set of equations.
The research team analyzed the widths of fossil teeth that came from 11 individual sharks of five species, which included megalodon and modern great white sharks, and created a model that connects how wide a tooth was to the size of the jaw for each species.
"I was quite surprised that indeed no one had thought of this before," shared Leder, who is now director of the Natural History Museum in Leipzig, Germany. "The simple beauty of this method must have been too obvious to be seen. Our model was much more stable than previous approaches. This collaboration was a wonderful example of why working with amateur and hobby paleontologists is so important."
Why use teeth?
In general, almost nothing of the super-shark survived to this day, other than a few vertebrae and a large number of big teeth. The megalodon's skeleton was made of lightweight cartilage that decomposed after death. But teeth, with enamel that preserves very well, are "probably the most structurally stable thing in living organisms," Perez said. Considering that megalodons lost thousands of teeth during a lifetime, these are the best resources we have in trying to figure out information about these long-gone giants.
Researchers suggest megalodon's large jaws were very thick, made for grabbing prey and breaking its bones, exerting a bite force of up to 108,500 to 182,200 newtons.
Megalodon tooth compared to two great white shark teeth. Credit: Brocken Inaglory / Wikimedia.
Limitations of the new model

While the new model is better than previous methods, it's still far from perfect in precisely figuring out the sizes of animals which lived so long ago and left behind few if any full remains. Because individual sharks come in a variety of sizes, Perez warned that even their new estimates have an error range of about 10 feet when it comes to the largest animals.
Other ambiguities may affect the results, such as the width of the megalodon's jaw and the size of the gaps between its teeth, neither of which are accurately known. "There's still more that could be done, but that would probably require finding a complete skeleton at this point," Perez pointed out.
How did the megalodon go extinct?
Environmental changes that led to fluctuations in sea levels and disturbed ecosystems in the oceans likely led to the demise of these enormous ancient sharks. They were just too big to be sustained by diminishing food resources, says the ReefQuest Centre for Shark Research.
A 2018 study suggested that a supernova 2.6 million years ago hit Earth's atmosphere with so much cosmic energy that it resulted in climate change. The cosmic rays that included particles called muons might have caused a mass extinction of giant ocean animals ("the megafauna") that included the megalodon by causing mutations and cancer.
Scientists, led by Adrian Melott, professor emeritus of physics and astronomy at the University of Kansas, estimated that "the cancer rate would go up about 50 percent for something the size of a human — and the bigger you are, the worse it is. For an elephant or a whale, the radiation dose goes way up," as he explained in a press release.
Mind & Brain
Milgram's experiment is rightly famous, but does it show what we think it does?
Scroll down to load more…