Big ideas.
Once a week.
Subscribe to our weekly newsletter.
Scientists discover how to implant false memories
Implanting false memories could cure Alzheimer's, PTSD, and depression. It could also make scapegoating easier, allow for witness tampering, or give those under a brutal dictatorship false patriotism.
15 June, 2016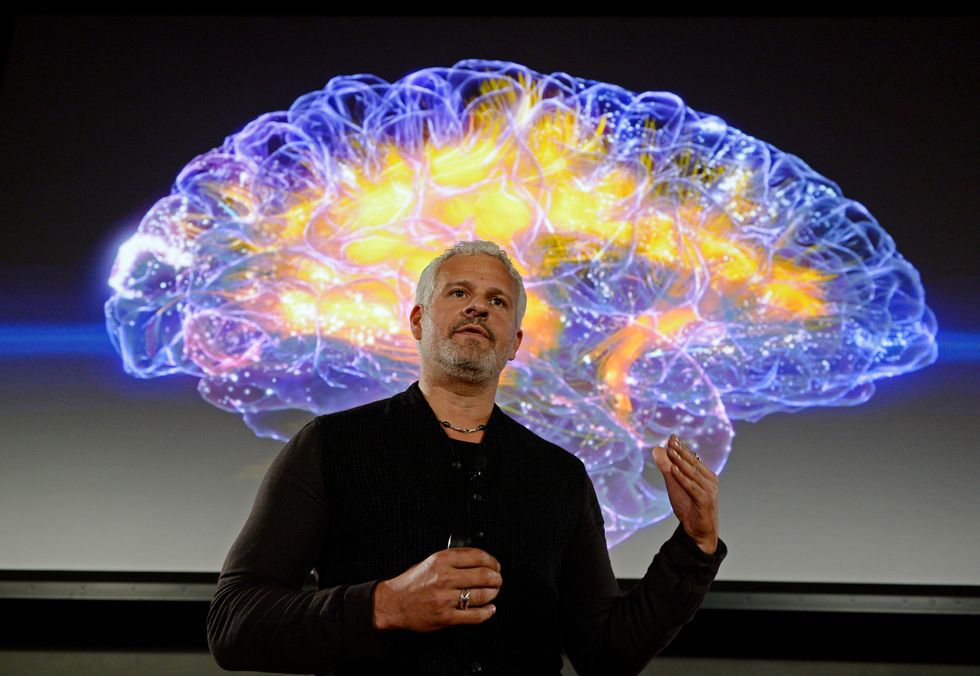 Neuroscientist explains inner workings of the brain.
MIT researchers Steve Ramirez and Xu Liu recently made history when they successfully implanted a false memory into the mind of a mouse. The proof was a simple reaction from the rodent, but the implications are vast. They placed the furry little creature inside a metal box, and it froze, displaying a distinct fear response. The mouse was reacting as if it had received an electrical shock there, when it hadn't at all.  
---
What makes it more riveting is that their success was considered a long-shot. The hypothesis was that not only could they identify those neurons associated with encoding memory, but could essentially rewrite one. Experts say that this an impressive feat which helps uncover more of the mystery of how memory operates. Though neuroscientists have considered such a possibility for years, they never thought this kind of experiment could actually work.  
This breakthrough was possible due to research out of Oxford which discovered exactly how short-term memories are transferred into long term memory. But the MIT researchers took it into an entirely new direction. Memories are actually stored in not one area, but certain groups of neurons known as engrams. Ramirez and Liu came together in 2010 and designed a new method for exploring live brains, to identify specific engrams. The neuroscientists used a newly minted technique called optogenetics, which employs lasers to stimulate genetically engineered cells designed to react to them.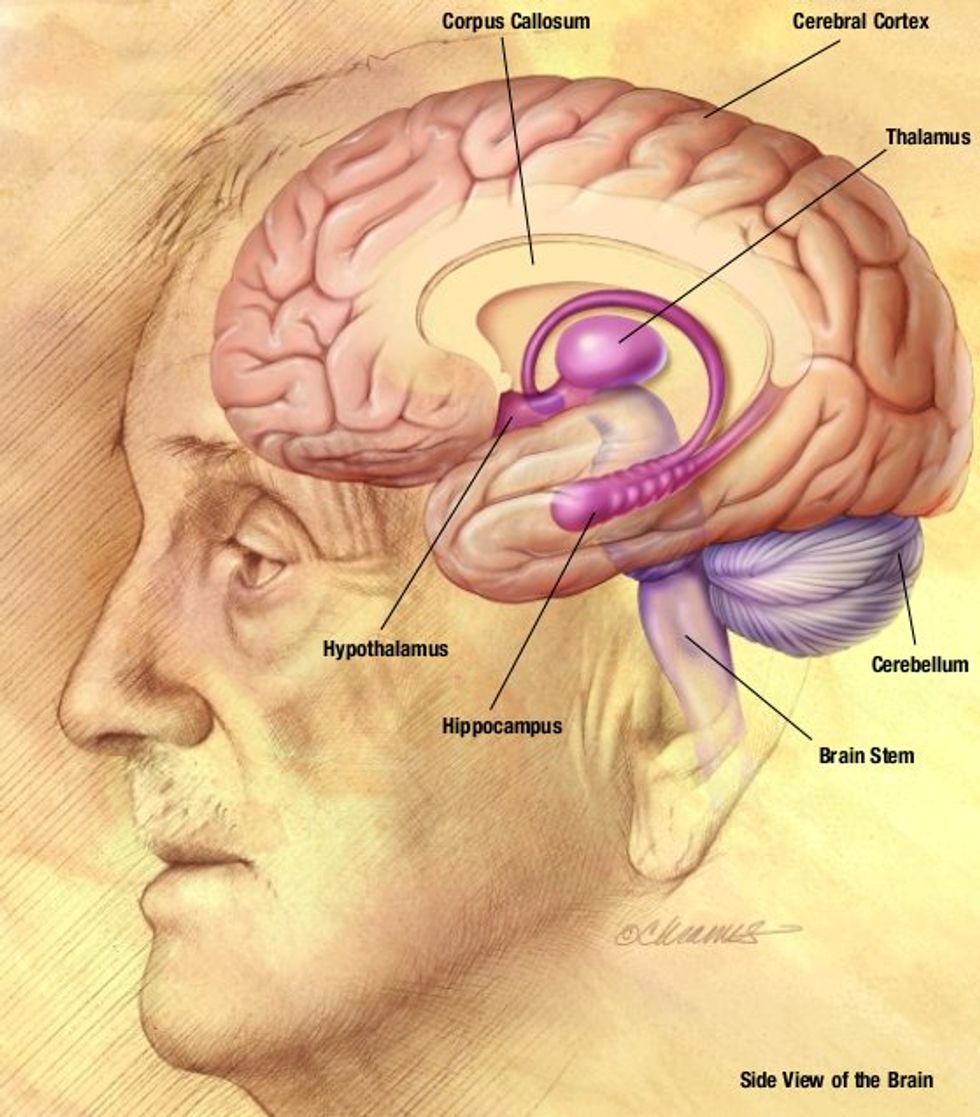 Areas where the memory resides are highlighted in purple.
The scientists and their team injected a biochemical cocktail into the brains of special, genetically engineered mice. The cocktail contained a gene with a light sensitive protein called channelrhodopsin-2. This was injected into the dentate gyrus—the area in the hippocampus where memory is encoded. Then they implanted filaments into the mice's skulls. These acted as a conduit for a laser. The researchers found they could reactivate a memory by flooding certain neurons with laser light.
In order to prove that they could identify certain engrams, they reactivated a memory associated with fear. After the experiment, the mice's brain tissues were examined under a microscope. Those associated with a specific memory glowed green due to the injected chemical. Liu compared it to a "starry night" where you could view "individual stars." The engram that glowed was associated with an electroshock to the foot, and so triggered the startle or fear response.
Now that they knew which engram was associated with fear, they set up an experiment to test it. After injecting the cocktail into the same region of the brain, they placed the mouse inside a metal box. This box was safe. The mouse was able to explore for 12 whole minutes with no problems. The next day, it was put in a different box but received an electric shock instead. These two boxes differed in color, shape, and scent, researchers assure. The following day, the same mouse was placed inside the safe box again, and would have remembered it as safe. But researchers activated the foot shock memory using a laser, initiating the fear response.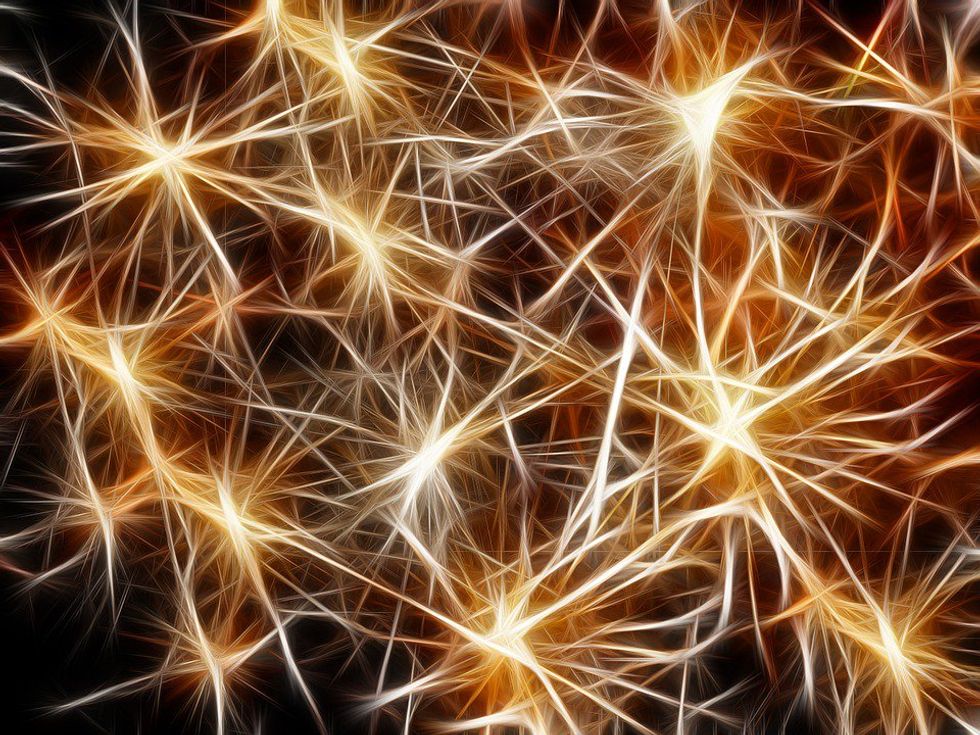 Networks of neurons lighting up.
Is a similar procedure conceivable for humans? According to Ramirez, "Because the proof of principle is there…the only leap left between there and humans is just technological innovation." Today, over 20 labs around the world are building upon this research. In fact, a French team recently implanted false memories in the brains of sleeping mice. Howard Eichenbaum, the director of the Center for Neuroscience at Boston University, is going in another direction. He is working on recreating longer and larger memories, those experiences which unfold over time.
There are many positive implications such as the ability to take the bite out of or even erase those painful memories attached to PTSD, depression, and other psychiatric disorders. There may be applications for Alzheimer's, reverse engineering memories lost to the disease. It even holds promise for those suffering from substance abuse disorder, allowing them to forget their addiction.
Even so, there are negative connotations too. As our memory is the glue which holds our identities together, wouldn't erasing a memory, even a bad one, indelibly erase a portion of the person themselves? Though painful, our negative memories define us. Of course, those hobbled by depression or haunted by PTSD could come to see it as a saving grace. Today, scientists aim not to erase technically, at least at first, but to rewrite a memory in a manner that promotes, rather than impedes, mental health. But the potential is there. There are further implications.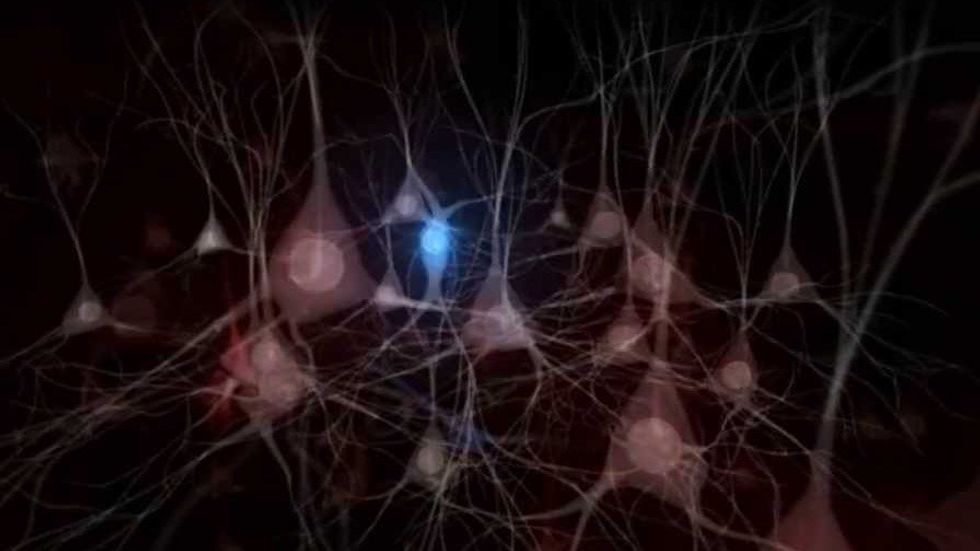 A neuron associated with the fear response is illuminated.
What about implanting false memories in witnesses to change the outcome of trials? Many in the past have been convicted when they were innocent, exonerated later due to the advent of DNA testing. False memory implantation might lead to a new and ruthless form of witness tampering. Films like Inception or Eternal Sunshine could become a reality. But if you erase the memory of a bad ex from your past, do the lessons you've learned about love go with it?
There are implications in terms of state control and even the sovereignty of one's own mind. Such a procedure under a totalitarian regime could manufacture false patriotism, even wipe clean the memories of revolutionaries in order to make them loyal to the state. The ability to actually do this is thought to be four to five decades away. Yet the federal research group DARPA says it is a mere four years from a brain implant capable of altering PTSD-related memories. Theoretically, such technology could be used to silence dissent.
Meanwhile, a psychology professor at New York University, Dr. Gary Marcus, has proposed inserting a microchip into the human brain to allow for a human-internet interface, making the mind a search engine as well as improving one's memory. Perhaps you could backup files to prevent tampering. But wouldn't it also allow a hacker to say hack your brain? An important ethical dialogue must begin now. A superstructure and strict protocol must be erected. And yet, chances are those operating outside of its boundaries may still violate it. Though this technique shows promise, strong regulation and oversight must be enacted to prevent human rights violations and miscarriages of justice.
For where we are right now on manipulating memory and the moral implications click here: 
"Deepfakes" and "cheap fakes" are becoming strikingly convincing — even ones generated on freely available apps.
Magdalene Visaggio via Twitter
Technology & Innovation
A writer named Magdalene Visaggio recently used FaceApp and Airbrush to generate convincing portraits of early U.S. presidents.
"Deepfake" technology has improved drastically in recent years, and some countries are already experiencing how it can weaponized for political purposes.
It's currently unknown whether it'll be possible to develop technology that can quickly and accurately determine whether a given video is real or fake.
The author of 'How We Read' Now explains.
Mind & Brain
During the pandemic, many college professors abandoned assignments from printed textbooks and turned instead to digital texts or multimedia coursework.
As a professor of linguistics, I have been studying how electronic communication compares to traditional print when it comes to learning. Is comprehension the same whether a person reads a text onscreen or on paper? And are listening and viewing content as effective as reading the written word when covering the same material?
The answers to both questions are often "no," as I discuss in my book "How We Read Now," released in March 2021. The reasons relate to a variety of factors, including diminished concentration, an entertainment mindset and a tendency to multitask while consuming digital content.
Print versus digital reading
When reading texts of several hundred words or more, learning is generally more successful when it's on paper than onscreen. A cascade of research confirms this finding.
The benefits of print particularly shine through when experimenters move from posing simple tasks – like identifying the main idea in a reading passage – to ones that require mental abstraction – such as drawing inferences from a text. Print reading also improves the likelihood of recalling details – like "What was the color of the actor's hair?" – and remembering where in a story events occurred – "Did the accident happen before or after the political coup?"
Studies show that both grade school students and college students assume they'll get higher scores on a comprehension test if they have done the reading digitally. And yet, they actually score higher when they have read the material in print before being tested.
Educators need to be aware that the method used for standardized testing can affect results. Studies of Norwegian tenth graders and U.S. third through eighth graders report higher scores when standardized tests were administered using paper. In the U.S. study, the negative effects of digital testing were strongest among students with low reading achievement scores, English language learners and special education students.
My own research and that of colleagues approached the question differently. Rather than having students read and take a test, we asked how they perceived their overall learning when they used print or digital reading materials. Both high school and college students overwhelmingly judged reading on paper as better for concentration, learning and remembering than reading digitally.
The discrepancies between print and digital results are partly related to paper's physical properties. With paper, there is a literal laying on of hands, along with the visual geography of distinct pages. People often link their memory of what they've read to how far into the book it was or where it was on the page.
But equally important is mental perspective, and what reading researchers call a "shallowing hypothesis." According to this theory, people approach digital texts with a mindset suited to casual social media, and devote less mental effort than when they are reading print.
Podcasts and online video
Given increased use of flipped classrooms – where students listen to or view lecture content before coming to class – along with more publicly available podcasts and online video content, many school assignments that previously entailed reading have been replaced with listening or viewing. These substitutions have accelerated during the pandemic and move to virtual learning.
Surveying U.S. and Norwegian university faculty in 2019, University of Stavanger Professor Anne Mangen and I found that 32% of U.S. faculty were now replacing texts with video materials, and 15% reported doing so with audio. The numbers were somewhat lower in Norway. But in both countries, 40% of respondents who had changed their course requirements over the past five to 10 years reported assigning less reading today.
A primary reason for the shift to audio and video is students refusing to do assigned reading. While the problem is hardly new, a 2015 study of more than 18,000 college seniors found only 21% usually completed all their assigned course reading.
Audio and video can feel more engaging than text, and so faculty increasingly resort to these technologies – say, assigning a TED talk instead of an article by the same person.
Maximizing mental focus
Psychologists have demonstrated that when adults read news stories or transcripts of fiction, they remember more of the content than if they listen to identical pieces.
Researchers found similar results with university students reading an article versus listening to a podcast of the text. A related study confirms that students do more mind-wandering when listening to audio than when reading.
Results with younger students are similar, but with a twist. A study in Cyprus concluded that the relationship between listening and reading skills flips as children become more fluent readers. While second graders had better comprehension with listening, eighth graders showed better comprehension when reading.
Research on learning from video versus text echoes what we see with audio. For example, researchers in Spain found that fourth through sixth graders who read texts showed far more mental integration of the material than those watching videos. The authors suspect that students "read" the videos more superficially because they associate video with entertainment, not learning.
The collective research shows that digital media have common features and user practices that can constrain learning. These include diminished concentration, an entertainment mindset, a propensity to multitask, lack of a fixed physical reference point, reduced use of annotation and less frequent reviewing of what has been read, heard or viewed.
Digital texts, audio and video all have educational roles, especially when providing resources not available in print. However, for maximizing learning where mental focus and reflection are called for, educators – and parents – shouldn't assume all media are the same, even when they contain identical words.
Naomi S. Baron, Professor of Linguistics Emerita, American University
This article is republished from The Conversation under a Creative Commons license. Read the original article.
Humans may have evolved to be tribalistic. Is that a bad thing?
Videos
From politics to every day life, humans have a tendency to form social groups that are defined in part by how they differ from other groups.
Neuroendocrinologist Robert Sapolsky, author Dan Shapiro, and others explore the ways that tribalism functions in society, and discuss how—as social creatures—humans have evolved for bias.
But bias is not inherently bad. The key to seeing things differently, according to Beau Lotto, is to "embody the fact" that everything is grounded in assumptions, to identify those assumptions, and then to question them.
Strange Maps
Ancient corridors below the French capital have served as its ossuary, playground, brewery, and perhaps soon, air conditioning.
Scroll down to load more…