Big ideas.
Once a week.
Subscribe to our weekly newsletter.
Science Is Starting to Explore the Gray Zone Between Life and Death
French researchers recently roused a patient out of a vegetative state.
28 September, 2017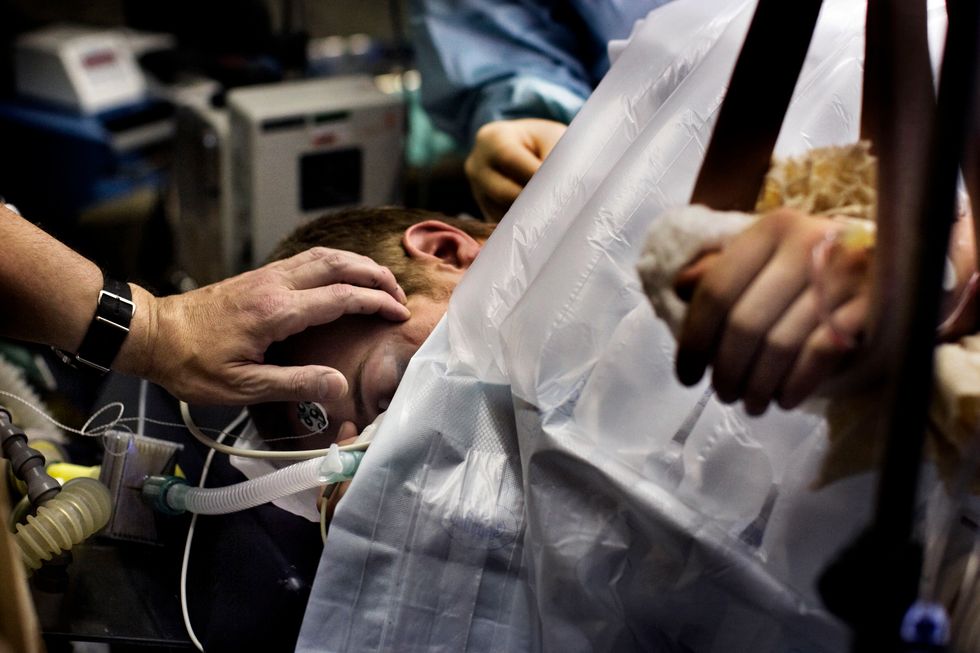 Getty images.
We used to think of death as a moment. We reel when a beloved person meets a tragic end, be it in real life or our favorite show. The reality is, death is often a long, drawn out process that has to do with treatment, hospitals, and in the end, hospice care. Of course, it can strike suddenly too and without warning. But medical science has progressed to the point where we aren't thinking of death so much as a moment anymore, but a process.
---
So does that mean we can slow it down or even pause it? According to Dr. Sam Parnia, in his book Erasing Death, new techniques are being used which can reinvigorate the body and the brain. He also believes that death could someday be reversible.
Dr. Parnia has done studies on sustained resuscitation. He says some patients can be brought back merely with CPR, hours after their heart stopped beating, without any permanent damage to the brain. He's also studied near-death and out-of-body experiences to see if these hold any medical secrets, which could be used to tell us something about the condition. Could a near death experience signify resuscitation of the brain, Dr. Parnia wonders? 
"We've never had an objective method to go beyond the threshold of death and study what happens both biologically and from a mental and cognitive perspective," he told NPR's Terry Gross on Fresh Air. "Therefore everything that we deal with is basically hearsay and people's own beliefs."
In his experiments, he found that cooling the body a few degrees Celsius can actually slow the rate of cell death, particularly of neurons in the brain. He isn't alone. In fact, a number of different medical professionals are leaning toward longevity medicine.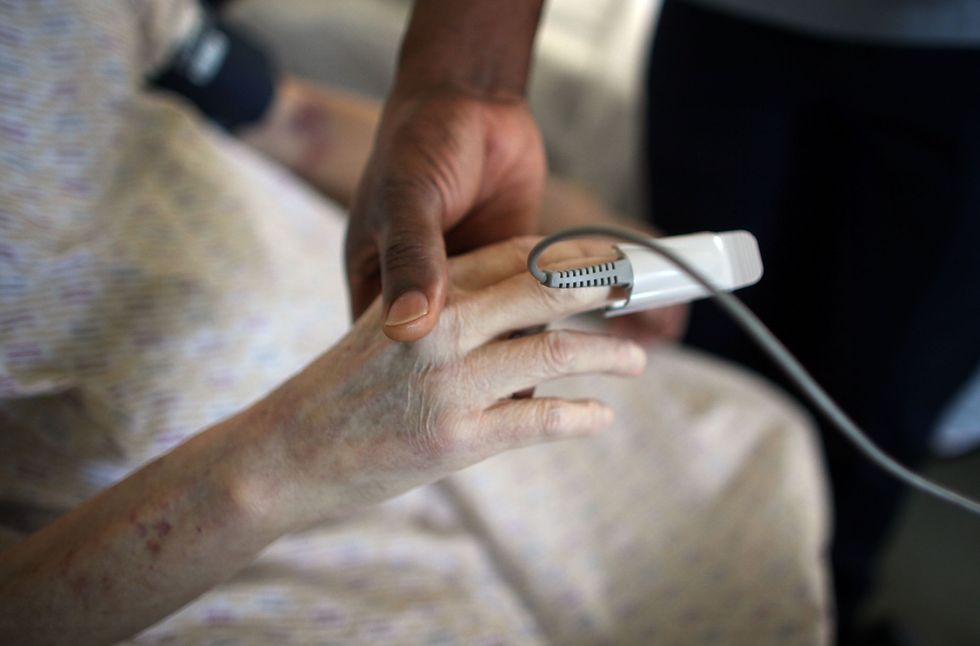 Dr. Parnia believes that a near death experience might signify resuscitation of the brain. Getty Images.
Biologist Mark Roth, at Seattle's Fred Hutchinson Cancer Research Center, is working with animal subjects, putting them into suspended animation. The idea is that a patient who is in medical crisis could be put into a suspended state like hibernation, until he or she could be stabilized and in this way, get past it.
Though we tend to expire when the oxygen level is low, many animals go into a suspended state in extremely low oxygen environments. In the lab, one must enter into such an environment quickly. Roth is currently working with nematodes—a kind of roundworm—and expects to eventually work up to humans.  
A vegetative state is another aspect of what we consider the gray zone between life and death. Medically, this is when sufficient damage to the brain has occurred, where the person isn't aware of and can't respond to their surroundings. They may breathe, have a heartbeat, move their eyes, even show reflexes, but they can't respond to stimuli or interact with the world. Their brain stem is operating normally, but other parts of the brain may be damaged or inoperable. Most patients who enter such a state never leave it.
Now a curious case is shaking up how we consider this condition. A 35-year-old man "woke up" after being in a vegetative state for 15 years. In this study, recently published in the journal Current Biology, French researchers found a way to restore some consciousness to a patient, a feat considered impossible previously. It was thought that patients in this state for a year or longer couldn't be revived.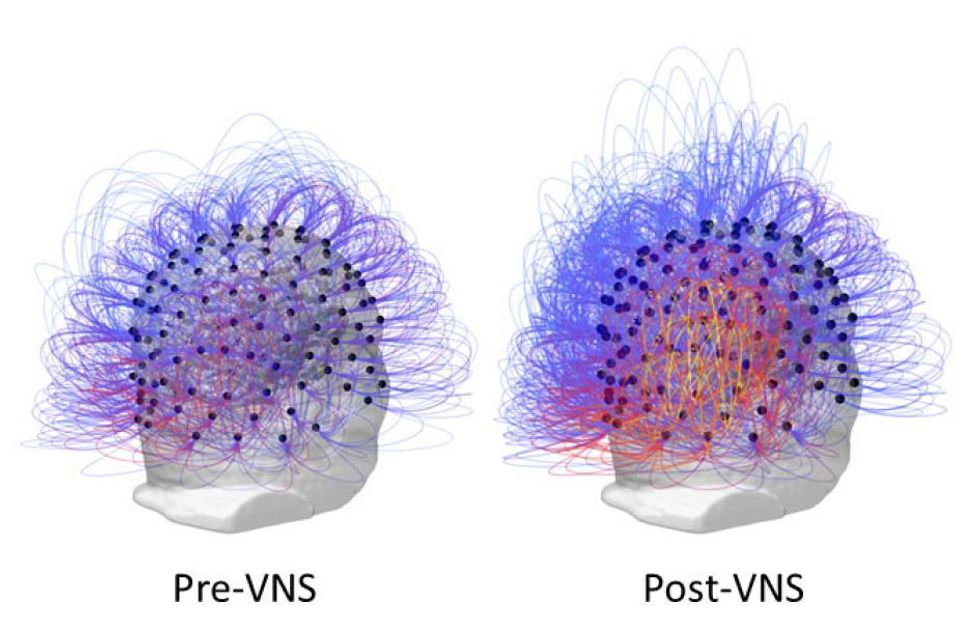 Brain scans of a patient roused from a vegetative state through vargal nerve stimulation. Current Biology.
Angela Sirigu was the lead researcher. She and colleagues, at the of the Institut des Sciences Cognitives Marc Jeannerod, in Lyon, accomplished this by stimulating the vagus nerve, one of the longest running in the body. It goes from the brain stem all the way to the gut and connects to most of the major organs along the way.  
Unlike in the movies, where a patient miraculously shoots out of bed after years of being bedridden and unresponsive, Sirigu and colleagues say this was a gradual process. Researchers ran different tests to gauge his awareness.
The man's eyes widened when someone approached him suddenly, seeing the person as a threat. He was able to stay awake for longer periods when someone read him a book. He could also follow objects with his eyes or turn his head when asked to. This and brain imaging evidence suggests their technique is reaping results.
Vagal nerve stimulation is already being used to treat depression, epilepsy, and other disorders. It activates the noradrenergic pathway, which initiates alertness and can even trigger the fight-or-flight response. Researchers admit little is known about how or why this has helped rouse the patient out of a vegetative state.
Yet, this study may change how medical professionals care for those who have entered such states. Sirigu said, "The sooner we can stimulate it (the vagus nerve), the sooner we can interfere with the body functions and restore some kind of physiological equilibrium."
This is more of a proof-of-concept study. A larger sample is sorely needed. Sirigu says she and colleagues are putting together a larger, follow-up presently. This is just the beginning.
What's more, press sensationalism aside, the patient was brought from a vegetative to a minimally conscious state, which isn't exactly a full recovery. Even if these results can be repeated with other such cases, more studies will be needed to uncover exactly how the technique reaps results.
We're still a long way away from the day when medical science is able to take the next step and fully restore a patient. But that day is likely to come.
To learn more about the gray areas between life and death, click here: 
A Harvard professor's study discovers the worst year to be alive.
Credit: Pieter Bruegel the Elder. (Museo del Prado).
Politics & Current Affairs
Harvard professor Michael McCormick argues the worst year to be alive was 536 AD.
The year was terrible due to cataclysmic eruptions that blocked out the sun and the spread of the plague.
536 ushered in the coldest decade in thousands of years and started a century of economic devastation.
The past year has been nothing but the worst in the lives of many people around the globe. A rampaging pandemic, dangerous political instability, weather catastrophes, and a profound change in lifestyle that most have never experienced or imagined.
But was it the worst year ever?
Nope. Not even close. In the eyes of the historian and archaeologist Michael McCormick, the absolute "worst year to be alive" was 536.
Why was 536 so bad? You could certainly argue that 1918, the last year of World War I when the Spanish Flu killed up to 100 million people around the world, was a terrible year by all accounts. 1349 could also be considered on this morbid list as the year when the Black Death wiped out half of Europe, with up to 20 million dead from the plague. Most of the years of World War II could probably lay claim to the "worst year" title as well. But 536 was in a category of its own, argues the historian.
It all began with an eruption...
According to McCormick, Professor of Medieval History at Harvard University, 536 was the precursor year to one of the worst periods of human history. It featured a volcanic eruption early in the year that took place in Iceland, as established by a study of a Swiss glacier carried out by McCormick and the glaciologist Paul Mayewski from the Climate Change Institute of The University of Maine (UM) in Orono.
The ash spewed out by the volcano likely led to a fog that brought an 18-month-long stretch of daytime darkness across Europe, the Middle East, and portions of Asia. As wrote the Byzantine historian Procopius, "For the sun gave forth its light without brightness, like the moon, during the whole year." He also recounted that it looked like the sun was always in eclipse.
Cassiodorus, a Roman politician of that time, wrote that the sun had a "bluish" color, the moon had no luster, and "seasons seem to be all jumbled up together." What's even creepier, he described, "We marvel to see no shadows of our bodies at noon."
...that led to famine...
The dark days also brought a period of coldness, with summer temperatures falling by 1.5° C. to 2.5° C. This started the coldest decade in the past 2300 years, reports Science, leading to the devastation of crops and worldwide hunger.
...and the fall of an empire
In 541, the bubonic plague added considerably to the world's misery. Spreading from the Roman port of Pelusium in Egypt, the so-called Plague of Justinian caused the deaths of up to one half of the population of the eastern Roman Empire. This, in turn, sped up its eventual collapse, writes McCormick.
Between the environmental cataclysms, with massive volcanic eruptions also in 540 and 547, and the devastation brought on by the plague, Europe was in for an economic downturn for nearly all of the next century, until 640 when silver mining gave it a boost.
Was that the worst time in history?
Of course, the absolute worst time in history depends on who you were and where you lived.
Native Americans can easily point to 1520, when smallpox, brought over by the Spanish, killed millions of indigenous people. By 1600, up to 90 percent of the population of the Americas (about 55 million people) was wiped out by various European pathogens.
Like all things, the grisly title of "worst year ever" comes down to historical perspective.
A machine learning system lets visitors at a Kandinsky exhibition hear the artwork.
Culture & Religion
Have you ever heard colors?
As part of a new exhibition, the worlds of culture and technology collide, bringing sound to the colors of abstract art pioneer Wassily Kandinsky.
Kandinsky had synesthesia, where looking at colors and shapes causes some with the condition to hear associated sounds. With the help of machine learning, virtual visitors to the Sounds Like Kandinsky exhibition, a partnership project by Centre Pompidou in Paris and Google Arts & Culture, can have an aural experience of his art.
An eye for music
Kandinsky's synesthesia is thought to have heavily influenced his painting. Seeing yellow summoned up trumpets, evoking emotions like cheekiness; reds produced violins portraying restlessness; while organs representing heavenliness he associated with blues, according to the exhibition notes.
Virtual visitors are invited to take part in an experiment called Play a Kandinsky, which allows them to see and hear the world through the artist's eyes.
Kandinsky's synesthesia is thought to have heavily influenced his 1925 painting Yellow, Red, Blue.Image: Guillaume Piolle/Wikimedia Commons
In 1925, the artist's masterpiece, "Yellow, Red, Blue", broke new ground in the world of abstract art, guiding the viewer from left to right with shifting shapes and shades. Almost a century after it was painted, Google's interactive tool lets visitors click different parts of the artwork to journey through the artist's description of the colors, associated sounds and moods that inspired the work.
But Google's new toy is not the only tool developed to enhance the artistic experience.
Artist Neil Harbisson has developed an artificial way to emulate Kandinsky by turning colors into sounds. He has a rare form of color blindness and sees the world in greyscale. But a smart antenna attached to his head translates dominant colors into musical notes, creating a real-world soundtrack of what's in front of him. The invention could open up a new world for people who are color blind.
Reprinted with permission of the World Economic Forum. Read the original article.
A new study suggests that private prisons hold prisoners for a longer period of time, wasting the cost savings that private prisons are supposed to provide over public ones.
Politics & Current Affairs
Private prisons in Mississippi tend to hold prisoners 90 days longer than public ones.
The extra days eat up half of the expected cost savings of a private prison.
The study leaves several open questions, such as what affect these extra days have on recidivism rates.
The United States of America, land of the free, is home to 5 percent of the world's population but 25 percent of its prisoners. The cost of having so many people in the penal system adds up to $80 billion per year, more than three times the budget for NASA. This massive system exploded in size relatively recently, with the prison population increasing by six-fold in the last four decades.
Ten percent of these prisoners are kept in private prisons, which are owned and operated for the sake of profit by contractors. In theory, these operations cost less than public prisons and jails, and states can save money by contracting them to incarcerate people. They have a long history in the United States and are used in many other countries as well.
However, despite the pervasiveness of private contractors in the American prison system, there is not much research into how well they live up to their promise to provide similar services at a lower cost to the state. The little research that is available often encounters difficulties in trying to compare the costs and benefits of facilities with vastly different operations and occasionally produces results suggesting there are few benefits to privatization.
A new study by Dr. Anita Mukherjee and published in the American Economic Journal: Economic Policy joins the debate with a robust consideration of the costs and benefits of private prisons. Its findings suggest that some private prisons keep people incarcerated longer and save less money than advertised.
Mississippi Blues
The study focuses on prisons in Mississippi. Despite its comparatively high rate of incarceration, Mississippi's prison system is very similar to that of other states that also use private prisons. Demographically, its system is representative of the rest of the U.S. prison system, and its inmates are sentenced for similar amounts of time.
The state attempts to get the most out of its privatization efforts, as a 1994 law requires all contracts for private prisons in Mississippi to provide at least a 10 percent cost savings over public prisons while providing similar services. As a result, the state seeks to maximize its savings by sending prisoners to private institutions first if space if available.
While public and private prisons in Mississippi are quite similar, there are a few differences that allow for the possibility of cost savings by private operators — not the least of which is that the guards are paid 30 percent less and have fewer benefits than their publicly employed counterparts.
The results of privatization
The graph depicts the likelihood of release for public (dotted line) vs. private (solid line) prison inmates. At every level of time served, public prisoners were more likely to be released than private prisoners.Dr. Anita Mukherjee
The study relied on administrative records of the Mississippi prison system between 1996 and 2013. The data included information on prisoner demographics, the crimes committed, sentence lengths, time served, infractions while incarcerated, and prisoner relocation while in the system, including between public and private jails. For this study, the sample examined was limited to those serving between one and six years and those who served at least a quarter of their sentence. This created a primary sample of 26,563 bookings.
Analysis revealed that prisoners in private prisons were behind bars for four to seven percent longer than those in public prisons, which translates to roughly 85 to 90 extra days per prisoner. This is, in part, because those in private prison serve a greater portion of their sentences (73 percent) than those in public institutions (70 percent).
This in turn might be due to the much higher infraction rate in private prisons compared to public ones. While only 18 percent of prisoners in a public prison commit an infraction, such as disobeying a guard or possessing contraband, the number jumps to 46 percent in a private prison. Infractions can reduce the probability of early release or cause time to be added to a sentence.
It's unclear why there are so many more infractions in private prisons. Dr. Mukherjee suggests it could be the result of "harsher prison conditions in private prisons," better monitoring techniques, incentives to report more of them to the state before contract renewals, or even a lackadaisical attitude on the part of public prison employees.
What does all this cost Mississippi?
The extra time served eats 48 percent of the cost savings of keeping prisoners in a private facility. For example, it costs about $135,000 to house a prisoner in a private prison for three years and $150,000 in the public system. But longer stays in private prisons reduce the savings from $15,000 to only $7,800.
As Dr. Mukherjee remarks, this cost is also just the finance. Some things are a little harder to measure:
"There are, of course, other costs that are difficult to quantify — e.g., the cost of injustice to society (if private prison inmates systematically serve more time), the inmate's individual value of freedom, and impacts of the additional incarceration on future employment. Abrams and Rohlfs (2011) estimates a prisoner's value of freedom for 90 days at about $1,100 using experimental variation in bail setting. Mueller-Smith (2017) estimates that 90 days of marginal incarceration costs about $15,000 in reduced wages and increased reliance on welfare. If these social costs were to exceed $7,800 in the example stated, private prisons would no longer offer a bargain in terms of welfare-adjusted cost savings."
It is possible that the extra time in jail provides benefits that counter these costs, such as a reduced recidivism rate, but this proved difficult to determine. Though it was not statistically significant, there was some evidence that the added time actually increased the rate of recidivism. If that's true, then private prisons could be counterproductive.
Scroll down to load more…