Big ideas.
Once a week.
Subscribe to our weekly newsletter.
Schizophrenia is likely a side effect of our brain's complex evolution
This discovery could lead to not only a better understanding of our evolution but to new treatment options for schizophrenics.
04 March, 2018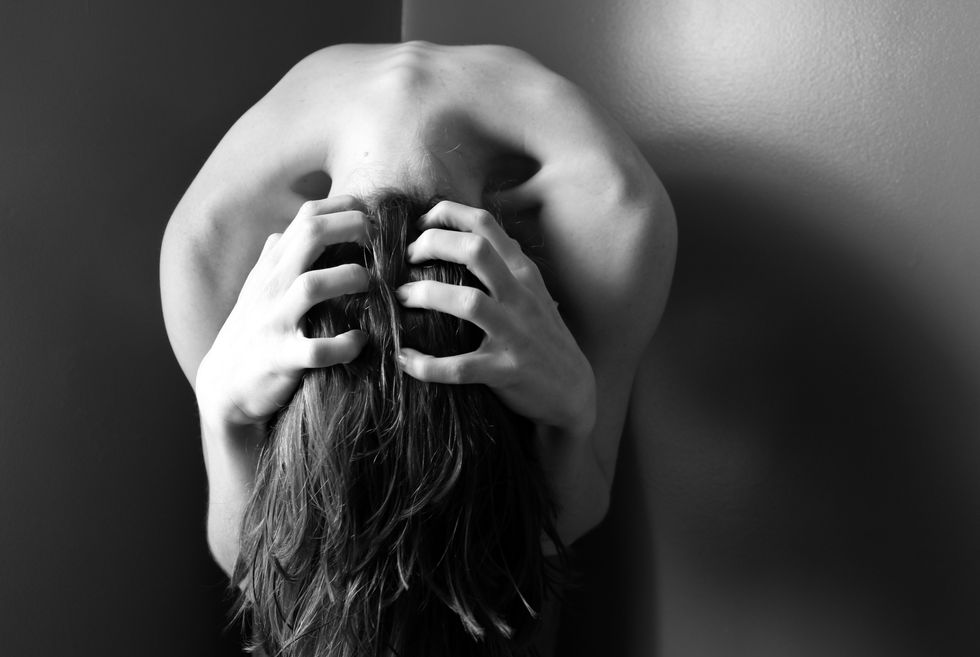 Anguish. Credit: Porsche Brosseau, Flikr. (https://www.flickr.com/photos/porsche-linn/5561412422)
Schizophrenia affects only about 1% of the US population. The condition is typified by confused thoughts and speech, delusions and hallucinations. Symptoms start off gradual and become more severe over time. It's thought that schizophrenia is a latent condition that's triggered by some type of event in a person's life, usually occurring between the ages of 16 and 30.
---
Men are more prone to it than women. A miniscule percentage of such patients actually become violent and harm themselves or others. Even so, having it can seriously impact a person's quality of life and ability to function.
Fortunately today, it can be properly managed through medication. And in recent decades, we've learned more about this complex neurological condition than ever before. For instance, a study out in October found that 79% of the condition is genetic in origin.
Experts predict we will find a cure for schizophrenia in about 10 years.  As a result of our growing understanding, neuroscientists suspect that they also know why it developed in the first place. Those who suffer from it may be paying the price for humankind's advanced cognitive capabilities.
A new Australian study lends credence to this view. Scientists found a specific genetic pathway comprised of 97 genes, linked to genetic changes in the brain region associated with schizophrenia. This supports the theory that the psychiatric condition may be an unwanted side effect of our brain's evolution. Researchers at the Florey Institute for Neuroscience and Mental Health in Parkville, Australia, made this discovery. Their findings were published in the journal npj Schizophrenia.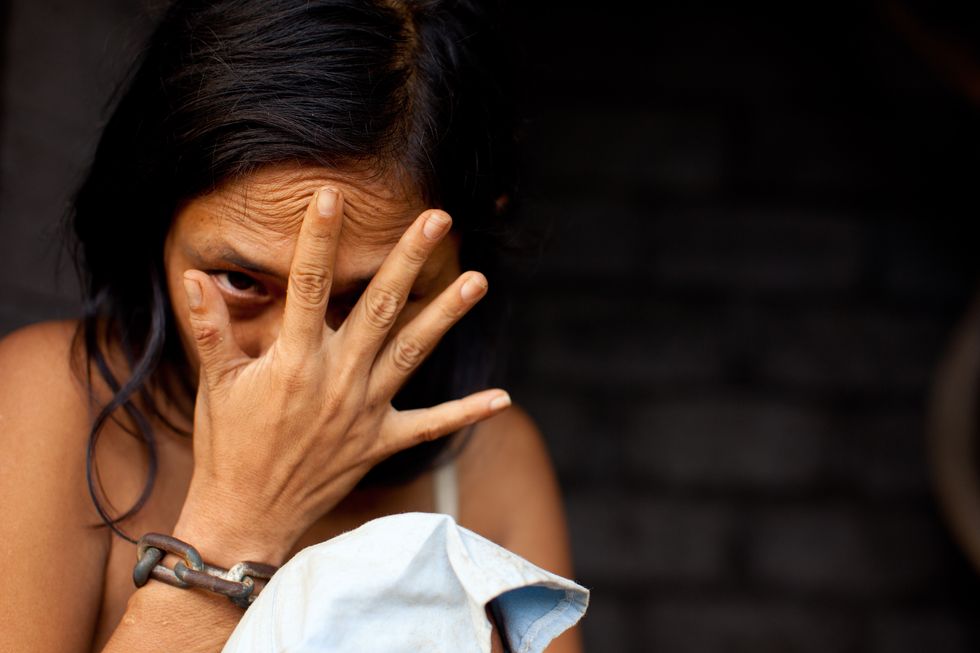 Before the advent of science, those with schizophrenia were thought to be possessed. Today we know that epigenetic changes trigger schizophrenia. It's set off by some type of trauma, ranging from a dysfunctional family to childbirth. Credit: Getty Images.
A 2008 study published in the open access journal Genome Biology suggests that during our evolution, we reached a point where our brain met the limit of its cognitive capabilities. To overcome this, the organ evolved rapidly in order to increase the rate at which it performed metabolic processes. Certain psychiatric conditions, such as schizophrenia, are a byproduct of these dramatic molecular changes, one prominent theory states.

Some scientists suggest that the creation of human language and speech came with a price, the entrance of autism and schizophrenia into the human genome. In fact, disorganized or jumbled speech is one of the telltale symptoms of schizophrenia. Another indicator, while other disorders are shared with other species, only humans' experience schizophrenia.
In the 2008 study, scientists discovered that "both genes and metabolites relating to energy metabolism and energy-expensive brain functions...(which are) altered in schizophrenia and, at the same time, appear to have changed rapidly during recent human evolution, probably as a result of positive selection." In 2006, scientists discovered human accelerated regions (HARs) in the genome. These are areas in the human DNA that saw accelerated evolution.
Building on that, a 2015 study led by Joel Dudley at the Icahn School of Medicine at Mount Sinai, found that certain genes controlled by HARs are associated with schizophrenia. The problem is, these are essential to neurological function, suggesting they were more important to our development than other genes, even though they carry within them a risk.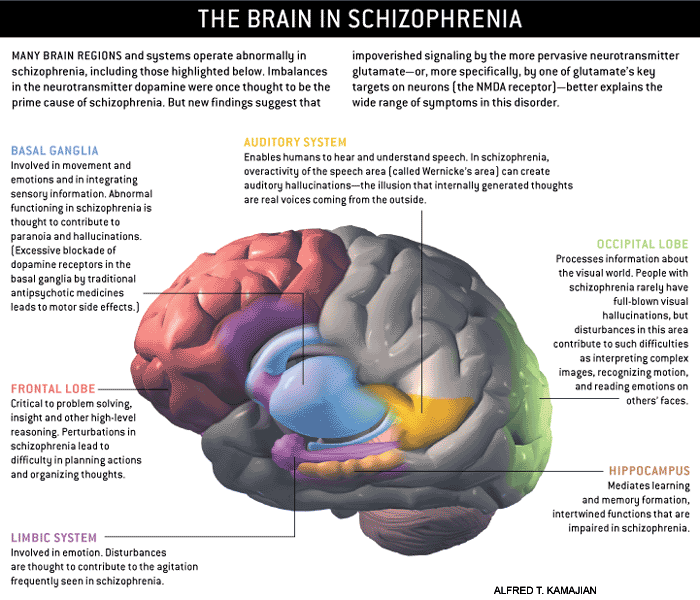 Credit: Jurgitta (Own work), Wikimedia Commons
In this most recent study, researchers' examined the brains of 15 people (postmortem) who had schizophrenia and 15 who didn't. Scientists have speculated for decades that quick evolutionary changes in the frontal pole of the brain, may have helped us evolve greater intellectual capacity, as a result of alterations in the brain's metabolism.
In this study, they looked specifically at messenger RNA (mRNA). This is a type of RNA which carries snippets of DNA to other parts of a cell, in order for it to be processed. They examined mRNA in the frontal pole of the brain. This area maintains cognitive flexibility and acts as the foundation for planning and reasoning, two skills impaired in schizophrenics.
Researchers examined in particular the cingulate cortex and the dorsolateral prefrontal cortex, along with nearby areas known to be associated with schizophrenia. 566 genetic changes were discovered in these brain regions in schizophrenics. According to Professor Brain Dean, a co-author on the study, "Though this is not fully understood, our data suggests the frontal area of the brain is severely affected by such changes." He added, "There is the argument that schizophrenia is an unwanted side effect of developing a complex human brain and our findings seem to support that argument."
To learn more about schizophrenia, click here.
Inventions with revolutionary potential made by a mysterious aerospace engineer for the U.S. Navy come to light.
Credit: Getty Images
Surprising Science
U.S. Navy holds patents for enigmatic inventions by aerospace engineer Dr. Salvatore Pais.
Pais came up with technology that can "engineer" reality, devising an ultrafast craft, a fusion reactor, and more.
While mostly theoretical at this point, the inventions could transform energy, space, and military sectors.
The U.S. Navy controls patents for some futuristic and outlandish technologies, some of which, dubbed "the UFO patents," came to life recently. Of particular note are inventions by the somewhat mysterious Dr. Salvatore Cezar Pais, whose tech claims to be able to "engineer reality." His slate of highly-ambitious, borderline sci-fi designs meant for use by the U.S. government range from gravitational wave generators and compact fusion reactors to next-gen hybrid aerospace-underwater crafts with revolutionary propulsion systems, and beyond.
Of course, the existence of patents does not mean these technologies have actually been created, but there is evidence that some demonstrations of operability have been successfully carried out. As investigated and reported by The War Zone, a possible reason why some of the patents may have been taken on by the Navy is that the Chinese military may also be developing similar advanced gadgets.
Among Dr. Pais's patents are designs, approved in 2018, for an aerospace-underwater craft of incredible speed and maneuverability. This cone-shaped vehicle can potentially fly just as well anywhere it may be, whether air, water or space, without leaving any heat signatures. It can achieve this by creating a quantum vacuum around itself with a very dense polarized energy field. This vacuum would allow it to repel any molecule the craft comes in contact with, no matter the medium. Manipulating "quantum field fluctuations in the local vacuum energy state," would help reduce the craft's inertia. The polarized vacuum would dramatically decrease any elemental resistance and lead to "extreme speeds," claims the paper.
Not only that, if the vacuum-creating technology can be engineered, we'd also be able to "engineer the fabric of our reality at the most fundamental level," states the patent. This would lead to major advancements in aerospace propulsion and generating power. Not to mention other reality-changing outcomes that come to mind.
Among Pais's other patents are inventions that stem from similar thinking, outlining pieces of technology necessary to make his creations come to fruition. His paper presented in 2019, titled "Room Temperature Superconducting System for Use on a Hybrid Aerospace Undersea Craft," proposes a system that can achieve superconductivity at room temperatures. This would become "a highly disruptive technology, capable of a total paradigm change in Science and Technology," conveys Pais.
High frequency gravitational wave generator.
Credit: Dr. Salvatore Pais
Another invention devised by Pais is an electromagnetic field generator that could generate "an impenetrable defensive shield to sea and land as well as space-based military and civilian assets." This shield could protect from threats like anti-ship ballistic missiles, cruise missiles that evade radar, coronal mass ejections, military satellites, and even asteroids.
Dr. Pais's ideas center around the phenomenon he dubbed "The Pais Effect". He referred to it in his writings as the "controlled motion of electrically charged matter (from solid to plasma) via accelerated spin and/or accelerated vibration under rapid (yet smooth) acceleration-deceleration-acceleration transients." In less jargon-heavy terms, Pais claims to have figured out how to spin electromagnetic fields in order to contain a fusion reaction – an accomplishment that would lead to a tremendous change in power consumption and an abundance of energy.
According to his bio in a recently published paper on a new Plasma Compression Fusion Device, which could transform energy production, Dr. Pais is a mechanical and aerospace engineer working at the Naval Air Warfare Center Aircraft Division (NAWCAD), which is headquartered in Patuxent River, Maryland. Holding a Ph.D. from Case Western Reserve University in Cleveland, Ohio, Pais was a NASA Research Fellow and worked with Northrop Grumman Aerospace Systems. His current Department of Defense work involves his "advanced knowledge of theory, analysis, and modern experimental and computational methods in aerodynamics, along with an understanding of air-vehicle and missile design, especially in the domain of hypersonic power plant and vehicle design." He also has expert knowledge of electrooptics, emerging quantum technologies (laser power generation in particular), high-energy electromagnetic field generation, and the "breakthrough field of room temperature superconductivity, as related to advanced field propulsion."
Suffice it to say, with such a list of research credentials that would make Nikola Tesla proud, Dr. Pais seems well-positioned to carry out groundbreaking work.
A craft using an inertial mass reduction device.
Credit: Salvatore Pais
The patents won't necessarily lead to these technologies ever seeing the light of day. The research has its share of detractors and nonbelievers among other scientists, who think the amount of energy required for the fields described by Pais and his ideas on electromagnetic propulsions are well beyond the scope of current tech and are nearly impossible. Yet investigators at The War Zone found comments from Navy officials that indicate the inventions are being looked at seriously enough, and some tests are taking place.
If you'd like to read through Pais's patents yourself, check them out here.
Laser Augmented Turbojet Propulsion System
Credit: Dr. Salvatore Pais
Is working from home the ultimate liberation or the first step toward an even unhappier "new normal"?
Culture & Religion
The Great Resignation is an idea proposed by Professor Anthony Klotz that predicts a large number of people leaving their jobs after the COVID pandemic ends and life returns to "normal."
French philosopher Michel Foucault argued that by establishing what is and is not "normal," we are exerting a kind of power by making people behave a certain way.
If working from home becomes the new normal, we must be careful that it doesn't give way to a new lifestyle that we hate even more than the office.
You wake up, you put on your work clothes, and you go to the office. You sit behind a desk, or in some designated space, and you work until the clock says it's over. This is what life is like for the vast majority of people. That is, until COVID came along. Then, everything changed.
Recently, an interesting idea has emerged called the "Great Resignation." This is a phenomenon that Professor Anthony Klotz of Texas A&M University has predicted will happen when people are asked, or told, to return to their offices. Klotz argues that, when we're all forced back into the old reality of the commute, a nine-to-five job, and cubicle life, there will be a "Great Resignation" among the workforce.
The argument is that in times of uncertainty and insecurity — like during a global pandemic — people behave conservatively. They'll stay put. But once things "normalize" again, we ought to expect employees to head for the exits.
But why? What has changed? Why has working from home made us so dissatisfied with our previously normal lives? Other than the comfort and convenience of working from home, one explanation might involve the concept of "normalization," a topic that fascinated French philosopher Michel Foucault.
The power of normal people
Foucault argued that we often spend an inordinate amount of time trying to be normal. We must dress the same way as everyone else. We must talk about the same things. We must work just like everyone else works. It's hugely important that things are normal. But, behind all of this, is a power dynamic that many of us are simply unaware of — and unconsciously unhappy about.
Someone, somewhere, must define what is "normal." It is then for the rest of us to bend over backward to fit into this narrow mold. To be powerful, then, is to say, "Do this, otherwise everyone will call you weird." Power is to hold the hoops everyone else must jump through. It's what Foucault describes as "normalizing power."
COVID was a wake-up call to the abnormality of modern work
Credit: Lintao Zhang via Getty Images
Let's apply Focault's normalization concept to the modern workplace. Accepted wisdom had it that the best — and really, the only way — to work was in an office, usually downtown, far away from where we live. We were told this is where collaboration and creativity occur. Largely unchallenged, this "normal" functioned for decades, and we all obeyed.

We had to wake up at the crack of dawn to get ready for work. We had to travel in clogged and joyless commutes. We had to eat ready-packaged lunches behind our too-small desks. We had to sit through meetings in "good posture" ergonomic chairs that wouldn't be out of place in the Spanish Inquisition. Then we had to travel back home in yet another clogged and joyless commute. And we did this day after day after day.
Then COVID came along and revealed just how artificial, unnecessary, and abnormal it all is. It's as if someone ripped a blindfold off of society. We have laptops, wi-fi, and 5G (at least when people aren't burning the towers down). Many of us were just as productive — if not more so — than during the "normal" pre-COVID era. We don't need to be in an office. We don't need to waste countless hours of our lives sitting in traffic.
While the idea of a Great Resignation is quite appealing right now, we should be careful the "new normal" isn't so much worse.
Even better, people got to spend more time with their families, enjoy long and restful breaks, and have space to pursue their hobbies. In short, people like not going to an office. And, as Klotz argues, when companies see this dissatisfaction — this Great Resignation — they're going to ask some revolutionary questions, like, "Do you want to come back full time? Work remotely? In-office three days a week? Four days? One day?"
The silver lining to the COVID pandemic is that it has made us re-examine what "normal" is.
Beware the new normal
Of course, the idea of a nine-to-five office job was not established by some moustache-twirling villain just to satisfy his sadistic whims. It came about because people thought that was the most effective and productive way to operate.
People do need direct human contact, and it's often easier and more productive to speak to a colleague next to you or walk across an office to ask for some help. Remote-working software like Zoom is indeed convenient, but can a company honestly say that it's as efficient as working in an office?
What's more, there's a particularly pernicious sting in what Foucault argued. It's something that ought to slow any would-be Great Resignation. This is the idea that there likely will always be some kind of normal.
While COVID has revealed the office for the normalized power play that it is, what's to say what the next "normal" will be? Let's say that working from home becomes the new normal. Will we be expected to attend Zoom meetings at any hour of the day or answer text messages at midnight? Might cameras be used to monitor our every movement? Might software check that we're working at the right pace and in the right way?
While the idea of a Great Resignation is quite appealing right now, we should be careful the "new normal" isn't so much worse.
Linguists discover 30 sounds that may have allowed communication before words existed.
Surprising Science
What did the first person who wanted to speak say?
New research suggests that there are lots of sounds that everyone understands.
These sounds may have allowed the first exchanges that gave birth to language.
As hard as it is sometimes to get a conversation started, imagine how difficult it must have been before words existed. Linguists have long wondered how verbal language began. Some form of communication must have been in place to get the whole thing going. Maybe it was gestures.
Now, a new study published in Scientific Reports by linguists at the University of Birmingham (UBir) in the UK and the Leibniz-Centre General Linguistics in Berlin proposes another idea: Verbal communication may have begun at least partly with "iconic" mouth-produced sounds whose meanings were inherently obvious to anyone who heard them. (The researchers use the word "iconic" to mean that these sounds represent things.)
The importance of these sounds may also extend beyond their role as the ultimate conversation starters, says co-author Marcus Perlman of UBir. "Our study fills in a crucial piece of the puzzle of language evolution, suggesting the possibility that all languages — spoken as well as signed — may have iconic origins."
30 iconic sounds
Credit: Alexander Pokusay /
The researchers have posted a few of these iconic sounds: "cut," "tiger," "water," and "good." (Note: These audio files won't play in Apple's Safari browser.) The study reveals that there are a lot more of these sounds than previously appreciated, and likely enough to form a bridge to language development.

Co-author UBir's Bodo Winter explains:
"Our findings challenge the often-cited idea that vocalizations have limited potential for iconic representation, demonstrating that in the absence of words people can use vocalizations to communicate a variety of meanings — serving effectively for cross-cultural communication when people lack a common language."
The researchers compiled a list of 30 iconic-sound candidates that likely would have been of use to the earliest speakers. These included mouth noises that could represent:
animate beings — "child," "man," "woman," "snake," "tiger," "deer"
inanimate objects — "fire," "rock," "meat," "water," "knife," "fruit"
activities — "eat," "sleep," "cut," "cook," "gather," "hunt," "hide"
descriptors — "good," "bad," "small," "big" "dull," "sharp"
quantities — "one," "many"
demonstrative words — "this," "that"
Was "nom, nom" the sound for eating?
Credit: Aleksandra Ćwiek, et al. / Scientific Reports
Making a list — and making noises — is one thing; finding out if anyone understands them is another. The researchers tested out their iconic sounds in two different experiments.

In an online experiment, speakers of 25 different languages were asked to match the meaning of iconic sounds to six written labels. They listened to three performances for each of the 30 candidates, 90 recordings in all.
Participants correctly identified the sounds' meaning roughly 65 percent of the time.
Some meanings were more readily understood than others. "Sleep" was correctly identified by almost 99 percent, as opposed to "that," understood by only 35 percent. The most often understood sounds were "eat," "child," "sleep," "tiger," and "water." The least? "That," "gather," "sharp," "dull," and "knife."
The researchers next conducted field experiments to capture the meaningfulness of the sounds in oral cultures with inconsistent literacy levels. For these people, researchers played twelve iconic sounds for animals and inanimate objects as listeners identified each from a grid of pictures. The volunteers correctly identified the sounds' meanings about 56 percent of the time, again above the level of chance.
The universal roots of language
In addition to being the sounds that facilitated the birth of language, the authors of the study wonder if such commonly understood sounds may also be a factor in the similarities that exist between different modern languages that don't share a common root language. They cite other research that found "vocalizations for 25 different emotions were identifiable across cultures with above-chance accuracy."
"The ability to use iconicity to create universally understandable vocalizations," says Perlman, "may underpin the vast semantic breadth of spoken languages, playing a role similar to representational gestures in the formation of signed languages."
Scroll down to load more…