Researchers Find the 1st Possible Negative Side Effect of Marijuana Use in Adults
Brain blood flow in those with cannabis use disorder was found to be significantly restricted.
14 December, 2016
The stigma against marijuana in the US has been eroding for decades. But over the last ten years, use has skyrocketed. Since 2002, the number of Americans using the drug has almost doubled, according to a recent survey. In 2001, 4.1% said they had smoked marijuana within the past year. By 2014, 9.5% had done so. The number of patients using it to control the symptoms of an illness or disorder has risen substantially as well. Since it has been found far less dangerous that alcohol and other intoxicants, cannabis is quickly becoming the drug of choice for many Americans. New laws have allowed for medical marijuana in over half the states and recreational marijuana in about a half dozen.
---
Cannabis is also the most commonly used illicit drug in the world, according to the WHO. While opponents to liberalization often talk about it as a gateway drug, there is little evidence of this. In fact, scant data exists alleging that marijuana causes any damage whatsoever, if used in moderation, once the brain has stopped developing. But for chronic users, a new study imposes a harsh warning.
Researchers at Amen Clinics Inc. of California have found evidence that chronic use may increase the risk of Alzheimer's. This is because it restricts blood flow to the regions of the brain where the condition takes root. Co-author Dr. Elisabeth Jorandby and colleagues recruited participants with marijuana use disorder. Around nine percent of users get addicted to cannabis. That's a relatively low number.
Cannabis or marijuana use disorder is defined as using the drug chronically, even when it is clearly causing significant cognitive impairment. The symptoms may be mild, moderate, or severe, depending on the particular case. Chronic use is considered daily or near daily use. Those who habitually consume are more susceptible to psychiatric disorders.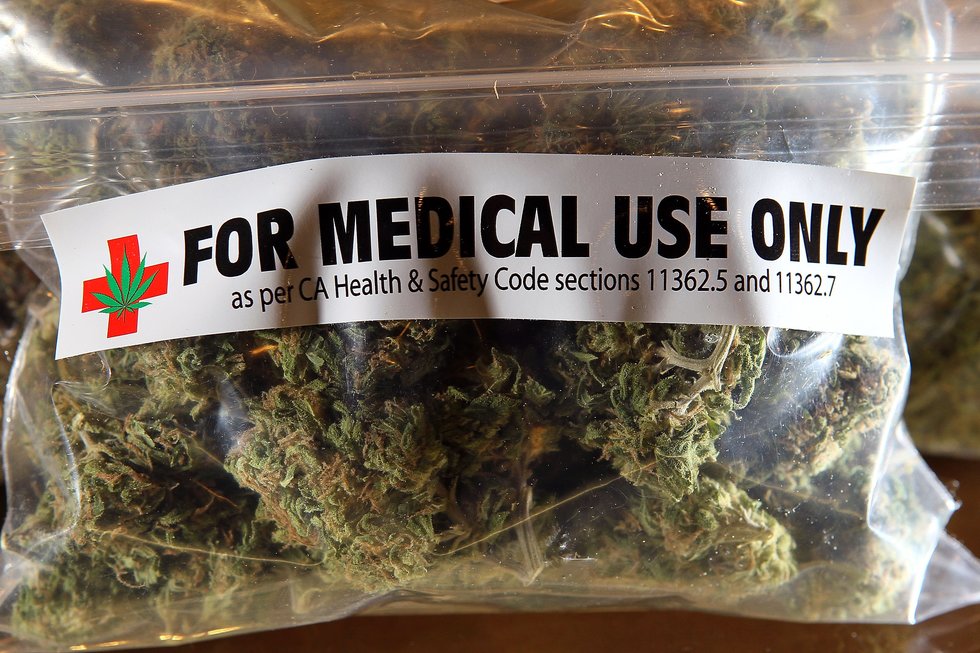 Medical marijuana is available in 28 states in the US today. Seven states now allow the recreational kind, and many more cities across the nation have decriminalized pot.
In this study, published in the Journal of Alzheimer's Disease, 982 current or former chronic users and 92 healthy controls underwent brain scans to evaluate blood flow there. Those diagnosed with cannabis use disorder showed a significant reduction in brain blood flow in almost every region. The hippocampus, which is where Alzheimer's originates, saw the largest reduction. This is the area responsible for learning and memory.
Few previous studies have evaluated blood flow inside the brain as an effect of chronic marijuana use, researcher's said. This was measured using single photon emission computed tomography (SPECT). Participants had their brains scanned while performing a task and while at rest. Reduced brain blood flow would cause less oxygen to travel to neurons, which could lead to tissue damage.
Blood flow was especially restricted in the right hippocampus. Researchers believe marijuana may affect memory formation due to this effect. The study suggests consistent marijuana use causes damage to the brain. Possible effects include memory formation disruption. Other studies have suggested that restricted blood flow to the hippocampus can increase the risk of Alzheimer's.
More research will have to be conducted to corroborate this claim. But it's reasonable that someone who only lights up occasionally won't have such an issue. This study conflicts with a 2014 preclinical trial, also published in the Journal of Alzheimer's Disease. There, tiny doses of marijuana's active ingredient, delta 9-tetrahydrocannabinol (THC) had neuroprotective qualities. It helped ward off Alzheimer's by destroying beta amyloid proteins which are what cause the disease. So in the end, it may be an issue of dosage. A little is okay, but too much is damaging. But only more studies can tell us for sure.
To learn how marijuana affects memory in the short-term, click here: 
Lumina Foundation is partnering with Big Think to unearth the next large-scale, rapid innovation in post-high school education. Enter the competition here!
Good science is sometimes trumped by the craving for a "big splash."
Videos
Scientists strive to earn credit from their peers, for grants from federal agencies, and so a lot of the decisions that they make are strategic in nature. They're encouraged to publish exciting new findings that demonstrate some new phenomenon that we have never seen before.
This professional pressure can affect their decision-making — to get acclaim they may actually make science worse. That is, a scientist might commit fraud if he thinks he can get away with it or a scientist might rush a result out of the door even though it hasn't been completely verified in order to beat the competition.
On top of the acclaim of their peers, scientists — with the increasing popularity of science journalism — are starting to be rewarded for doing things that the public is interested in. The good side of this is that the research is more likely to have a public impact, rather than be esoteric. The bad side? To make a "big splash" a scientist may push a study or article that doesn't exemplify good science.
Moans, groans, and gripes release stress hormones in the brain.
popular
Could you give up complaining for a whole month? That's the crux of this interesting piece by Jessica Hullinger over at Fast Company. Hullinger explores the reasons why humans are so predisposed to griping and why, despite these predispositions, we should all try to complain less. As for no complaining for a month, that was the goal for people enrolled in the Complaint Restraint project.
Participants sought to go the entirety of February without so much as a moan, groan, or bellyache.
Two space agencies plan missions to deflect an asteroid.
ESA's Hera mission above asteroid 65803 Didymos. Credit: ESA/ScienceOffice.org
Surprising Science
NASA and the European Space Agency (ESA) are working together on missions to a binary asteroid system.
The DART and Hera missions will attempt to deflect and study the asteroid Didymoon.
A planetary defense system is important in preventing large-scale catastrophes.
Big think's weekly newsletter.
Get smarter faster from the comfort of your inbox.
See our newsletter privacy policy
here
Most Popular
Most Recent
Big think's weekly newsletter.
Get smarter faster from the comfort of your inbox.
See our newsletter privacy policy
here
© Copyright 2007-2018 & BIG THINK, BIG THINK EDGE,
SMARTER FASTER trademarks owned by The Big Think, Inc. All rights reserved.