Power-Generating Paint Offers an Unlimited, Clean Fuel Source
It could be on the market in about five years.
16 June, 2017
Unlike fossil fuels, hydrogen fuel doesn't affect the atmosphere. It's actually the cleanest energy source of all, at least until nuclear fusion is possible. That could be decades or longer. With hydrogen fuel, the only byproduct is water. What's cleaner than that? And the technology already exists to utilize it.
---
Until now, fossil fuels were needed to get at that hydrogen, and the water used within the system had to be distilled. No longer. Now, scientists have created a paint-like substance which can pull hydrogen right out of the air, giving us an unlimited and cheap source of clean energy.
The "solar paint" is made from a new synthetic called molybdenum-sulphide. In some ways, it has the same properties as silica gel. This is a chemical used to absorb moisture. It helps us to store food, and preserve and protect clothing and electronics.
You may have noticed a small, white, paper packet with some crystals in it along hidden in the packaging of say, a new pair of shoes or an electronic device. That little package contains beads of silica gel. It's meant to keep the item dry thus preserving it. But unlike silica gel, molybdenum-sulphide is also a semi-conductor. It naturally captures water vapor from the air and splits it into hydrogen and oxygen molecules.
Researchers from RMIT University in Australia conducted the study, led by Dr. Torben Daeneke. The results were published in the journal ACS Nano. Hydrogen can be used in internal combustion engines or fuel cells. There are already some buses and cars that run on hydrogen fuel. Being so clean, widespread use of the paint could seriously cut down on fossil fuel emissions, while offering us the power the 21st century demands, cost-effectively.
Since burning hydrogen doesn't cause air pollution, it would also prove advantageous in terms of public health. Smog is a real problem in cities around the world and studies have shown that constant exposure can lead to upper respiratory problems, asthma, developmental disabilities in very young children, and more. Besides fuel, hydrogen is used in agricultural and industrial processes, so there may be applications there as well.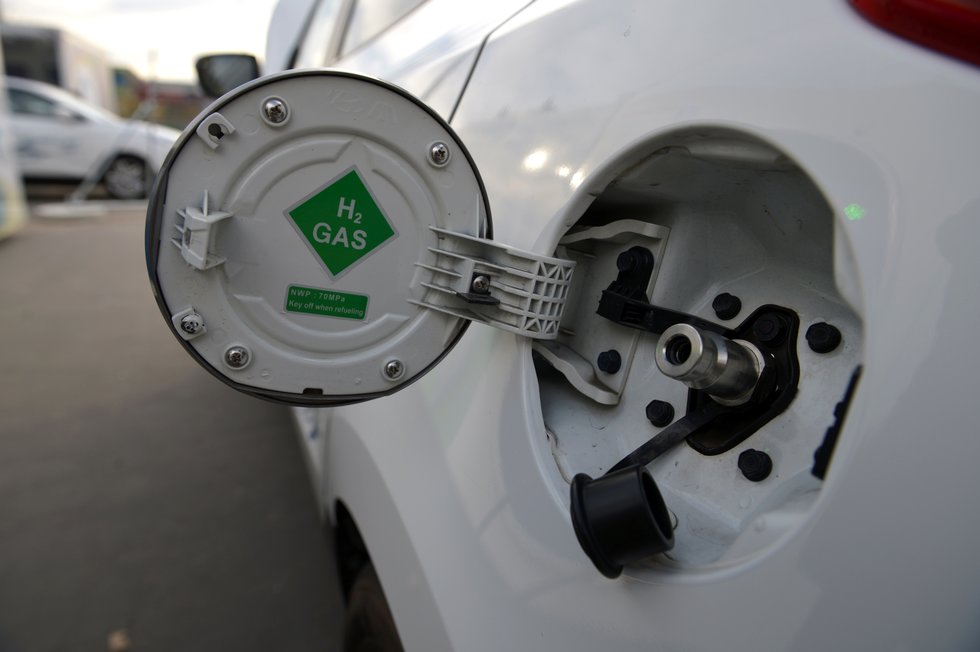 The transition to a hydrogen-based system wouldn't demand too much investment. Getty Images.
Of these findings Dr. Daeneke said:
We found that mixing the compound with titanium oxide particles leads to a sunlight-absorbing paint that produces hydrogen fuel from solar energy and moist air. Titanium oxide is the white pigment that is already commonly used in wall paint, meaning that the simple addition of the new material can convert a brick wall into energy harvesting and fuel production real estate. Our new development has a big range of advantages. There's no need for clean or filtered water to feed the system. Any place that has water vapor in the air, even remote areas far from water, can produce fuel.
Eminent Professor Kourosh Kalantar-zadeh collaborated on the study. He said that the substance works even in areas where not a lot of water can be found. But it may work best on the coast. Here, seawater is constantly being evaporated by the sun. The paint would have a constant source of water vapor to produce fuel. Most of the world's great cities are coastal or reside near a significant body of water. The paint would also be cheap to produce, according to Dr. Daeneke.
One drawback is that researchers have not yet covered how the hydrogen would be stored. This is incredibly difficult. New technology and infrastructure will have to be built too, to allow cars and other systems to utilize this new fuel. Hydrogen pipelines may even need to be built. Despite some obstacles researchers say this paint could become commercially available in about five years.  
To learn more about this "solar paint," click here: 
In a breakthrough for nuclear fusion research, scientists at China's Experimental Advanced Superconducting Tokamak (EAST) reactor have produced temperatures necessary for nuclear fusion on Earth.
Credit: EAST Team
Surprising Science
The EAST reactor was able to heat hydrogen to temperatures exceeding 100 million degrees Celsius.
Nuclear fusion could someday provide the planet with a virtually limitless supply of clean energy.
Still, scientists have many other obstacles to pass before fusion technology becomes a viable energy source.
Military recruits are supposed to be assessed to see whether they're fit for service. What happens when they're not?
Politics & Current Affairs
During the Vietnam War, Robert McNamara began a program called Project 100,000.
The program brought over 300,000 men to Vietnam who failed to meet minimum criteria for military service, both physically and mentally.
Project 100,000 recruits were killed in disproportionate numbers and fared worse after their military service than their civilian peers, making the program one of the biggest—and possibly cruelest—mistakes of the Vietnam War.
The 116th Congress is set to break records in term of diversity among its lawmakers, though those changes are coming almost entirely from Democrats.
(Photo: MANDEL NGAN/AFP/Getty Images)
Politics & Current Affairs
Women and nonwhite candidates made record gains in the 2018 midterms.
In total, almost half of the newly elected Congressional representatives are not white men.
Those changes come almost entirely from Democrats; Republican members-elect are all white men except for one woman.
Big think's weekly newsletter.
Get smarter faster from the comfort of your inbox.
See our newsletter privacy policy
here
Most Popular
Most Recent
Big think's weekly newsletter.
Get smarter faster from the comfort of your inbox.
See our newsletter privacy policy
here
© Copyright 2007-2018 & BIG THINK, BIG THINK EDGE,
SMARTER FASTER trademarks owned by The Big Think, Inc. All rights reserved.