Power-Generating Paint Offers an Unlimited, Clean Fuel Source
It could be on the market in about five years.
16 June, 2017
This could someday be solar paint. Flikr.
Unlike fossil fuels, hydrogen fuel doesn't affect the atmosphere. It's actually the cleanest energy source of all, at least until nuclear fusion is possible. That could be decades or longer. With hydrogen fuel, the only byproduct is water. What's cleaner than that? And the technology already exists to utilize it.
---
Until now, fossil fuels were needed to get at that hydrogen, and the water used within the system had to be distilled. No longer. Now, scientists have created a paint-like substance which can pull hydrogen right out of the air, giving us an unlimited and cheap source of clean energy.
The "solar paint" is made from a new synthetic called molybdenum-sulphide. In some ways, it has the same properties as silica gel. This is a chemical used to absorb moisture. It helps us to store food, and preserve and protect clothing and electronics.
You may have noticed a small, white, paper packet with some crystals in it along hidden in the packaging of say, a new pair of shoes or an electronic device. That little package contains beads of silica gel. It's meant to keep the item dry thus preserving it. But unlike silica gel, molybdenum-sulphide is also a semi-conductor. It naturally captures water vapor from the air and splits it into hydrogen and oxygen molecules.
Researchers from RMIT University in Australia conducted the study, led by Dr. Torben Daeneke. The results were published in the journal ACS Nano. Hydrogen can be used in internal combustion engines or fuel cells. There are already some buses and cars that run on hydrogen fuel. Being so clean, widespread use of the paint could seriously cut down on fossil fuel emissions, while offering us the power the 21st century demands, cost-effectively.
Since burning hydrogen doesn't cause air pollution, it would also prove advantageous in terms of public health. Smog is a real problem in cities around the world and studies have shown that constant exposure can lead to upper respiratory problems, asthma, developmental disabilities in very young children, and more. Besides fuel, hydrogen is used in agricultural and industrial processes, so there may be applications there as well.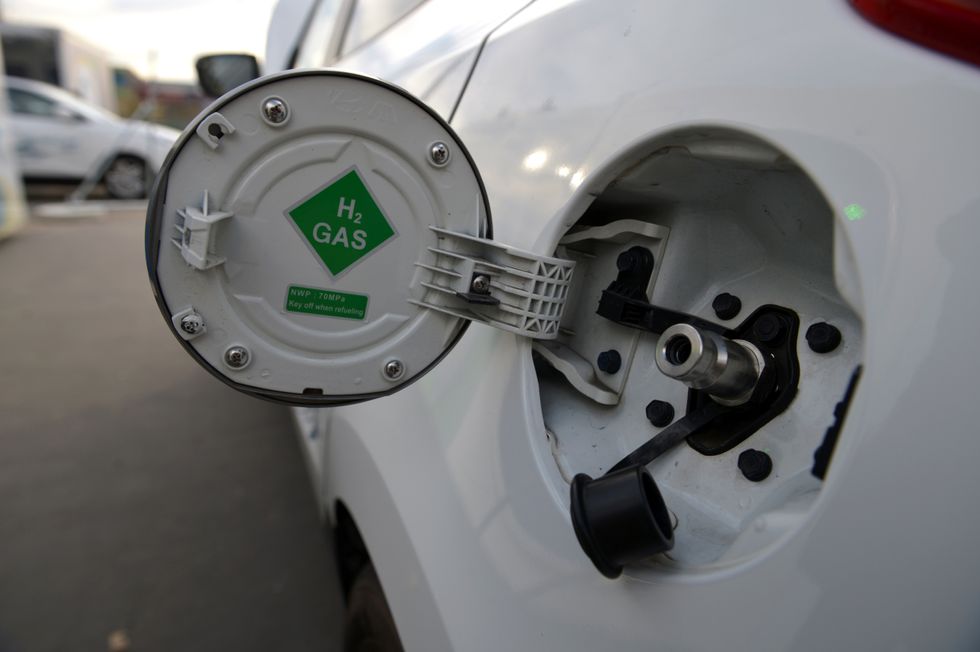 The transition to a hydrogen-based system wouldn't demand too much investment. Getty Images.
Of these findings Dr. Daeneke said:
We found that mixing the compound with titanium oxide particles leads to a sunlight-absorbing paint that produces hydrogen fuel from solar energy and moist air. Titanium oxide is the white pigment that is already commonly used in wall paint, meaning that the simple addition of the new material can convert a brick wall into energy harvesting and fuel production real estate. Our new development has a big range of advantages. There's no need for clean or filtered water to feed the system. Any place that has water vapor in the air, even remote areas far from water, can produce fuel.
Eminent Professor Kourosh Kalantar-zadeh collaborated on the study. He said that the substance works even in areas where not a lot of water can be found. But it may work best on the coast. Here, seawater is constantly being evaporated by the sun. The paint would have a constant source of water vapor to produce fuel. Most of the world's great cities are coastal or reside near a significant body of water. The paint would also be cheap to produce, according to Dr. Daeneke.
One drawback is that researchers have not yet covered how the hydrogen would be stored. This is incredibly difficult. New technology and infrastructure will have to be built too, to allow cars and other systems to utilize this new fuel. Hydrogen pipelines may even need to be built. Despite some obstacles researchers say this paint could become commercially available in about five years.  
To learn more about this "solar paint," click here: 
Universities claim to prepare students for the world. How many actually do it?
Sponsored by Charles Koch Foundation
Many university mission statements do not live up to their promise, writes Ben Nelson, founder of Minerva, a university designed to develop intellect over content memorization.
The core competencies that students need for success—critical thinking, communication, problem solving, and cross-cultural understanding, for example—should be intentionally taught, not left to chance.
These competencies can be summed up with one word: wisdom. True wisdom is the ability to apply one's knowledge appropriately when faced with novel situations.
This is what the world will look like, 250 million years from now
On Pangaea Proxima, Lagos will be north of New York, and Cape Town close to Mexico City
Surprising Science
To us humans, the shape and location of oceans and continents seems fixed. But that's only because our lives are so short.
A new study may help us better understand how children build social cognition through caregiver interaction.
Personal Growth
Scientists speculate imitation helps develop social cognition in babies.
A new study out of Lund University shows that six-month-olds look and smile more at imitating adults.
Researchers hope the data will spur future studies to discover what role caregiver imitation plays in social cognition development.
Researchers at UT Southwestern noted a 47 percent increase in blood flow to regions associated with memory.
Photo: Johannes Eisele/AFP via Getty Images
Surprising Science
Researchers at UT Southwestern observed a stark improvement in memory after cardiovascular exercise.
The year-long study included 30 seniors who all had some form of memory impairment.
The group of seniors that only stretched for a year did not fair as well in memory tests.
Videos
According to a man that knows more than 20 languages, the key is to start in the middle.
Scroll down to load more…