Big ideas.
Once a week.
Subscribe to our weekly newsletter.
Plants and Trees Communicate Through an Unseen Web
Plants can even ward off invaders through "Earth's natural internet."
25 August, 2016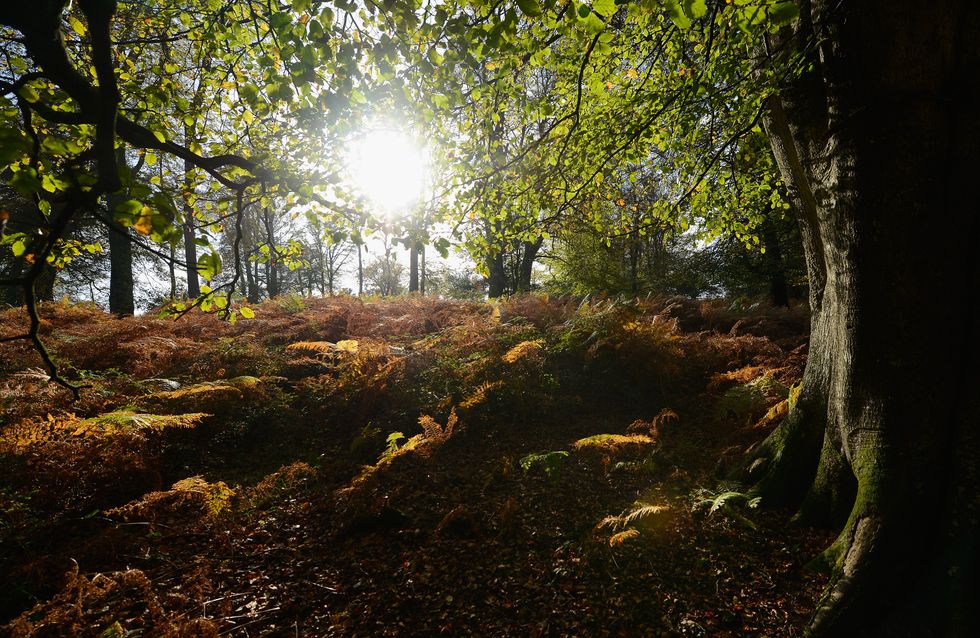 Your typical forest is doing more than meets the eye.
Ever borrow something from a friend or neighbor? You gossip while there too, right? Perhaps even align yourselves against a common enemy. The "Wood wide web," can do all of this for plants. Fungi are made up of tiny threads called mycelium. These travel underground, connecting the roots of different plants in an area, even different species, together, allowing them to communicate and so much more. Some researchers say the trees of the forest and the mushrooms we find growing next to them are so interconnected, that it is hard for them to see trees as individual entities any longer.
---
Though this may sound like news to some, indications of "Earth's natural internet" go back to the 19th century, beginning with German biologist Albert Bernard Frank. He is the first to discover a symbiotic relationship between fungal colonies and the roots of plants. Frank created the term "mycorrhiza" to describe this symbiosis. Today we know that approximately 90% of all land-based plants are connected through what is called the mycorrhizal network.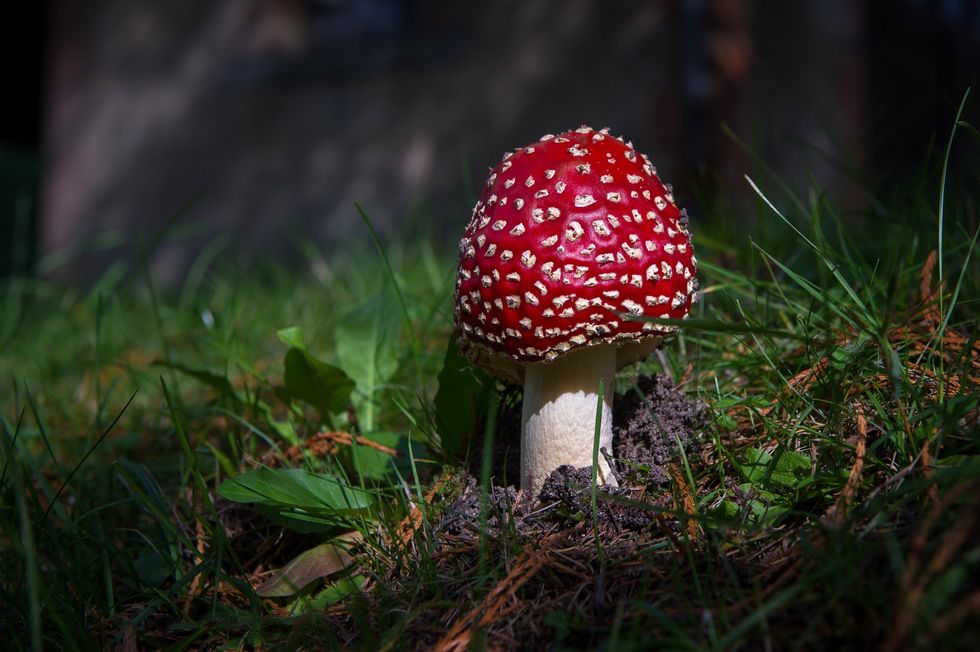 Fungi and trees are so interconnected, some scientists believes they should not be viewed as separate organisms.
Since the 1960s we've known that fungi aid in plant growth. Since then, scientists have learned that they also help plants locate water and provide certain nutrients through mycelia strands around their roots. The fungal networks protect plants from infection too, by providing protective compounds, stored in the roots, which are triggered should the plant be attacked. This phenomenon, called "priming," makes the immune system of the plant far more effective. In return, plants feed their fungi carbohydrates on a consistent basis.
Besides defense, it also serves as a communication network, connecting even to plants which are far away. Paul Stamets first had the idea of such a network in the 1970s, while studying fungi under an electron microscope. He found that there were startling similarities between the precursor to the internet, the US defense department's ARPANET, and these fungal networks. Yet, it took decades of research to uncover the sheer breadth of the phenomenon. Other scientists have since likened it to an animal's nervous system.
In 1983, two studies proved that poplars and sugar maple trees warn each other about worrisome insects. When one tree becomes infested, it warns others who begin producing anti-insect chemicals, to protect against attack. These signals are sent through the air. Even then, the splinter group of scientists studying this phenomenon were for decades waved away. Since the late 90's however, such researchers have proven that trees transfer carbon, nitrogen, phosphorus, and other nutrients, back and forth via mycelia. Today, though only a scant few study it, the phenomenon is no longer in doubt.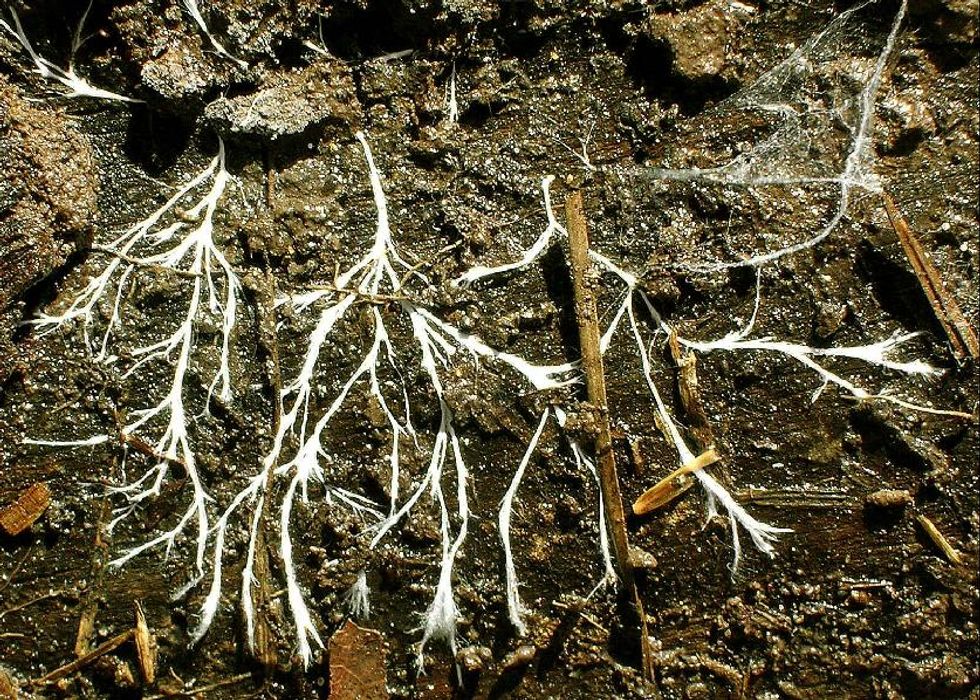 Mycorrhizal threads. Photo by The Alpha Wolf CC-BY-SA-3.0 via Wikimedia Commons
Suzanne Simard of the University of British Columbia discovered nutrient exchanges between Douglas fir trees and paper birches. She believes it goes even farther than this. Simard says that small, younger trees are helped through the network by larger, older ones. Without such aid, she said, seedlings wouldn't stand a chance. Simard found in one study that food strapped seedlings stuck in the shade received carbon from nearby trees to help them along.
Of course, Simard isn't suggesting that plants have consciousness or that they are individuals in any sense. But they are interacting and helping one another survive. Other experts warn that although we are aware of such exchanges, to what extent they occur remains unclear.
In 2010, Ren Sen Zeng, a researcher at South China Agricultural University, proved that plants communicate through the mycelia network. Zeng and colleagues found that when infected with blight, tomato plants release a chemical signal to warn others nearby. These plants also "eavesdrop" on neighbors, to determine when to build up their defenses against oncoming pathogens. A 2013 study found that broad beans also signaled neighbors through the fungal network, this time due to an aphid infestation. But not all interactions are helpful. There is a dark side to the mycorrhizal network, too.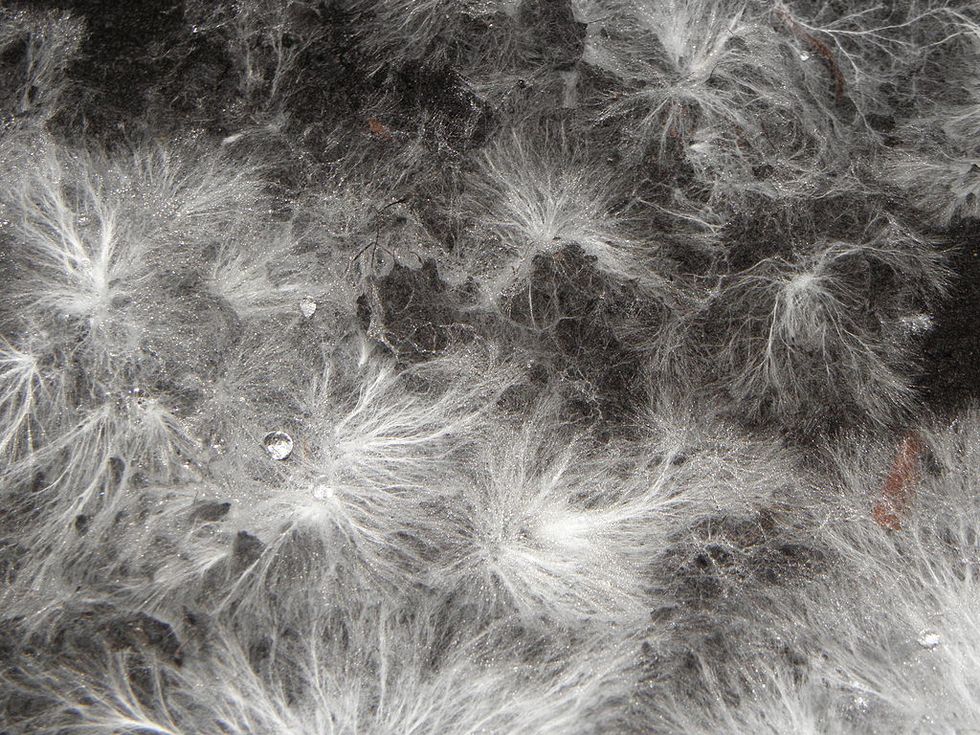 Mycelium. Photo by Rob Hille [CC BY-SA 3.0)], via Wikimedia Commons
A phantom orchid for instance cannot produce its own energy. Instead, it steals carbon from trees close by in order to survive, accessing the nutrients via the mycelia threads connecting them. Other orchids, known as "mixotrophs" can photosynthesize, but steal from others when it suits them. Plants also at times compete for resources such as light and water. When this occurs, some release toxins to slow their competitors encroachment in a process is called, "allelopathy." Certain species of Eucalyptus, , American sycamores, acacias, and sugarberries are known to do this. The chemicals they release travel the network and block nearby plants from establishing themselves, or reduce the number of friendly microbes at their roots to impede their opponent's growth.
Some experts theorize that animals may be taking advantage of the fungal network for their own ends. The same chemicals that bring helpful fungi and bacteria to a plant's roots might also signal worms and other harmful organisms looking for a snack. But this theory to date hasn't been tested. Some say the fungal network gives us another example of how interconnected all life on Earth actually is and how each organism depends on another and in turn is depended upon. It also makes us question whether such actions constitute behavior, and what motivated plants to link up to begin with, and for fungi to lend a hand in the endeavor.
To learn more about how plants communicate click here: 
Welcome to the world's newest motorsport: manned multicopter races that exceed speeds of 100 mph.
Credit: Airspeeder
Technology & Innovation
Airspeeder is a company that aims to put on high-speed races featuring electric flying vehicles.
The so-called Speeders are able to fly at speeds of up to 120 mph.
The motorsport aims to help advance the electric vertical take-off and landing (eVTOL) sector, which could usher in the age of air taxis.
The way you speak might reveal a lot about you, such as your willingness to engage in casual sex.
Surprising Science
A new study finds a deeper voice is associated with self-reported extraversion, dominance, and casual sex.
It was the first study on the topic to objectively measure voice pitch.
The authors suggest that hormones like testosterone might explain their findings.
We make snap decisions about other people based on information that we can gather quickly. One of the many ways that we do this is by making bold conclusions about other people's personalities based on their voices alone. Various studies demonstrate that people associate a deep voice with dominance, but those with higher pitched voices are perceived as nervous or neurotic. Popular culture seems to agree with and reinforce these stereotypes.
Are these perceptions accurate? Maybe. A new study by an international team of researchers with the goal of more accurately determining what our voices reveal about us has demonstrated that there is some connection between how we sound and who we think we are.
The voice-personality connection
Lead author Dr. Julia Stern of the University of Göttingen explained:
"Even if we just hear someone's voice without any visual clues — for instance on the phone — we know pretty soon whether we're talking to a man, a woman, a child, or an older person. We can pick up on whether the person sounds interested, friendly, sad, nervous, or whether they have an attractive voice. We also start to make assumptions about trust and dominance. The first step was to investigate whether voices are, indeed, related to people's personality."
The study included data from 2,000 people from four countries involved in eleven previous independent studies focused on other questions. Each of these studies involved some kind of self-reporting of personality traits and vocal recordings. The recordings were analyzed with Praat, software that determined the frequencies of the participants' speaking voices.
The study is the largest ever conducted on the topic and the first to use an objective measure of pitch rather than subjective rankings such as "high pitched" or "deep." Each participant's vocal pitch was then compared to the self-reported personality data they provided.
Pitch perfect
The findings associated self-reported levels of dominant tendencies, extroversion, and increased interest in and acceptance of sociosexuality (casual sex or sex outside of a relationship) with a lower pitched voice. This was true for men and women of any age. The findings were in line with the previous, less robust studies on the subject.
Other stereotypes, like if a higher pitched voice hints at neuroticism, openness to new experiences, or agreeableness, were impossible to determine with the data at hand.
Voice isn't everything
It should be remembered that the personality traits that this study associates with vocal pitch are self-reported, so there are some serious limitations. For instance, it is entirely possible that vocal pitch is associated with thinking you're extroverted when you actually aren't. Furthermore, all four countries in the study are WEIRD, so the findings probably cannot be universalized.
Additionally, there are plenty of examples of people for whom the voice-personality link doesn't apply. For example, Teddy Roosevelt, an extremely extroverted, dominating man, had a fairly high pitched voice.
The authors do speculate that there could be a connection between testosterone levels in men, their vocal pitch, and their perceived level of dominance that would be supported by previous studies. However, they have no hypothesis explaining why that same relationship exists for women.
The authors suggest that further studies in this area could focus on finding a possible physical connection between these traits and vocal pitch and to determine if they hold for traits which are not self-reported.
Who needs steroids when you have the placebo effect?
Surprising Science
A study suggests that the effectiveness of sports drinks may depend in part on their color.
Runners who rinsed with a pink liquid ran better than those who consumed the same but colorless drink.
Improvement in their performance is likely due to a placebo effect.
The "placebo effect" is real. It's the name for a strange phenomenon that most notably occurs during clinical trials. People who are given an inactive substance, like a sugar pill, often experience the same therapeutic benefit as those who are given actual medicine. It's not their imagination — it really happens. (Even better, recent research suggests that therapeutic benefits occur even when the person knows that they were given a placebo.)

Now, a new study from the University of Westminster (UOW) Centre for Nutraceuticals in London and published in Frontiers in Nutrition suggests that the placebo effect may explain yet another phenomenon: Athletic performance.
The research showed that treadmill runners who rinsed their mouths with a pink liquid increased their performance over runners who swished with exactly the same liquid but without the coloring. Why pink? The color is generally linked to sweetness, and the researchers wondered if that association would subconsciously trick the runners into an expectation of more carbohydrates and thus energy.
Author Sanjoy Deb explains:
"The influence of color on athletic performance has received interest previously, from its effect on a sportsperson's kit to its impact on testosterone and muscular power. Similarly, the role of color in gastronomy has received widespread interest, with research published on how visual cues or color can affect subsequent flavor perception when eating and drinking."
Running for science
Credit: Ryan De Hamer / Unsplash
For the study, the researchers recruited ten healthy adults — six men, four women. All were regular exercisers, with an average age of 30. The participants were told that they would be testing the relative benefits of two commercial sports drinks after watching a brief video explaining the value of such beverages. Previous research found that mid-exercise rinsing with such drinks can reduce the perceived intensity of exercise.

The drinks consisted of 0.12 grams of sucralose dissolved in 500 mL of plain water — an artificially sweetened rinse low in calories. The liquids contained no other additives common to sports drinks such as caffeine. The pink version had non-caloric coloring added but was otherwise identical.
After a 12-minute warmup phase of jogging followed by running, the athletes ran at a difficult pace for 30 minutes, rinsing with their drinks as they ran. Following a brief cool-down, they were interviewed to capture their impressions of the exercise session. (Each runner tested both drinks.)
Think pink
The researchers found that when the volunteers used the pink rinse, they ran an average of 212 meters farther and 4.4 percent faster. They also enjoyed the exercise more.
Deb said, "The findings from our study combine the art of gastronomy with performance nutrition, as adding a pink colorant to an artificially sweetened solution not only enhanced the perception of sweetness, but also enhanced feelings of pleasure, self-selected running speed, and distance covered during a run."
The researchers also plan to dig deeper into the phenomenon by investigating the possibility that the pinkness of the beverage is somehow directly activating the brain's reward areas.
Surprising Science
Like autism, ADHD lies on a spectrum, and some children should not be treated.
Scroll down to load more…