Physicists Outline 10 Different Dimensions and How You'd Experience Them
Where gravity comes from has been an utter mystery. String theory offers an explanation.
12 May, 2017
Does string theory excite you? Mathematically, it holds up. Aspects about it suggest not one but several different dimensions, ones we're not generally privy to, though we may be interacting with some of them all the time, completely unaware. Were it true, what would these dimensions look like and how might they affect us? And what is a dimension anyway?
---
Two dimensions is just a point. We may remember the coordinate plane from math class with the x and y-axes. Then there's the third dimension, depth (the z-axis). Another way to look at it is latitude, longitude, and altitude, which can locate any object on Earth. These are followed by the fourth dimension, space-time. Everything has to occur somewhere and at a certain time. After that, things get weird.
Superstring theory, one of the leading theories today to explain the nature of our universe, contends that there are 10 dimensions. That's nine of space and one of time. Throughout the 20th century, physicists erected a standard model of physics. It explains pretty well how subatomic particles behave, along with the forces of the universe, such as electromagnetism, the stronger and weaker nuclear forces, and gravity. But that last one standard physics can't account for.
Even so, this model has allowed us the startling ability to peer back to the moments just after the Big Bang took place. Before that, scientists believe that everything was condensed into a single point of infinite density and temperature, known as the singularity, which exploded, forming everything in the observable universe today. But the problem is, we can't peer back beyond that point. That's where string theory comes in. The innovations it provides can account for gravity and help explain what existed before the Big Bang.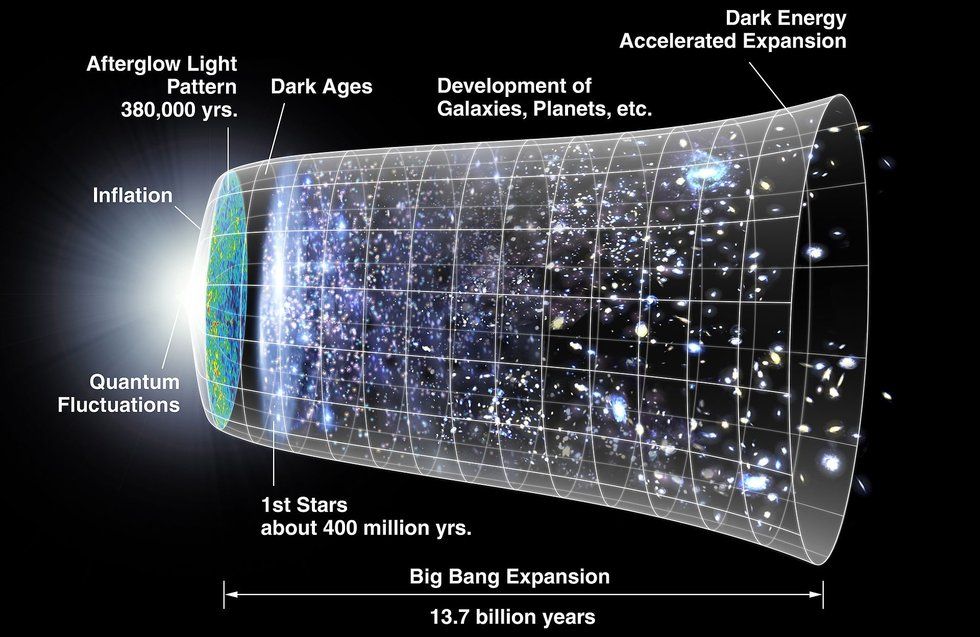 Aftermath of the Big Bang. NASA.                          
So what are these other dimensions and how might we experience them? That's a tricky question, but physicists have some idea of what it might be like. Really, other dimensions are related to other possibilities. How we interact with these is difficult to explain. At the fifth dimension other possibilities for our world open up.
You'd be able to move forward or backward in time, just as you can in space, say while walking down a corridor. You'd also be able to see the similarities and differences between the world we inhabit and other possible ones. In the sixth dimension, you'd move along not a line but a plane of possibilities and be able to compare and contrast them. In the fifth and sixth dimensions, no matter where in space you inhabit, you'd witness every possible permutation of what can occur past, present, and future.
In the seventh, eighth, and ninth dimensions, the possibility of other universes open up, ones where the very physical forces of nature change, places where gravity operates differently and the speed of light is different. Just as in the fifth and sixth dimensions, where all possible permutations in the universe are evident before you, in the seventh dimension every possibility for these other universes, operating under these new laws, becomes clear.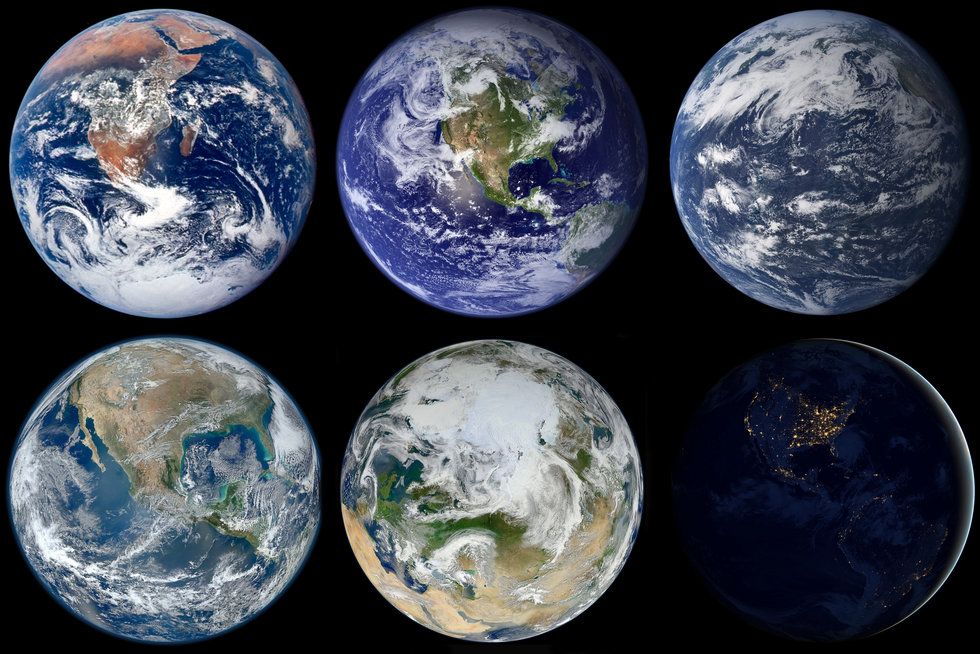 In the higher dimensions, you'd witness every possible world future, past, and present, simultaneously. Flikr.
In the eighth dimension, we reach the plane of all possible histories and futures for each universe, branching out into infinity. In the ninth dimension, all universal laws of physics and the conditions in each universe become apparent. Finally, in the tenth dimension, we reach the point where everything becomes possible and imaginable.
For string theory to work, six dimensions are required for it to operate in a manner that's consistent with nature. Since these other dimensions are on such a small scale, we'll need another way to find evidence of their existence. One way would be to peer into the past using powerful telescopes which can hunt for light from billions of years ago, when the universe was first born.
String theory has an answer for what came before the Big Bang. The universe was made up of nine perfectly symmetrical dimensions, the tenth being time. Meanwhile, the four fundamental forces were united at extremely high temperatures. The structure was under high pressure. It soon became unstable and broke in two. This became two different forms of time and led to the three dimensional universe we recognize today. Meanwhile, those other six dimensions shrunk way down to the subatomic level.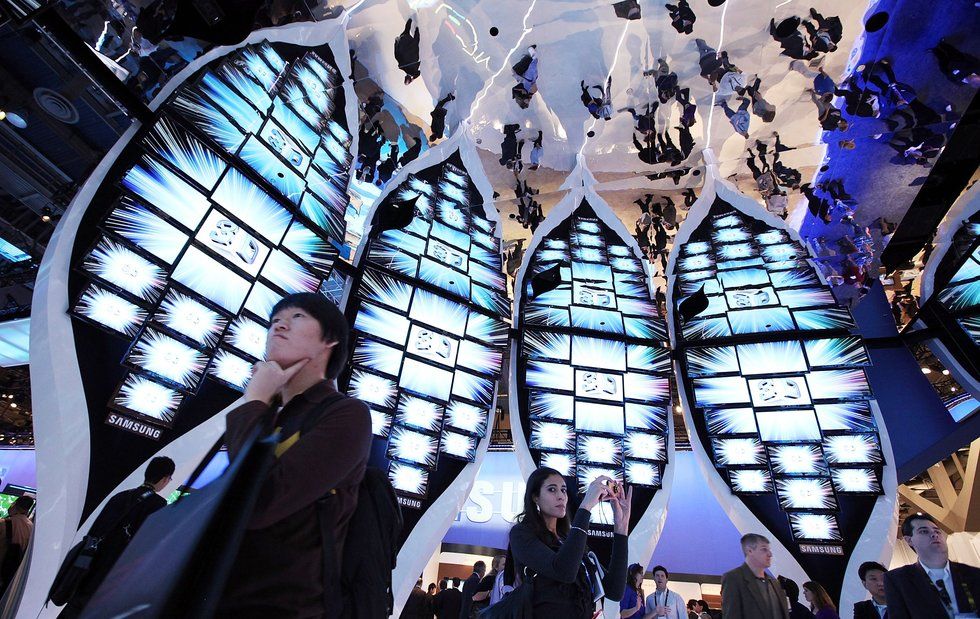 Imagine seeing every possibility and permutation in all universes, all at once. Getty Images.
As for gravity, string theory contends that the basic units of the universe are strings— infinitesimally small, vibrating filaments of energy. They're so tiny, they'd be measured on the Planck scale—the smallest scale known to physics. Each string vibrates at a specific frequency and represents a certain force. Gravity and all the other forces are therefore a result of the vibrations of specific strings.
One problem is that this theory is hard to test, outside of advanced mathematical equations. Some experiments have been done using supercomputers, which can run simulations and make predictions. That isn't exactly enough to prove that it's true, but it's helpful and lends support. Besides astronomical observations, physicists are hopeful that experiments with the Large Hadron Collider at CERN, on the Franco-Swiss border, may offer evidence of extra dimensions, lending string theory greater credence.
To learn more about String theory and other dimensions, click here: 
What can 3D printing do for medicine? The "sky is the limit," says Northwell Health researcher Dr. Todd Goldstein.
Northwell Health
Sponsored by Northwell Health
Medical professionals are currently using 3D printers to create prosthetics and patient-specific organ models that doctors can use to prepare for surgery.
Eventually, scientists hope to print patient-specific organs that can be transplanted safely into the human body.
Northwell Health, New York State's largest health care provider, is pioneering 3D printing in medicine in three key ways.
An ordained Lama in a Tibetan Buddhist lineage, Lama Rod grew up a queer, black male within the black Christian church in the American south. Navigating all of these intersecting, evolving identities has led him to a life's work based on compassion for self and others.
Think Again Podcasts
"What I'm interested in is deep, systematic change. What I understand now is that real change doesn't happen until change on the inside begins to happen."
"Masculinity is not inherently toxic. Patriarchy is toxic. We have to let that energy go so we can stop forcing other people to do emotional labor for us."
We were gaining three IQ points per decade for many, many years. Now, that's going backward. Could this explain some of our choices lately?
The Flynn effect appears to be in retrograde. (Credit: Shutterstock/Big Think)
popular
There's a new study out of Norway that indicates our—well, technically, their—IQs are shrinking, to the tune of about seven IQ points per generation.
Here's why generalists triumph over specialists in the new era of innovation.
Videos
Since the explosion of the knowledge economy in the 1990s, generalist inventors have been making larger and more important contributions than specialists.
One theory is that the rise of rapid communication technologies allowed the information created by specialists to be rapidly disseminated, meaning generalists can combine information across disciplines to invent something new.
Here, David Epstein explains how Nintendo's Game Boy was a case of "lateral thinking with withered technology." He also relays the findings of a fascinating study that found the common factor of success among comic book authors.
Big think's weekly newsletter.
Get smarter faster from the comfort of your inbox.
See our newsletter privacy policy
here
Most Popular
Most Recent
Big think's weekly newsletter.
Get smarter faster from the comfort of your inbox.
See our newsletter privacy policy
here
© Copyright 2007-2019 & BIG THINK, BIG THINK EDGE,
SMARTER FASTER trademarks owned by The Big Think, Inc. All rights reserved.