Our memory comes from an ancient virus, neuroscientists say
This study is radically changing how we view the process of evolution.
21 January, 2018
The particulars surrounding how our memory works has baffled neuroscientists for decades. Turns out, it's a very sophisticated process involving several brain systems. What about on the molecular level? Inside the brain, proteins don't stick around longer than a few minutes. And yet, our memories can hang on for our entire lifetime.
---
Recently, an international collaboration of researchers from the University of Utah, the University of Copenhagen, and the MRC Laboratory of Molecular Biology in the UK, discovered something strange about a protein called Arc. This is essential to long-term memory formation. What they found was that it has very similar properties to how a virus infects its host. Their findings were published in the journal Cell.
In it researchers write, "The neuronal gene Arc is essential for long-lasting information storage in the mammalian brain, mediates various forms of synaptic plasticity, and has been implicated in neurodevelopmental disorders." They go on to say, "little is known about Arc's molecular function and evolutionary origins."
As a result of the study, researchers now believe that a chance encounter occurring hundreds of millions of years ago, led to Arc's centrality in our memory function today. Assistant professor of neurobiology Jason Shepherd, Ph.D. of the University of Utah, led this research project. He's dedicated himself to the study of the protein for the last 15 years.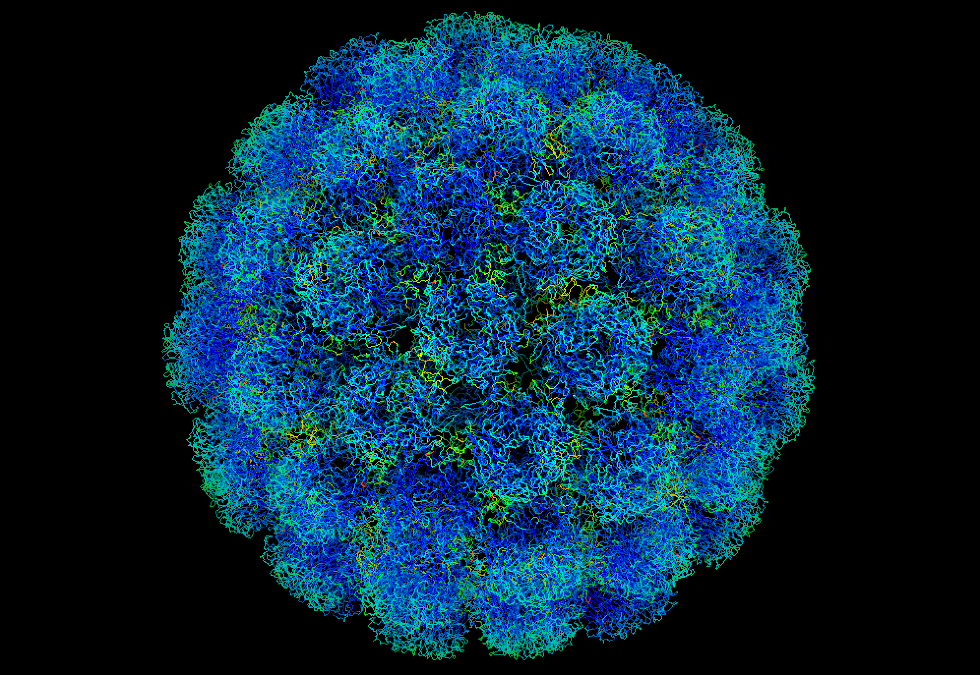 A protein in our memory behaves like a virus. Pictured: the Simian virus 40. Credit: Phoebus87, Wikimedia Commons.
"At the time, we didn't know much about the molecular function or evolutionary history of Arc," Dr. Shepherd said in a press release. "I had almost lost interest in the protein, to be honest. After seeing the capsids, we knew we were onto something interesting." Using electro-microscopy, Shepherd and colleagues studied the protein closely. They realized from an image they'd taken, that the way that Arc assembles itself looks a lot like how the HIV retrovirus operates.
Researchers were intrigued by the idea that a protein could behave like a virus and serve as the platform through which neurons communicate. What Arc does is open a window through which memories can become solidified. Without Arc, the window cannot be opened.
Previous work had shown that Arc is required for long-term memory formation. In one study, mice lacking Arc had little plasticity in their brains and couldn't recall what happened to them, just 24 hours before. But no one suggested a mechanism mimicking a foreign entity at work, until now.
Shepherd and colleagues now believe that 350-400 million years ago, the ancestor to the retrovirus, the retrotransposon, injected its genetic material into a land-based, four-limbed creature. This led to the development of the Arc protein, as it operates in our neurochemistry today. According to a recent University of Massachusetts study, the same process developed in fruit fries, independently, sometime later, around 150 million years ago.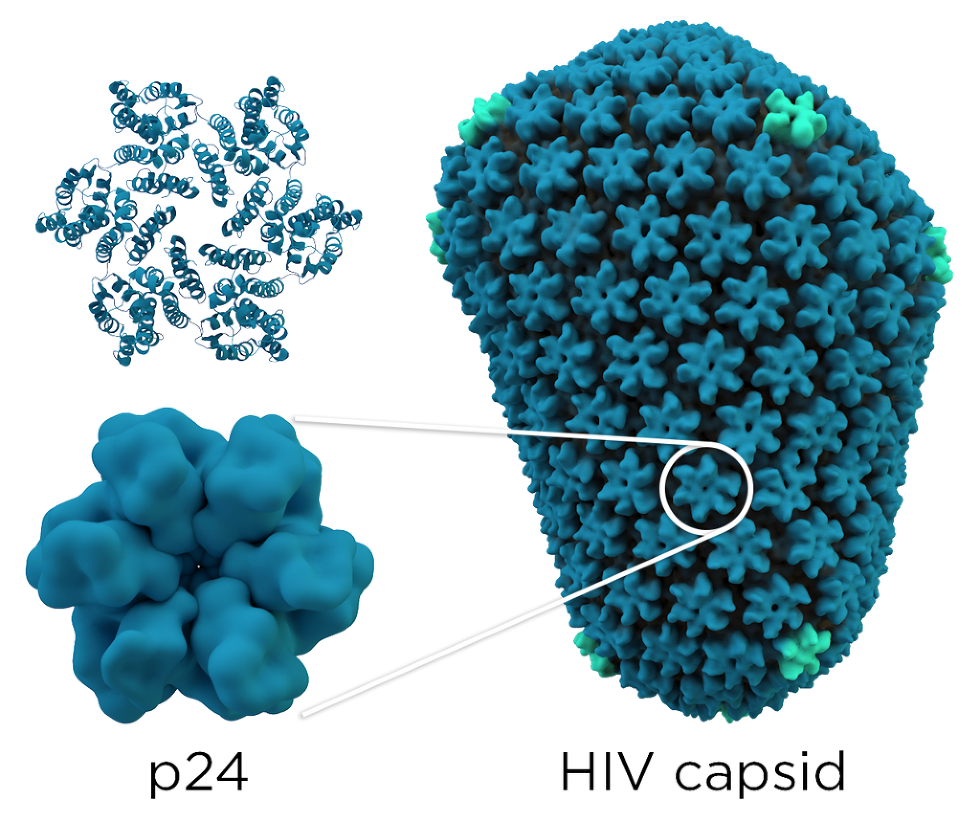 An HIV capsid. Credit: Thomas Splettstoesser, Wikimedia Commons.
Shepherd and colleagues found that Arc acts like a viral capsid. Capsids are a hard, outer shell which are hollow inside and carry a virus's genetic information. A virus uses the capsid to spread its genetic material from one cell to another, causing an infection.
How Arc mimics this is, it encapsulates its RNA in order to transfer it from one neuron to another. Elissa Pastuzyn, Ph.D. is a postdoctoral fellow and the lead author of this study. She said in a press release, "We went into this line of research knowing that Arc was special in many ways, but when we discovered that Arc was able to mediate cell-to-cell transport of RNA, we were floored." She added, "No other non-viral protein that we know of acts in this way."
The study is changing how we view the evolutionary process. Rather than random mutations, it suggests that organisms may borrow from one another in order to develop. To test the theory, Shepherd and colleagues devised a number of experiments to see whether or not Arc operates like a virus.
What they found was, the protein replicates several copies of itself in capsids, which carry its mRNA inside. They then took these capsids and placed them into petri dishes containing mouse neurons, where they observed Arc transferring its mRNA from one to the next. It appears that activating a neuron triggers more Arc, which causes the release of more capsids, and so a domino effect occurs.
To learn more about this study, click here:
Getty Images
Sponsored by Charles Koch Foundation
Human beings are psychologically hardwired to fear differences
Several recent studies show evidence that digital spaces exacerbate the psychology which contributes to tribalism
Shared experiences of awe, such as space travel, or even simple shared meals, have surprising effectives for uniting opposing groups
The $100-million startup is moving ahead with an audacious vision for space exploration.
Breakthrough Starshot spacecraft propelled towards Alpha Centauri by a powerful laser beam.
Breakthrough Foundation
Surprising Science
The Breakthrough Starshot initiative was co-founded by Stephen Hawking.
The project raised $100 million and is moving ahead with extensive research.
The goal of Starshot is to send tiny "StarChip" spacecraft to explore neighboring star systems.
On Friday, NASA's InSight Mars lander captured and transmitted historic audio from the red planet.
NASA
Surprising Science
The audio captured by the lander is of Martian winds blowing at an estimated 10 to 15 mph.
It was taken by the InSight Mars lander, which is designed to help scientists learn more about the formation of rocky planets, and possibly discover liquid water on Mars.
Microphones are essentially an "extra sense" that scientists can use during experiments on other planets.
Astronauts will be able to harvest the Moon's natural resources to sustain human life.
Videos
NASA's Michelle Thaller walks us through what it will take to sustain human life on the surface of the Moon.
One way would be to run a very strong electrical current through water, separating it into hydrogen and oxygen. It's how astronauts on the International Space Station currently harvest oxygen to breathe.
There's already evidence of ice at the Moon's poles, likely thanks to billions of years of asteroid and comet collisions. All we have to do is harvest it. People on the future Moon base could also use those ice repositories to make liquid rocket fuel.


Big think's weekly newsletter.
Get smarter faster from the comfort of your inbox.
See our newsletter privacy policy
here
Most Popular
Most Recent
Big think's weekly newsletter.
Get smarter faster from the comfort of your inbox.
See our newsletter privacy policy
here
© Copyright 2007-2018 & BIG THINK, BIG THINK EDGE,
SMARTER FASTER trademarks owned by The Big Think, Inc. All rights reserved.