New therapy cures cancer with just one injection
It neutralized not only the tumor it was injected into but malignancies all over the body.
11 February, 2018
Current cancer therapies have terrible side effects and aren't always effective. And with things like radiotherapy and chemotherapy, the number of treatments one needs to endure makes side effects progressively worse over time. A new technique developed by researchers at Stanford University uses two agents which when combined, alert the body's immune system to the presence of cancer, in order to eliminate it.
---
Just one injection can be effective for a solid tumor. Such a targeted approach could limit nasty side effects and may even be more effective than current therapies. These results were published in the journal Science Translational Medicine. Dr. Ronald Levy was the study's senior author. He told Medical News Daily, "When we use these two agents together, we see the elimination of tumors all over the body."
Dr. Levy and colleagues injected minute levels of two "immune-stimulating agents," into malignant solid tumors in mice. The most remarkable thing is that it treated not only the tumor it was injected into, but distant malignancies at other locations inside the body. Researchers believe it'll be able to treat all different kinds of cancer. Using T-cells to kill cancer has long been a driving focus of immunotherapy.
Although T-cells already have incredibly powerful cancer-fighting properties, cancer cells have certain "tricks" to circumvent them, until they've multiplied enough to overwhelm the immune system entirely. Immunotherapy seeks to boost the immune systems capabilities, in order for it to recognize the cancer and neutralize it.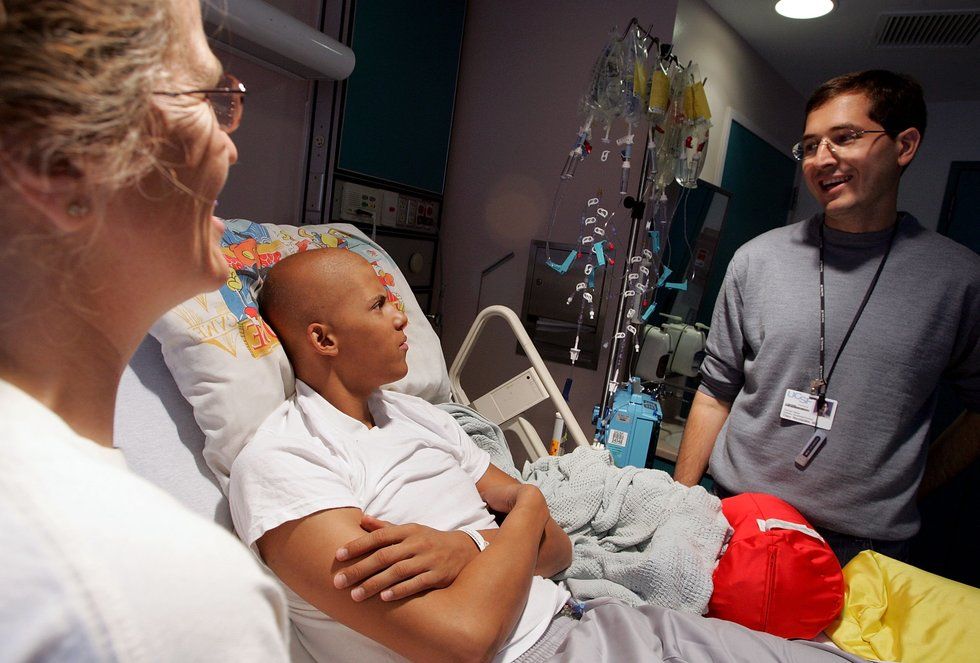 While current therapies can have increasingly severe side effects, this one is administered only once. Credit: Getty Images.
Clinical trials are currently underway, to see if the same effect occurs in humans. 15 patients, all with low-grade lymphoma, are taking part. Those with this particular type of cancer were selected because lymphoma is essentially a disease of the immune system and so, should show the strongest response to the therapy.
One of the agents has already gained FDA approval, while the other is part of an ongoing clinical trial as a treatment for lymphoma. This has helped streamline the process a bit. What's also exciting is, in addition to being effective, the agents are inexpensive. "This method can 'teach' immune cells how to fight against that specific type of cancer," Dr. Levy said, "which then allows them to migrate and destroy all other existing tumors."
There are several different immunotherapy approaches in use today. Some activate the immune system everywhere in the body. Others remove the patient's own immune cells and genetically engineer them to kill cancer. And others still turn off switches in immune cells which limit their cancer fighting abilities.
The drawbacks are that many of these experimental therapies are expensive or time consuming, or cause terrible side effects. According to Dr. Levy, "This approach bypasses the need to identify tumor-specific immune targets and doesn't require wholesale activation of the immune system or customization of a patient's immune cells." The dual injection includes just one microgram (one-millionth of a gram) of each substance.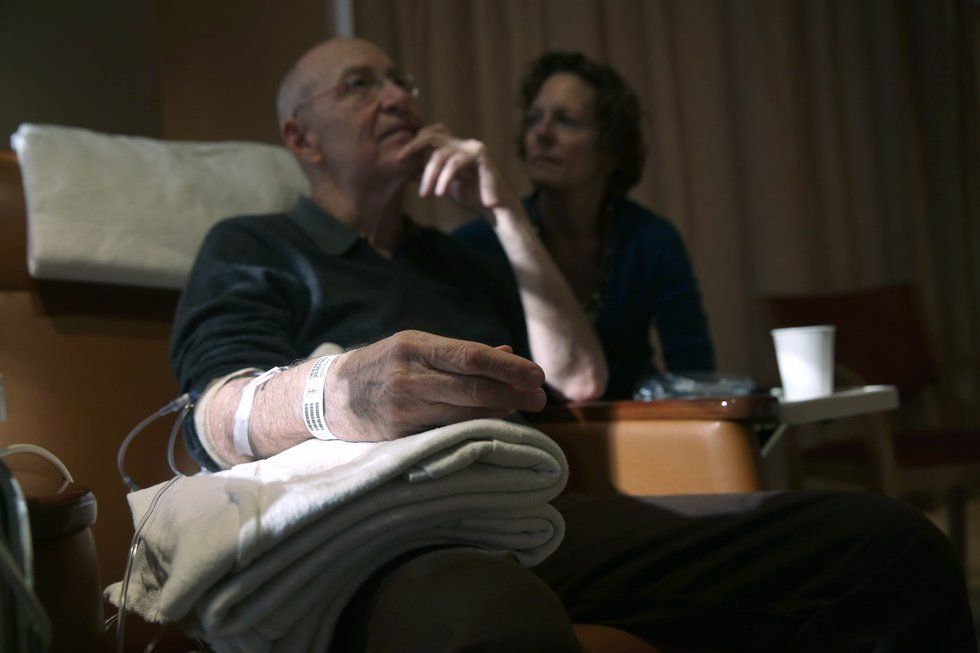 This therapy proves to be easy to administer, less expensive, and maybe even more effective than chemotherapy and radiotherapy. Credit: Getty Images.
The makeup of the injection includes a short, synthetic piece of DNA called CpG oligonucleotide. This binds to the receptor OX40, found on the surface of T-cells. The other is an antibody which binds to a T-cell and activates it. Once they make short work of the tumor, these energized T-cells travel elsewhere throughout the body, eliminating all of the same kind of cancer cells.
To test out the treatment, researchers injected 90 mice who had lymphoma with the mixture. 87 out of 90 became completely cancer-free. When tumors did recur in the remaining three, a second injection eliminated them completely, with no further recurrence. Mouse models with breast, skin, and colon cancer showed similar results. 
One stipulation, the T-cells can only target the type of cancer they first experienced. Mouse models that had lymphoma and colon cancer saw only the lymphoma eliminated. The T-cells get trained to take out a particular type of cancer, and that's what they focus on.
Should this therapy be successful in humans, Dr. Levy and colleagues foresee it being injected after the surgical removal of a solid tumor, to make sure the cancer doesn't recur. It might even take out any budding tumors that occur due to a genetic mutation. Dr. Levy said there's no cancer it couldn't treat, just so long as the immune system can infiltrate it.
To learn about other cutting-edge cancer treatments, click here.
Harvard psychologists discover why we dislike the people who deliver bad news.
Getty Images
Surprising Science
A new study looked at why people tend to "shoot the messenger".
It's a fact that people don't like those who deliver them bad news.
The effect stems from our inherent need to make sense of bad or unpredictable situations.
He reminds us that meaning is wherever we choose to look.
Photo: Pictorial Parade/Getty Images
Personal Growth
Alan Watts suggests there is no ultimate meaning of life, but that "the quality of our state of mind" defines meaning for us.
This is in contradiction to the notion that an inner essence is waiting to be discovered.
Paying attention to everyday, mundane objects can become highly significant, filling life with meaning.
If life exists on Mars, there's a good chance it's related to us, say researchers.
NASA/JPL/USGS
Surprising Science
When MIT research scientist Christopher Carr visited a green sand beach in Hawaii at the age of 9, he probably didn't think that he'd use the little olivine crystals beneath his feet to one day search for extraterrestrial life.
Big think's weekly newsletter.
Get smarter faster from the comfort of your inbox.
See our newsletter privacy policy
here
Most Popular
Most Recent
Big think's weekly newsletter.
Get smarter faster from the comfort of your inbox.
See our newsletter privacy policy
here
© Copyright 2007-2019 & BIG THINK, BIG THINK EDGE,
SMARTER FASTER trademarks owned by The Big Think, Inc. All rights reserved.