Is the blood in our bodies blue or is it just a myth?
The answer is not only telling of our biology but that of other organisms as well.
19 April, 2018
I remember when I was young, a science teacher captivated our class one day with the idea that horseshoe crabs have blue blood, which is indeed harvested for medical purposes. Then we were told that we too sometimes have blue blood, in our veins, when our blood has delivered its supply of oxygen to our organs and tissues. It remains blue, we were told, until passing through the heart and past the lungs, where it acquires oxygen and turns red again. But is it true? After all, our veins do look blue.
---
Turns out, it's a complete myth. Although veins do carry deoxygenated blood back to the heart, the blood merely looks a darker shade of red. It doesn't turn blue at all. Still, the myth persists.
The reason blood is red is, it contains hemoglobin. This iron-rich protein carries oxygen throughout the bloodstream. Anything with a lot of iron gives off a red hue. Consider the red planet—Mars, which has an iron-rich dust covering its surface. And when iron rusts (iron oxide) it turns an orangey-red.
Oxygenated blood is bright red, while deoxygenated blood appears darker. Have you ever donated blood or had it taken for a blood test? You'll notice they puncture a vein, usually in the arm, and still it comes out red. So why do veins look blue? This has to do with how light is reflected and scattered as it passes through your skin.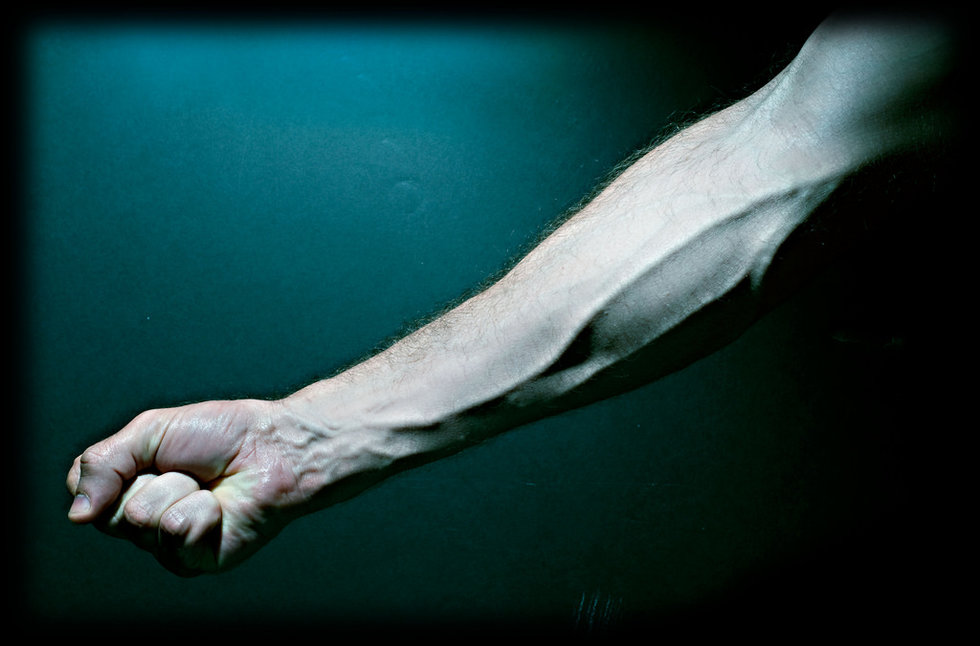 Why veins look blue has to do with the electromagnetic spectrum and how your skin reflects light. Credit: Colin Davis. Veins in my right arm. Flickr.
You might remember from studying the electromagnetic spectrum that blue and red light have different wavelengths. As light passes through your skin, some of it gets absorbed, some of it scattered, and some reflected back to you. Since blue light reflects back better than red, our veins below our skin look blue. If you previously believed the blue blood myth, don't feel bad. A lot of well-educated people have.
Besides horseshoe crabs and octopi, lobsters and other crustaceans, and squid also have blue blood. That's because instead of the respiratory protein hemoglobin, their blood uses hemocyanin to carry oxygen. Hemocyanin contains copper instead of iron. If you've ever seen a copper penny rust, you'll notice it turns green. When mixed with oxygen however, it turns blue. There's another, rarer color of blood in the animal kingdom.
The skink—a type of lizard, has green blood. This is due to the buildup of a substance called biliverdin, which is a byproduct of the processes of the liver. Humans have it too. But our bodies pass it through the intestines and out the digestive tract. Since it doesn't pass through a skink, it builds up in their blood instead, turning it green.
For more debunked myths about the human body, click here:
Researchers discover a link between nonverbal synchronization and relationship success.
Pixabay
Sex & Relationships
Scientists say coordinating movements leads to increased intimacy and sexual desire in a couple.
The improved rapport and empathy was also observed in people who didn't know each other.
Non-verbal clues are very important in the development stages of a relationship.
Humans evolved to live in the cold through a number of environmental and genetic factors.
Image source: Wikimedia Commons
Surprising Science
According to some relatively new research, many of our early human cousins preceded Homo sapien migrations north by hundreds of thousands or even millions of years.
Cross-breeding with other ancient hominids gave some subsets of human population the genes to contend and thrive in colder and harsher climates.
Behavioral and dietary changes also helped humans adapt to cold climates.
The comics titan worked for more than half a century to revolutionize and add nuance to the comics industry, and he built a vast community of fans along the way.
(Photo: GABRIEL BOUYS/AFP/Getty Images)
Culture & Religion
Lee died shortly after being rushed to an L.A. hospital. He had been struggling with multiple illnesses over the past year, reports indicate.
Since the 1950s, Lee has been one of the most influential figures in comics, helping to popularize heroes that expressed a level of nuance and self-doubt previously unseen in the industry.
Lee, who's later years were marked by some financial and legal tumult, is survived by his daughter, Joan Celia "J.C." Lee.
Big think's weekly newsletter.
Get smarter faster from the comfort of your inbox.
See our newsletter privacy policy
here
Most Popular
Most Recent
Big think's weekly newsletter.
Get smarter faster from the comfort of your inbox.
See our newsletter privacy policy
here
© Copyright 2007-2018 & BIG THINK, BIG THINK EDGE,
SMARTER FASTER trademarks owned by The Big Think, Inc. All rights reserved.