How We Breathe Affects Our Thoughts and Emotions, Northwestern Researchers Find
Inhaling through the nose activates the regions of the brain associated with memory and emotion.
04 January, 2017
Man with a lot on his mind. Getty Images.
Focusing on one's breathing has been a preoccupation of Eastern philosophy for centuries and in some cases, millennia. It is considered a means to attain inner peace and illumination. Yogis and Zen masters alike have traditionally begun their teachings having students focus on their breathing. It seems that science has finally caught up. A new study published in the journal Neuroscience outlines the interrelationship between breathing and cogitation.
---
Researchers at Northwestern University's Feinberg School of Medicine conducted the study. General respiration in adults is between 12 and 18 breaths per minute. Those who are in a stressful situation often take 20 breaths per minute. Assistant professor of neurology Christina Zelano wondered if breathing faster made us think more rapidly. She's the lead author of this study. The idea is that faster breathing could mean quicker brain function and a better response time when faced with a dangerous situation.
Zelano and colleagues discovered that the rhythm in which we breathe directly affects activity in our brain. Yet, there are a lot of factors involved such as how deep or shallow our breathing is and whether we do so through our nose or mouth. Inhaling through the nose stimulates the brain, it was found. Doing so through the mouth however causes little stimulation.
This interrelationship was initially discovered by studying seven severely epileptic patients who were scheduled for brain surgery. Each was hooked up to an electroencephalograph (EEG), which measures brain waves. Several of these participants had electrodes surgically implanted inside their skulls in order to collect data on their seizures and find out where they came from. Soon, researchers discovered that brain activity was intimately linked with the act of breathing.
In fact, there is an exact synchronicity between these two processes. The Northwestern team delved further and found that three major areas of the brain are affected by breathing: the hippocampus which is responsible for memory, the amygdala—our emotional center, and the piriform cortex, which controls our olfactory system or our sense of smell. These are all part of the limbic system which is responsible for our basic emotions such as anger and fear, along with our instinctual drives such as hunger, the sex drive, and caring for offspring. The limbic system is also responsible for our higher emotions.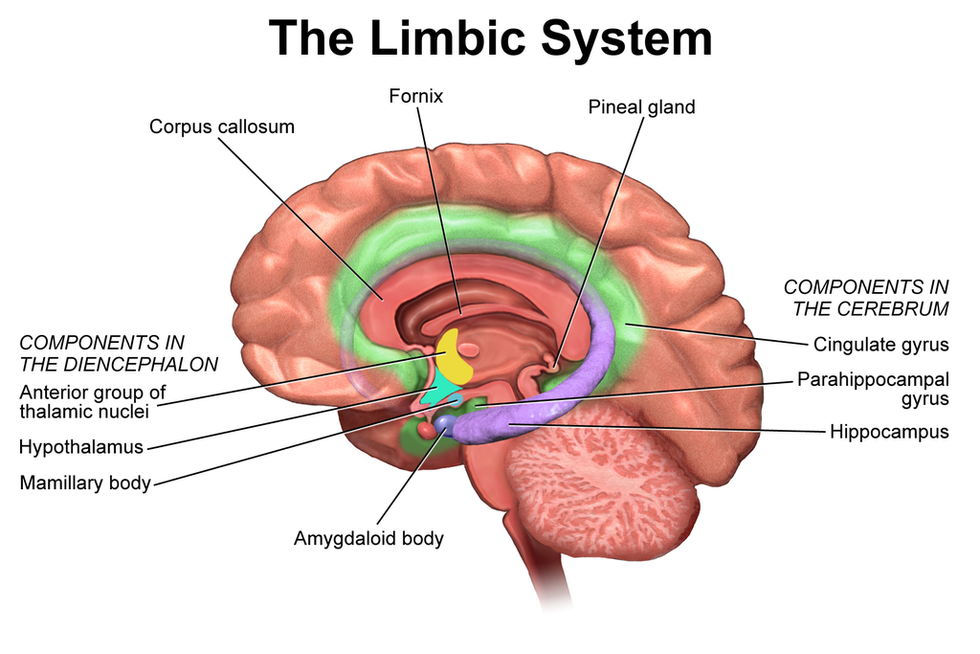 The limbic system. By BruceBlaus. Blausen.com staff. "Blausen gallery 2014". Wikiversity Journal of Medicine. DOI:10.15347/wjm/2014.010. ISSN 20018762. (Own work) [CC BY 3.0], via Wikimedia Commons
These neuroscientists also discovered that there are major changes in brain activity when you inhale. Inhalation effects the amygdala, hippocampus, and piriform cortex. Now, researchers moved into a second phase. Here, 70 participants between the ages of 18 and 30 were recruited. Each was asked to look at images of faces on a computer screen that only lasted about a second, while hooked up to a machine that monitors breathing.
Recruits were to determine whether the face expressed surprise or fear. The scientists wanted to know if inhalation or exhalation through the nose versus the mouth changed the participant's recognition capability in any way. They discovered that when breathing in through the nose, participants could recognize a scared face a fraction of a second earlier.
In a third portion of the study, 42 recruits were shown objects on a computer screen and were told to remember them. They were hooked up to a breath recorder at this time. Later, participants were asked what they remembered. This was meant to gauge memory, specifically how breathing affected the hippocampus. Those who breathed in when they saw the objects tended to remember better than those who breathed out. Also, inhalation through the nose made recall five percent more accurate.
So how can you use this knowledge to your advantage? Cognition may work better when we inhale through our nose, especially when worried or scared. This can help us react better to situations. Deep breathing exercises can also improve our memory and help us to make better decisions where our emotions are a central part of evaluation. So should you stay with a partner whom you love, even though they don't ever want to get married and you do? Breathe in deeply through your nose while you think it over. It should help you sort it out.
Jay Gottfried is a professor of neurology at Northwestern and the senior author of this study. Gottfried said that these practices are already an essential part of focused breathing and meditation. But now we come to understand why they work on a biological level. "When you inhale, you are in a sense synchronizing brain oscillations across the limbic network," he said. Though these findings are exciting, this study utilized a small participant pool. A much larger study must be conducted to find out the intricacies of how breathing and brain activity are interrelated and how one effects the other.
To learn more about this study, click here: 
The pandemic reminds us that our higher education system, with all its flaws, remains a key part of our strategic reserve.
Sponsored by Charles Koch Foundation
America's higher education system is under great scrutiny as it adapts to a remote-learning world. These criticisms will only make higher ed more innovative.
While there are flaws in the system and great challenges ahead, higher education has adapted quickly to allow students to continue learning. John Katzman, CEO of online learning organization Noodle Partners, believes this is cause for optimism not negativity.
Universities are pillars of scientific research on the COVID-19 frontlines, they bring facts in times of uncertainty and fake news, and, in a bad economy, education is a personal floatation device.
Researchers present what they've learned now that they can read the tiny text inside the Antikythera mechanism.
Exploded view of Antikythera mechanism (Peulle/Wikimedia)
Surprising Science
Though it it seemed to be just a corroded lump of some sort when it was found in a shipwreck off the coast of Greece near Antikythera in 1900, in 1902 archaeologist Valerios Stais, looking at the gear embedded in it, guessed that what we now call the "Antikythera mechanism" was some kind of astronomy-based clock. He was in the minority—most agreed that something so sophisticated must have entered the wreck long after its other 2,000-year-old artifacts. Nothing like it was believed to have existed until 1,500 years later.
The institutional barriers that have often held creative teaching back are being knocked down by the coronavirus era.
Future of Learning
Long-held structures in the education system, like classroom confines and schedules, have held back innovation for a long time, says education leader Richard Culatta.
In the coronavirus era, we have been able to shake some of those rigid structures loose, making way for creativity and, ultimately, a more open mindset.
When creativity and technology combine, learning can become so much more than delivering content to a student. Culatta gives two stunning examples: one of a biotech class, and another involving a student discovering a star.
We'd like to think that judging people's worth based on the shape of their head is a practice that's behind us.
PATRICK KOVARIK/AFP via Getty Images
Culture & Religion
'Phrenology' has an old-fashioned ring to it. It sounds like it belongs in a history book, filed somewhere between bloodletting and velocipedes.
Surprising Science
Maybe you've been wondering if you're seeing one persistent squirrel or a rotating cast of characters.
Scroll down to load more…