Dictionary.com Announces Its Word of the Year—and It Could Not Be More Relevant
Searches for this particular word increased 300% over last year.
28 November, 2017
Dictionary.com has just put out its Word of the Year, which it believes crystallizes the spirit of 2017. The website describes it as, "a symbol of the year's most meaningful events and lookup trends." The word for this year is complicit, defined as: "choosing to be involved in an illegal or questionable act, especially with others; having partnership or involvement in wrongdoing."
---
Lexicographer Jane Solomon told The Guardian that searches for the word on the site increased some 300% overall from 2016. In recent times, complicit has become linked to the Russian interference in last year's U.S. presidential election and the subsequent investigation, and implies collusion among those in the Trump campaign. But that wasn't the only reason. Other events upped the search for this word including a pharmaceutical company's involvement in the opioid epidemic and, most recently, the sexual harassment scandals plaguing Washington and Hollywood, among other places.
Although the website wouldn't disclose the exact number of clicks—Dictionary.com considers that information proprietary—it did say that searches for this particular word rose 10,000% on March 12 alone. That was after a Saturday Night Live sketch aired starring Scarlet Johansson as Ivanka Trump. It parodied a perfume commercial. The scent's name? "Complicit."
Watch the sketch here:

Credit: Saturday Night Live, via YouTube.
Ivanka Trump appeared on CBS This Morning three weeks after the sketch aired. "If being complicit is wanting to be a force for good and to make a positive impact, then I'm complicit," she said to Gayle King on CBS. "I don't know what it means to be complicit, but I hope time will prove I have done a good job and that my father's administration is the success I know it will be." Dictionary.com seems to be using the Word of the Year announcement to call attention to those who speak out against powerful people and institutions, and those who choose stay silent. The website commends Colin Kaepernick, the approx. five million people who attended the Women's March worldwide, and those speaking out against sexual misconduct.

On October 24, several months after Ivanka Trump's interview with Gayle King, the word popped up again when Senator Jeff Flake (R-FL) announced his retirement. During his speech he said, "I have children and grandchildren to answer to, and so, Mr. President, I will not be complicit." One of Flake's sons is currently locked in a lawsuit against controversial Arizona Sheriff Joe Arpaio, who was recently pardoned by President Trump. Arpaio is accused of bringing a faulty criminal suit against Senator Flake in order to damage his reputation.
The word wormed its way into other important occurrences. Clashes between white nationalist protesters around the country and counter-protesters, and Trump's reaction to them—particularly his insistence in the aftermath of the Charlottesville incident, which left one woman dead, that there were "some very fine people on both sides,"—had pundits questioning whether the president was somehow himself complicit.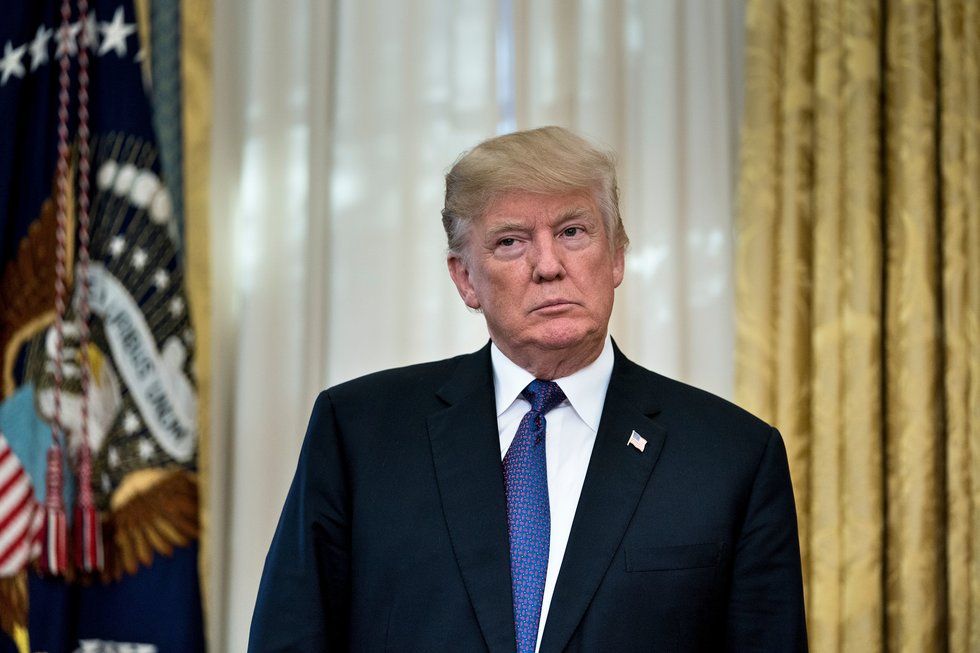 His statement after clashes in Charlottesville, VA have had some this year wondering whether Pres. Trump was in some way complicit. Credit: Getty Images.
Then there's climate change and the government's complicity in its denial. There was the US pullout from the Paris Climate Agreement. EPA Secretary Pruitt continually refuses to admit humans contribute to climate change. And several government websites were also wiped clean of global warming information.  
Complicity has, in addition, been a term used to help us comprehend the sheer number of sexual harassment scandals now coming to light, mostly of women victimized by men in positions of power. Accused perpetrators include film producer Harvey Weinstein, Senator Al Franken (D-MN), actor Kevin Spacey, and US Senate candidate for Alabama Roy Moore (R). These incidents were all pushed under the rug for years. In each, victims were in some way silenced.
So how does Dictionary.com choose its word of the year? Mainly by looking at searches and when they occurred and cross-referencing that with noteworthy events that happened that year. Politics was the big focus this year. Like many of its competitors, Dictionary.com doesn't necessarily select the word that's most highly searched, though it often does. Instead, it looks for a word which embodies the zeitgeist of that particular year.
The website's 2016 word of the year was xenophobia, mostly due to the Syrian refugee crisis. Oxford Dictionary deemed "post-truth" the international word of that year. It saw an increase in searches for it shoot up 2000%. The Oxford Dictionary defines post-truth as, "relating to or denoting circumstances in which objective facts are less influential in shaping public opinion than appeals to emotion and personal belief."
For an explainer for Merriam-Webster's 2016 pick, click here:
E-cigarettes may be safer than traditional cigarettes, but they come with their own risks.
Surprising Science
A new study used an MRI machine to examine how vaping e-cigarettes affects users' cardiovascular systems immediately after inhalation.
The results showed that vaping causes impaired circulation, stiffer arteries and less oxygen in their blood.
The new study adds to a growing body of research showing that e-cigarettes – while likely safer than traditional cigarettes – are far from harmless.
French newspapers report that the trial hasn't lived up to expectations.
Image source: Charly Triballeau / AFP / Getty Images
Technology & Innovation
The French government initially invested in a rural solar roadway in 2016.
French newspapers report that the trial hasn't lived up to expectations.
Solar panel "paved" roadways are proving to be inefficient and too expensive.
The Lumina Foundation lays out steps for increasing access to quality post-secondary education credentials.
Sponsored by Lumina Foundation
America's post-high school education landscape was not created with the modern student in mind. Today, clear and flexible pathways are necessary to help individuals access education that can help them lead a better life.
Elizabeth Garlow explains the Lumina Foundation's strategy to create a post-secondary education system that works for all students. This includes credential recognition, affordability, a more competency-based system, and quality assurance.
Systemic historic factors have contributed to inequality in the education system. Lumina aims to close those gaps in educational attainment.
In 2019, Lumina Foundation and Big Think teamed up to create the Lumina Prize, a search to find the most innovative and scalable ideas in post-secondary education. You can see the winners of the Lumina Prize here – congratulations to PeerForward and Greater Commons!