Egg lovers rejoice! They don't cause heart disease, says new study
Those with prediabetes or type-2 diabetes shouldn't fear eggs anymore, researchers say.
12 May, 2018
Eggs are one of those foods, like coffee, that nutritional science has gone back and forth on in terms of whether it's healthy or not. The latest on coffee is that it's loaded with antioxidants and may even be able to boost memory and cognitive skills. In fact, one study says 4-5 cups a day could have health benefits, as long as you aren't a twitchy mess... and skip the cream and sugar. Now, eggs are having their time in the sun (figuratively speaking). According to a study out of the University of Sydney, which was recently published in The American Journal of Clinical Nutrition, they don't cause heart disease. 
---
How was the study conducted?
Researchers recruited 128 participants for a weight-maintenance study. They were split into two groups: the first group was told to consume just two eggs per week, while the other were instructed to eat 12 eggs per week. After that, they were put on a weight loss diet for another three months. Here, participants were told to omit saturated fats. These include butter and lard, which lead to atherosclerosis—the hardening of the arteries. They were to be replaced with monounsaturated and polyunsaturated fats, including olive oil and avocado. These help maintain proper cardiovascular health.
Over another 12 months, participants were told to continue with whatever type of egg diet they'd been prescribed. In the end, each volunteer underwent a number of tests to see if the cardiovascular system was affected, and if so how. Throughout the study, researchers monitored each participant's blood pressure, blood sugar, and cholesterol.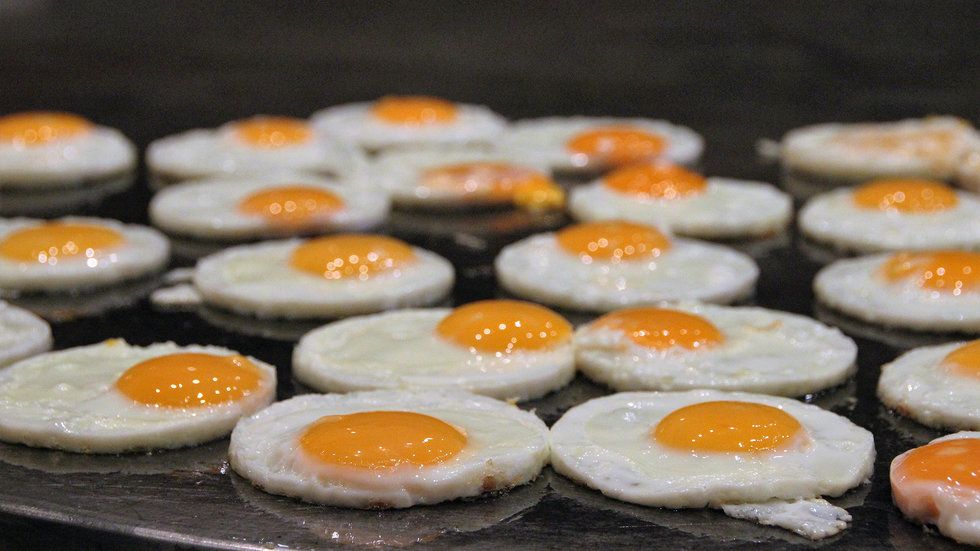 In the past, nutritional scientists mistakenly gave eggs a bad name. Image credit: Pixababy.
What did they find?
Regardless of how many or how few eggs they ate, participants' heart health stayed more or less the same. Bottom line: it didn't matter how many eggs they ate because there were no cardiovascular effects. Egg consumption didn't correlate with weight outcomes either. "Despite differing advice around safe levels of egg consumption for people with pre-diabetes and type 2 diabetes," Dr. Fuller said, "our research indicates people do not need to hold back from eating eggs."
How many eggs are safe to eat per week?
The results show that eggs are a great dietary addition to most diets; particularly those patients with pre-diabetes and even type 2 diabetes. Researchers found that up to 12 eggs per week is fine, even for those with the aforementioned pre-diabetes or type 2 diabetes. Such findings support a 2015 study which gave similar results.
Dr. Fuller was quoted as saying:
While eggs themselves are high in dietary cholesterol – and people with type 2 diabetes tend to have higher levels of the 'bad' low density lipoprotein (LDL) cholesterol. This study supports existing research that shows consumption of eggs has little effect on the levels of cholesterol in the blood of the people eating them. Eggs are a source of protein and micro-nutrients that could support a range of health and dietary factors including helping to regulate the intake of fat and carbohydrate, eye and heart health, healthy blood vessels and healthy pregnancies.
So, coffee and eggs are safe. But what about other foods? Click here:
Jonathan Zimmerman explains why teachers should invite, not censor, tough classroom debates.
Sponsored by the Institute for Humane Studies
During times of war or national crisis in the U.S., school boards and officials are much more wary about allowing teachers and kids to say what they think.
If our teachers avoid controversial questions in the classroom, kids won't get the experience they need to know how to engage with difficult questions and with criticism.
Jonathan Zimmerman argues that controversial issues should be taught in schools as they naturally arise. Otherwise kids will learn from TV news what politics looks like – which is more often a rant than a healthy debate.
Controversial map names CEOs of 100 companies producing 71 percent of the world's greenhouse gas emissions.
Image: Jordan Engel, reused via Decolonial Media License 0.1
Strange Maps
Just 100 companies produce 71 percent of the world's greenhouse gases.
This map lists their names and locations, and their CEOs.
The climate crisis may be too complex for these 100 people to solve, but naming and shaming them is a good start.
It marks another milestone in SpaceX's long-standing effort to make spaceflight cheaper.
Technology & Innovation
SpaceX launched Falcon Heavy into space early Tuesday morning.
A part of its nosecone – known as a fairing – descended back to Earth using special parachutes.
A net-outfitted boat in the Atlantic Ocean successfully caught the reusable fairing, likely saving the company millions of dollars.
Big think's weekly newsletter.
Get smarter faster from the comfort of your inbox.
See our newsletter privacy policy
here
Most Popular
Most Recent
Big think's weekly newsletter.
Get smarter faster from the comfort of your inbox.
See our newsletter privacy policy
here
© Copyright 2007-2019 & BIG THINK, BIG THINK EDGE,
SMARTER FASTER trademarks owned by The Big Think, Inc. All rights reserved.