Did Jesus use cannabis oil to perform miracles?
As marijuana grows more acceptable in the US, fringe groups and experts are beginning to consider its role in the Christian faith. Could cannabis oil have helped Jesus perform miracles?
17 June, 2018
In the US over the last couple of decades or so, the outlook on marijuana has undergone a complete paradigm shift. According to the most recent Pew Research Center poll, 61% of Americans back legalizing cannabis on the federal level. This goes across generational and to some extent, party lines. Lots more Americans support legalizing medical marijuana, for serious, legitimate illnesses. This new outlook is even filtering down into some unexpected places, such as among a couple of fringe Christian groups. Consider Deb Button. She's the founder of Stoner Jesus Bible Study.
---
Button swears she had a deeply fulfilling spiritual experience while high on pot. "I'm sitting in my living room and the cannabis was kicking in at a higher dose, and I could literally feel God," she told the Los Angeles Times. "I was filled with love, an indwelling of love." The 40-something Coloradan now holds Bible study in her home, which she's converted into a "Bud & Breakfast." Weekly sessions combine cannabis use with discussions on scripture.
Another example is California's Sisters of the Valley, who are to be the subject of the upcoming documentary, Breaking Habits. The order, founded by "Sister Kate," grows cannabis and produces medical marijuana products, mostly cannabidiol salves and tinctures, to heal the sick. While not affiliated with any official order, the women wear habits and refer to each other as "sister." Now, two experts are questioning whether or not there's an actual, Biblical connection between Christianity and cannabis.
See a preview for Breaking Habits here:
Carl Ruck, a professor of classical mythology at Boston University, is one proponent of this radical theory. "There can be little doubt about a role for cannabis in Judaic religion," he told The Guardian. Ruck believes that Jesus may have anointed those he healed with cannabis oil, which is referred to in Aramaic as kaneh-bosem (Exodus 30:22-36). Traditionally, this was thought to be the herb calamus. Nine pounds of one of these herbs is used in the recipe.
The ancient Hebrews only anointed the priestly class (and later kings). This practice came from the story of the burning bush, where God instructed Moses on how to make the anointing oil and when to use it. Jesus is said to have broken with tradition by anointing the common people and sometimes when doing so, he performed miracles. Take the passage, "They drove out many demons and anointed many sick people with oil and healed them (Mark 6:13)." Epilepsy could have looked like demonic possession, and CBD—a phytochemical in cannabis, has been shown, anecdotally, to treat it.
Although research into the healing powers of cannabis has been severely restricted by marijuana's federal classification, cases such as Charlotte Fiji's, covered by CNN's Dr. Sanjay Gupta, lend this theory a modicum of credence. The then six-year-old was having up to 300 grand mal seizures per week. After a consistent regimen of CBD oil, Fiji now only has one or two mild ones per month. Ruck says that Jesus and followers doused themselves in the oil, which would've been absorbed through the skin. Nine pounds of marijuana would've meant a lot of CBD.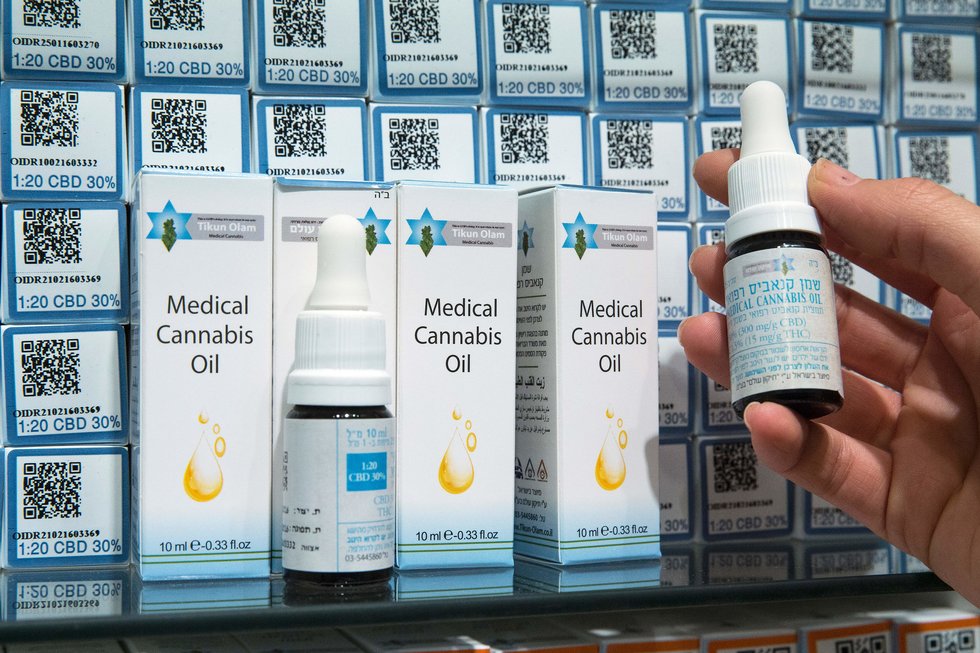 CBD oil is hailed by some for what, anecdotally, is considered its many healing properties. Some experts contend that among the ancient Hebrews, it was only used by the priestly class, until Jesus democratized it. Image credit: Getty Images.
In addition to this, CBD is thought to have anti-inflammatory properties, to lessen pain and calm anxiety. It may even help with eczema and glaucoma, which might be why Jesus is often explained as healing skin and eye conditions. Chris Bennett, the author of the book, Sex, Drugs, Violence, and the Bible, is a supporter of the cannabis oil view. "The medical use of cannabis during that time is supported by archaeological records," he told the BBC.
"If cannabis was one of the main ingredients of the ancient Christian anointing oil, as history indicates," Bennett said, "receiving this oil is what made Jesus the Christ and his followers Christians." Skeptics and there are many, say the evidence is just too weak. What's more, while cannabis was widely used throughout the ancient world, so was calamus, which was also revered for its healing properties.
Supporters of this theory would have a long road ahead. First, the medicinal properties of cannabis would have to be proven through vigorous research, which could take years. Then, they'd have to prove that the ancient Hebrew anointing oil did, in fact, contain cannabis and not calamus.
To hear more about this theory, click here:
Malcolm Gladwell teaches "Get over yourself and get to work" for Big Think Edge.
Big Think Edge
Learn to recognize failure and know the big difference between panicking and choking.

At Big Think Edge, Malcolm Gladwell teaches how to check your inner critic and get clear on what failure is.

Subscribe to Big Think Edge before we launch on March 30 to get 20% off monthly and annual memberships.
We take fewer mental pictures per second.
Mind & Brain
Recent memories run in our brains like sped-up old movies.
In childhood, we capture images in our memory much more quickly.
The complexities of grownup neural pathways are no match for the direct routes of young brains.
It's not just a case of "what doesn't kill you makes you stronger."
Mind & Brain
A new study suggests children who endure trauma grow up to be adults with more empathy than others.
The effect is not universal, however. Only one kind of empathy was greatly effected.
The study may lead to further investigations into how people cope with trauma and lead to new ways to help victims bounce back.
It's one of the most consistent patterns in the unviverse. What causes it?
Videos
Spinning discs are everywhere – just look at our solar system, the rings of Saturn, and all the spiral galaxies in the universe.
Spinning discs are the result of two things: The force of gravity and a phenomenon in physics called the conservation of angular momentum.
Gravity brings matter together; the closer the matter gets, the more it accelerates – much like an ice skater who spins faster and faster the closer their arms get to their body. Then, this spinning cloud collapses due to up and down and diagonal collisions that cancel each other out until the only motion they have in common is the spin – and voila: A flat disc.
Big think's weekly newsletter.
Get smarter faster from the comfort of your inbox.
See our newsletter privacy policy
here
Most Popular
Most Recent
Big think's weekly newsletter.
Get smarter faster from the comfort of your inbox.
See our newsletter privacy policy
here
© Copyright 2007-2018 & BIG THINK, BIG THINK EDGE,
SMARTER FASTER trademarks owned by The Big Think, Inc. All rights reserved.