Big ideas.
Once a week.
Subscribe to our weekly newsletter.
Depression linked to disrupted circadian rhythms, UK scientists find
There's a chicken and egg thing going on here when it comes to having a mood disorder and discordant circadian rhythms.
30 May, 2018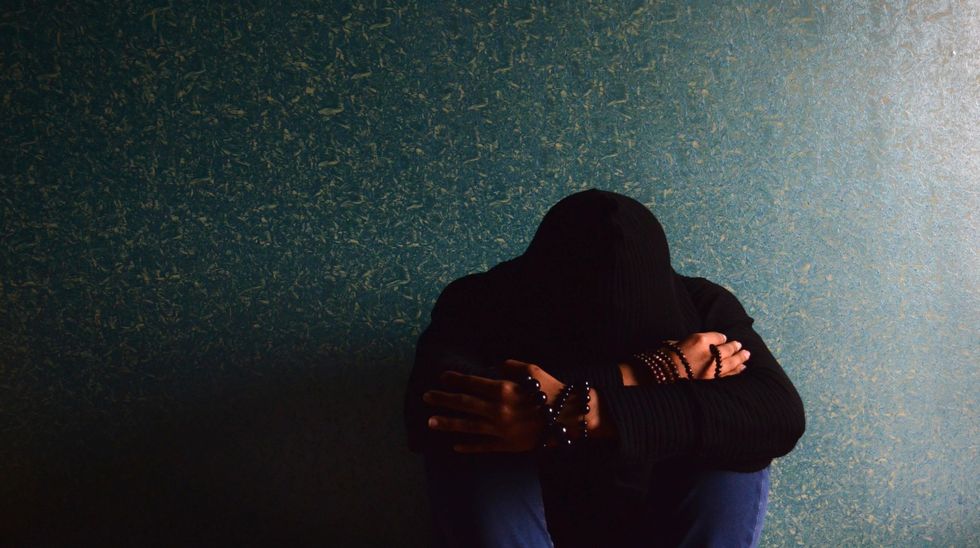 Depressed man. Image credit: Pixnio.
What causes a mood disorder like major depression or bipolar disorder? Psychiatrists say a combination of genetics, trauma, and a neurochemical imbalance. Now we find another aspect, which carries significant weight. A new study finds that disrupted circadian rhythms—our natural internal body clock, can contribute to these conditions. Researchers at the Institute of Health and Wellbeing at the University of Glasgow, in the UK, conducted the study. Their results were published in the journal The Lancet Psychiatry.  
---
Sleep disruption is a common symptom among those with a mood disorder. There's a chicken and egg thing going on here. Does a mood disorder disrupt sleep or does disrupted sleep cause (or worsen) a mood disorder? Most previous studies have looked at the connection subjectively.
Researchers in this study climbed through the data of 91,100 participants' from the UK, each ages 37-73. The volunteers were part of the UK Biobank and took part between 2006 and 2010. This is a long-term research project in the UK, which according to their website investigates the "…contributions of genetic predisposition and environmental exposure to the development of disease."
Each person involved in the study wore an AX3 triaxial accelerometer. An accelerometer tracks a person's movement and activity. Participants wore one on their wrist 24-hours a day for one week. Later on, researchers looked at how active, intensely active, or passive each participant was during the day, at night, or at both times. Note that those who reported sleep apnea or a sleep disorder were filtered out. Each participant was also given a mental health questionnaire. The accelerometer data was cross-referenced with that from the questionnaire, to give researchers their results.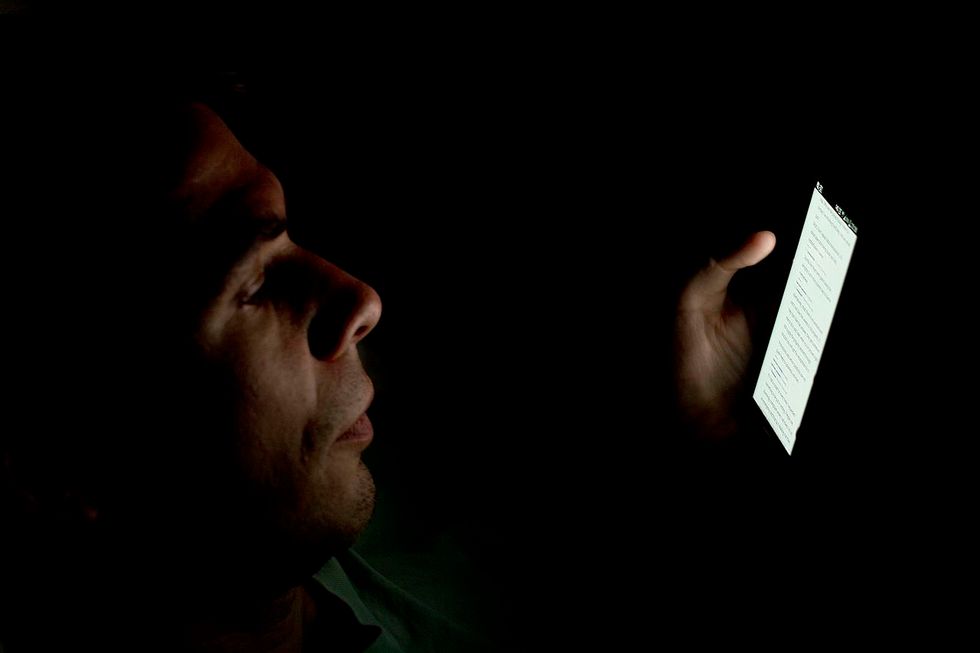 Those with a mood disorder were more likely to be active at night. Image credit: Japanexperterna.se, Wikipedia Commons.
What they found was those participants who were more active at night and less so during the day, tended to have a higher risk for lifetime bipolar or major depressive disorder. They were also lonelier, less happy, more neurotic, and had greater mood instability. Those with mood disorders and up at night tended to be men, have a higher BMI, a lower education level, and were likely to have experienced childhood trauma. There has been strong indications for some time of an association between depression and circadian rhythm disruption, so much so that some experts suggest replacing the term depression with depression-insomnia complex.
A 2010 study for instance, found that children with bipolar had a mutated RORB gene—which is responsible for one's circadian rhythms, while a 2013 study showed depression disrupted the part of the brain that controls such rhythms. Even so, this latest study is the first to prove a direct link through actual behavioral data. Although that's quite a step forward, causality has still not been proven.
The UK study had a pretty big limitation as well, it only monitored participants for one week. Do these same people display similar circadian patterns throughout the month, or over the course of a year? Further research will likely find out. In the future, recalibrating one's circadian rhythms or finding proper ways to help mood disorder patients sleep, may be included in their therapy and could reap significant benefits.
To learn more about circadian rhythms and their impact on health, click here:
"You dream about these kinds of moments when you're a kid," said lead paleontologist David Schmidt.
Surprising Science
The triceratops skull was first discovered in 2019, but was excavated over the summer of 2020.
It was discovered in the South Dakota Badlands, an area where the Triceratops roamed some 66 million years ago.
Studying dinosaurs helps scientists better understand the evolution of all life on Earth.
A new brain imaging study explored how different levels of the brain's excitatory and inhibitory neurotransmitters are linked to math abilities.
Mind & Brain
Glutamate and GABA are neurotransmitters that help regulate brain activity.
Scientists have long known that both are important to learning and neuroplasticity, but their relationship to acquiring complex cognitive skills like math has remained unclear.
The new study shows that having certain levels of these neurotransmitters predict math performance, but that these levels switch with age.
Why do roughly one in five people find math especially difficult?
You might blame teaching methods, which some argue explains why the U.S. lags behind other countries in standardized math test scores. You could point to math anxiety, which affects about 20 percent of students and 25 percent of teachers, according to surveys. And there are also medical conditions that make math difficult, such as dyscalculia, a learning disability that disrupts the normal development of arithmetic skills.
But another explanation centers on neurotransmitters. In a new study published in PLOS Biology, researchers explored how the brain's levels of GABA and glutamate relate to math abilities over time in students of varying ages. The results showed that levels of these neurotransmitters can predict students' performance on math tests. However, this relationship seems to flip as people get older.
GABA and glutamate are responsible for regulating brain activity. In the mature brain, GABA is the brain's main inhibitory neurotransmitter, helping to block impulses between nerve cells in the brain, which can calm feelings of stress, anxiety, or fear. GABA is made from glutamate, the brain's major excitatory neurotransmitter that helps send signals throughout the central nervous system.
Researchers have long known that these neurotransmitters play crucial roles in learning, development, and neuroplasticity. That is partly because they are thought to help trigger developmental windows (or "sensitive periods") during which neural systems become more plastic and better able to acquire certain cognitive skills.
"Importantly, sensitive periods vary for different functions, with relatively simple abilities (e.g., sensorimotor integration) occurring earlier in development, while the sensitive period for acquiring more complex cognitive functions extends into the third decade of life," the researchers wrote.
GABA, glutamate, and math
Still, the exact relationship between GABA, glutamate, and complex cognitive functions has remained unclear. The new study explored that relationship by focusing on associations between the neurotransmitters and math abilities, which "provides a unique cognitive model to examine these questions due to its protracted skill acquisition period that starts already from early childhood and can continue for nearly two decades," the researchers wrote.
For the study, the researchers measured levels of GABA and glutamate in the left intraparietal sulcus (IPS) of 255 students, ranging from primary school to college. The participants completed a math test as their brains were imaged. About a year and a half later, the participants repeated the same process.
"The longitudinal design allowed us to further examine whether neurotransmitter concentration is linked to MA [mathematical abilities] as well as predict MA in the future," the researchers wrote. "Crucially, adopting this design allowed us to discern the selective effect of glutamate and GABA in response to natural (i.e., learning in school) rather than artificial environmental stimulation, thus allowing us to test the knowledge gained from lab-based experiments in high ecological settings."
The results suggest that GABA and glutamate play an important role in math abilities, but that the dynamic switches with age. For the young participants, higher GABA levels in the IPS were associated with higher scores on math tests. The opposite was observed among older students: higher glutamate levels correlated with higher scores. Both results held true on subsequent math tests.
Although the study sheds light on how neurotransmitter levels at different stages of development contribute to learning some cognitive skills, like math, the researchers noted that acquiring other skills may involve different processes.
"Our findings may also highlight a general principle that the developmental dynamics of regional excitation and inhibition levels in regulating the sensitive period and plasticity of a given high-level cognitive function (i.e., MA) may be different compared to another high-level cognitive function (i.e., general intelligence) that draws on similar, albeit not identical, cognitive and neural mechanisms," they wrote.
Do our thoughts have any meaning whatsoever?
Credit
: NeONBRAND via Unsplash
Mind & Brain
Epiphenomenalism is the idea that our conscious minds serve no role in affecting the physical world.
On the contrary, our thoughts are a causally irrelevant byproduct of physical processes that are occurring inside of our brains.
According to epiphenomenalism, we are like children pretending to drive a car — it can be great fun, but we are really not in charge.
What if you don't matter? What if all of your thoughts, precious feelings, great dreams, and terrible fears are completely, utterly, spectacularly irrelevant? Might it be that all of your mental life is just some pointless spectator, looking on as your body does the important stuff of keeping you alive and running about? What actually is the point of a thought?
This is the view of "epiphenomenalism," and it might just be one of the most disturbing ideas in all of philosophy.
The pointless chiming of the clock
On any given day, we will make thousands of decisions and perform countless actions. We will move our legs to walk, open our mouths to eat, smile at our friends, kiss our loved ones, and so on. Today, we know enough about neuroscience and physiology to give a complete and full account of how this happens. We can point to the parts of the brain that activate, the route the nerve signals will take up and down the body, the way the muscles will contract, and how the body will react. We can, in short, give a full physical account of everything we do.
The question, then, is: what is the point of our consciousness? If we can explain all of our behavior quite happily (or "sufficiently" as philosophers like to say) with physical causes, what is there left for our thoughts to do?
Anthropologist Thomas Huxley argued that our thoughts are a bit like a clock's chime at the hour. It makes a sound, but it makes no difference at all to the time. Likewise, our thoughts and subjective feelings might be very nice and appear very special to us, but they are completely uninvolved.
The problem of mind-body dualism
This all stems from a key problem of dualism, which is the philosophical idea that the mind and body are different things. There is something intuitive to the idea. When I imagine a flying dragon with fiery breath and leathery wings, that is entirely different from the physical world of lizards, candles, and bats. Or, put another way, you cannot touch with your finger or cut with a knife the stuff that happens in your head. But we don't like believing that our thoughts don't exist. So, what are they?
The problem in dualism is understanding how something mental, nonphysical, and subjective possibly could affect the physical world and especially my physical body. Yet, it clearly happens. For instance, if I want a cupcake, I make my hand move toward it.
So, how can the immaterial affect the material? This "problem of causal interaction" is not easily resolved, and so some philosophers prefer the epiphenomenalist response, "Perhaps our minds don't do anything." If we want to retain the idea that our minds exist but in a completely different way as the physical world, then it might be more palatable to jettison the idea that they do anything at all.
Integrated information theory
Then, what is the point of consciousness? There are some, such as neuroscientist Daniel De Haan and philosophers Giulio Tononi and Peter Godfrey-Smith, who argue that consciousness can best be explained by "integrated information theory."
In this theory, consciousness is something that emerges from the sum of our cognitive processes — or, more specifically, the "capacity of a system to integrate information," as Tononi writes. In other words, consciousness is a net product of all the other things our mind is doing, such as synchronizing sensory inputs, focusing on specific objects, accessing various types of memory, and so on. The mind is an overseer at the center of a huge web and is the result or byproduct of all the incredibly complex things it needs to do.
But this kind of "emergentist" theory (since the mind "emerges" from its operations) does leave us with some epiphenomenal questions. It seems to suggest that the mind does exist but that it can be fully explained and accounted for by other physical processes. For instance, if we suppose our consciousness is the product of our complex and various sensory inputs, as Godfrey-Smith offers, then what does conscious thought actually add to the equation that our sight, smell, interoception, and so on are not already doing? By analogy, if a "traffic jam" is just the term for a collection of stationary cars and trucks, what does the concept "traffic jam" add that all those vehicles don't already provide? A traffic jam has no causal role to play.
This is not to say that consciousness is a mistake or without value. After all, without it, I would not be me and you would not be you. Pleasure would not exist. There would be no world at all. We cannot even imagine a life without consciousness. And epiphenomenalism does believe that physical events, like our synaptic sparks and neuronal interactions, do cause our mental events.
But if epiphenomenalism is correct, it means that our thoughts don't add anything to the physical world that isn't already ongoing. It means that we are locked in our heads. All the thoughts and feelings are ultimately pointless or nonsense. We are like children pretending to drive a car — it can be great fun, but we are really not in charge.
Jonny Thomson teaches philosophy in Oxford. He runs a popular Instagram account called Mini Philosophy (@philosophyminis). His first book is Mini Philosophy: A Small Book of Big Ideas.
Culture & Religion
For the ancients, hospitality was an inviolable law enforced by gods and priests and anyone else with the power to make you pay dearly for mistreating a stranger.
Scroll down to load more…