Dark Matter and Dark Energy Don't Exist. New Theory Says the Universe Works Without Them
This could change everything we know about gravity and universal expansion.
03 December, 2017
Before the Hubble Space Telescope (HST), it was thought that the universe was slowing in its expansion and might someday fold back in on itself. In 1998, the HST revealed that rather than slowing, the rate of universal expansion is actually picking up. We still don't know why.  
---
One explanation is dark energy. Rather than allowing the universe to expand at a constant rate, dark energy pushes it along, causing it to pick up speed. Astronomers can only detect it indirectly, by measuring the distance between galaxies, for instance.
Dark energy is thought to comprise roughly 68% of the known universe, and dark matter 27%. Yet, we only know about them in terms of gravity. In other words, scientists can only detect them indirectly, by how they cause stars and galaxies to move and behave. For instance, the amount of matter inherent in galaxy clusters alone doesn't account for the gravity that keeps them together. Some other force must be involved. Here, dark matter is the most common answer.
Astrophysicists have been postulating the existence of dark matter for about a century. Swiss astronomer Fritz Swicky was the first to see that there was far more matter in the universe than we could directly observe. Though he postulated this in 1933, US astronomer Vera Rubin made the concept more popular in the 1970s, when he used it to try and illustrate how stars move and at what velocity.
Australian and U.S. astrophysicists won the Nobel Prize in physics in 2011, for their 1998 discovery of the Hubble Constant. This is the rate at which the universe expands. Since then, despite many attempts to detect dark matter and dark energy, no progress has been made.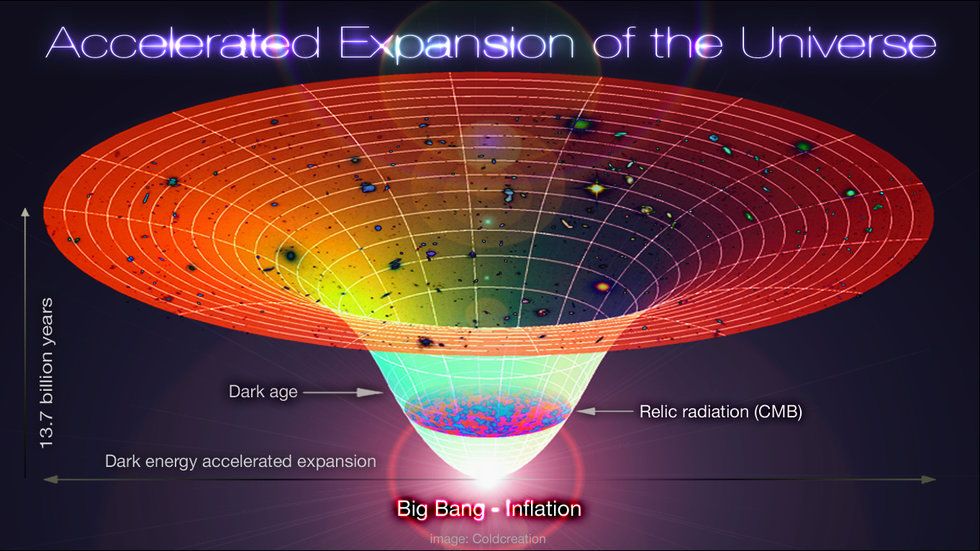 The Big Bang and the accelerated expansion of the universe. Credit: Coldcreation. Wikipedia Commons.
Now, André Maeder, honorary professor in the Department of Astronomy at the University of Geneva (UNIGE), has a radical theory that's shaking up astrophysics. He says neither dark matter nor dark energy exist. These concepts he believes are no longer required. The Swiss physicist can demonstrate how the universe works without them. His findings were published recently in a series of papers in The Astrophysical Journal. So how does this new model work?
It all surrounds what's known as scale invariance. This is when the properties of something do not change no matter how you measure it, regardless of scale. We can multiply their energies or lengths by whatever number and they do not change. Certain fractals for instance, if we zoom in or fade back, remain the same size and shape. Their properties don't change. The same is true of empty space. Whether you pan out or in, it's the same. This isn't exactly foreign to physics. Scale invariance is actually a fundamental part of the theory of electromagnetism.

The Weiner process works on scale invariance, seen here. Credit: Cyp, Wikimedia Commons.
Maeder proposes that instead of dark matter or dark energy, we've simply forgotten to include scale invariance into the Standard Model—our current model of the universe. This has so far been developed mainly from Newton's universal gravitation, Einstein's general relativity, and quantum mechanics.
"In this model, there is a starting hypothesis that hasn't been taken into account, in my opinion," Maeder said. "By that, I mean the scale invariance of empty space; in other words, empty space and its properties do not change following a dilatation or contraction." If this is true, it would change everything we know about gravity and universal expansion.
What's different is that Einstein believed empty spaced operated on what's known as the cosmological constant. Today, we'd interpret it as a form of dark energy. Maeder's model instead includes scale invariance in empty space. He tested his hypothesis on the accelerated expansion of space, and it worked without the need for dark energy. He also applied it to galaxy clusters. Their behavior was in line with Maeder's calculations.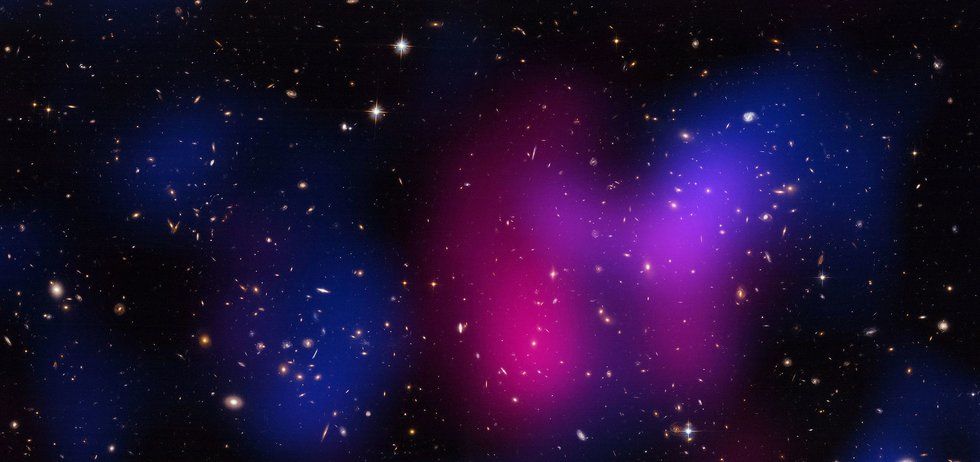 The Musket Ball Cluster. This controversial hypothesis can explain why star clusters stick together. Credit: Getty Images.
In another test, Maeder showed that he could account for why stars in the outer reaches of galaxies move faster than those within them. Dark matter is the usual explanation. Lastly, he accurately illustrated the dispersion of certain stars as they travel through the Milky Way, which until now has been difficult for astronomers to understand.
These findings are controversial. The Frankfurt Institute's Sabine Hossenfelder, a physicist blogger, called Maeder's hypothesis inconsistent. While astrophysicist Katie Mack of Australia's University of Melbourne, said it's been "massively overhyped." There's other evidence for dark matter she said, in the cosmic microwave background, the residue of the Big Bang. It's also present in how galaxies are distributed. Finally, a phenomenon called gravitation lensing also hints at dark matter.
Though there are other ways to interpret Einstein, that doesn't mean they're true, Mack said. Until Maeder's hypothesis is proven across a number of observations and measurements, his theory won't supersede that which is already in place. But if he succeeds, it'll be a paradigm shift in our entire understanding of how the universe operates.
For more on how the universe works from a more traditional view, click here:
What can 3D printing do for medicine? The "sky is the limit," says Northwell Health researcher Dr. Todd Goldstein.
Northwell Health
Sponsored by Northwell Health
Medical professionals are currently using 3D printers to create prosthetics and patient-specific organ models that doctors can use to prepare for surgery.
Eventually, scientists hope to print patient-specific organs that can be transplanted safely into the human body.
Northwell Health, New York State's largest health care provider, is pioneering 3D printing in medicine in three key ways.
Technology may soon grant us immortality, in a sense. Here's how.
Videos
Through the Connectome Project we may soon be able to map the pathways of the entire human brain, including memories, and create computer programs that evoke the person the digitization is stemmed from.
We age because errors build up in our cells — mitochondria to be exact.
With CRISPR technology we may soon be able to edit out errors that build up as we age, and extend the human lifespan.
The controversial herbicide is everywhere, apparently.
Surprising Science
U.S. PIRG tested 20 beers and wines, including organics, and found Roundup's active ingredient in almost all of them.
A jury on August 2018 awarded a non-Hodgkin's lymphoma victim $289 million in Roundup damages.
Bayer/Monsanto says Roundup is totally safe. Others disagree.
The pizza giant Domino's partners with a Silicon Valley startup to start delivering pizza by robots.
Nuro
Technology & Innovation
Domino's partnered with the Silicon Valley startup Nuro to have robot cars deliver pizza.
The trial run will begin in Houston later this year.
The robots will be half a regular car and will need to be unlocked by a PIN code.
Would you have to tip robots? You might be answering that question sooner than you think as Domino's is about to start using robots for delivering pizza. Later this year a fleet of self-driving robotic vehicles will be spreading the joy of pizza throughout the Houston area for the famous pizza manufacturer, using delivery cars made by the Silicon Valley startup Nuro.
The startup, founded by Google veterans, raised $940 million in February and has already been delivering groceries for Kroger around Houston. Partnering with the pizza juggernaut Domino's, which delivers close to 3 million pizzas a day, is another logical step for the expanding drone car business.
Kevin Vasconi of Domino's explained in a press release that they see these specially-designed robots as "a valuable partner in our autonomous vehicle journey," adding "The opportunity to bring our customers the choice of an unmanned delivery experience, and our operators an additional delivery solution during a busy store rush, is an important part of our autonomous vehicle testing."
How will they work exactly? Nuro explained in its own press release that this "opportunity to use Nuro's autonomous delivery" will be available for some of the customers who order online. Once they opt in, they'll be able to track the car via an app. When the vehicle gets to them, the customers will use a special PIN code to unlock the pizza compartment.
Nuro and its competitors Udelv and Robomart have been focusing specifically on developing such "last-mile product delivery" machines, reports Arstechnica. Their specially-made R1 vehicle is about half the size of a regular passenger car and doesn't offer any room for a driver. This makes it safer and lighter too, with less potential to cause harm in case of an accident. It also sticks to a fairly low speed of under 25 miles an hour and slams on the breaks at the first sign of trouble.
What also helps such robot cars is "geofencing" technology which confines them to a limited area surrounding the store.
For now, the cars are still tracked around the neighborhoods by human-driven vehicles, with monitors to make sure nothing goes haywire. But these "chase cars" should be phased out eventually, an important milestone in the evolution of your robot pizza drivers.
Check out how Nuro's vehicles work:
Big think's weekly newsletter.
Get smarter faster from the comfort of your inbox.
See our newsletter privacy policy
here
Most Popular
Most Recent
Big think's weekly newsletter.
Get smarter faster from the comfort of your inbox.
See our newsletter privacy policy
here
© Copyright 2007-2019 & BIG THINK, BIG THINK EDGE,
SMARTER FASTER trademarks owned by The Big Think, Inc. All rights reserved.