Big ideas.
Once a week.
Subscribe to our weekly newsletter.
Why Gender Reassignment Surgery Isn't a Cure-all for Many Trans People
Some patients who went through gender reassignment surgery reported feeling just as out of place. A few were even suicidal.
13 October, 2016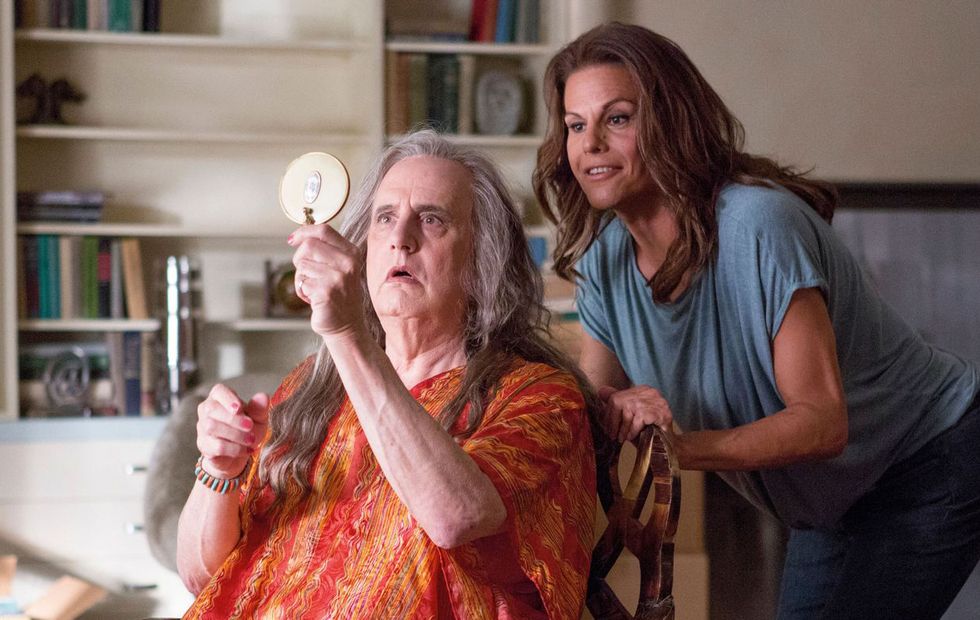 A scene from TV show Transparent, starring Jeffrey Tambour.
Imagine coming to the realization that you are in the wrong body. Inside you feel a certain way, but your appearance reflects something different. How do you cope with this dichotomy? Can you? If you're transgendered, one approach is sexual reassignment surgery. Correct the outside appearance, and the symmetry should allay any conflict. However, a new meta-analysis conducted by UK researchers finds that some patients are just as distressed after the operation as before. Researchers reviewed 100 studies of post-operative transsexuals from around the globe to draw their conclusions.
---
British newspaper The Guardian was the motivating force behind this study. It interviewed several people who had gone through such an operation and regretted it. In the meta-analysis, researchers found zero evidence that undergoing such a procedure had any value to the patient. Researchers at the University of Birmingham's aggressive research intelligence facility (Arif) conducted the study.
The director of Arif, Chris Hyde, expressed doubt on whether gender reassignment surgery was beneficial. "There's still a large number of people who have the surgery but remain traumatized," he said. "Often to the point of committing suicide." Unfortunately, in their final analysis, Arif investigators determined that the lion's share of the research on this topic so far was poorly designed and executed.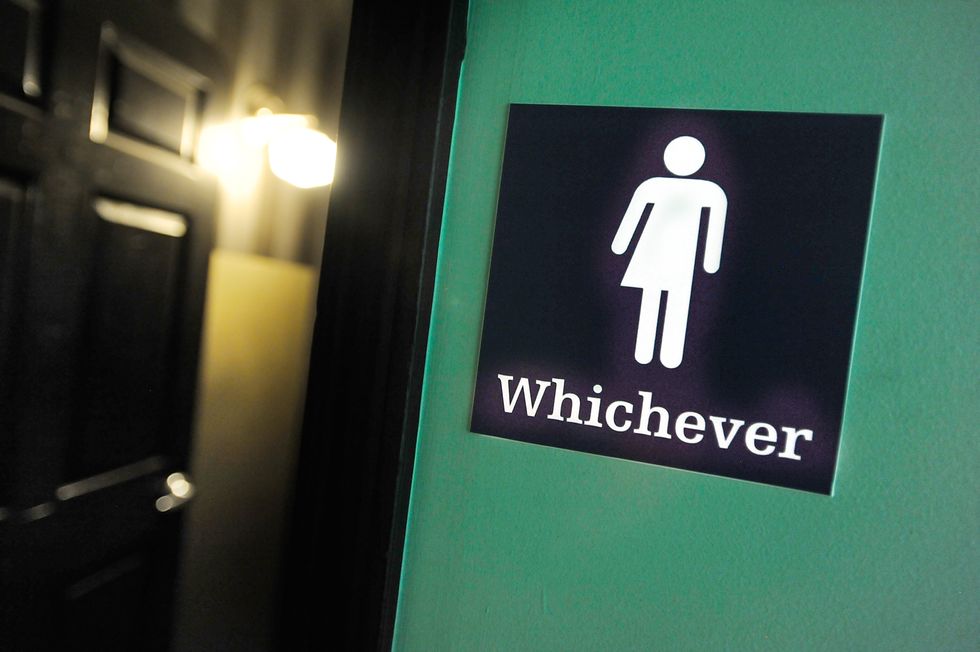 Though things have been tough for the transgendered, acceptance is beginning to take root.
Between 100 and 500 of these procedures occur in the US in any given year, according to the Surgery Encyclopedia, although a separate report indicates that, in terms of male-to-female transitions (MF) alone, between 800 and 1,000 occur annually.
According to some accounts, those who undergo a sex change sometimes feel the hormone therapy, which they must undergo for a year prior to surgery, "pushes" them into it. Others say they will never be accepted in their new body, and so would rather go back to the old one. In one of the studies, over half of the participant pool disappeared. The reason was unknown.
This may reflect the disdain for their new body or worse, according to Dr. Hyde. Though the majority of patients do well, Dr. Hyde contends, those who do not are woefully unprepared for how bad they feel. Some say that losing half of the participants in such a study reflects how little regard the transgendered receive in society.
A recent study out of the University of California, San Diego proves that many trans people feel at odds with their own physical gender. The ability to identify this may someday work to help trans children understand who they are. After puberty, transitioning becomes more difficult, medically speaking. This neurological discovery could help clear up questions of whether a transition should occur or not, as brain imaging data is objective. It could also help to tell whether a person will take well to sexual reassignment.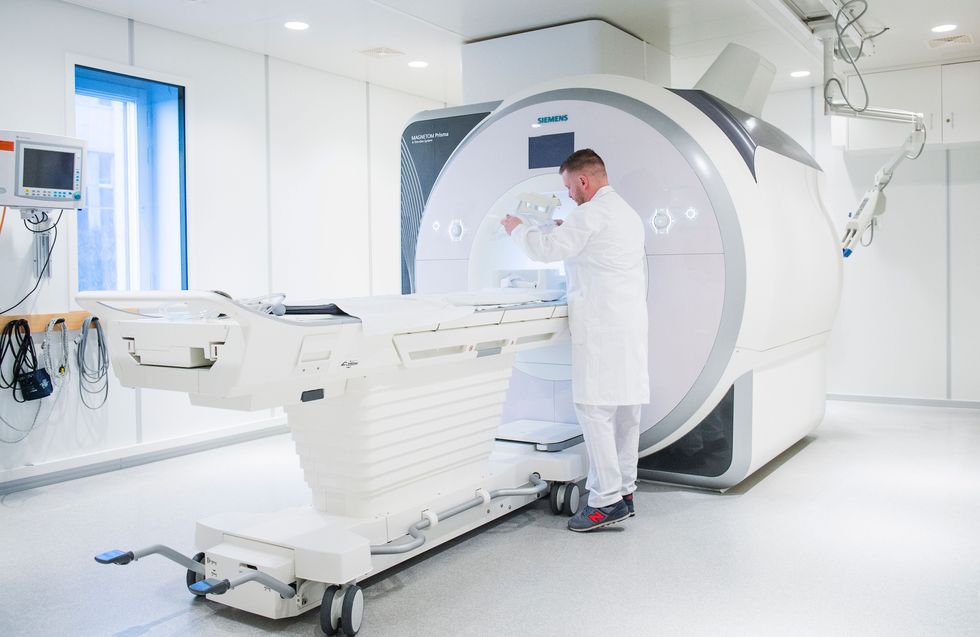 New study uses brain imaging to show neurological differences between transgendered and cisgendered.
Laura Case at UC San Diego wanted to see if she could use brain imaging to detect an incongruity between the brain and the body, in terms of gender identity. Eight trans men, or those who are female biologically but identify as male, were tested, along with eight cisgender women—used as a control group.
Using magnetoencephalography and an MRI, researchers found that trans men had less activity in a region of the brain known as the supramarginal gyrus. This area gives us a sense of our body parts belonging to us. It may mean that that sense is less pronounced in the transgendered than in cisgendered or traditionally gendered people. Whether this feeling came first and caused a biological response, or the biological manifestation shaped the psychology of the person, is not yet known. One previous study found that white matter in four regions of the brain of trans men closely resembled that of cisgender men.
More research is planned, which will look into the neurobiology of the transgendered, and the impact of sexual assignment surgery on them. For many of us, gender is something we take for granted. Unfortunately, trans people must try to find their way in a dichotomous world where the true diversity of humanity is often ignored, overlooked, ridiculed, or shunned.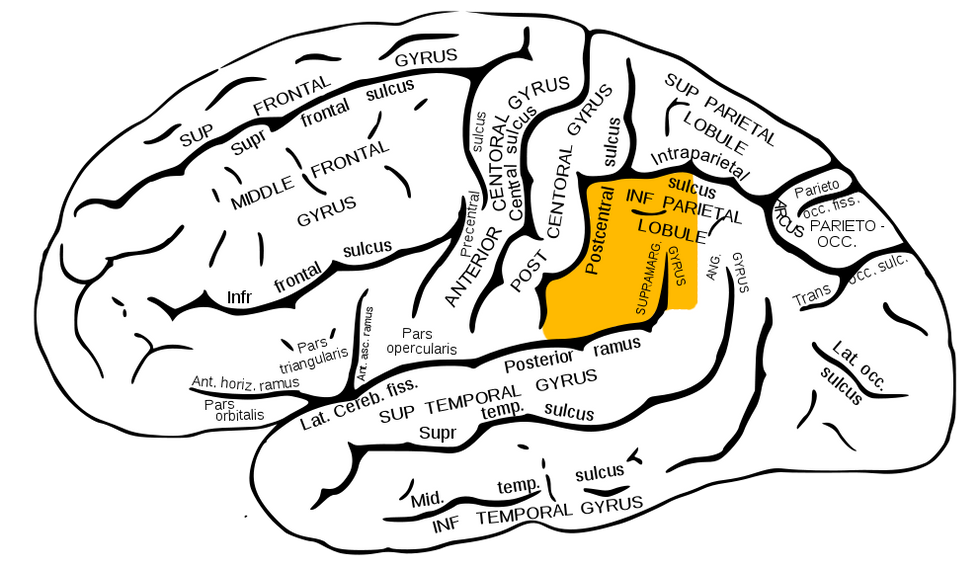 The supramarginal gyrus. Image y Gray, vectorized by Mysid, colourd by was_a_bee. (File:Gray726.svg) [Public domain], via Wikimedia Commons.
The truth is that many more people are born with ambiguous sex organs than we think. Oftentimes in the past, doctors at the time of birth decided arbitrarily which gender the child was going to be, simply by which sex organ was easier to fashion. Those born with ambiguous genatalia are known as "intersex." This occurs in about one in 1,500 or 2,000 births or 1.7% of the world population. Due to this, for many, identifying as gender fluid may make more sense.
By all accounts, intersex babies are just as healthy as their cisgender counterparts. Unfortunately, our society's focus on labels makes the lives of those who are trans difficult. Perhaps instead we should love them for who they really are, regardless of what they have in their pants.
The other important notion is that it's human nature to think, "If only _____ were true, I'd be content." But no matter the physical situation, contentment cannot come from without, no matter how we think the outcome might transform us. Though in some cases, it seems gender reassignment surgery can be life changing, contentment itself, no matter your gender, be it strict or fluid, can only come from within.
To hear one person's story click here: 
--
A Harvard professor's study discovers the worst year to be alive.
Credit: Pieter Bruegel the Elder. (Museo del Prado).
Politics & Current Affairs
Harvard professor Michael McCormick argues the worst year to be alive was 536 AD.
The year was terrible due to cataclysmic eruptions that blocked out the sun and the spread of the plague.
536 ushered in the coldest decade in thousands of years and started a century of economic devastation.
The past year has been nothing but the worst in the lives of many people around the globe. A rampaging pandemic, dangerous political instability, weather catastrophes, and a profound change in lifestyle that most have never experienced or imagined.
But was it the worst year ever?
Nope. Not even close. In the eyes of the historian and archaeologist Michael McCormick, the absolute "worst year to be alive" was 536.
Why was 536 so bad? You could certainly argue that 1918, the last year of World War I when the Spanish Flu killed up to 100 million people around the world, was a terrible year by all accounts. 1349 could also be considered on this morbid list as the year when the Black Death wiped out half of Europe, with up to 20 million dead from the plague. Most of the years of World War II could probably lay claim to the "worst year" title as well. But 536 was in a category of its own, argues the historian.
It all began with an eruption...
According to McCormick, Professor of Medieval History at Harvard University, 536 was the precursor year to one of the worst periods of human history. It featured a volcanic eruption early in the year that took place in Iceland, as established by a study of a Swiss glacier carried out by McCormick and the glaciologist Paul Mayewski from the Climate Change Institute of The University of Maine (UM) in Orono.
The ash spewed out by the volcano likely led to a fog that brought an 18-month-long stretch of daytime darkness across Europe, the Middle East, and portions of Asia. As wrote the Byzantine historian Procopius, "For the sun gave forth its light without brightness, like the moon, during the whole year." He also recounted that it looked like the sun was always in eclipse.
Cassiodorus, a Roman politician of that time, wrote that the sun had a "bluish" color, the moon had no luster, and "seasons seem to be all jumbled up together." What's even creepier, he described, "We marvel to see no shadows of our bodies at noon."
...that led to famine...
The dark days also brought a period of coldness, with summer temperatures falling by 1.5° C. to 2.5° C. This started the coldest decade in the past 2300 years, reports Science, leading to the devastation of crops and worldwide hunger.
...and the fall of an empire
In 541, the bubonic plague added considerably to the world's misery. Spreading from the Roman port of Pelusium in Egypt, the so-called Plague of Justinian caused the deaths of up to one half of the population of the eastern Roman Empire. This, in turn, sped up its eventual collapse, writes McCormick.
Between the environmental cataclysms, with massive volcanic eruptions also in 540 and 547, and the devastation brought on by the plague, Europe was in for an economic downturn for nearly all of the next century, until 640 when silver mining gave it a boost.
Was that the worst time in history?
Of course, the absolute worst time in history depends on who you were and where you lived.
Native Americans can easily point to 1520, when smallpox, brought over by the Spanish, killed millions of indigenous people. By 1600, up to 90 percent of the population of the Americas (about 55 million people) was wiped out by various European pathogens.
Like all things, the grisly title of "worst year ever" comes down to historical perspective.
A simple trick allowed marine biologists to prove a long-held suspicion.
Surprising Science
It's long been suspected that sharks navigate the oceans using Earth's magnetic field.
Sharks are, however, difficult to experiment with.
Using magnetism, marine biologists figured out a clever way to fool sharks into thinking they're somewhere that they're not.
For some time, scientists have suspected that sharks belong among the growing number of animals known to navigate using Earth's magnetic field. Testing anything with a shark, though, requires some care.
"The reason this question has been withstanding for 50 years is because sharks are difficult to study," says Bryan Keller of the Save Our Seas Foundation. "To be honest, I am surprised it worked."
The key was selecting the right candidate. Keller and his colleagues chose the bonnethead shark, Sphyrna tiburo, a small critter that summers at Turkey Point Shoal off the coast of the Florida State University Coastal and Marine Laboratory with which Keller is affiliated.
Bonnetheads elsewhere have been known to complete 620-mile roundtrip migrations. As the lab's Dean Grubbs puts it, "That's not bad for a shark that is only two to three feet long. The question is how do they find their way back to that same estuary year after year." There's a report of a great white shark migrating between two locations, one in South Africa and another in Australia, year after year.
The research is published in Current Biology.
Shark tank
These are the three places the bonnethead sharks were magnetically fooled into thinking they were located.Credit: Keller et al. / Current Biology
Keller and his team rounded up 20 local juvenile bonnetheads and transported them into a holding tank at the marine lab. For the tests, the researchers simulated three real-world magnetic fields. As the various magnetic fields were activated, the sharks' movements were captured by GoPro cameras and their average swimming orientations calculated by software.

The first simulation, serving as a control, mimicked the magnetic field of the nearby shoal from which the sharks had been captured. When this field was activated, the sharks essentially acted like they were "home," just swimming around as they do.
A second field was the magnetic equivalent of a location 600 kilometers south of the lab within the Gulf of Mexico. When this field was activated, the sharks, apparently mistaking themselves for being far south in the Gulf, began swimming northward toward the shoal.
The opposite occurred with a field standing in for a location in continental North America 600 km north of their home shoal — the sharks began swimming southward.
Suspicion confirmed
"For 50 years," says Keller, "scientists have hypothesized that sharks use the magnetic field as a navigational aid. This theory has been so popular because sharks, skates, and rays have been shown to be very sensitive to magnetic fields. They have also been trained to react to unique geomagnetic signatures, so we know they are capable of detecting and reacting to variation in the magnetic field."
His team's experiments confirm what's long been suspected, Keller says: "Sharks use map-like information from the geomagnetic field as a navigational aid. This ability is useful for navigation and possibly maintaining population structure."
A machine learning system lets visitors at a Kandinsky exhibition hear the artwork.
Culture & Religion
Have you ever heard colors?
As part of a new exhibition, the worlds of culture and technology collide, bringing sound to the colors of abstract art pioneer Wassily Kandinsky.
Kandinsky had synesthesia, where looking at colors and shapes causes some with the condition to hear associated sounds. With the help of machine learning, virtual visitors to the Sounds Like Kandinsky exhibition, a partnership project by Centre Pompidou in Paris and Google Arts & Culture, can have an aural experience of his art.
An eye for music
Kandinsky's synesthesia is thought to have heavily influenced his painting. Seeing yellow summoned up trumpets, evoking emotions like cheekiness; reds produced violins portraying restlessness; while organs representing heavenliness he associated with blues, according to the exhibition notes.
Virtual visitors are invited to take part in an experiment called Play a Kandinsky, which allows them to see and hear the world through the artist's eyes.
Kandinsky's synesthesia is thought to have heavily influenced his 1925 painting Yellow, Red, Blue.Image: Guillaume Piolle/Wikimedia Commons
In 1925, the artist's masterpiece, "Yellow, Red, Blue", broke new ground in the world of abstract art, guiding the viewer from left to right with shifting shapes and shades. Almost a century after it was painted, Google's interactive tool lets visitors click different parts of the artwork to journey through the artist's description of the colors, associated sounds and moods that inspired the work.
But Google's new toy is not the only tool developed to enhance the artistic experience.
Artist Neil Harbisson has developed an artificial way to emulate Kandinsky by turning colors into sounds. He has a rare form of color blindness and sees the world in greyscale. But a smart antenna attached to his head translates dominant colors into musical notes, creating a real-world soundtrack of what's in front of him. The invention could open up a new world for people who are color blind.
Reprinted with permission of the World Economic Forum. Read the original article.
Politics & Current Affairs
A new study suggests that private prisons hold prisoners for a longer period of time, wasting the cost savings that private prisons are supposed to provide over public ones.
Scroll down to load more…