Big ideas.
Once a week.
Subscribe to our weekly newsletter.
7 actual superpowers certain humans have, due to genetic mutation
A lot of the powers found in the comics exist in real life. They're just a bit different.
20 May, 2018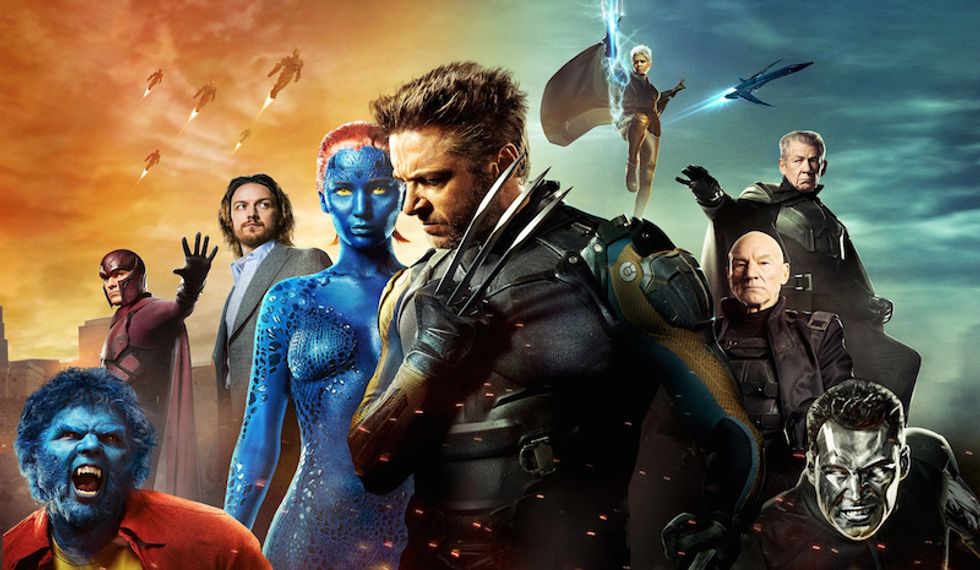 Credit: Pixababy.
If you could choose any superpower, what would it be? Disappointingly, most of us don't have a mutant gene that allows for superior capabilities. Turns out humans are 99.9% genetically identical. Yet, there's a lot of variation expressed within that remaining 0.1%. How tall or short we are, what skills we have, our hair and eye color, and even predispositions to certain diseases or conditions, are all encapsulated within our genes.
---
Lying deep within that tiny fraction of a difference are some really weird and downright uncanny capabilities in some, rare cases. Here are 7 actual "superpowers," due to genetic mutation. Which of these real-life superpowers would you want?
1. Unbreakable bones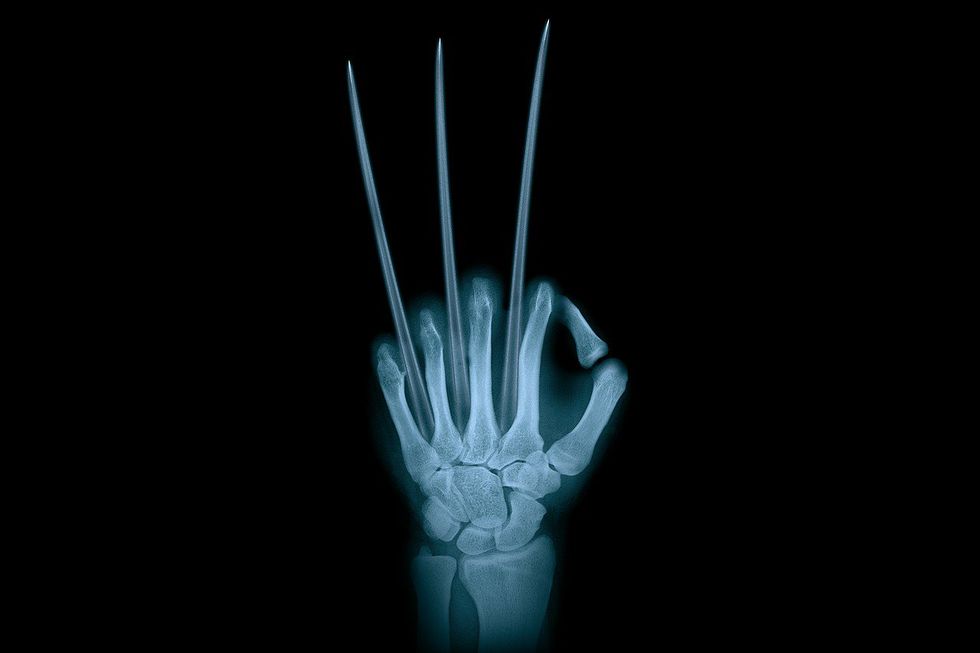 Image credit: Comfreak, Pixababy.
Think Wolverine's adamantium skeleton is impressive? Well, it is. But there's a superpower in real life that's sort of like that, unbreakable bones. The LRP5 gene is responsible for many bone ailments, including juvenile osteoporosis. What's remarkable is, a mutation associated with this exact same gene can have the opposite effect. Yale researchers discovered the mutation among one particular Connecticut family. They have bones that are super strong and extremely resistant to breaking. Understanding this phenomenon may help medical researchers work up a novel cure for osteoporosis.
2. Incredible vision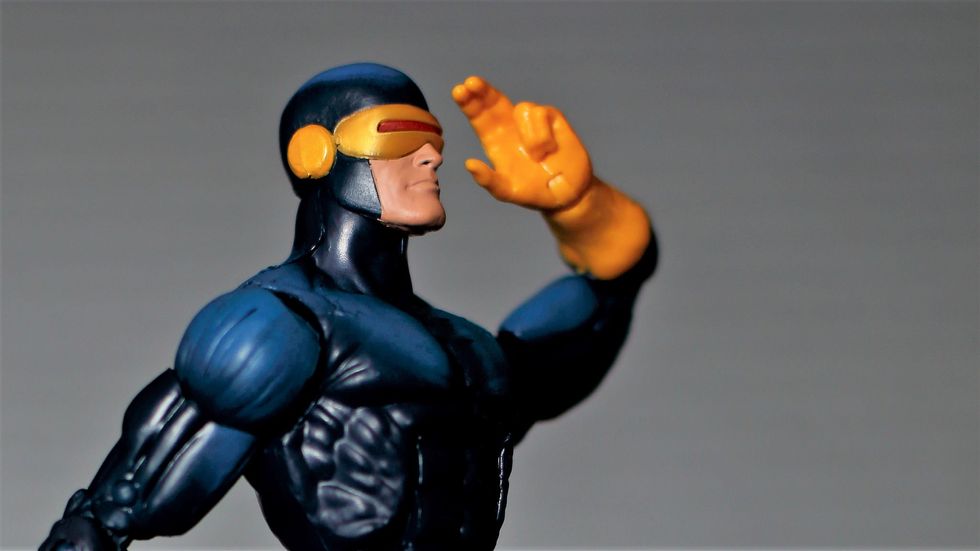 Image credit: Hannaford, Flickr.
How many colors can the average person see? The answer: about 1 million. Those with tetrachromacy, however, are estimated to see up to 100 million colors. While most humans have three color receptors in their eyes, tetrachromats, usually women, have four. This is caused by a mutation of the opsin gene.
About 12% of women have it. But possessing the gene doesn't guarantee you'll develop the ability. What scientists have noticed is, those who carry the mutation and encounter a number of different colors, constantly, from a young age on, often develop it. Scientists are now just beginning to develop an understanding of this condition.
3. Super strength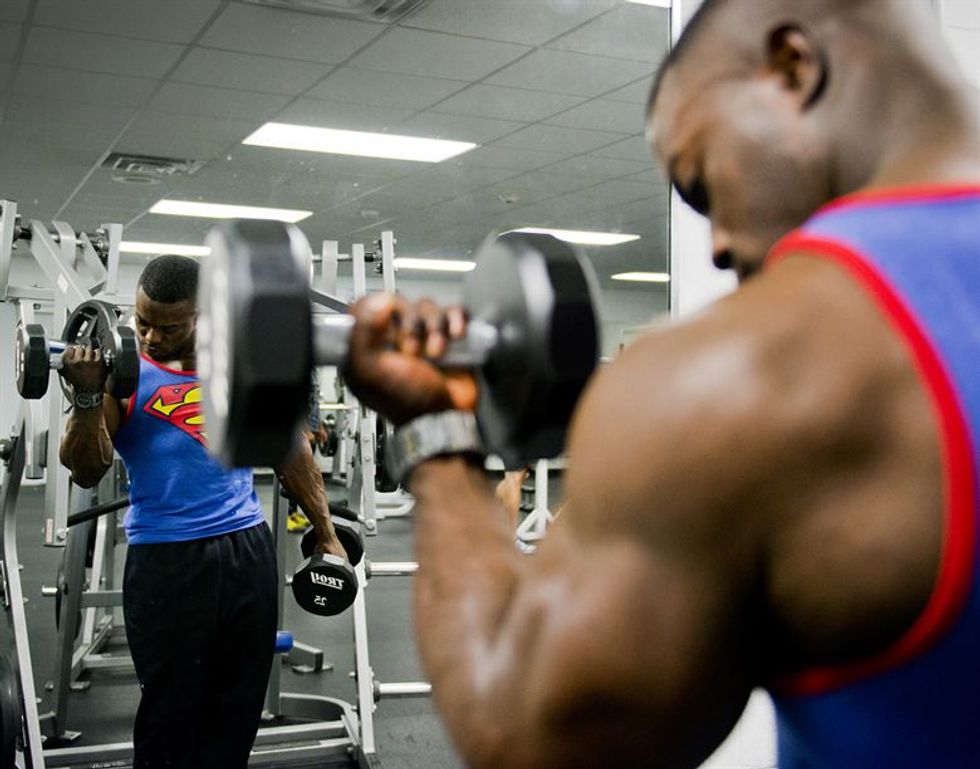 Image credit: US Air Force.
Who wouldn't want to be stronger? Well, those with a mutation in the MSTN gene don't. Their muscles are already amped up, due to a lack of myostatin—a protein which tells the muscles when to stop growing. Animals who lack the protein often grow large, muscular bodies that contain very little fat. In humans, this mutation allows one to reach a muscle mass double that of the average person and stay muscular, without having to do much to keep it up.
4. Uncanny flexibility
Javier Botet, a horror actor featured in the Spanish horror movie REC. Botet has Marfan syndrome.
Marfan syndrome is a condition, caused by genetic mutation, where a person has less connective tissue than they should. Our connective tissue keeps our limbs, organs, and other body parts firmly in place. Those who have Marfan syndrome often have long limbs, piano fingers, and incredible flexibility.
Javier Botet, mentioned above, has a mild variation, which allows him to put his body into strange poses—making him a perfect candidate for a horror movie. But those with more pronounced cases can experience severe, even life-threatening complications to their heart or other organs. It can also affect the eyes, bones, and blood vessels. Those with a mild case, however, like Botet, usually lead normal lives.
5. Resistance to poison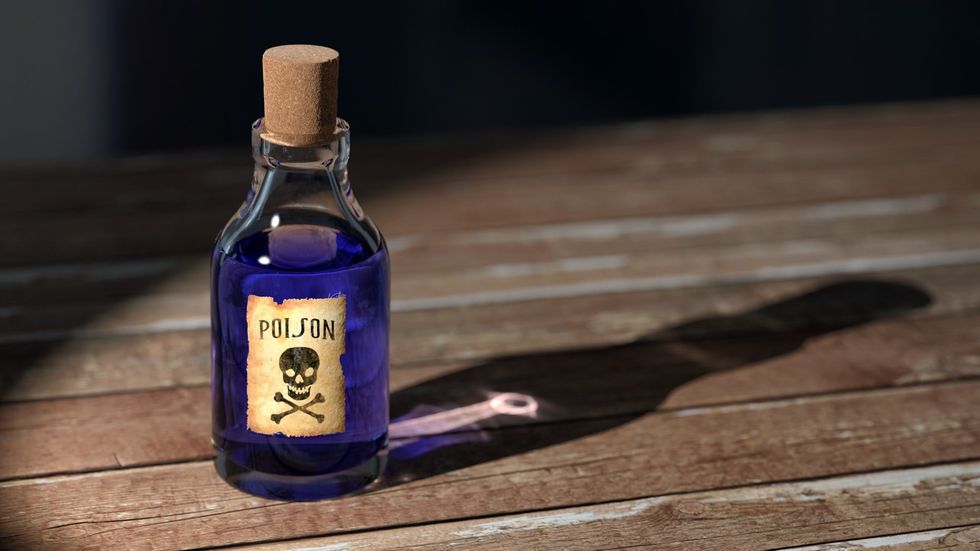 Image credit: qimono, Pixababy.
Imagine drinking enough arsenic to kill an ox, only to walk away whistling, without any health effects, whatsoever. In a small village in Argentina, the residents call this their daily life. 6,000 of them drink from a water supply laced with 80 times the amount of arsenic needed to kill anyone. This population has been drinking from the same source for thousands of years. As a result, they've developed a mutation of the gene AS3MT, which helps push potentially dangerous substances out of the system.
6. Super speed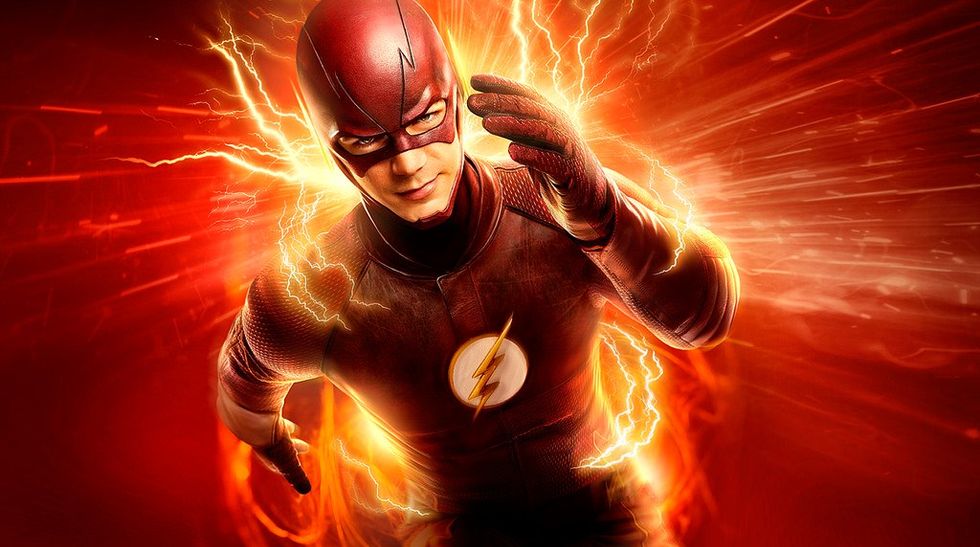 Image credit: Bago Games, Flickr.
Ever wanted to run incredibly fast? Although comic books powers are overly dramatic, there are folks in this world who display exceptional athletic ability, including running. The mutation here is located at gene ACTN3, also known as the "sports gene." This involves how fast muscles move, allowing them to flex faster for running and other physical activities. A 2008 study found that lots of top runners and athletes possess the mutation.
7. Perfect memory recall
Actress Marilu Henner explains what it's like to have hyperthymesia.

The brainiac is a troupe in superhero lore that we never tire of. In real life, there are those who remember every detail of every day they've ever lived. Know what you ate for breakfast on this date exactly ten years ago? What was in the news? Who did you speak to? What did you do? Those with hyperthymesia can tell you everything. Basically, it can be explained as having a super memory or an autobiographical one. So far, there are 25 confirmed cases. Actress Marilu Henner from the '70s sitcom Taxi, is one.
Although it's assumed that there's a genetic basis, so far no one has nailed it down. There are certain neurological phenomena that come with the condition, however. Each person with hyperthymesia has a larger caudate nucleus—a part of the brain which helps us process and store memories.
There may also be a strong link between the caudate nucleus and the temporal lobe, an area responsible for sensory input, emotion, language, memory, and comprehension. Those with hyperthymesia often exhibit obsessive-compulsive behaviors. In fact, some experts believe the condition may stem from a compulsion to constantly revisit one's memories.
Want to learn more about real-life superpowers? Click here:
The father of all giant sea bugs was recently discovered off the coast of Java.
SJADE 2018
Surprising Science
A new species of isopod with a resemblance to a certain Sith lord was just discovered.
It is the first known giant isopod from the Indian Ocean.
The finding extends the list of giant isopods even further.
Humanity knows surprisingly little about the ocean depths. An often-repeated bit of evidence for this is the fact that humanity has done a better job mapping the surface of Mars than the bottom of the sea. The creatures we find lurking in the watery abyss often surprise even the most dedicated researchers with their unique features and bizarre behavior.

A recent expedition off the coast of Java discovered a new isopod species remarkable for its size and resemblance to Darth Vader.
The ocean depths are home to many creatures that some consider to be unnatural.
Bathynomus raksasa specimen (left) next to a closely related supergiant isopod, B. giganteus (right)
Sidabalok CM, Wong HP-S, Ng PKL (ZooKeys 2020)
According to LiveScience, the Bathynomus genus is sometimes referred to as "Darth Vader of the Seas" because the crustaceans are shaped like the character's menacing helmet. Deemed Bathynomus raksasa ("raksasa" meaning "giant" in Indonesian), this cockroach-like creature can grow to over 30 cm (12 inches). It is one of several known species of giant ocean-going isopod. Like the other members of its order, it has compound eyes, seven body segments, two pairs of antennae, and four sets of jaws.
The incredible size of this species is likely a result of deep-sea gigantism. This is the tendency for creatures that inhabit deeper parts of the ocean to be much larger than closely related species that live in shallower waters. B. raksasa appears to make its home between 950 and 1,260 meters (3,117 and 4,134 ft) below sea level.
Perhaps fittingly for a creature so creepy looking, that is the lower sections of what is commonly called The Twilight Zone, named for the lack of light available at such depths.
It isn't the only giant isopod, far from it. Other species of ocean-going isopod can get up to 50 cm long (20 inches) and also look like they came out of a nightmare. These are the unusual ones, though. Most of the time, isopods stay at much more reasonable sizes.
The discovery of this new species was published in ZooKeys. The remainder of the specimens from the trip are still being analyzed. The full report will be published shortly.
What benefit does this find have for science? And is it as evil as it looks?
The discovery of a new species is always a cause for celebration in zoology. That this is the discovery of an animal that inhabits the deeps of the sea, one of the least explored areas humans can get to, is the icing on the cake.
Helen Wong of the National University of Singapore, who co-authored the species' description, explained the importance of the discovery:
"The identification of this new species is an indication of just how little we know about the oceans. There is certainly more for us to explore in terms of biodiversity in the deep sea of our region."
The animal's visual similarity to Darth Vader is a result of its compound eyes and the curious shape of its head. However, given the location of its discovery, the bottom of the remote seas, it may be associated with all manner of horrifically evil Elder Things and Great Old Ones.
It could lead to a massive uptake in those previously hesitant.
Ian Forsyth/Getty Images
Coronavirus
A financial shot in the arm could be just what is needed for Americans unsure about vaccination.
On May 12, 2021, the Republican governor of Ohio, Mike DeWine, announced five US$1 million lottery prizes for those who are vaccinated. Meanwhile, in West Virginia, younger citizens are being enticed to get the shot with $100 savings bonds, and a state university in North Carolina is offering students who get vaccinated a chance to win the cost of housing. Many companies are paying vaccinated employees more money through bonuses or extra paid time off.
The push to get as many people vaccinated as possible is laudable and may well work. But leading behavioral scientists are worried that paying people to vaccinate could backfire if it makes people more skeptical of the shots. And ethicists have argued that it would be wrong, citing concerns over fairness and equity.
As a behavioral scientist and ethicist, I draw on an extensive body of research to help answer these questions. It suggests that incentives might work to save lives and, if properly structured, need not trample individual rights or be a huge expense for the government.
In the United States, incentives and disincentives are already used in health care. The U.S. system of privatized health insurance exposes patients to substantial deductibles and copays, not only to cover costs but to cut down on what could be deemed as wasteful health care – the thinking being that putting a cost to an emergency room visit, for example, might deter those who aren't really in need of that level of care.
In practice, this means patients are encouraged to decline both emergency and more routine care, since both are exposed to costs.
Paying for health behaviors
In the case of COVID-19, the vaccines are already free to consumers, which has undoubtedly encouraged people to be immunized. Studies have shown that reducing out-of-pocket costs can improve adherence to life-sustaining drugs, whether to prevent heart attacks or to manage diabetes.
A payment to take a drug goes one step further than simply reducing costs. And if properly designed, such incentives can change health behaviors.
Payments and cash prizes have been shown effective in encouraging blood donations, adherence to blood thinner drugs, blood glucose monitoring, physical activity and smoking cessation.
And for vaccination in particular, payments have been successful for human papillomavirus (HPV) in England; hepatitis B in the United States and the United Kingdom; and tetanus toxoid in Nigeria. The effects can be substantial: For example, for one group in the HPV study, the vaccination rate more than doubled with an incentive.
For COVID-19, there are no field studies to date, but several survey experiments, including one my group conducted with 1,000 Americans, find that incentives are likely to work. In our case, the incentive of a tax break was enough to encourage those hesitant about vaccinations to say they would take the shot.
Coercion concerns
Even if incentives will save lives by increasing vaccinations, there are still other ethical considerations. A key concern is protecting the autonomous choices of people to decide what they put into their own bodies. This may be especially important for the COVID-19 vaccines, which – although authorized as likely safe and effective – are not yet fully approved by the Food and Drug Administration.
But already people are often paid to participate in clinical trials for drugs that have not yet been approved by the FDA. Ethicists have worried that such payments may be "coercive" if the money is so attractive as to override a person's free choices or make them worse off overall.
One can quibble about whether the term "coercion" applies to offers of payment. But even if offers were coercive, payments may still be reasonable to save lives in a pandemic if they succeed in greater levels of immunization.
During the smallpox epidemic nearly 100 years ago, the U.S. Supreme Court upheld the power of states to mandate vaccines. Compared with mandating vaccination, the incentives to encourage vaccines seem innocuous.
Exploitation and paternalism
Yet some still worry. Bioethicists Emily Largent and Franklin Miller wrote in a recent paper that a payment might "unfairly" exploit "those U.S. residents who have lost jobs … or slipped into poverty during the pandemic," which could leave them feeling as if they have "no choice but to be vaccinated for cash." Others have noted that vaccine hesitancy is higher in nonwhite communities, where incomes tend to be lower, as is trust in the medical establishment.
Ethicists and policymakers should indeed focus on the poorest members of our community and seek to minimize racial disparities in both health outcomes and wealth. But there is no evidence that offering money is actually detrimental to such populations. Receiving money is a good thing. To suggest that we have to protect adults by denying them offers of money may come across as paternalism.
Some ethicists also argue that the money is better spent elsewhere to increase participation. States could spend the money making sure vaccines are convenient to everyone, for example, by bringing them to community events and churches. Money could also support various efforts to fight misinformation and communicate the importance of getting the shot.
The cost of incentives
Financial incentives could be expensive as a policy solution. As in Ohio, lottery drawings are one way to cap the overall cost of incentives while giving millions of people an additional reason to get their shot.
The tax code could also allow for a no-cost incentive for vaccination. Tax deductions and credits are often designed to encourage behaviors, such as savings or home ownership. Some states now have big budget surpluses and are considering tax relief measures. If a state announced now that such payments would be conditional on being vaccinated, then each person declining the shot would save the government money.
Ultimately, a well-designed vaccination incentive can help save lives and need not keep the ethicists up at night.

Christopher Robertson, Professor of Law, Boston University
This article is republished from The Conversation under a Creative Commons license. Read the original article.
Geologists discover a rhythm to major geologic events.
Surprising Science
It appears that Earth has a geologic "pulse," with clusters of major events occurring every 27.5 million years.
Working with the most accurate dating methods available, the authors of the study constructed a new history of the last 260 million years.
Exactly why these cycles occur remains unknown, but there are some interesting theories.
Our hearts beat at a resting rate of 60 to 100 beats per minute. Lots of other things pulse, too. The colors we see and the pitches we hear, for example, are due to the different wave frequencies ("pulses") of light and sound waves.
Now, a study in the journal Geoscience Frontiers finds that Earth itself has a pulse, with one "beat" every 27.5 million years. That's the rate at which major geological events have been occurring as far back as geologists can tell.
A planetary calendar has 10 dates in red
Credit: Jagoush / Adobe Stock
According to lead author and geologist Michael Rampino of New York University's Department of Biology, "Many geologists believe that geological events are random over time. But our study provides statistical evidence for a common cycle, suggesting that these geologic events are correlated and not random."

The new study is not the first time that there's been a suggestion of a planetary geologic cycle, but it's only with recent refinements in radioisotopic dating techniques that there's evidence supporting the theory. The authors of the study collected the latest, best dating for 89 known geologic events over the last 260 million years:
29 sea level fluctuations
12 marine extinctions
9 land-based extinctions
10 periods of low ocean oxygenation
13 gigantic flood basalt volcanic eruptions
8 changes in the rate of seafloor spread
8 times there were global pulsations in interplate magmatism
The dates provided the scientists a new timetable of Earth's geologic history.
Tick, tick, boom
Credit: New York University
Putting all the events together, the scientists performed a series of statistical analyses that revealed that events tend to cluster around 10 different dates, with peak activity occurring every 27.5 million years. Between the ten busy periods, the number of events dropped sharply, approaching zero.

Perhaps the most fascinating question that remains unanswered for now is exactly why this is happening. The authors of the study suggest two possibilities:
"The correlations and cyclicity seen in the geologic episodes may be entirely a function of global internal Earth dynamics affecting global tectonics and climate, but similar cycles in the Earth's orbit in the Solar System and in the Galaxy might be pacing these events. Whatever the origins of these cyclical episodes, their occurrences support the case for a largely periodic, coordinated, and intermittently catastrophic geologic record, which is quite different from the views held by most geologists."
Assuming the researchers' calculations are at least roughly correct — the authors note that different statistical formulas may result in further refinement of their conclusions — there's no need to worry that we're about to be thumped by another planetary heartbeat. The last occurred some seven million years ago, meaning the next won't happen for about another 20 million years.
Surprising Science
Researchers discovered a galactic wind from a supermassive black hole that sheds light on the evolution of galaxies.
Scroll down to load more…