Big ideas.
Once a week.
Subscribe to our weekly newsletter.
3 of Nature's Greatest Mysteries May Be Solved Thanks to Quantum Biology
Turns out, organisms may be using quantum mechanics to gain evolutionary advantages.
03 September, 2017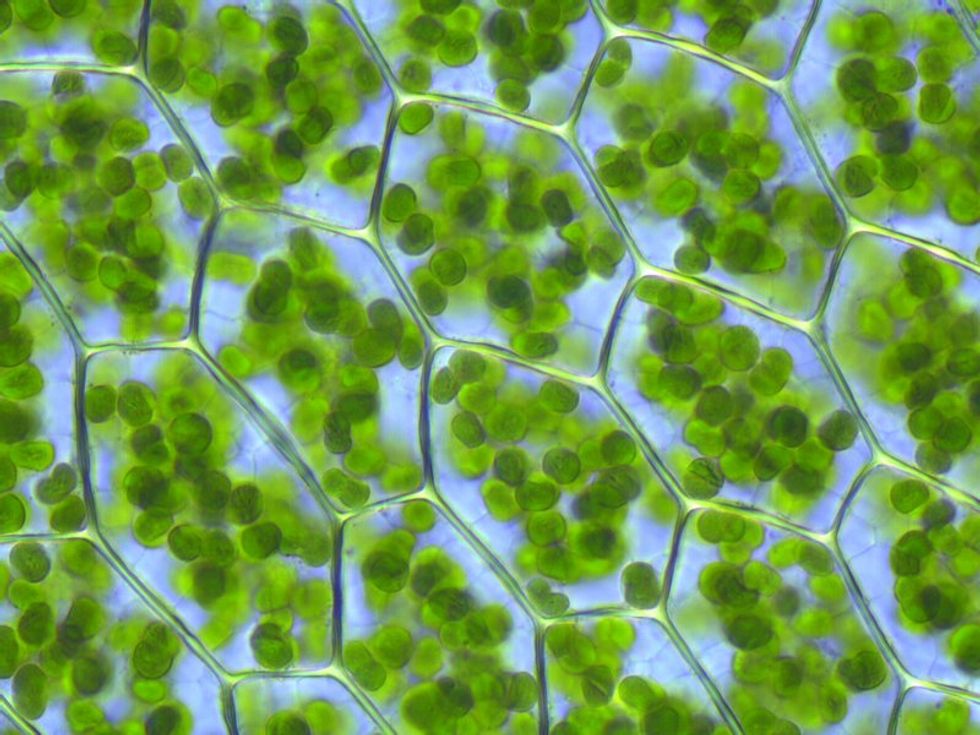 Plant cells with visible chloroplasts. By: Kristian Peters, Wikipedia Commons.
Quantum mechanics is known for weird occurrences and bizarre outcomes. Consider superposition where a particle can be in two places at once, while also occurring in two different states—as a particle and a wave. What about quantum tunneling where a particle can pass through a solid object like a ghost. Or quantum entanglement where two particles form a relationship, be they an inch apart or a thousand light-years away. One particle might also vanish from one area, only to pop up in another. Einstein called this, "Spooky action at a distance."   
---
Though strange, the field has advanced our understanding of the natural world immensely. Now, by applying quantum mechanics to biology, we're beginning to unravel some of science's biggest and longest running mysteries. The burgeoning field of quantum biology is today, helping us to understand bird migration, photosynthesis, and maybe even our sense of smell.
Since the 1930s, scientists have suspected a quantum phenomenon behind photosynthesis. In 2007, a team of scientists produced the first evidence that this is the case. They hailed from the U.S. Department of Energy's Lawrence Berkeley National Laboratory (Berkeley Lab), at UC-Berkeley. First author Greg Engel, a biophysicist now at the University of Chicago, led the study from which, the field of quantum biology was essentially born.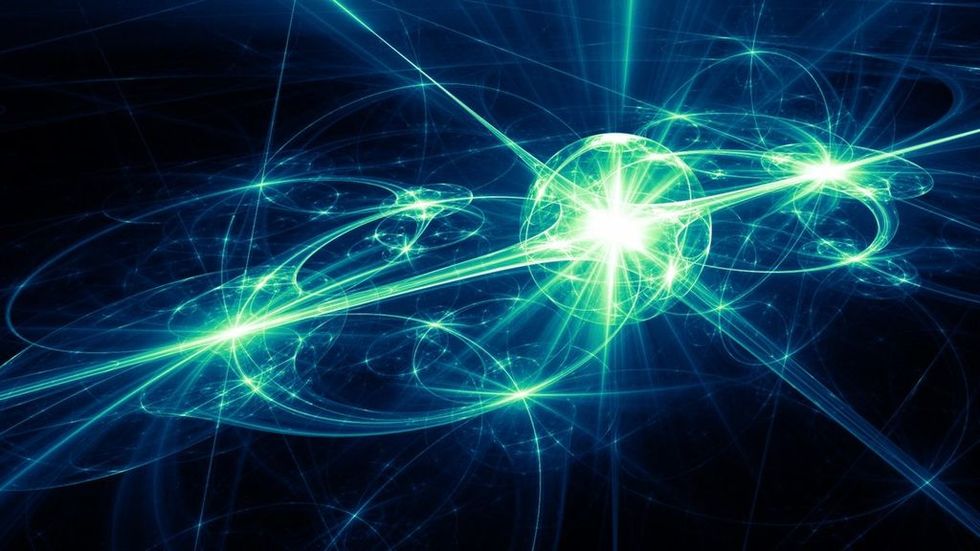 Quantum mechanics may help solve some of biology's mysteries. By: Varsha Y.S., Wikimedia Commons.
In photosynthesis, plants gather photons or light particles through cells called chromophores. These release quasi-particles called excitons which gather the collected energy and transport it to the reaction center. Here, it can be transformed into chemical energy, which the plant can metabolize. This whole process occurs in one billionth of a second, with close to 100% efficiency. The speed is necessary to avoid energy loss. Such energy can quickly dissipate into heat. Now here's the missing piece. 
Instead of traveling down one pathway or another, Engel and colleagues showed the exciton takes advantage of superposition. Researchers used a green, sulfur-breathing bacterium called Chlorobium tepidum for the experiment. It's one of the first organisms to ever photosynthesize, and it's been around for over a billion years.
Engel and colleagues brought the bacterium's temperature down to 77º Kelvin (-321º F or -196º C). Then, they sent short bursts of pulsed laser light through the bacterium's body. They followed the bursts using two-dimensional electronic spectroscopy. Engel and colleagues wanted to know exactly how the energy flowed through it.
What they found was that an exciton travels not in a straight line, but in a wavelike motion. Due to quantum coherence, which states that all parts of a wave stick together, the exciton can, as a wave, feel out all possible pathways, find the most efficient one, and take it. The results of this study were published in the journal Nature.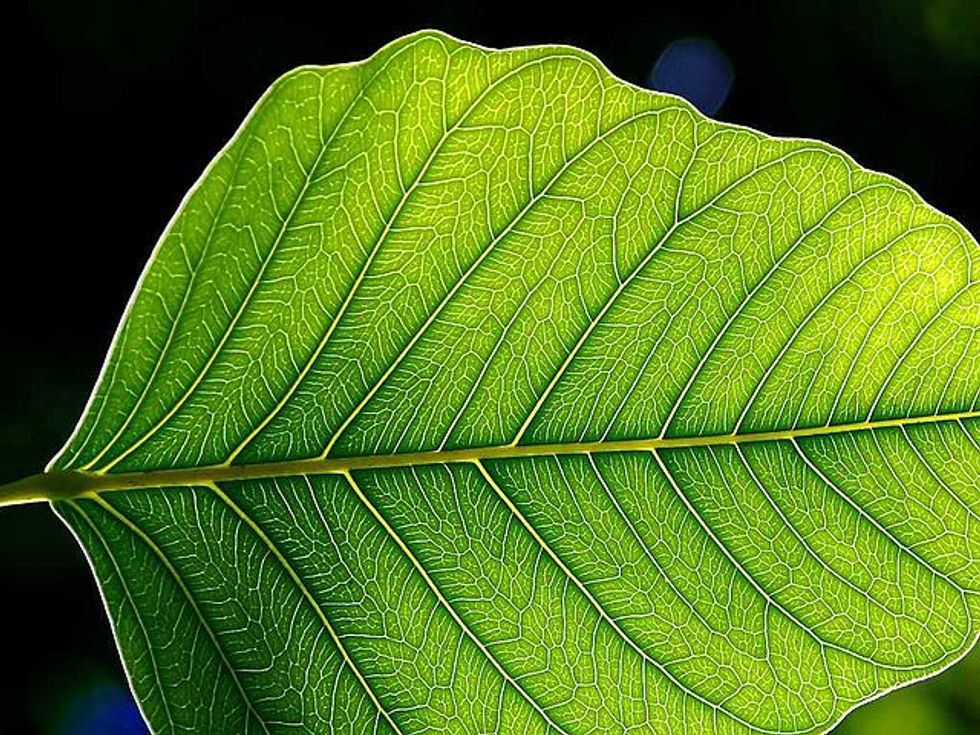 Scientists used superposition to explain photosynthesis. By: Jon Sullivan. Wikipedia commons.
Several other studies have observed the same phenomenon, photosynthesis operating through quantum coherence. If we could mimic such a system, we could make super-efficient solar panels and longer-lasting batteries—a crucial requirement if we're going to transition to all-green tech.
Many scientists feel nervous about applying quantum mechanics to biology. After all, physicists study particles in tightly controlled environments. Whereas, in the wet and chaotic world of biology, things are changing all the time. It's an environment that seems too volatile for superposition to take place in.
MIT physicist Seth Lloyd, using computer simulations, found that the surrounding noise might actually advance an exciton's progress. Sometimes it gets caught up in the plant's inner environment. When this occurs, molecular noise might shake it loose.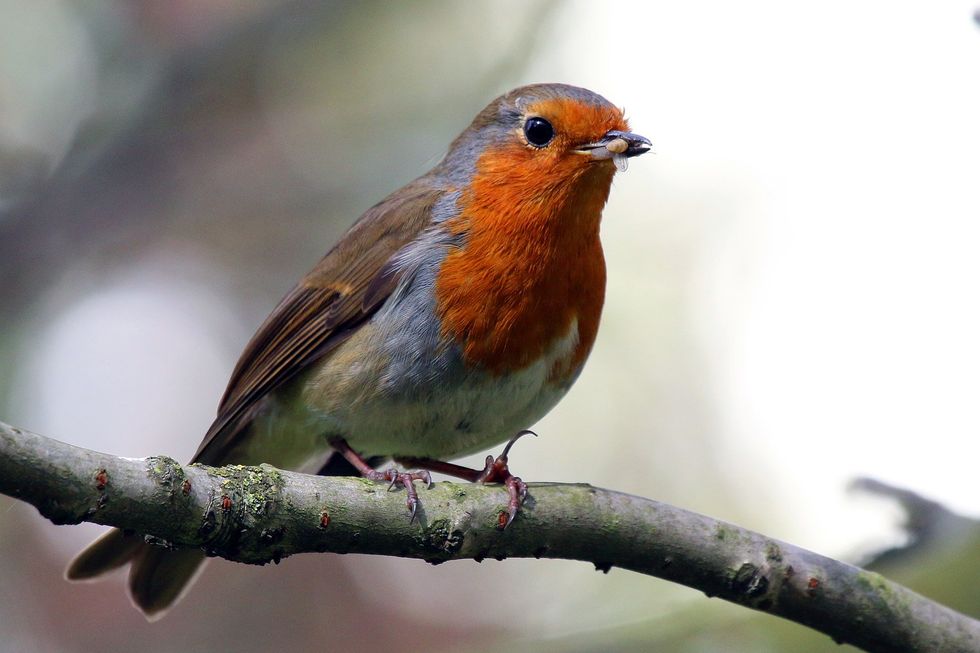 The European Robin. By: Charles J. Sharp. Wikimedia Commons.
Then there's the migratory patterns of birds. It's long been known that birds navigate through an internal, chemical compass that interacts with the Earth's magnetic field. The thing is, that field is weak. So how do birds pick it up?
In one study published in the journal Nature, Oxford University researchers worked with the European Robin, who travels as far as thousand miles when cold weather is looming, from as far north as Scandinavia to as far south as North Africa. What they found was, when a photon of sunlight hits the bird's retina, it releases two unpaired electrons. The spin of each orients itself to the magnetic field.
Physicist Simon Benjamin of Oxford, proved it was chemically possible in a 2008 experiment. He believes it works through quantum entanglement. Besides birds, insects and other organisms might orient themselves this way, as well.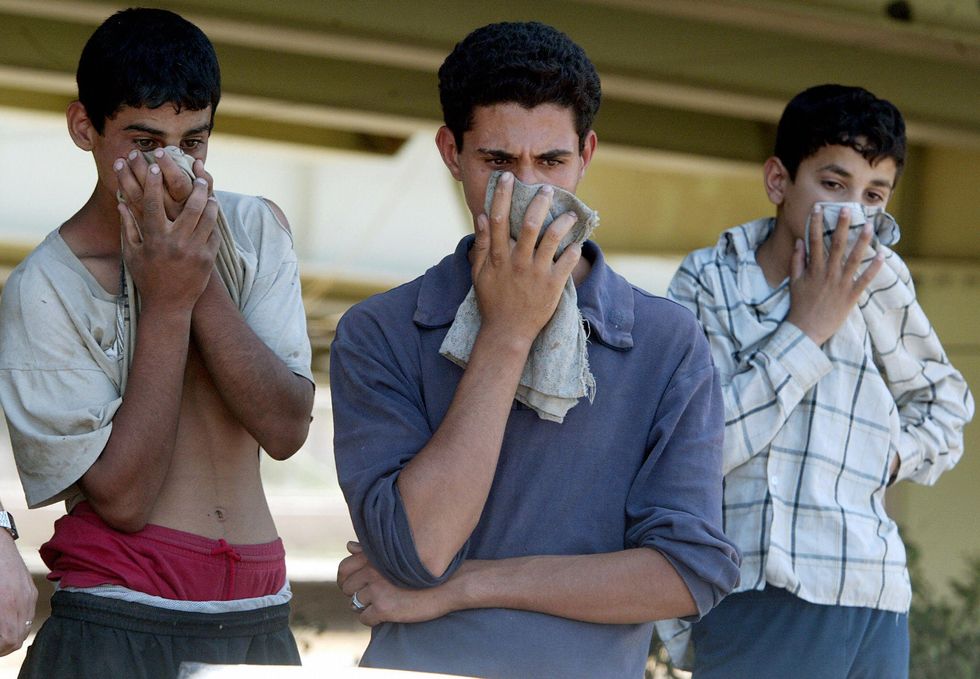 Quantum mechanics may explain how our sense of smell works. Getty Images.
Now, for olfaction. Humans can differentiate between thousands of difference smells. One of the oldest and most distinct senses, science has struggled to understand exactly how it works. We know that molecules make it into the nostrils from the air. Somehow they interact with a receptor inside the nose. But how it distinguishes one substance from another is still unknown.
Rather than mere shape, chemist Luca Turin believes something else is at play. He hails from the BSRC Alexander Fleming institute in Greece. First, a molecule interacts with a receptor in the nose. Then, in Turin's view, an electron in that molecule gets to the other side of the receptor through quantum tunneling. By doing so, it sends a signal to the brain, telling it what molecule this is. Turin said, "Olfaction requires a mechanism that somehow involves the actual chemical composition of the molecule." As such, quantum tunneling is a natural fit.  
In one experiment, the chemist found that two radically different molecules, boranes and Sulphur, smelled the same. Although different in shape, what makes  both smell like rotten eggs may be the similar energy content present in their bonds. But far more research will be needed to prove that olfaction is performed on the subatomic level. Even so, the field of quantum biology is starting to reap significant breakthroughs. This could lead to technological innovations, as well as furthering our understanding of the nature of life on Earth.
To learn more about quantum biology, click here: 
So much for rest in peace.
Credit: fergregory via Adobe Stock
Surprising Science
Australian scientists found that bodies kept moving for 17 months after being pronounced dead.
Researchers used photography capture technology in 30-minute intervals every day to capture the movement.
This study could help better identify time of death.
We're learning more new things about death everyday. Much has been said and theorized about the great divide between life and the Great Beyond. While everyone and every culture has their own philosophies and unique ideas on the subject, we're beginning to learn a lot of new scientific facts about the deceased corporeal form.
An Australian scientist has found that human bodies move for more than a year after being pronounced dead. These findings could have implications for fields as diverse as pathology to criminology.
Dead bodies keep moving
Credit: Flickr
Researcher Alyson Wilson studied and photographed the movements of corpses over a 17 month timeframe. She recently told Agence France Presse about the shocking details of her discovery.
Reportedly, she and her team focused a camera for 17 months at the Australian Facility for Taphonomic Experimental Research (AFTER), taking images of a corpse every 30 minutes during the day. For the entire 17 month duration, the corpse continually moved.
"What we found was that the arms were significantly moving, so that arms that started off down beside the body ended up out to the side of the body," Wilson said.
The researchers mostly expected some kind of movement during the very early stages of decomposition, but Wilson further explained that their continual movement completely surprised the team:
"We think the movements relate to the process of decomposition, as the body mummifies and the ligaments dry out."
During one of the studies, arms that had been next to the body eventually ended up akimbo on their side.
The team's subject was one of the bodies stored at the "body farm," which sits on the outskirts of Sydney. (Wilson took a flight every month to check in on the cadaver.)
Her findings were recently published in the journal,
Forensic Science International: Synergy.
Implications of the study
The researchers believe that understanding these after death movements and decomposition rate could help better estimate the time of death. Police for example could benefit from this as they'd be able to give a timeframe to missing persons and link that up with an unidentified corpse. According to the team:
"Understanding decomposition rates for a human donor in the Australian environment is important for police, forensic anthropologists, and pathologists for the estimation of PMI to assist with the identification of unknown victims, as well as the investigation of criminal activity."
While scientists haven't found any evidence of necromancy. . . the discovery remains a curious new understanding about what happens with the body after we die.
Credit: Willrow Hood / 362693204 via Adobe Stock
13-8
The distances between the stars are so vast that they can make your brain melt. Take for example the Voyager 1 probe, which has been traveling at 35,000 miles per hour for more than 40 years and was the first human object to cross into interstellar space. That sounds wonderful except, at its current speed, it will still take another 40,000 years to cross the typical distance between stars.
Worse still, if you are thinking about interstellar travel, nature provides a hard limit on acceleration and speed. As Einstein showed, it's impossible to accelerate any massive object beyond the speed of light. Since the galaxy is more than 100,000 light-years across, if you are traveling at less than light speed, then most interstellar distances would take more than a human lifetime to cross. If the known laws of physics hold, then it seems a galaxy-spanning human civilization is impossible.
Unless of course you can build a warp drive.
Warp speed!
Ah, the warp drive, that darling of science fiction plot devices. So, what about a warp drive? Is that even a really a thing?
Let's start with the "warping" part of a warp drive. Without doubt, Albert Einstein's theory of general relativity ("GR") represents space and time as a 4-dimensional "fabric" that can be stretched and bent and folded. Gravity waves, representing ripples in the fabric of spacetime, have now been directly observed. So, yes spacetime can be warped. The warping part of a warp drive usually means distorting the shape of spacetime so that two distant locations can be brought close together — and you somehow "jump" between them.
This was a basic idea in science fiction long before Star Trek popularized the name "warp drive." But until 1994, it had remained science fiction, meaning there was no science behind it. That year, Miguel Alcubierre wrote down a solution to the basic equations of GR that represented a region that compressed spacetime ahead of it and expanded spacetime behind to create a kind of traveling warp bubble. This was really good news for warp drive fans.
The problems with a warp drive
There were some problems though. Most important was that this "Alcubierre drive" required lots of "exotic matter" or "negative energy" to work. Unfortunately, there's no such thing. These are things theorists dreamed up to stick into the GR equations in order to do cool things like make stable open wormholes or functioning warp drives.
It's also noteworthy that researchers have raised other concerns about an Alcubierre drive — like how it would violate quantum mechanics or how when you arrived at your destination it would destroy everything in front of the ship in an apocalyptic flash of radiation.
Warp drives: A new hope
Credit: Primada / 420366373 via Adobe Stock
Recently, however, there seemed to be good news on the warp drive front with the publication this April of a new paper by Alexey Bobrick and Gianni Martre entitled "Introducing Physical Warp Drives." The good thing about the Bobrick and Martre paper was it was extremely clear about the meaning of a warp drive.

Understanding the equations of GR means understanding what's on either side of the equals sign. On one side, there is the shape of spacetime, and on the other, there is the configuration of matter-energy. The traditional route with these equations is to start with a configuration of matter-energy and see what shape of spacetime it produces. But you can also go the other way around and assume the shape of spacetime you want (like a warp bubble) and determine what kind of configuration of matter-energy you will need (even if that matter-energy is the dream stuff of negative energy).
Warp drives are simpler and much less mysterious objects than the broader literature has suggested.
What Bobrick and Martre did was step back and look at the problem more generally. They showed how all warp drives were composed of three regions: an interior spacetime called the passenger space; a shell of material, with either positive or negative energy, called the warping region; and an outside that, far enough away, looks like normal unwarped spacetime. In this way they could see exactly what was and was not possible for any kind of warp drive. (Watch this lovely explainer by Sabine Hossenfelder for more details). They even showed that you could use good old normal matter to create a warp drive that, while it moved slower than light speed, produced a passenger area where time flowed at a different rate than in the outside spacetime. So even though it was a sub-light speed device, it was still an actual warp drive that could use normal matter.
That was the good news.
The bad news was this clear vision also showed them a real problem with the "drive" part of the Alcubierre drive. First of all, it still needed negative energy to work, so that bummer remains. But worse, Bobrick and Martre reaffirmed a basic understanding of relativity and saw that there was no way to accelerate an Alcubierre drive past light speed. Sure, you could just assume that you started with something moving faster than light, and the Alcubierre drive with its negative energy shell would make sense. But crossing the speed of light barrier was still prohibited.
So, in the end, the Star Trek version of the warp drive is still not a thing. I know this may bum you out if you were hoping to build that version of the Enterprise sometime soon (as I was). But don't be too despondent. The Bobrick and Martre paper really did make headway. As the authors put it in the end:
"One of the main conclusions of our study is that warp drives are simpler and much less mysterious objects than the broader literature has suggested"
That really is progress.
The Black Death wasn't the only plague in the 1300s.
Culture & Religion
In a unique study, researchers have determined how many people in medieval England had bunions
A fashion trend towards pointed toe shoes made the affliction common.
Even monks got in on the trend, much to their discomfort later in life.
Late Medieval England had its share of problems. The Wars of Roses raged, the Black Death killed off large parts of the population, and passing ruffians could say "Ni" at will to old ladies.
To make matters worse, a first of its kind study published in the International Journal of Paleopathology has demonstrated that much of the population suffered from another plague — a plague of bunions likely caused by a ridiculous medieval fashion trend.
If the shoe fits, it won't cause bunions
The outlines of a leather shoe from the King's Ditch, Cambridge. It is easy to see how these shoes might be constricting. Copyright Cambridge Archaeological Unit.
The bunion, known to medicine as "hallux valgus," is a deformity of the joint connecting the big toe to the rest of the foot. It is painful and can cause other issues including poor balance. The condition is associated with having worn constrictive shoes for a long period of time as well as genetic factors. Today, it is often caused by wearing high heeled shoes.
The medieval English didn't care for high heeled shoes as much as modern fashionistas, but there was a major fashion trend toward shoes with long, pointed toes called "poulaines" or "crakows" for their supposed place of origin, Krakow, Poland.
This trend, already silly-looking to a modern observer, got out of hand in a hurry. According to some records, the points on nobleman's shoes could be so long as to require tying them to the leg with string so the wearer could walk. At one point, King Edward IV had to ban commoners from wearing points longer than two inches. A couple years later, he saw fit to ban the shoes altogether.
But, just knowing that people back in the day made poor fashion choices doesn't prove they suffered for it. That is where digging up old skeletons to look at their feet comes in.
Beauty is pain: the price of high medieval fashion
To learn how bad the bunion epidemic was, the researchers looked to four burial sites in and around Cambridge. One was a rural cemetery where poor peasants were buried. Another was the All Saints by the Castle parish, which had a mixed collection of people that tended toward poverty. The Hospital of St. John's burial ground contained both the poor charges of a charity hospital and wealthy benefactors. Lastly, they considered the cemetery of a local Augustinian friary, home to monks and well-to-do philanthropists.
The team considered 177 adult skeletons that were at least a quarter complete and still had enough of their feet to make studying them possible. The remains were classified by age and sex by observation and DNA testing. Each was examined for evidence of bunions and signs of complications from the condition, such as falling.
Those buried in the monastery's graveyard were the most affected. Nearly half, 43 percent, of the remains found there had bunions. This includes five of the eleven members of the clergy they found. Twenty-three percent of those laid to rest at the Hospital of St. John had bunions, though only 10 percent of those at the All Saints by the Castle parish graveyard did.
The rural cemetery had a much lower rate of instances, only three percent, suggesting that these peasants were able to avoid at least one plague.
Overall, eighteen percent of the individuals examined had bunions, with men more likely to have them than women. Those at cemeteries known for exclusivity were more likely to have them as well, though it is clear that the condition also affected members of other classes. This makes sense, as it is known that these shoes had mass appeal.
The authors note that the rural cemetery having fewer cases is partly because that cemetery "went out of use prior to the wide adoption of pointed shoes, and it is likely that those residing in the parish predominately wore soft leather shoes, or possibly went barefoot."
Those skeletons with evidence of bunions were more likely to have fractures indicative of a fall. This was more common on those estimated or recorded as having lived past age 45.
In our much more enlightened times, 23 percent of the population currently endures having bunions, most of them women, and one of the leading culprits behind this is the high heeled shoe.
Some things never change.
Scroll down to load more…