Scientists find religion triggers same area of brain as sex, drugs and love
Researchers scan the brains of people having strong spiritual experiences.
01 December, 2016
Religious and spiritual experiences have profound effects on many people around the world. A new study from a team of neuroscientists shows that what they feel is caused by activating the brain's reward circuits that control our ability to feel pleasure. It's the part of the brain associated with sex, drugs, music as well as love.
---
"We're just beginning to understand how the brain participates in experiences that believers interpret as spiritual, divine or transcendent," said Jeff Anderson, M.D., Ph.D. from the University of Utah School of Medicine, senior author of the study and neuroradiologist. "In the last few years, brain imaging technologies have matured in ways that are letting us approach questions that have been around for millennia."
To figure out how the brain processes spiritual feelings, the scientists focused their attention on a group of 19 church-going Mormons (12 males and 7 females - all former missionaries). The researchers caused these 20 to 30-year-olds to "feel the Spirit," an important concept in the Mormon faith, and performed fMRI scans on their brains.
To cause spiritual feelings, the scientists showed the subjects videos from the Mormon church, quotations from Mormon and other religious leaders, and had them read well-known passages from the Book of Mormon.
"When our study participants were instructed to think about a savior, about being with their families for eternity, about their heavenly rewards, their brains and bodies physically responded," said the study's lead author Michael Ferguson, Ph.D.
Indeed, as participants had spiritual experiences, describing feeling peaceful, warm, and even moved to tears, they breathed more deeply and their hearts beat faster. These physical effects were observable at their strongest right before the participants pushed a button to mark the peak of their spiritual experience.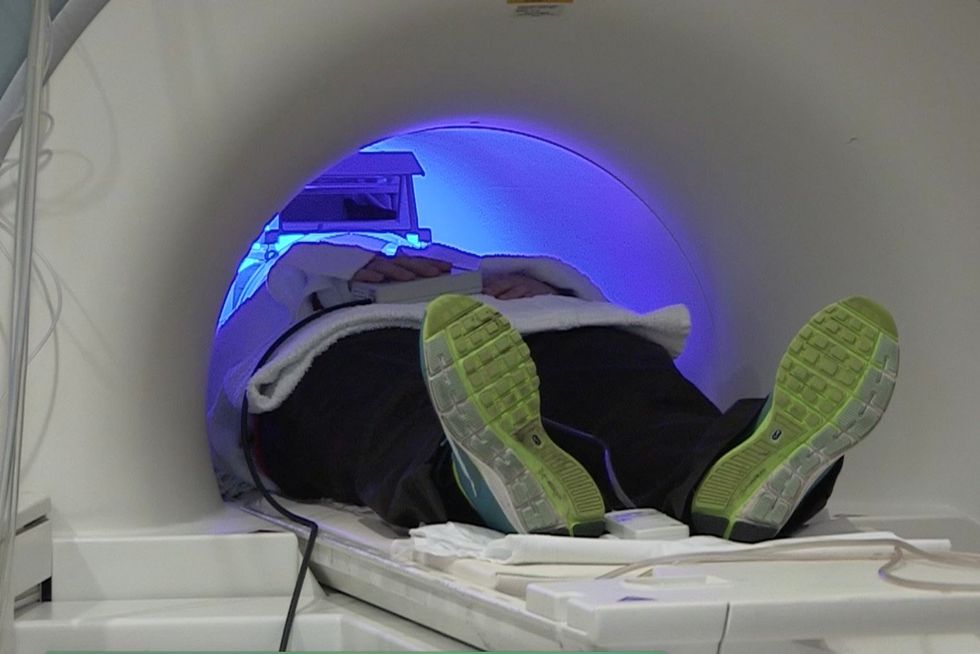 fMRI scans performed as the subjects underwent religious experiences. Credit: University of Utah Health Sciences
What is the significance of the study's conclusions? "Religious experience is perhaps the most influential part of how people make decisions that affect all of us, for good and for ill. Understanding what happens in the brain to contribute to those decisions is really important," pointed out Jeff Anderson.
He also noted that more studies would need to be done to understand if followers of other religions would show similar results.
Anderson sees that one application of what they found is in the study of religious radicalization and extremism. "Maladaptive religious experiences can be shaped by the same stimuli," he explained.
How did the participants feel about the study? Auriel Brunsvik Peterson, one of the subjects, felt validated by what she saw in the scans.
"I finally have a small shred of physical evidence ... that I am feeling something and I'm not crazy," she said. It showed that "you are experiencing something euphoric and life changing and... something special and something different."
Check out also this interview with Jeff Anderson:
Cover photo:
The active parts of the brain during religious experiences by the study participants, including a reward circuit, the nucleus accumbens. Credit: Jeffrey Anderson
The pandemic reminds us that our higher education system, with all its flaws, remains a key part of our strategic reserve.
Sponsored by Charles Koch Foundation
America's higher education system is under great scrutiny as it adapts to a remote-learning world. These criticisms will only make higher ed more innovative.
While there are flaws in the system and great challenges ahead, higher education has adapted quickly to allow students to continue learning. John Katzman, CEO of online learning organization Noodle Partners, believes this is cause for optimism not negativity.
Universities are pillars of scientific research on the COVID-19 frontlines, they bring facts in times of uncertainty and fake news, and, in a bad economy, education is a personal floatation device.
Meteorologists propose a stunning new explanation for the mysterious events in the Bermuda Triangle.
Surprising Science
One of life's great mysteries, the Bermuda Triangle might have finally found an explanation. This strange region, that lies in the North Atlantic Ocean between Bermuda, Miami and San Juan, Puerto Rico, has been the presumed cause of dozens and dozens of mind-boggling disappearances of ships and planes.
A debate is raging inside and outside of churches.
Photo by Sandy Huffaker / AFP via Getty Images
Culture & Religion
Over 1,200 pastors in California claim they're opening their churches this week against state orders.
While church leaders demand independence from governmental oversight, 9,000 Catholic churches have received small business loans.
A number of re-opened churches shut back down after members and clergy became infected with the novel coronavirus.
An MIT system uses wireless signals to measure in-home appliance usage to better understand health tendencies.
John Moore/Getty Images
Technology & Innovation
For many of us, our microwaves and dishwashers aren't the first thing that come to mind when trying to glean health information, beyond that we should (maybe) lay off the Hot Pockets and empty the dishes in a timely way.
Scroll down to load more…