This Man Will Get the World's First Body Transplant
A first-ever full-body transplant will be performed by controversial Italian neurosurgeon Sergio Canavero who became famous when he enlarged on plans to remove the heads of two people.
06 August, 2016
Italian neurosurgeon Sergio Canavero is planning to perform the first-ever body transplant in December 2017. He will put the head of a terminally ill, wheelchair-bound Russian citizen Valery Spiridonov (31) on an entirely new body.  
---
Spiridonov, a computer scientist, has Werdnig-Hoffman disease, a rare and incurable spinal muscular atrophy. As the disease is sure to kill him, Spiridonov sees the head transplant as his one shot to have a new body.  
The controversial surgeon Canavero, dubbed by some "Dr. Frankenstein," has been criticized for intending to do a possibly unethical and certainly dangerous operation. There are numerous things that could go wrong in such a medical feat that's never been successfully carried out on humans. The main difficulty is seen in the fusion of the spinal cords.
One positive precedent has been set earlier this year by a team of Chinese surgeons, who successfully transplanted a monkey's head. Dr. Xiaoping Ren, from Harbin Medical University, led that effort.
Canavero is raising around $18 million to pay for the procedure that he named "HEAVEN" (an acronym for "head anastomosis venture"). The details the doctor has given so far for the two-day operation first involve cooling the patient's head to -15 C. Then the heads of both the patient and the donor would be severed and the patient's would be attached to the donor's body. The spinal cords would be fused together while the muscle and blood supply would be attached. Spiridonov would then be placed into a coma for about a month to prevent movement and to allow for healing.
The donor of the body would be brain-dead, but otherwise healthy.
Here's a recent interview with Canavero:
How does Spiridonov feel about doing the revolutionary surgery?
"If I manage to replace my body and if everything goes well, it will allow me to be free of the limitations I am experiencing. I am not rushing to go under the surgeon's knife, I am not shouting - come and save me here and now. Yes, I do have a disease which often leads to death, but my first role in this project is not that of a patient. First of all, I am a scientist, I am an engineer, and I am keen to persuade people - medical professionals - that such operation is necessary. I am not going crazy here and rushing to cut off my head, believe me. The surgery will take place only when all believe that the success is 99% possible. In other words, the main task now is to get support for Canavero from the medical community, to let him go on with his methods and to improve them within these two coming years."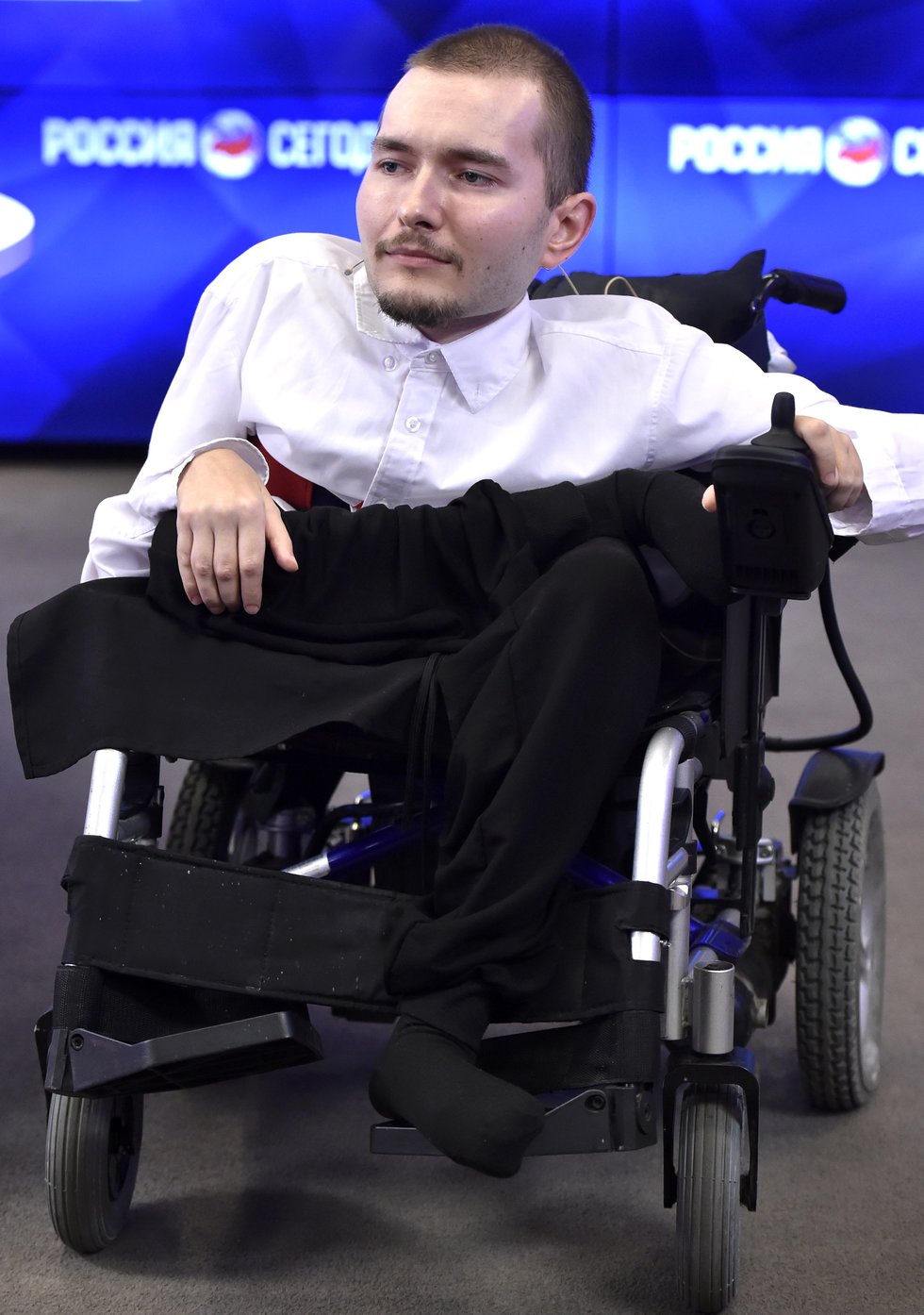 Valery Spiridonov looks on during a press conference on 'Autopilot system for wheelchairs' on August 3, 2016 in Moscow. (Photo: YURI KADOBNOV/AFP/Getty Images)
Canavero sees the potential use of his procedure not only in situations involving patients with severe disabilities like Spiridonov's, but also to extend life. 
"We are one step closer to extend life indefinitely because when I will be able to give a new body to an 80-year-old they could live for other 40 years," said the Italian surgeon. 
Pfizer's partnerships strengthen their ability to deliver vaccines in developing countries.
Susan Silbermann, Global President of Pfizer Vaccines, looks on as a health care worker administers a vaccine in Rwanda. Photo: Courtesy of Pfizer.
Sponsored
Community healthcare workers face many challenges in their work, including often traveling far distances to see their clients
Pfizer is helping to drive the UN's sustainable development goals through partnerships.
Pfizer partnered with AMP and the World Health Organization to develop a training program for healthcare workers.
It's the first time the association hasn't hired a comedian in 16 years.
(Photo by Anna Webber/Getty Images for Vulture Festival)
Culture & Religion
The 2018 WHCA ended in controversy after comedian Michelle Wolf made jokes some considered to be offensive.
The WHCA apologized for Wolf's jokes, though some journalists and many comedians backed the comedian and decried arguments in favor of limiting the types of speech permitted at the event.
Ron Chernow, who penned a bestselling biography of Alexander Hamilton, will speak at next year's dinner.
A glass of juice has as much sugar, ounce for ounce, as a full-calorie soda. And those vitamins do almost nothing.
popular
Quick: think back to childhood (if you've reached the scary clown you've gone too far). What did your parents or guardians give you to keep you quiet? If you're anything like most parents, it was juice. But here's the thing: juice is bad for you. 
A study on flies may hold the key to future addiction treatments.
Scott Barbour/Getty Images
Mind & Brain
A new study suggests that drinking alcohol can affect how memories are stored away as good or bad.
This may have drastic implications for how addiction is caused and how people recall intoxication.
The findings may one day lead to a new form of treatment for those suffering from addiction.
Big think's weekly newsletter.
Get smarter faster from the comfort of your inbox.
See our newsletter privacy policy
here
Most Popular
Most Recent
Big think's weekly newsletter.
Get smarter faster from the comfort of your inbox.
See our newsletter privacy policy
here
© Copyright 2007-2018 & BIG THINK, BIG THINK EDGE,
SMARTER FASTER trademarks owned by The Big Think, Inc. All rights reserved.