Scientists Propose a Radical Theory About Why the World Has Three Dimensions
Scientists propose an out-of-the-box theory about why the world has no more than three dimensions.
25 October, 2017
Credit: Keith Wood / Vanderbilt
---
While there are exciting possibilities of multiple dimensions offered by string theory, the world we inhabit appears to have three dimensions of space. But why not more? 
A team of scientists proposed an unexpected theory about why we seem to have only three dimensions and why the universe inflated after the Big Bang. They think that shortly after the universe came into existence 13.8 billion years ago, it was filled with knots made from flux tubes - flexible strands of energy that bind together elementary particles.  
Their insight comes from combining particles physics with mathematical knot theory, a unique approach the came as an inspiration to one of the team members. 
The initial primordial soup, called the quark-gluon plasma, consisted of elementary particles called quarks, which make up protons and neutrons, and gluons, the particles that "glue" the quarks. Gluons connect quarks to corresponding antiquarks with flux tubes.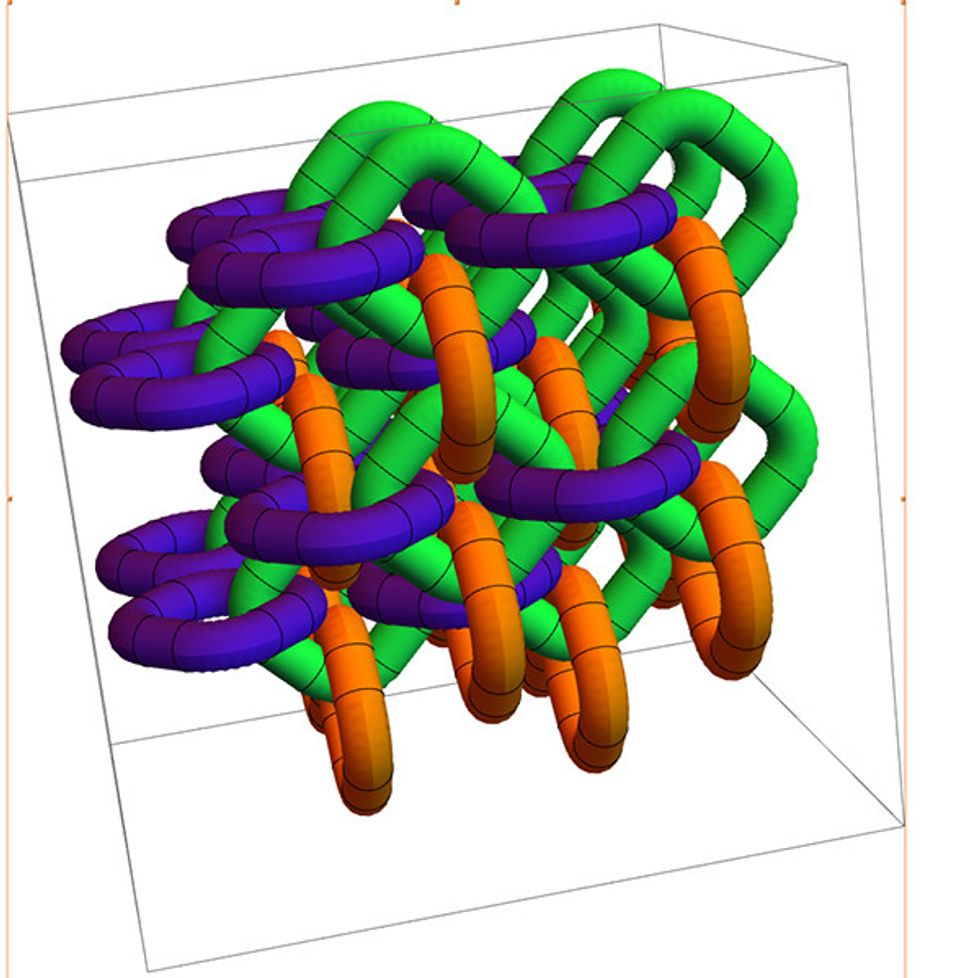 The network of flux tubes that possibly filled the early universe. (Roman Buniy / Chapman University)
What the scientists theorize is that the primordial soup of the early universe would have had myriads of flux tubes being formed. While normally the flux tubes disappear when quarks and antiquarks meet, they can continue to live if the tubes get intertwined and form a knot. 
This is what happened in the high energy environment after the Big Bang, say the scientists. The whole universe was possibly filled with a network of flux tubes that were knotted together. This network would had the internal energy to drive cosmic inflation. 
"Not only does our flux tube network provide the energy needed to drive inflation, it also explains why it stopped so abruptly," said one of the study's authors, Thomas Kephart of Vanderbilt University. "As the universe began expanding, the flux-tube network began decaying and eventually broke apart, eliminating the energy source that was powering the expansion." 
What the scientists think is that the resulting structure was the one that was stable, explaining why there are no more dimensions. If more were added, the stability of the process would disappear.
"Of all possible dimensionalities of space, our mechanism picks out three as the only number of dimensions that can inflate and thus become large," the team wrote. "This model may explain why we live in three large spatial dimensions, since knotted/linked tubes are topologically unstable in higher-dimensional space-times."
Besides Kephart, the international team included another 4 co-authors - physics professors Arjun Berera at the University of Edinburgh, Roman Buniy at Chapman University, Heinrich Päs at the University of Dortmund, and João Rosa at the University of Aveiro.
You can read their paper "Knotty inflation and the dimensionality of spacetime" here, in the European Physical Journal C.
To create wiser adults, add empathy to the school curriculum.
Sponsored by Charles Koch Foundation
Stories are at the heart of learning, writes Cleary Vaughan-Lee, Executive Director for the Global Oneness Project. They have always challenged us to think beyond ourselves, expanding our experience and revealing deep truths.
Vaughan-Lee explains 6 ways that storytelling can foster empathy and deliver powerful learning experiences.
Global Oneness Project is a free library of stories—containing short documentaries, photo essays, and essays—that each contain a companion lesson plan and learning activities for students so they can expand their experience of the world.
This is what the world will look like, 250 million years from now
On Pangaea Proxima, Lagos will be north of New York, and Cape Town close to Mexico City
Surprising Science
To us humans, the shape and location of oceans and continents seems fixed. But that's only because our lives are so short.
The future of education and work will rely on teaching students deeper problem-solving skills.
Future of Learning
Asking kids 'What do you want to be when you grow up?' is a question that used to make sense, says Jaime Casap. But it not longer does; the nature of automation and artificial intelligence means future jobs are likely to shift and reform many times over.
Instead, educators should foster a culture of problem solving. Ask children: What problem do you want to solve? And what talents or passions do you have that can be the avenues by which you solve it?
"[T]he future of education starts on Monday and then Tuesday and then Wednesday and it's constant and consistent and it's always growing, always improving, and if we create that culture I think that would bring us a long way," Casap says.
These Jurassic predators resorted to cannibalism when hit with hard times, according to a deliciously rare discovery.
Stephanie K. Drumheller et.al
Surprising Science
Rare fossil evidence of dinosaur cannibalism among the Allosaurus has been discovered.
Scientists analyzed dinosaur bones found in the Mygatt-Moore Quarry in western Colorado, paying special attention to bite marks that were present on 2,368 of the bones.
It's likely that the predatory carnivore only ate their already-dead peers during times when resources were scarce.
Personal Growth
As a doctor, I am reminded every day of the fragility of the human body, how closely mortality lurks just around the corner.
Scroll down to load more…