Why Bullies Have More Sex
A new study shows that teens who use bullying tactics have more sexual partners.
23 December, 2017
---
Bullies are the bane of many a high schooler, and they also apparently have more sex that their less aggressive and manipulative counterparts. That's according to a new study published in the journal Evolutionary Psychological Science. 
Researchers, led by Daniel Provenzano from the University of Windsor in Canada, found that bullying might have evolved as a behavior for men to assert dominance and show their strength, while signaling to women that they are good prospective mates who will provide for their needs and offspring. If you think about the issue from an evolutionary perspective, say the scientists, a male's dominance is meant to make him more attractive to sexual partners and scare off any rivals. 
The study involved two sets of young people - a group of 144 whose mean age was 18.3 and a larger colort of 396 adolescents with a mean age of 14.6. The participants filled out questionnaires on their sex life and bullying incidents. This allowed the researchers to zero in on personality differences that make one more likely to be a bully in order to win over sexual partners.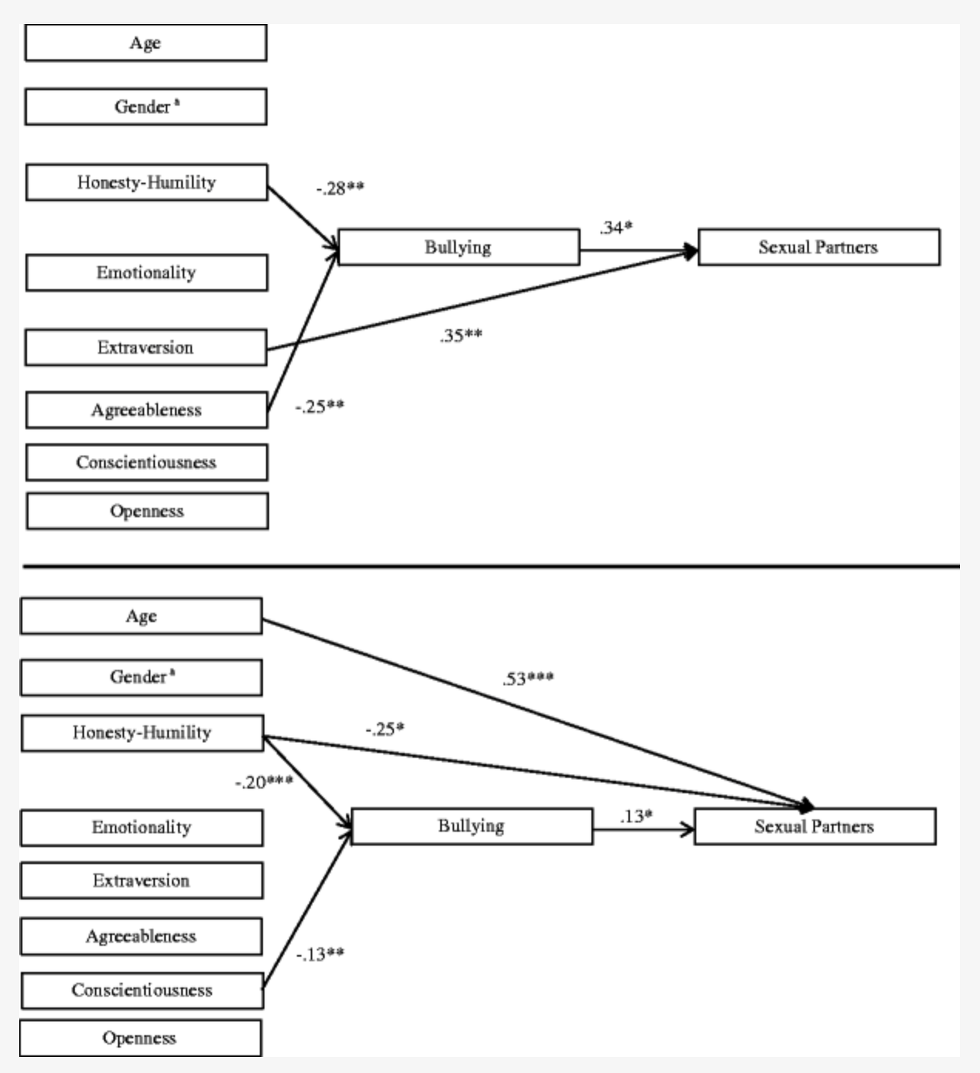 Significant direct and indirect paths for personality, bullying, and number of sexual partners. The top figure is for older adolescents and bottom figure is for younger adolescents. Credit: Provenzano.
The research team found that younger people who were scoring lower in "Honesty-humility" were more likely to bully others to get more sexual partners.
"Younger adolescents lower in 'Honesty-Humility' may therefore strategically manipulate others in a variety of ways to obtain more sexual partners," said Provenzano. "Our findings indirectly suggest that exploitative adolescents may have more sexual partners if they are able to strategically use exploitative behaviour like bullying to target weaker individuals."   
One reason these adolescents bully others is to display strength and dominance in order to attract the opposite sex. They might threaten rivals or put them in a bad light to increase their own chances. 
Professionals dealing with young adults need to recognize the role of sexual motivation in bullying, suggests Provenzano. 
You can read the study from the scientists here.
What can 3D printing do for medicine? The "sky is the limit," says Northwell Health researcher Dr. Todd Goldstein.
Northwell Health
Sponsored by Northwell Health
Medical professionals are currently using 3D printers to create prosthetics and patient-specific organ models that doctors can use to prepare for surgery.
Eventually, scientists hope to print patient-specific organs that can be transplanted safely into the human body.
Northwell Health, New York State's largest health care provider, is pioneering 3D printing in medicine in three key ways.
Torn between absolutism on the left and the right, classical liberalism—with its core values of compassion and incremental progress whereby the once-radical becomes the mainstream—is in need of a good defense. And Adam Gopnik is its lawyer.
Think Again Podcasts
Liberalism as "radical pragmatism"
Intersectionality and civic discourse
How "a thousand small sanities" tackled drunk driving, normalized gay marriage, and could control gun violence
Irish president believes students need philosophy.
Personal Growth
President of Ireland Michael D. Higgins calls for students to be thought of as more than tools made to be useful.
Higgins believes that philosophy and history should be a basic requirement forming a core education.
The Irish Young Philosopher Awards is one such event that is celebrating this discipline among the youth.
The lost practice of face-to-face communication has made the world a more extreme place.
Videos
The world was saner when we spoke face-to-face, argues John Cameron Mitchell. Not looking someone in the eye when you talk to them raises the potential for miscommunication and conflict.
Social media has been an incredible force for activism and human rights, but it's also negatively affected our relationship with the media. We are now bombarded 24/7 with news that either drives us to anger or apathy.
Sitting behind a screen makes polarization worse, and polarization is fertile ground for conspiracy theories and fascism, which Cameron describes as irrationally blaming someone else for your problems.
Big think's weekly newsletter.
Get smarter faster from the comfort of your inbox.
See our newsletter privacy policy
here
Most Popular
Most Recent
Big think's weekly newsletter.
Get smarter faster from the comfort of your inbox.
See our newsletter privacy policy
here
© Copyright 2007-2019 & BIG THINK, BIG THINK EDGE,
SMARTER FASTER trademarks owned by The Big Think, Inc. All rights reserved.