What American Founding Fathers Really Thought About Guns
Their thoughts were more complex than either side of the gun control / gun rights issue acknowledges.
25 June, 2016
America's "founding fathers" led an armed population against the British monarchy and won. It is understandable that they saw the way the country was founded as an example of how it should be organized. They were fighters who wanted the ability to keep fighting to preserve their independence. And thus we got bearing arms as a cornerstone American right.
---
Since the gun control / gun rights debate often tries to discern the intentions of the Founding Fathers to suit polemic purposes (producing countless memes with misquotations), let's look at some of the actual quotes by the makers of America:
Thomas Jefferson wrote this into the 1776 draft of the Virginia Constitution, the first such document of a state declaring their independence:
 "No free man shall ever be debarred the use of arms."
That seems pretty cut and dry until you consider that the second and third drafts of the same document added "within his own lands or tenements" to the sentence. It seems Jefferson seriously considered that there should be some limitations on the individual's right to gun ownership. It makes sense to own a gun for self-defense on your own property, but a different set of issues comes up when this gun is taken into public space.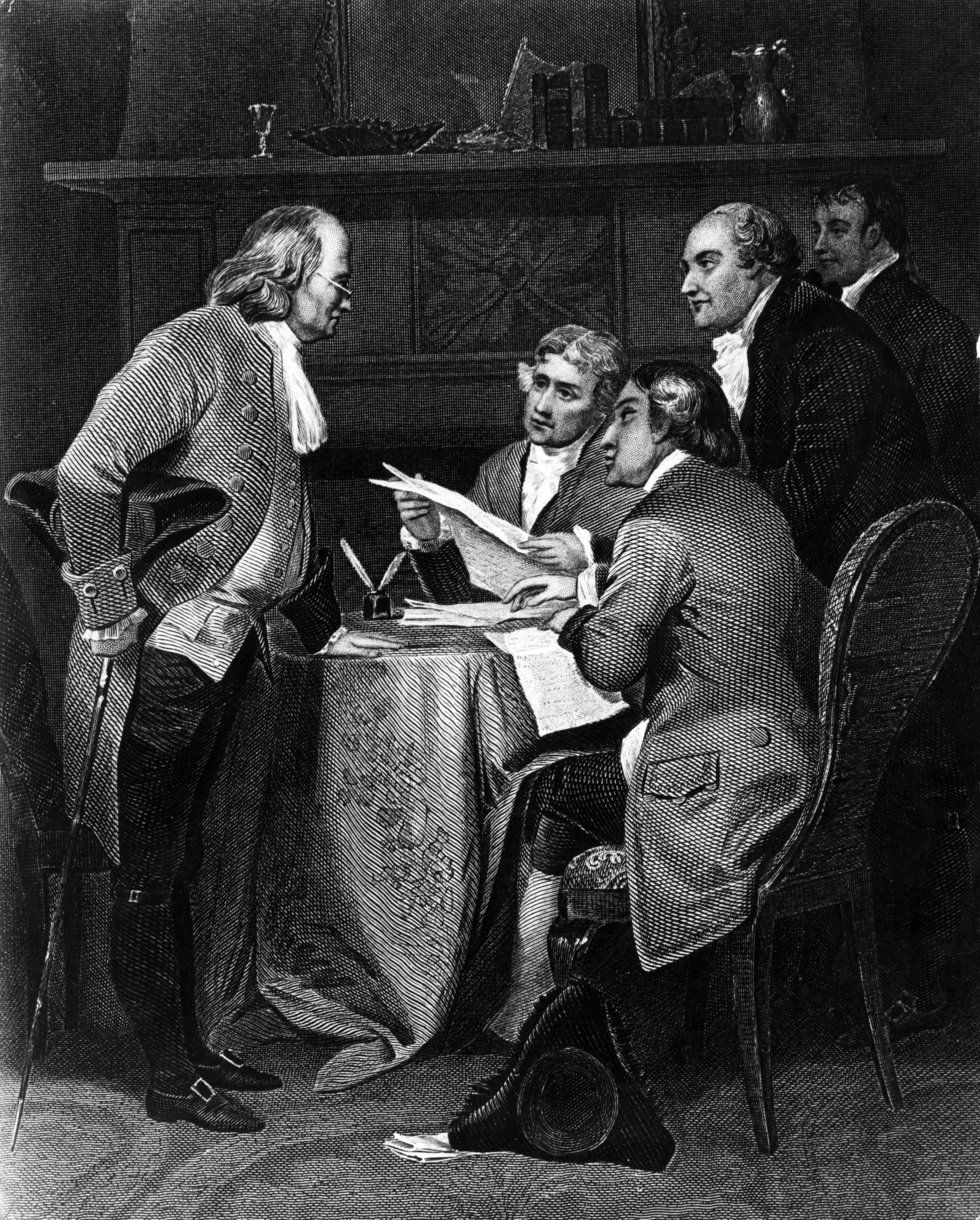 Benjamin Franklin (left), American politician, writer and inventor, drafting the Declaration of Independence. The drafting committee includes future Presidents of the United States Thomas Jefferson (1743 - 1826) and John Adams (1735 - 1826) and Roger Sherman and Robert R Livingstone. (Photo by Rischgitz/Getty Images)
Another oft-used quote by Jefferson used by gun rights advocates is: "I prefer dangerous freedom over peaceful slavery." Here Jefferson states the basic principle behind rising up against the monarchy - while it's harder to control and keep stable, a democratic society is preferable to being enslaved, though peacefully. And, as we all know, guns are an excellent instrument for disrupting peace.
The statement can be debated further - is it more moral to live in a society where individual safety is not guaranteed and people often die due to gun violence versus living in a society where you have fewer freedoms, but greater safety for all individuals? Is "freedom" more precious than safety?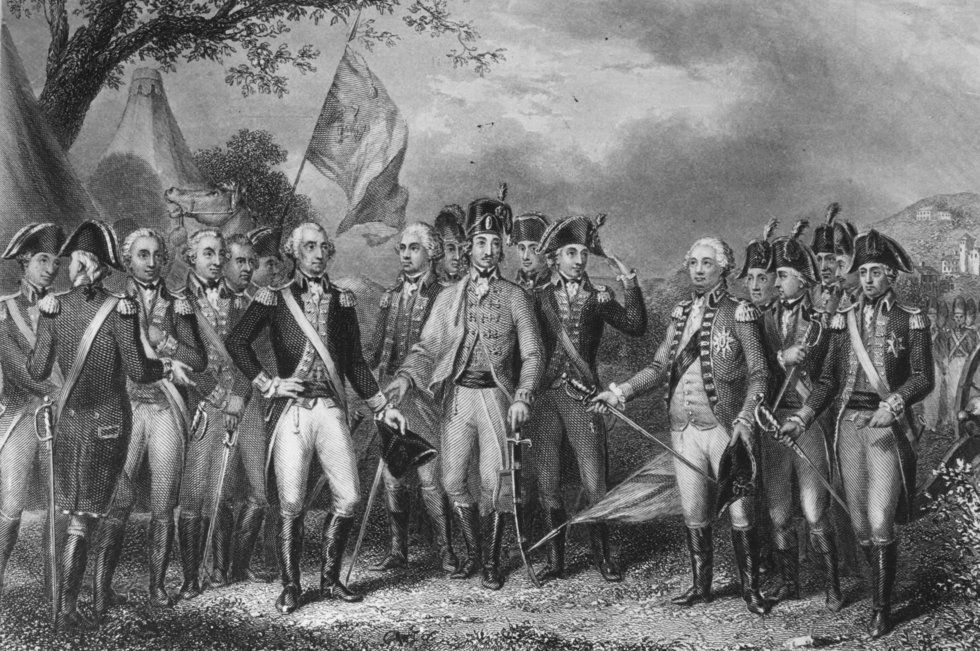 19th October 1781: The British surrendering their arms to General Washington at Yorktown, Virginia, Left to right: George Washington, de Lauzun, Marquis Marie Joseph de La Fayette, Charles Cornwallis, O'Hara and Chenton. (Photo by Hulton Archive/Getty Images)
While guns are certainly useful in overthrowing monarchs, is individual gun ownership the best way to oppose monarchs or hypothetical tyrants? For argument's sake, if the main reason to have a gun is to stop a potential dictator, what if people are organized into militias (as the founding fathers advocated) or some such political organization? And these people could have a collective well-guarded stockpile of guns and munitions instead of guns being out there in the world for any random person to use (for purposes having nothing to do with stopping the next Hitler).
The few people who are passionate enough about standing up to the government occasionally do organize themselves in such fashion (like Cliven Bundy's family). But outside of this anti-tyrannical reasoning, it can be argued that the prevalence and the media attention on gun violence is causing the fear and instability in society that is the perfect breeding ground for a tyrant to exploit.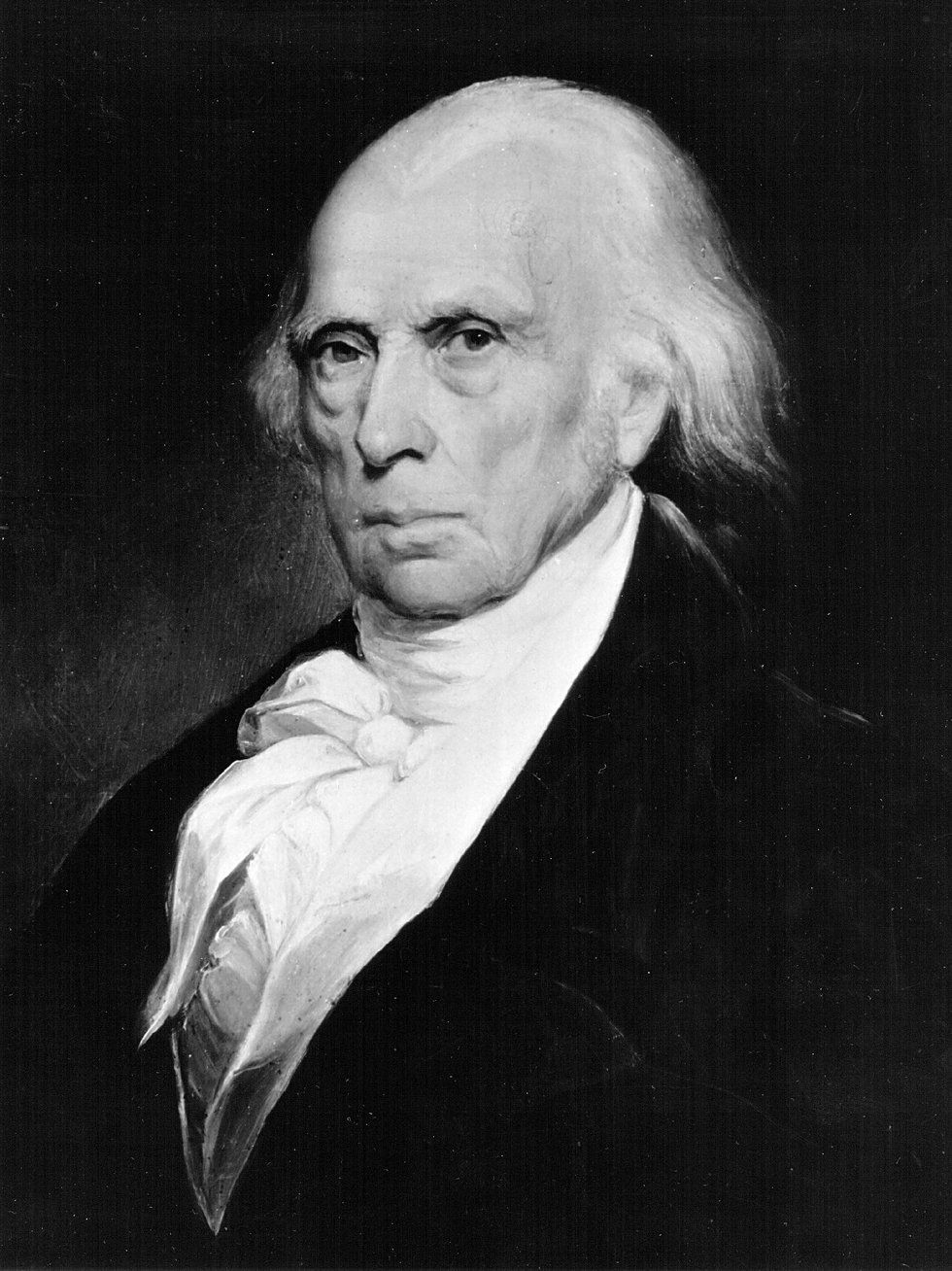 A painting of James Madison, fourth President of the United States serving from 1817 to 1825. (Photo by National Archive/Newsmakers)
James Madison actually supports a similar argument for organizing into state militias here:
"Besides the advantage of being armed, which the Americans possess over the people of almost every other nation, the existence of subordinate governments, to which the people are attached, and by which the militia officers are appointed, forms a barrier against the enterprises of ambition, more insurmountable than any which a simple government of any form can admit of. Notwithstanding the military establishments in the several kingdoms of Europe, which are carried as far as the public resources will bear, the governments are afraid to trust the people with arms."
He essentially believes that responsible citizens skilled in the use of guns who are able to organize into militias provide a barrier against dictatorship.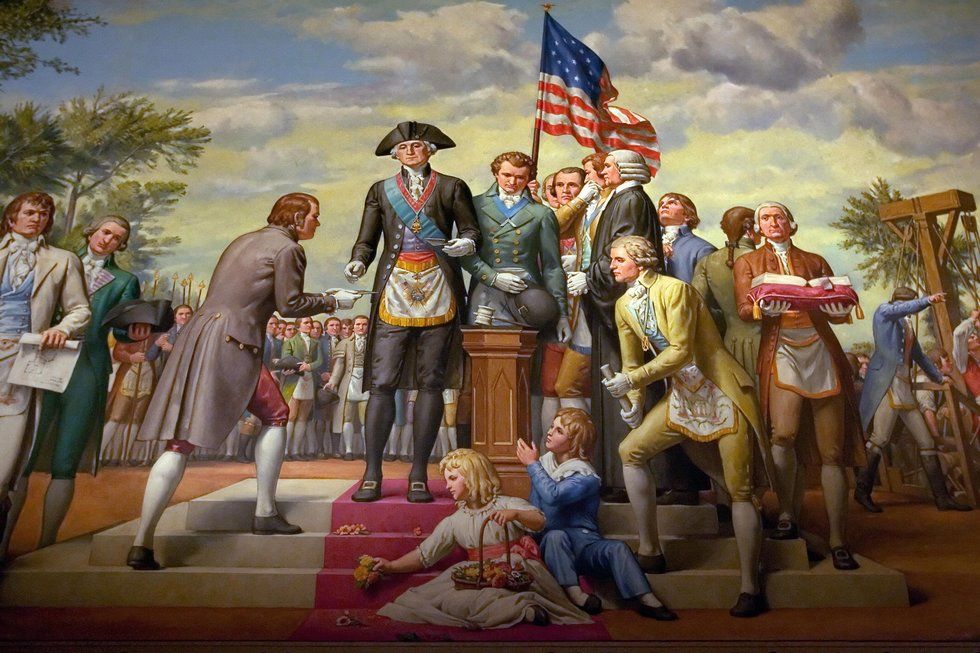 A mural depicts the first US President and a member of the Freemasons, George Washington, as he lays the cornerstone of the US Capitol on September 18, 1793, in Memorial Hall at the George Washington Masonic National Memorial in Alexandria, Virginia 20 November 2007. Washington is wearing full Masonic regalia. AFP PHOTO/SAUL LOEB (Photo credit should read SAUL LOEB/AFP/Getty Images)
George Washington also saw some limitations on the role of militias. As Edward Lengel, editor in chief, of the Papers of George Washington project at University of Virginia, said in this interview to Politico: 
"Indeed, during the (Revolutionary) war he very frequently lamented the crimes carried out by armed civilians or undisciplined militia against their unarmed neighbors. The solution to these crimes, as he understood it, was to increase the power of the government and the army to prevent and punish them -- not to put more guns in the hands of civilians."
In fact, Washington sent state militias to counter the Whiskey Rebellion of 1794, when Western Pennsylvania citizens led an armed conflict to fight a new whiskey tax. Washington saw the rebellion as being a concern to the central government and praised "citizen soldiers" for dealing with it.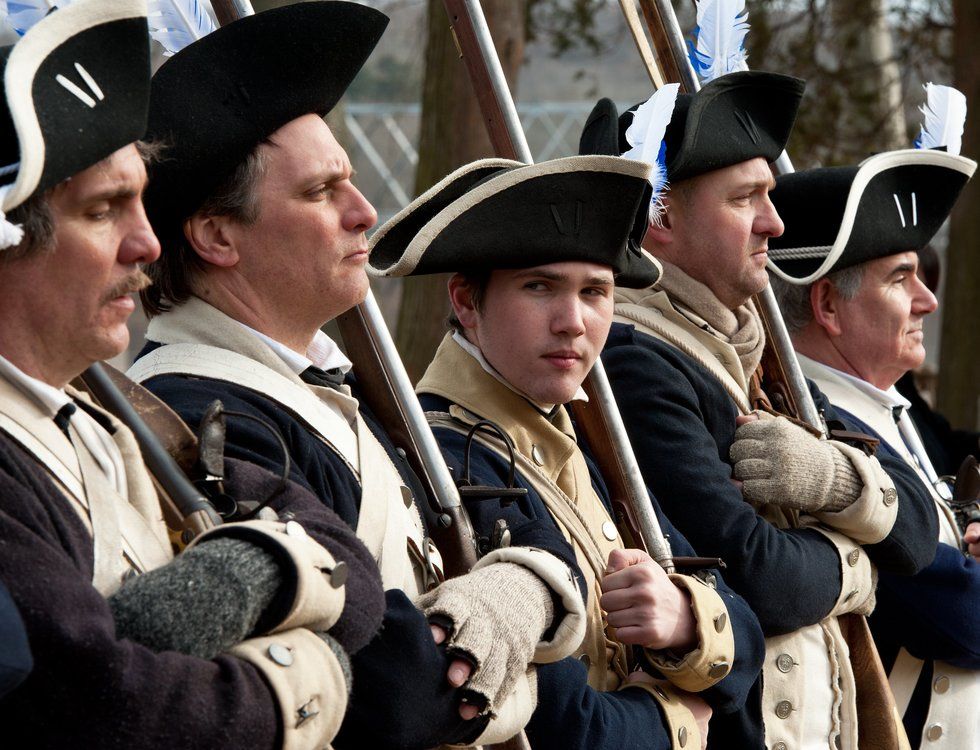 An unidentified re-enactor playing a soldier looks over during the annual re-enactment of George Washington crossing the Delaware River on Christmas day in 1776. (Photo by PAUL J. RICHARDS/AFP/Getty Images)
"A free people ought not only to be armed, but disciplined; to which end a uniform and well-digested plan is requisite; and their safety and interest require that they should promote such manufactories as tend to render them independent of others for essential, particularly military, supplies." 
Usually, only the first part of this quotation is used  - "A free people ought not only to be armed, but disciplined". It's clear that Washington is again talking about citizen soldiers and the need for them to be disciplined and organized, with a plan and concern for safety. It's doubtful he meant a climate where guns are freely available in 24-hour megastores.
Of course, it often comes down to interpretation. What did the "Founding Fathers" really mean?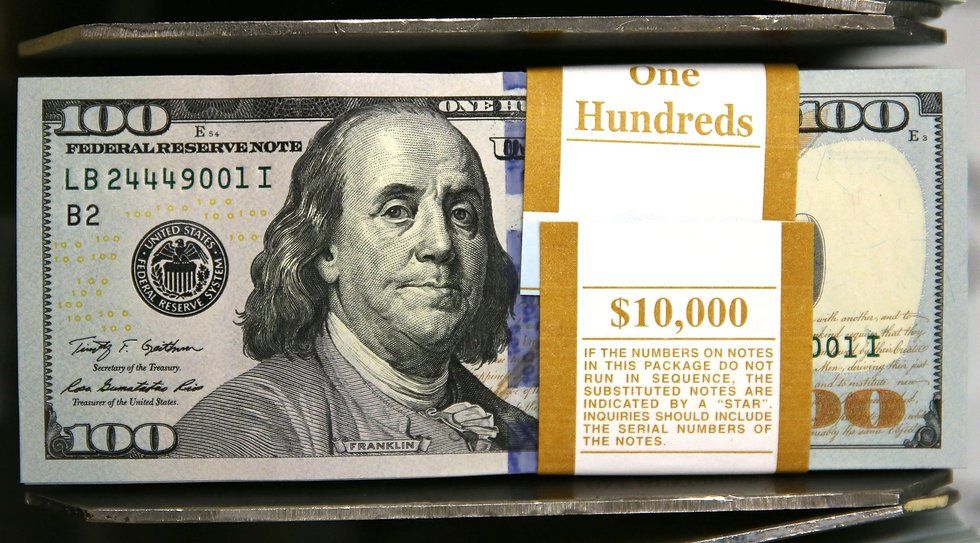 Ben Franklin on U.S. currency
In an example, Ben Franklin said this:
"Those who would give up essential liberty to purchase a little temporary safety deserve neither liberty nor safety." 
While it appears to mean something else, this often-invoked quote actually defends the power of a state legislature to impose tax in the interest of collective security. It's not really about the gun issue at all, but very often appears on self-serving lists of quotes that are used by various activists. This illustrates the danger of reading too much into the words of admittedly great, but long-since-dead people to address the modern issues we, the living, face. 
It is safe to say the Founding Fathers definitely saw a role for guns in fighting against or avoiding tyranny (based on their own example and the weaponry available in their day). They also were not the unequivocal, loud gun rights advocates that some would like them to have been. 
They were, as we'd like them to have been, wise.
The Lumina Foundation lays out steps for increasing access to quality post-secondary education credentials.
Sponsored by Lumina Foundation
America's post-high school education landscape was not created with the modern student in mind. Today, clear and flexible pathways are necessary to help individuals access education that can help them lead a better life.
Elizabeth Garlow explains the Lumina Foundation's strategy to create a post-secondary education system that works for all students. This includes credential recognition, affordability, a more competency-based system, and quality assurance.
Systemic historic factors have contributed to inequality in the education system. Lumina aims to close those gaps in educational attainment.
In 2019, Lumina Foundation and Big Think teamed up to create the Lumina Prize, a search to find the most innovative and scalable ideas in post-secondary education. You can see the winners of the Lumina Prize here – congratulations to PeerForward and Greater Commons!
French newspapers report that the trial hasn't lived up to expectations.
Image source: Charly Triballeau / AFP / Getty Images
Technology & Innovation
The French government initially invested in a rural solar roadway in 2016.
French newspapers report that the trial hasn't lived up to expectations.
Solar panel "paved" roadways are proving to be inefficient and too expensive.
During World War II, the U.S. incarcerated over 100,000 Japanese Americans in concentration camps throughout the West.
Universal History Archive/Universal Images Group via Getty Images
Politics & Current Affairs
Now that the issue of concentration camps in the U.S. has once again reared its head, it can be beneficial to recall the last time such camps were employed in the U.S.
After Pearl Harbor, the U.S. incarcerated over 100,000 Japanese Americans in camps, ostensibly for national security purposes.
In truth, the incarceration was primarily motivated by racism. What was life like in the U.S.'s concentration camps?
On February 19, 1942, President Roosevelt issued Executive Order 9066, which authorized and directed military commanders "to prescribe military areas … from which any or all persons may be excluded, and with respect to which, the right of any person to enter, remain in, or leave shall be subject to whatever restrictions the Secretary of War or the appropriate Military Commander may impose in his discretion." Under the authority of this executive order, roughly 112,000 men, women, and children of Japanese descent — nearly two-thirds of which were American citizens — were detained in concentration camps.
How did the camps get their start?
With the benefit of a nearly 80-year perspective, it's clear that the internment of Japanese Americans was racially motivated. In response to Japan's growing military power in the buildup to World War II, President Roosevelt commissioned two reports to determine whether it would be necessary to intern Japanese Americans should conflict break out between Japan and the U.S. Neither's conclusions supported the plan, with one even going so far as to "certify a remarkable, even extraordinary degree of loyalty among this generally suspect ethnic group." But of course, the Pearl Harbor attacks proved to be far more persuasive than these reports.
Pearl Harbor turned simmering resentment against the Japanese to a full boil, putting pressure on the Roosevelt administration to intern Japanese Americans. Lieutenant General John DeWitt, who would become the administrator of the internment program, testified to Congress
"I don't want any of them here. They are a dangerous element. There is no way to determine their loyalty... It makes no difference whether he is an American citizen, he is still a Japanese. American citizenship does not necessarily determine loyalty... But we must worry about the Japanese all the time until he is wiped off the map."
DeWitt's position was backed up by a number of pre-existing anti-immigrant groups based out of the West Coast, such as the Joint Immigration Committee and the Native Sons and Daughters of the Golden West. For many, the war simply served as an excuse to get rid of Japanese Americans. In an interview with the Saturday Evening Post, Austin Anson, the managing secretary of the Salinas Vegetable Grower-Shipper Administration, said:
"We're charged with wanting to get rid of the Japs for selfish reasons. We do. It's a question of whether the White man lives on the Pacific Coast or the brown men. ... If all the Japs were removed tomorrow, we'd never miss them in two weeks because the White farmers can take over and produce everything the Jap grows. And we do not want them back when the war ends, either."
Ironically for Anson, the mass deportation of Japanese Americans under Executive Order 9066 meant there was a significant shortage of agricultural labor. Many Caucasians left to fight the war, so the U.S. signed an agreement with Mexico to permit the immigration of several million Mexicans agricultural workers under the so-called bracero program.
Life in the camps
Hulton Archive/Getty Images
Circa 1943: Aerial view of a Japanese American relocation center in Amache, Colorado, during World War II. Each family was provided with a space 20 by 25 ft. The barracks were set in blocks and each block was provided with a community bath house and mess hall.
For the most part, Japanese Americans remained stoic in the face of their incarceration. The phrase shikata ga nai was frequently invoked — the phrase roughly translates to "it cannot be helped," which, for many, represents the perceived attitude of the Japanese people to withstand suffering that's out of their control.
Initially, most Japanese Americans were sent to temporary assembly centers, typically located at fairgrounds or racetracks. These were hastily constructed barracks, where prisoners were often packed into tight quarters and made to use toilets that were little more than pits in the ground. From here, they were relocated to more permanent camps — replete with barbed wire and armed guards — in remote, isolated places across the seven states of California, Arizona, Colorado, Wyoming, Idaho, Utah, and Arkansas.
Many of these camps, also known as War Relocation Centers, were little better than the temporary assembly centers. One report described the buildings as "tar paper-covered barracks of simple frame construction without plumbing or cooking facilities of any kind." Again, overcrowding was common.
As a result, disease became a major concern, including dysentery, malaria, and tuberculosis. This was problematic due to the chronic shortage of medical professionals and supplies, an issue that was not helped by the War Relocation Authority's decision to cap Japanese American medical professional's pay at $20 a month (about $315 in 2019 dollars), while Caucasian workers had no such restriction. As a comparison, Caucasian nurses earned $150 ($2,361) a month in one camp.
The U.S. government also administered loyalty questionnaires to incarcerated Japanese Americans with the ultimate goal of seeing whether they could be used as soldiers and to segregate "loyal" citizens from "disloyal" ones. The questionnaires often asked whether they would be willing to join the military and if they would completely renounce their loyalty to Japan. Due to fears of being drafted, general confusion, and justified anger at the U.S. government, thousands of Japanese Americans "failed" the loyalty questionnaire and were sent to the concentration camp at Tule Lake. When Roosevelt later signed a bill that would permit Japanese Americans to renounce their citizenship, 98 percent of the 5,589 who did were located at Tule Lake. Some apologists cite this an example of genuine disloyalty towards the U.S., but this argument clearly ignores the gross violation of Japanese Americans' rights. Later, it became clear that many of these renunciations had been made under duress, and nearly all of those who had renounced their citizenship sought to gain it back.
Since many children lived in the camps, they came equipped with schools. Of course, these schools weren't ideal — student-teacher ratios reached as high as 48:1, and supplies were limited. The irony of learning about American history and ideals was not lost on the students, one of whom wrote in an essay --
"They, the first generation [of Japanese immigrants], without the least knowledge of the English language nor the new surroundings, came to this land with the American pioneering spirit of resettling. ...Though undergoing many hardships, they did reach their goal only to be resettled by the order of evacuation under the emergency for our protection and public security."
Potentially the best part of life in the camps — and the best way for determined prisoners to demonstrate their fundamental American-ness — was playing baseball. One camp even featured nearly 100 baseball teams. Former prisoner Herb Kurima recalled the importance of baseball in their lives in an interview with Christian Science Monitor. "I wanted our fathers, who worked so hard, to have a chance to see a ball game," he said. "Over half the camp used to come out to watch. It was the only enjoyment in the camps."
The aftermath
When the camps finally closed in 1945, the lives of the incarcerated Japanese Americans had been totally upended. Some were repatriated to Japan, while others settled in whichever part of the country they had been arbitrarily placed in. Those who wished to return to the West Coast were given $25 and a train ticket, but few had anything to return to. Many had sold their property to predatory buyers prior to being incarcerated, while theft had wiped out whatever else they had left behind. Many, many years later, the 1988 Civil Liberties Act mandated that each surviving victim be paid $20,000, though that seems like a small fine to pay for irrevocably changing the courses of more than 100,000 lives.