Big ideas.
Once a week.
Subscribe to our weekly newsletter.
Why Some Conservative Thinkers Seriously Want the Return of the Middle Ages
The Middle Ages see a resurgence of interest among the alt-right and some conservative thinkers.
05 March, 2017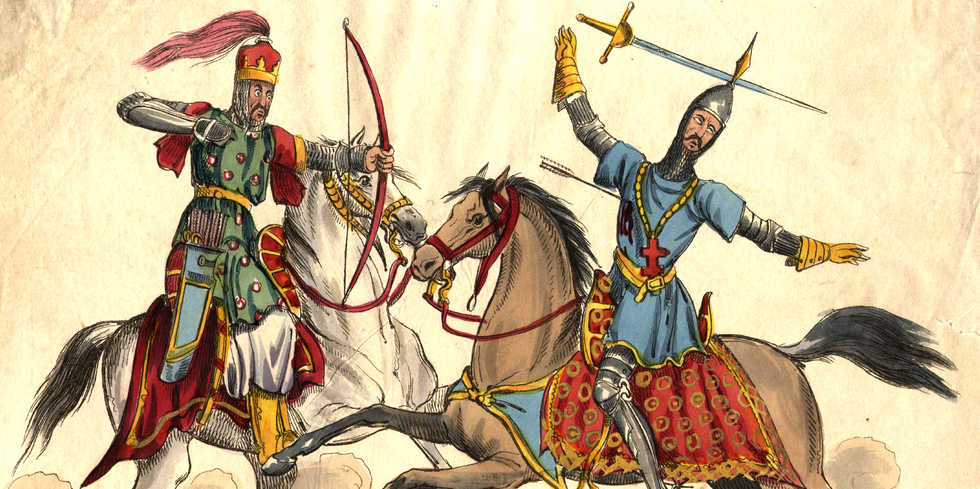 ---
Of all the political and intellectual surprises that come at us every day now, one of the more unusual is the strange resurgence of the Middle Ages as an influence on our times.  A number of conservative thinkers have proposed that as modernity and liberalism led humanity to a dead end, we should look to the medieval period for inspiration on how to remake our world. This idea has been expressed through memes and writings of the alt-right and has found its way all the way up to Presidential advisors. 
One reason for the appeal of the Middle Ages can be seen in popular memes spread through alt-right online forums. They feature the Crusader battle call "Deus vult!" which basically translates to "God wills it". It is used as a Christian version of "Allahu akbar" - a call to action for the Western civilization in its supposed war against Islam.
Another way that the Middle Ages fascinate people has been proposed by a number of conservative blogs and thinkers - they are newly seen as a time of traditional values that celebrated god, masculinity, homogeneity instead of diversity, and traditional gender roles. 
The "Middle Ages" is generally considered to be the period of history that goes from the fall of the Roman Empire in the West in 476 CE to the fall of the Eastern Roman Empire in 1453, when Constantinople was sacked. Another way to mark the end of the medieval period is the beginning of the Renaissance in the 14th century.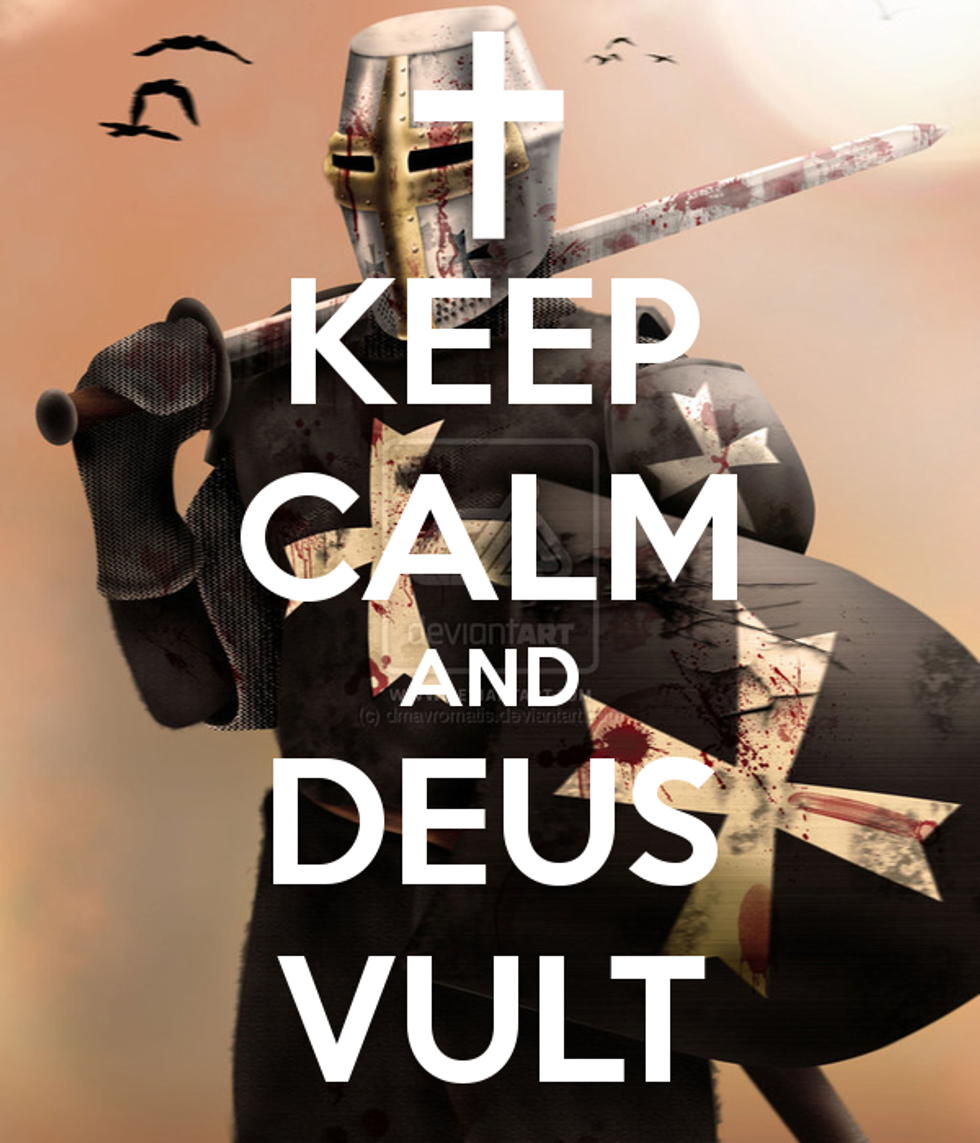 A Deus Vult meme image.
It's common to regard the Middle Ages as a dark period in human history, without many accomplishments. The historian Edward Gibbon, who wrote the "Rise and Fall of the Roman Empire," called the period full of "barbarism and religion". This historical time is also associated with the terrible epidemic of "Black Death" - the bubonic plague that killed 20 million people in Europe, 30% of its population at the time, in the middle of the 14th century.
This negative point of view on the Middle Ages has been challenged of late, with new scholarship pointing out that the era had some achievements, like the majestic Romanesque and Gothic Cathedrals that sprang all over Europe, leading to architectural and artistic innovation. The period also saw the eventual transformation of feudalism due to factors such as agricultural inventions, leading to increased population in city centers.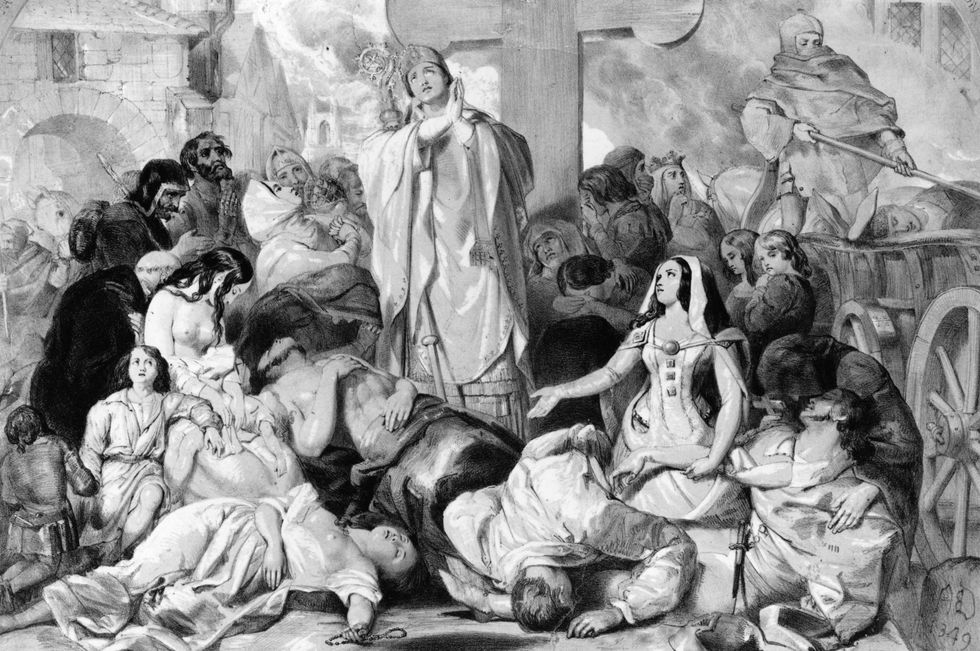 People praying for relief from the bubonic plague, circa 1350. Original Artwork: Designed by E Corbould, lithograph by F Howard. (Photo by Hulton Archive/Getty Images)
The Middle Ages were also a period of great growth of Islamic power. Muslim armies conquered the Middle East, with the Islamic world becoming three times as big as the Christian one during the height of its influence. The intellectual life that was missing from Europe was thriving in cities like Cairo, Baghdad and Damascus.
The spread of Islamic control resulted in the Catholic Church launching a series of Crusades - military expeditions to rescue the Holy Land from "infidels".  The Crusades were first began in 1095 AD, with Pope Urban II issuing the infamous "Deus Vult!" battle cry for Christians to raise an army and fight Muslims.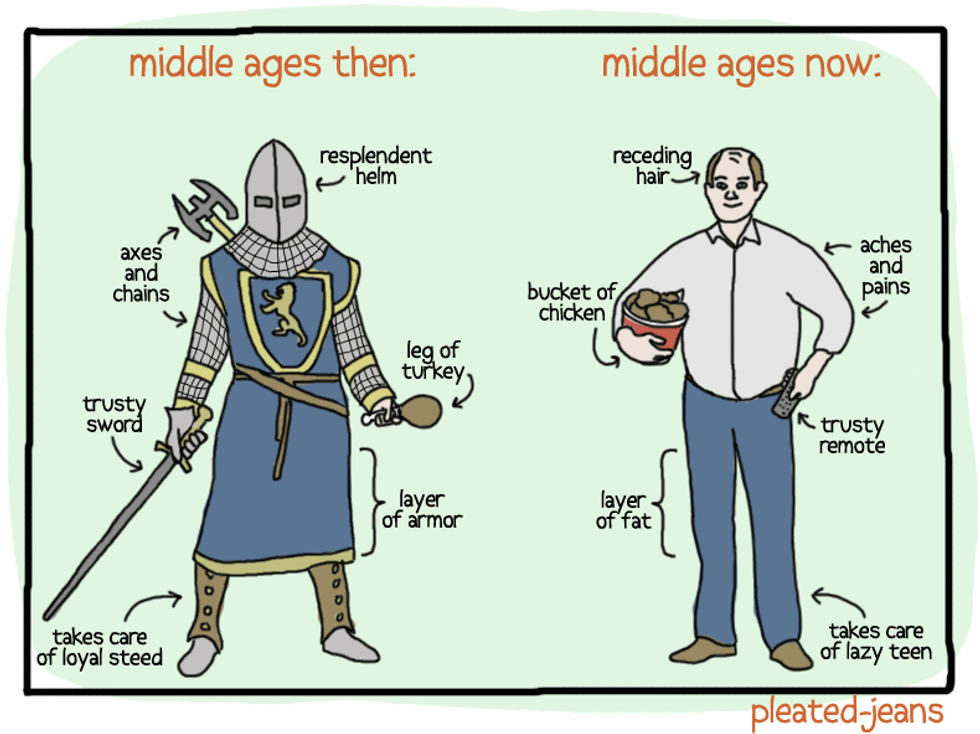 The "Deus Vult!" memes that spread through alt-right communities on 4chan, reddit and other social media harken back to the Crusader story. They are essentially calling for a modern-day Crusade against Islam.
The allure of the Crusader narrative is not only demonstrated by the alt-right Crusader memes, but is echoed in conservative intellectual circles.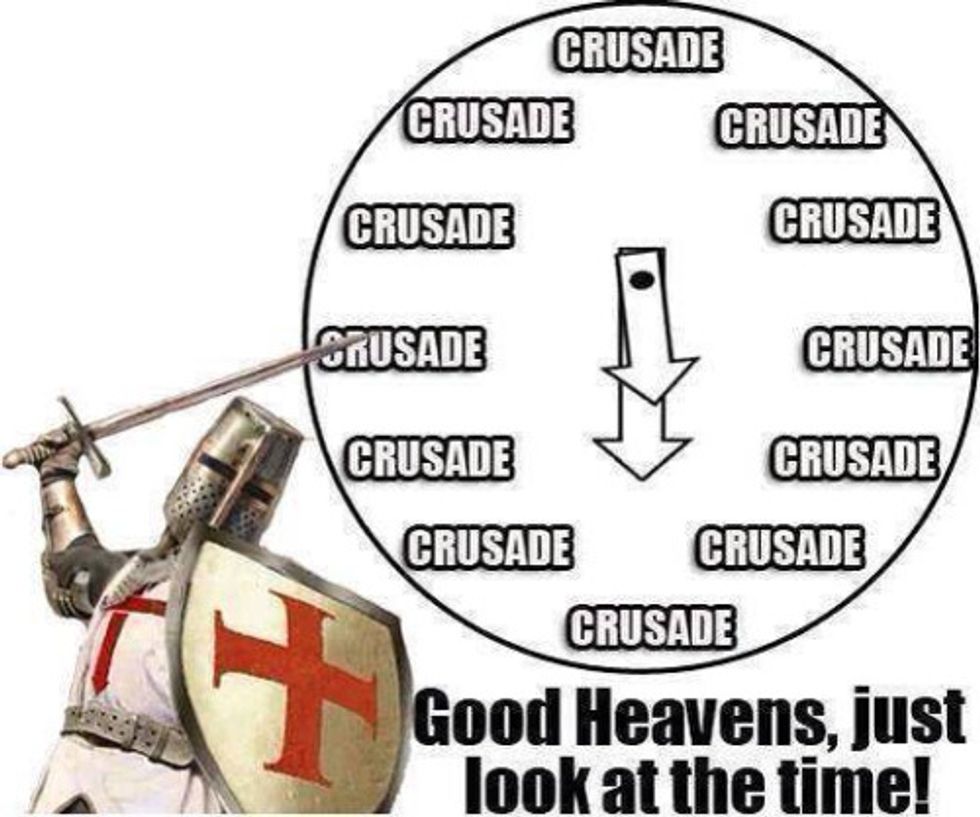 A Crusade meme image.
Having embraced the alt-right while at Breitbart, President Trump's chief strategist Steve Bannon has at times expressed apocalyptic rhetoric that seems to be anticipating a coming religious and class war. It is hard to really know all the nuances of what Mr. Bannon thinks as this somewhat reclusive figure rarely weighs in on events and issues publicly. But considering the access and intellectual heft Mr. Bannon is said to bring to the ear of the President, discerning his views is a very telling endeavor.
To that end, Mr. Bannon has spoken of the current period of time as a point of crisis, with capitalism and Judeo-Christian values under attack, especially from radical Islamists.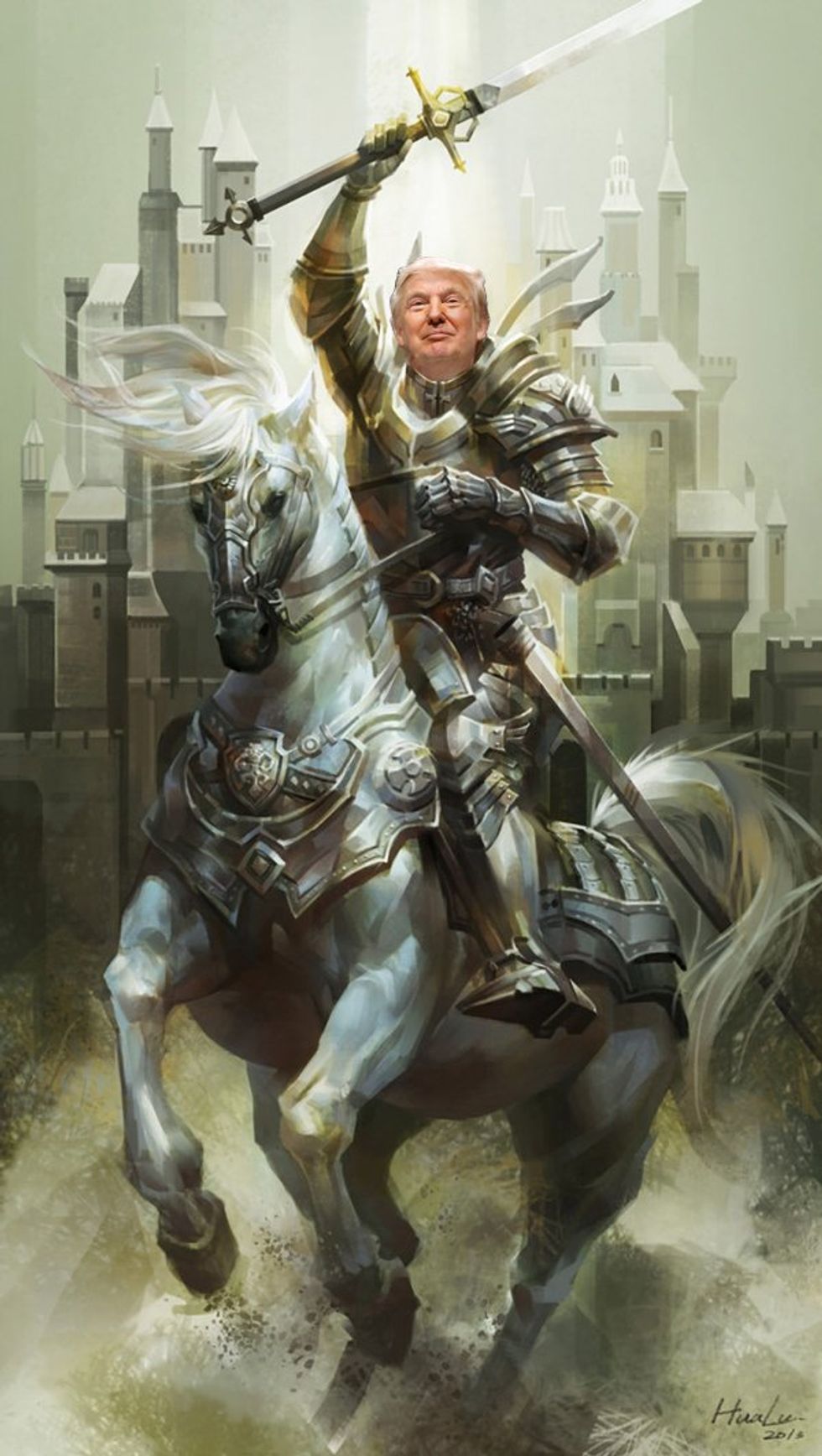 Trump Crusader meme.
Bannon's seemingly strong feelings on this subject were on display during his 2014 talk at the Vatican.
"And we're at the very beginning stages of a very brutal and bloody conflict, of which if … the people in the Church do not bind together and really form what I feel is an aspect of the Church Militant, to really be able to not just stand with our beliefs, but to fight for our beliefs against this new barbarity that's starting, that will completely eradicate everything that we've been bequeathed over the last 2,000, 2,500 years," said Bannon.
This certainly sounds like Crusader talk. He suggests that the Judeo-Christian idea is facing a grave enemy that can only be fought by armed Christians. Interestingly, in the same speech, he also paints the current age as the Dark Ages, another way the Middle Ages are described.
Bannon also spoke about the appeal of Putin, linking it to the Russian leader's support of "traditionalist" values, especially as he's advised by Alexander Dugin, a philosopher who follows the work of the controversial Italian thinker Julius Evola. Bannon's remarks seemed to indicate that while he does not support Putin's kind of government, there was some merit in his approach.
"We the Judeo-Christian West really have to look at what he's [Putin] talking about as far as traditionalism goes — particularly the sense of where it supports the underpinnings of nationalism — and I happen to think that the individual sovereignty of a country is a good thing and a strong thing," said Bannon.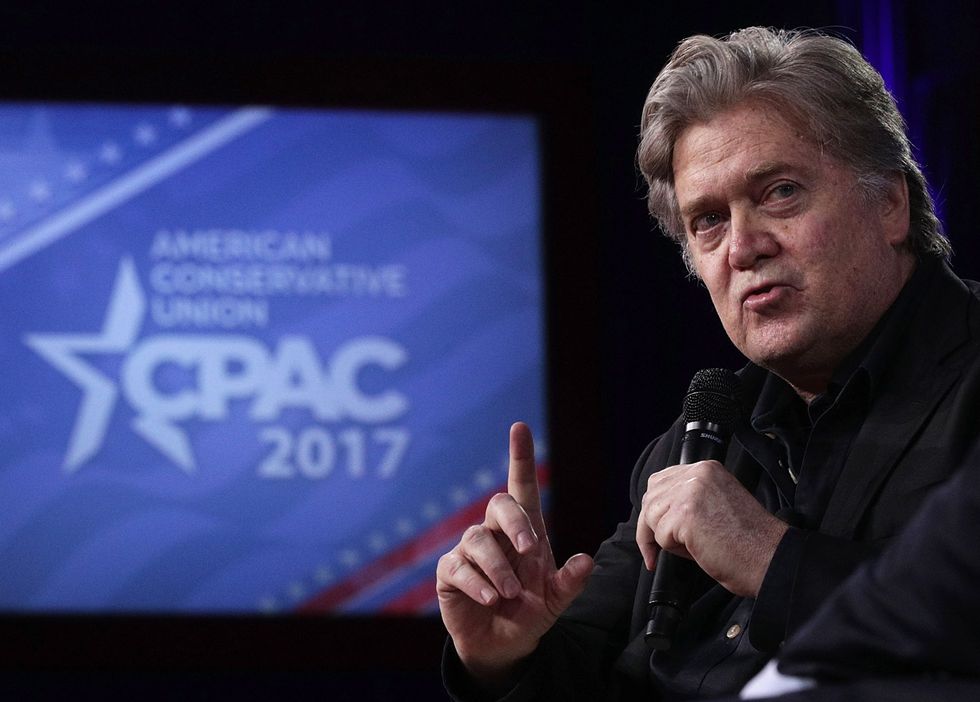 White House Chief Strategist Steve Bannon participates in a conversation during the Conservative Political Action Conference at the Gaylord National Resort and Convention Center February 23, 2017 in National Harbor, Maryland. (Photo by Alex Wong/Getty Images)
Julius Evola was considered a leading proponent of Traditionalism, a philosophy that sees the idea of equality-oriented liberalism and "progress" as mistaken, advocates traditional gender roles and seeks a return of hierarchical social structures like castes. Evola saw European feudalism during the Middle Ages as a great example of such a society.
Anti-Semitic and sexist Evola is known for inspiring Italian fascists, including Benito Mussolini himself, modern neo-Nazi and nationalist parties in Europe, as well as the far right movements in the United States.
"Julius Evola is one of the most fascinating men of the 20th century," said the white nationalist leader Richard Spencer. 
Mr. Spencer also found it very significant that Mr. Bannon knew who Evola was. 
"Even if he hasn't fully imbibed them and been changed by them, he is at least open to them," he said. "He at least recognizes that they are there. That is a stark difference to the American conservative movement that either was ignorant of them or attempted to suppress them," said Spencer. 
If you think knowing about Evola is not the same as supporting his ideas, an article by Breitbart from when it was run by Bannon listed Evola as one of the foundational thinkers of the alt-right movement. It was co-written by another alt-right standard bearer - Milo Yiannopoulos.
Alexander Dugin, another philosopher mentioned by Bannon at the Vatican, is called by some "Putin's Brain." He is a Russian thinker known for his close associations with the Kremlin. Dugin espouses an Evola-influenced philosophy that also ties into Traditionalist values, seeing the Renaissance and everything that followed, including technological progress, as a debasement of human nature. His goal would be to return to the values of the Middle Ages and restore a Eurasian empire on the basis of the former Soviet Union, with Russia at the head.
"Returning to the Middle Ages or turning to them to look for inspiration, and I am not speaking of merely reproducing – that's impossible to do. But we have stood on the path of modernity. We've stood on the path of modern totalitarianism regardless of whether of the first, second, or third theory. We've exhausted all of their possibilities, built all three models. We've built liberal civilization, communist civilization as part of such an experiment, and we've even built fascism. We can now compare everything before us. And if all of this does not satisfy us, this means that the most important mistake was made not in the 20th century and not even in 1991," said Dugin in an interview.
While history is always important to study, what does one make of this unexpected brew of racist and sexist ideologies inspired by fascist and radical Russian thinkers combined with American Christian white nationalism? Sounds like an explosive cocktail.
If you don't have enough Crusader spirit, here's a video that can get you into just such a state:
Cover image: Circa 1250, A crusader is shot by a Muslim warrior during the Crusades. (Photo by Hulton Archive/Getty Images)
Why mega-eruptions like the ones that covered North America in ash are the least of your worries.
Image: USGS - public domain
Strange Maps
The supervolcano under Yellowstone produced three massive eruptions over the past few million years.
Each eruption covered much of what is now the western United States in an ash layer several feet deep.
The last eruption was 640,000 years ago, but that doesn't mean the next eruption is overdue.
The end of the world as we know it
Panoramic view of Yellowstone National Park
Image: Heinrich Berann for the National Park Service – public domain
Of the many freak ways to shuffle off this mortal coil – lightning strikes, shark bites, falling pianos – here's one you can safely scratch off your worry list: an outbreak of the Yellowstone supervolcano.
As the map below shows, previous eruptions at Yellowstone were so massive that the ash fall covered most of what is now the western United States. A similar event today would not only claim countless lives directly, but also create enough subsidiary disruption to kill off global civilisation as we know it. A relatively recent eruption of the Toba supervolcano in Indonesia may have come close to killing off the human species (see further below).
However, just because a scenario is grim does not mean that it is likely (insert topical political joke here). In this case, the doom mongers claiming an eruption is 'overdue' are wrong. Yellowstone is not a library book or an oil change. Just because the previous mega-eruption happened long ago doesn't mean the next one is imminent.
Ash beds of North America
Ash beds deposited by major volcanic eruptions in North America.
Image: USGS – public domain
This map shows the location of the Yellowstone plateau and the ash beds deposited by its three most recent major outbreaks, plus two other eruptions – one similarly massive, the other the most recent one in North America.
Huckleberry Ridge
The Huckleberry Ridge eruption occurred 2.1 million years ago. It ejected 2,450 km3 (588 cubic miles) of material, making it the largest known eruption in Yellowstone's history and in fact the largest eruption in North America in the past few million years.
This is the oldest of the three most recent caldera-forming eruptions of the Yellowstone hotspot. It created the Island Park Caldera, which lies partially in Yellowstone National Park, Wyoming and westward into Idaho. Ash from this eruption covered an area from southern California to North Dakota, and southern Idaho to northern Texas.
Mesa Falls
About 1.3 million years ago, the Mesa Falls eruption ejected 280 km3 (67 cubic miles) of material and created the Henry's Fork Caldera, located in Idaho, west of Yellowstone.
It was the smallest of the three major Yellowstone eruptions, both in terms of material ejected and area covered: 'only' most of present-day Wyoming, Colorado, Kansas and Nebraska, and about half of South Dakota.
Lava Creek
The Lava Creek eruption was the most recent major eruption of Yellowstone: about 640,000 years ago. It was the second-largest eruption in North America in the past few million years, creating the Yellowstone Caldera.
It ejected only about 1,000 km3 (240 cubic miles) of material, i.e. less than half of the Huckleberry Ridge eruption. However, its debris is spread out over a significantly wider area: basically, Huckleberry Ridge plus larger slices of both Canada and Mexico, plus most of Texas, Louisiana, Arkansas, and Missouri.
Long Valley
This eruption occurred about 760,000 years ago. It was centered on southern California, where it created the Long Valley Caldera, and spewed out 580 km3 (139 cubic miles) of material. This makes it North America's third-largest eruption of the past few million years.
The material ejected by this eruption is known as the Bishop ash bed, and covers the central and western parts of the Lava Creek ash bed.
Mount St Helens
The eruption of Mount St Helens in 1980 was the deadliest and most destructive volcanic event in U.S. history: it created a mile-wide crater, killed 57 people and created economic damage in the neighborhood of $1 billion.
Yet by Yellowstone standards, it was tiny: Mount St Helens only ejected 0.25 km3 (0.06 cubic miles) of material, most of the ash settling in a relatively narrow band across Washington State and Idaho. By comparison, the Lava Creek eruption left a large swathe of North America in up to two metres of debris.

The difference between quakes and faults
The volume of dense rock equivalent (DRE) ejected by the Huckleberry Ridge event dwarfs all other North American eruptions. It is itself overshadowed by the DRE ejected at the most recent eruption at Toba (present-day Indonesia). This was one of the largest known eruptions ever and a relatively recent one: only 75,000 years ago. It is thought to have caused a global volcanic winter which lasted up to a decade and may be responsible for the bottleneck in human evolution: around that time, the total human population suddenly and drastically plummeted to between 1,000 and 10,000 breeding pairs.
Image: USGS – public domain
So, what are the chances of something that massive happening anytime soon? The aforementioned mongers of doom often claim that major eruptions occur at intervals of 600,000 years and point out that the last one was 640,000 years ago. Except that (a) the first interval was about 200,000 years longer, (b) two intervals is not a lot to base a prediction on, and (c) those intervals don't really mean anything anyway. Not in the case of volcanic eruptions, at least.
Earthquakes can be 'overdue' because the stress on fault lines is built up consistently over long periods, which means quakes can be predicted with a relative degree of accuracy. But this is not how volcanoes behave. They do not accumulate magma at constant rates. And the subterranean pressure that causes the magma to erupt does not follow a schedule.
What's more, previous super-eruptions do not necessarily imply future ones. Scientists are not convinced that there ever will be another big eruption at Yellowstone. Smaller eruptions, however, are much likelier. Since the Lava Creek eruption, there have been about 30 smaller outbreaks at Yellowstone, the last lava flow being about 70,000 years ago.
As for the immediate future (give or take a century): the magma chamber beneath Yellowstone is only 5 percent to 15 percent molten. Most scientists agree that is as un-alarming as it sounds. And that its statistically more relevant to worry about death by lightning, shark, or piano.
Strange Maps #1041
Got a strange map? Let me know at strangemaps@gmail.com.

How imagining the worst case scenario can help calm anxiety.
Credit
: OLIVIER DOULIERY via Getty Images
Personal Growth
Stoicism is the philosophy that nothing about the world is good or bad in itself, and that we have control over both our judgments and our reactions to things.
It is hardest to control our reactions to the things that come unexpectedly.
By meditating every day on the "worst case scenario," we can take the sting out of the worst that life can throw our way.
Are you a worrier? Do you imagine nightmare scenarios and then get worked up and anxious about them? Does your mind get caught in a horrible spiral of catastrophizing over even the smallest of things? Worrying, particularly imagining the worst case scenario, seems to be a natural part of being human and comes easily to a lot of us. It's awful, perhaps even dangerous, when we do it.
But, there might just be an ancient wisdom that can help. It involves reframing this attitude for the better, and it comes from Stoicism. It's called "premeditation," and it could be the most useful trick we can learn.
Practical Stoicism
Broadly speaking, Stoicism is the philosophy of choosing your judgments. Stoics believe that there is nothing about the universe that can be called good or bad, valuable or valueless, in itself. It's we who add these values to things. As Shakespeare's Hamlet says, "There is nothing either good or bad, but thinking makes it so." Our minds color the things we encounter as being "good" or "bad," and given that we control our minds, we therefore have control over all of our negative feelings.
Put another way, Stoicism maintains that there's a gap between our experience of an event and our judgment of it. For instance, if someone calls you a smelly goat, you have an opportunity, however small and hard it might be, to pause and ask yourself, "How will I judge this?" What's more, you can even ask, "How will I respond?" We have power over which thoughts we entertain and the final say on our actions. Today, Stoicism has influenced and finds modern expression in the hugely effective "cognitive behavioral therapy."
Helping you practice StoicismCredit: Robyn Beck via Getty Images
One of the principal fathers of ancient Stoicism was the Roman statesmen, Seneca, who argued that the unexpected and unforeseen blows of life are the hardest to take control over. The shock of a misfortune can strip away the power we have to choose our reaction. For instance, being burglarized feels so horrible because we had felt so safe at home. A stomach ache, out of the blue, is harder than a stitch thirty minutes into a run. A sudden bang makes us jump, but a firework makes us smile. Fell swoops hurt more than known hardships.
What could possibly go wrong?
So, how can we resolve this? Seneca suggests a Stoic technique called "premeditatio malorum" or "premeditation." At the start of every day, we ought to take time to indulge our anxious and catastrophizing mind. We should "rehearse in the mind: exile, torture, war, shipwreck." We should meditate on the worst things that could happen: your partner will leave you, your boss will fire you, your house will burn down. Maybe, even, you'll die.
This might sound depressing, but the important thing is that we do not stop there.
Stoicism has influenced and finds modern expression in the hugely effective "cognitive behavioral therapy."
The Stoic also rehearses how they will react to these things as they come up. For instance, another Stoic (and Roman Emperor) Marcus Aurelius asks us to imagine all the mean, rude, selfish, and boorish people we'll come across today. Then, in our heads, we script how we'll respond when we meet them. We can shrug off their meanness, smile at their rudeness, and refuse to be "implicated in what is degrading." Thus prepared, we take control again of our reactions and behavior.
The Stoics cast themselves into the darkest and most desperate of conditions but then realize that they can and will endure. With premeditation, the Stoic is prepared and has the mental vigor necessary to take the blow on the chin and say, "Yep, l can deal with this."
Catastrophizing as a method of mental inoculation
Seneca wrote: "In times of peace, the soldier carries out maneuvers." This is also true of premeditation, which acts as the war room or training ground. The agonizing cut of the unexpected is blunted by preparedness. We can prepare the mind for whatever trials may come, in just the same way we can prepare the body for some endurance activity. The world can throw nothing as bad as that which our minds have already imagined.
Stoicism teaches us to embrace our worrying mind but to embrace it as a kind of inoculation. With a frown over breakfast, try to spend five minutes of your day deliberately catastrophizing. Get your anti-anxiety battle plan ready and then face the world.
Jonny Thomson teaches philosophy in Oxford. He runs a popular Instagram account called Mini Philosophy (@philosophyminis). His first book is Mini Philosophy: A Small Book of Big Ideas.
A study on charity finds that reminding people how nice it feels to give yields better results than appealing to altruism.
Personal Growth
A study finds asking for donations by appealing to the donor's self-interest may result in more money than appealing to their better nature.
Those who received an appeal to self-interest were both more likely to give and gave more than those in the control group.
The effect was most pronounced for those who hadn't given before.
Even the best charities with the longest records of doing great fundraising work have to spend some time making sure that the next donation checks will keep coming in. One way to do this is by showing potential donors all the good things the charity did over the previous year. But there may be a better way.
A new study by researchers in the United States and Australia suggests that appealing to the benefits people will receive themselves after a donation nudges them to donate more money than appealing to the greater good.
How to get people to give away free money
The postcards that were sent to different study subjects. The one on the left highlighted benefits to the self, while the one on the right highlighted benefits to others.List et al. / Nature Human Behaviour
The study, published in Nature Human Behaviour, utilized the Pick.Click.Give program in Alaska. This program allows Alaska residents who qualify for dividends from the Alaska Permanent Fund, a yearly payment ranging from $800 to $2000 in recent years, to donate a portion of it to various in-state non-profit organizations.
The researchers randomly assigned households to either a control group or to receive a postcard in the mail encouraging them to donate a portion of their dividend to charity. That postcard could come in one of two forms, either highlighting the benefits to others or the benefits to themselves.
Those who got the postcard touting self-benefits were 6.6 percent more likely to give than those in the control group and gave 23 percent more on average. Those getting the benefits-to-others postcard were slightly more likely to give than those receiving no postcard, but their donations were no larger.
Additionally, the researchers were able to break the subject list down into a "warm list" of those who had given at least once before in the last two years and a "cold list" of those who had not. Those on the warm list, who were already giving, saw only minor increases in their likelihood to donate after getting a postcard in the mail compared to those on the cold list.
Additionally, the researchers found that warm-list subjects who received the self-interest postcard gave 11 percent more than warm-list subjects in the control group. Amazingly, among cold-list subjects, those who received a self-interest postcard gave 39 percent more.
These are substantial improvements. At the end of the study, the authors point out, "If we had sent the benefits to self message to all households in the state, aggregate contributions would have increased by nearly US$600,000."
To put this into perspective, in 2017 the total donations to the program were roughly $2,700,000.
Is altruism dead?
Are all actions inherently self-interested? Thankfully, no. The study focuses entirely on effective ways to increase charitable donations above levels that currently exist. It doesn't deny that some people are giving out of pure altruism, but rather that an appeal based on self-interest is effective. Plenty of people were giving before this study took place who didn't need a postcard as encouragement. It is also possible that some people donated part of their dividend check to a charity that does not work with Pick.Click.Give and were uncounted here.
It is also important to note that Pick.Click.Give does not provide services but instead gives money to a wide variety of organizations that do. Those organizations operate in fields from animal rescue to job training to public broadcasting. The authors note that it is possible that a more specific appeal to the benefits others will receive from a donation might prove more effective than the generic and all-inclusive "Make Alaska Better For Everyone" appeal that they used.
In an ideal world, charity is its own reward. In ours, it might help to remind somebody how warm and fuzzy they'll feel after donating to your cause.
Surprising Science
The 'Monkeydactyl' was a flying reptile that evolved highly specialized adaptations in the Mesozoic Era.
Scroll down to load more…