Scientific mystery: Man living with 90% of his brain missing
The man who lives a functional life with most of his brain filled with water challenges what we know about the brain.
16 July, 2016
A scan of the man missing 90% of his brain. Credit: Feuillet et al/The Lancet.
What we think we know about our brains is nothing compared to what we don't know. This fact is brought into focus by the medical mystery of a 44-year-old French father of two who found out one day that he had most of his brain missing. Instead his skull is mostly full of liquid, with almost no brain tissue left. He has a life-long condition known as hydrocephalus, commonly called "water on the brain" or "water head". It happens when too much cerebrospinal fluid puts pressure on the brain and the brain's cavities abnormally increase.
---
As Axel Cleeremans, a cognitive psychologist at the Université Libre in Brussels, who has lectured about this case, told CBC:
"He was living a normal life. He has a family. He works. His IQ was tested at the time of his complaint. This came out to be 84, which is slightly below the normal range … So, this person is not bright — but perfectly, socially apt".
The complaint Cleeremans refers to is the original reason the man sought help - he had leg pain. Imagine that - you go to your doctor with a leg cramp and get told that you're living without most of your brain.
The man continues to live a normal life, being a family man with a wife and kids, while working as a civil servant. All this while having 3 of his main brain cavities filled with only fluid and his brainstem and cerebellum stuck into a small space that they share with a cyst.
What can we learn from this rare case? As Cleeremans points out:
"One of the lessons is that plasticity is probably more pervasive than we thought it was… It is truly incredible that the brain can continue to function, more or less, within the normal range — with probably many fewer neurons than in a typical brain. Second lesson perhaps, if you're interested in consciousness — that is the manner in which the biological activity of the brain produces awareness... One idea that I'm defending is the idea that awareness depends on the brain's ability to learn."
The French man's story really challenges the idea that consciousness arises in one part of the brain only. Current theories hold that the part of the brain called the thalamus is responsible for our self-awareness. A man living with most of his brain missing does not fit neatly into such hypotheses.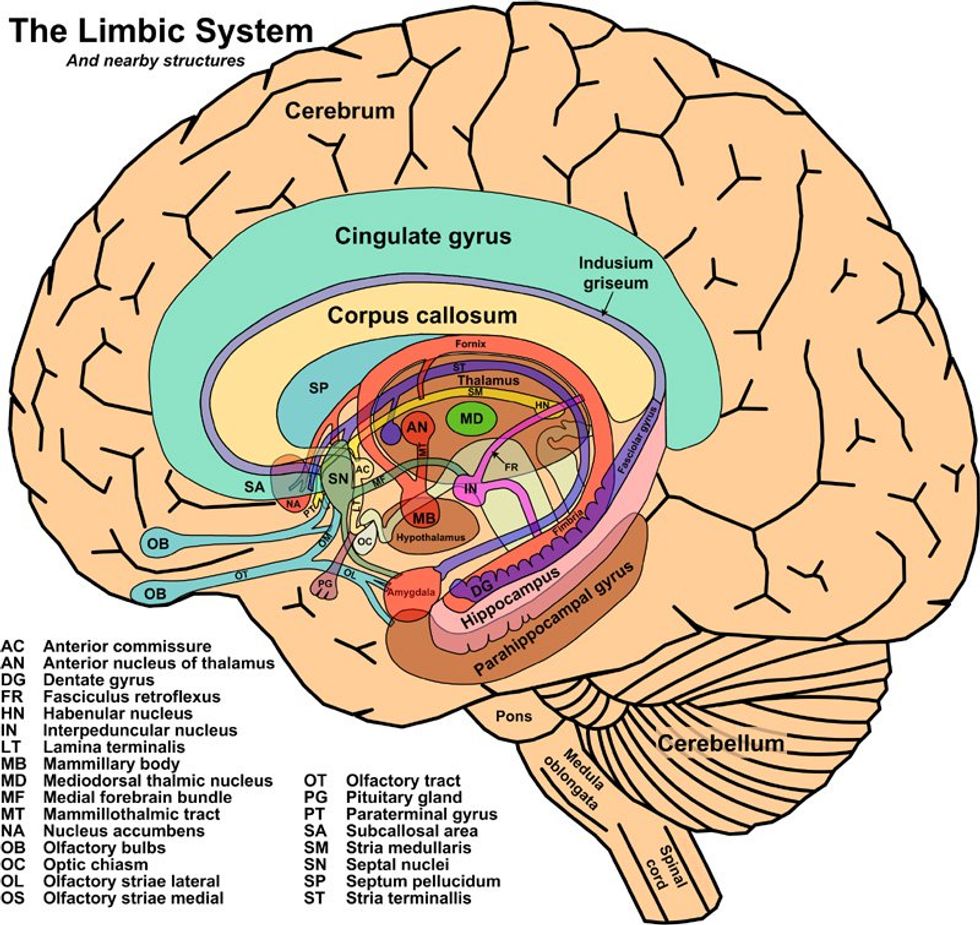 By John Taylor [Public domain], via Wikimedia Commons
Cleereman believes that the brain learns to be conscious. In his Thesis of Radical Plasticity, he claims that the brain constantly adapts and learns how to describe what it does to itself, not only knowing information, but knowing that it knows that information. If that conundrum wasn't enough for you, Cleeremens calls consciousness "the brain's theory about itself."
You can read the original study of this case in "The Lancet" here.
To create wiser adults, add empathy to the school curriculum.
Sponsored by Charles Koch Foundation
Stories are at the heart of learning, writes Cleary Vaughan-Lee, Executive Director for the Global Oneness Project. They have always challenged us to think beyond ourselves, expanding our experience and revealing deep truths.
Vaughan-Lee explains 6 ways that storytelling can foster empathy and deliver powerful learning experiences.
Global Oneness Project is a free library of stories—containing short documentaries, photo essays, and essays—that each contain a companion lesson plan and learning activities for students so they can expand their experience of the world.
Philosophers like to present their works as if everything before it was wrong. Sometimes, they even say they have ended the need for more philosophy. So, what happens when somebody realizes they were mistaken?
The inequalities impact everything from education to health.
ANGELA WEISS/AFP via Getty Images
Politics & Current Affairs
America is experiencing some of its most widespread civil unrest in years following the death of George Floyd.
Astrophysicist Michelle Thaller talks ISS and why NICER is so important.
Videos
Being outside of Earth's atmosphere while also being able to look down on the planet is both a challenge and a unique benefit for astronauts conducting important and innovative experiments aboard the International Space Station.
NASA astrophysicist Michelle Thaller explains why one such project, known as NICER (Neutron star Interior Composition Explorer), is "one of the most amazing discoveries of the last year."
Researchers used x-ray light data from NICER to map the surface of neutrons (the spinning remnants of dead stars 10-50 times the mass of our sun). Thaller explains how this data can be used to create a clock more accurate than any on Earth, as well as a GPS device that can be used anywhere in the galaxy.
Scroll down to load more…