Why the future of VR will be shaped by porn
Here's why the porn industry leads the way in developing virtual reality.
16 May, 2018
Say what you will about porn, but it has undeniably affected the development of the Internet. There from the start, porn has led to pioneering improvements in streaming video, online payment systems, and other features of e-commerce. Now, for a number of years, the industry has turned its focus to virtual reality and has been one of the principal engines of the spread and further innovation of this technology.
---
This link between VR and porn has not gone unnoticed by the public. 'VR porn' is the #1 search item that's associated with virtual reality, found a study by VRPorn.com. In other words, if you are searching for virtual reality, chances are you are searching for VR porn. The site VRPorn.com is, in fact, the top VR site by monthly visits, beating out Oculus.com, which sells the top equipment technology associated with VR—the Oculus Rift headset.
In an interview with the Huffington Post, Brian Shuster, the CEO of HoloGirls VR, a top studio for VR porn content, sees this dominance by the porn industry in the VR sector as natural since the producers of VR porn can "innovate and develop filming and CG techniques for a real customer base, and the result is that VR porn companies are years ahead of non-adult companies in our understanding of what customers want in VR, and how to create it. In turn, VR porn is the biggest thing in adult entertainment since the Internet itself."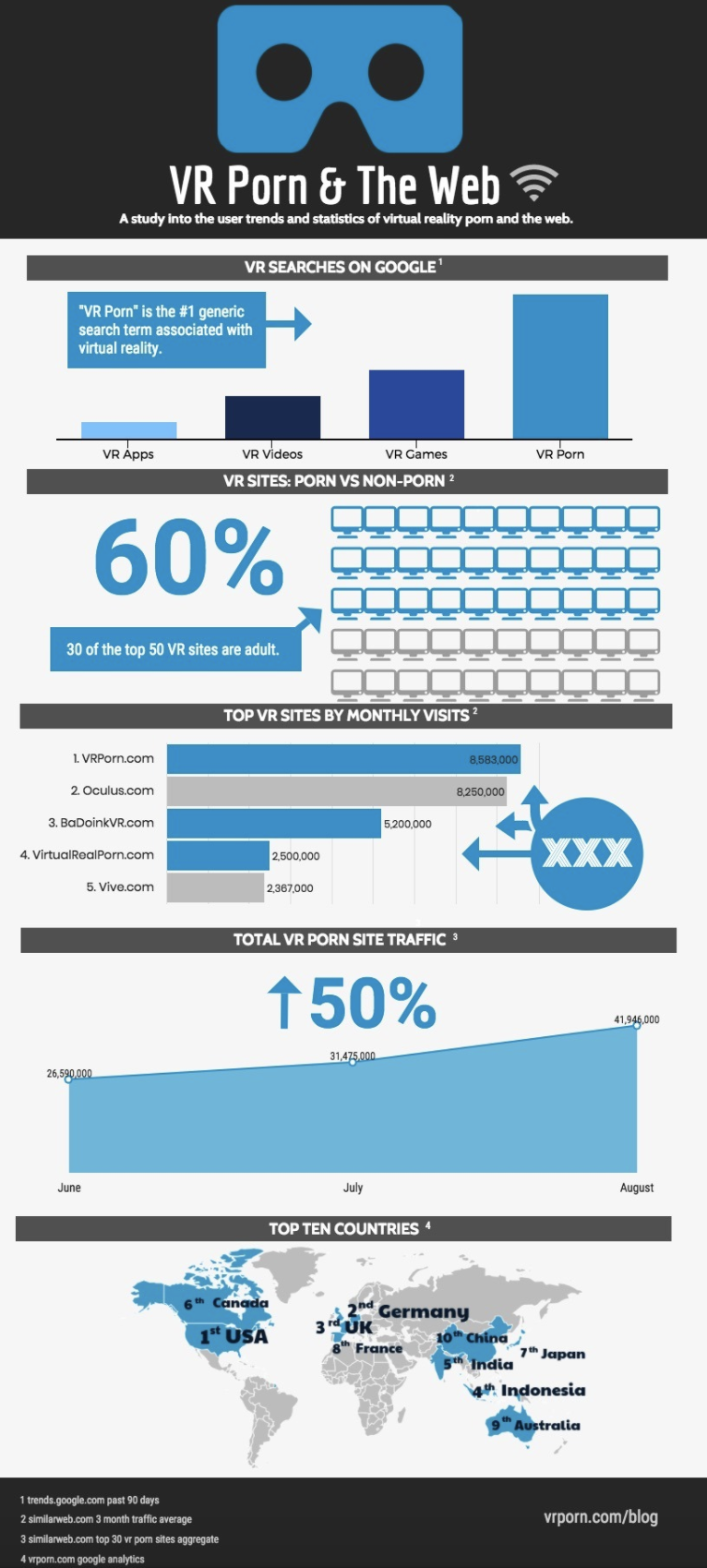 (Credit: VRporn.com)
The New York Times reported that according to the statistics from the porn juggernaut Pornhub.com, it averages about 500,000 views of VR porn on a daily basis. The numbers have shot up 275 percent since the feature debuted in 2016. And some days, like on Christmas, the numbers go up even more dramatically, as shows this graphic from Pornhub: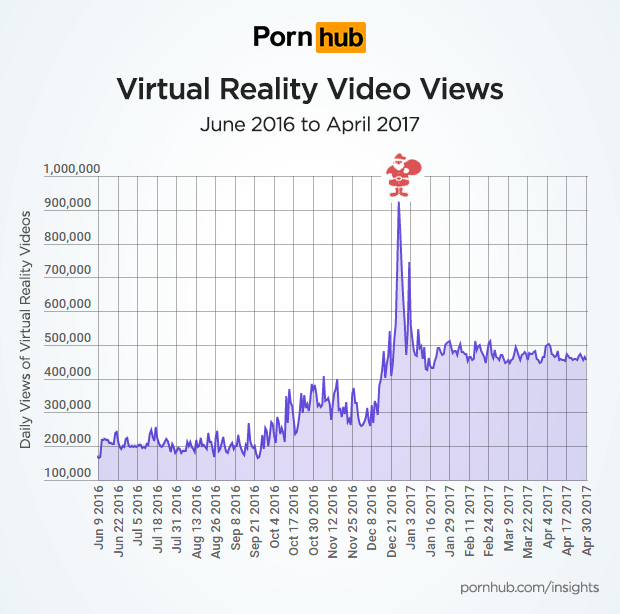 Porn will be the third largest section of VR by 2025, says a report from the investment and management firm Piper Jaffray. Video games and NFL content would be the only two industries ahead. Certainly, not many would be surprised if it turned out that porn was, in fact, the largest such VR section in the near future.  
"Sex sells, and where there is money to be made, there will be entrepreneurs who want to adopt it and make money from it," said Mark Kernes, senior editor at AVN Media Network that covers the industry, in an interview with The New York Times. He added that one way VR will spread will be for free, as some creators will offer it that way to increase clicks. 
As the reprinting of erotica helped popularize the early printing press, porn looks to drive innovation with virtual reality. Mr. Kernes is confident this is already happening, adding, "I'm pretty sure there is more porn VR out there than regular VR."
If you're wondering where VR is most popular, Thailand and Hong Kong appear to lead the way, report Pornhub statistics for 2017: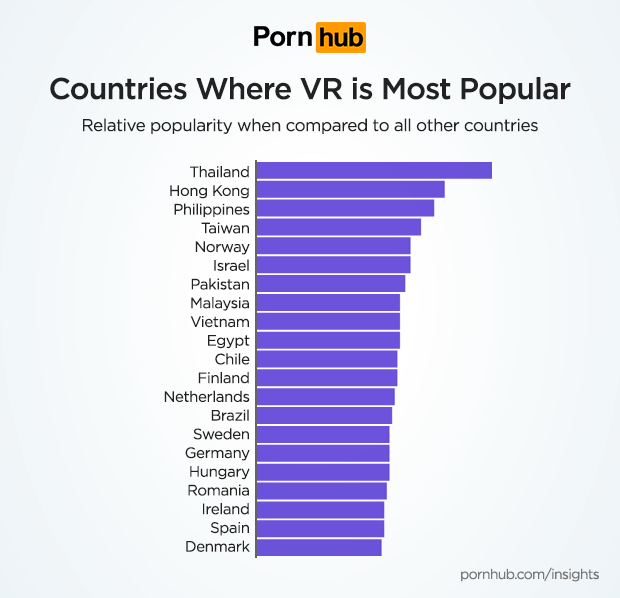 Among U.S. states, the greatest growth in VR porn popularity has been in Eastern states like New Hampshire, Vermont, Rhode Island and New Jersey. 
Why does porn seem like a good fit for VR? Virtual reality has been called the "empathy machine" for its ability to connect people to the action. The goal of a virtual reality sex experience is to make the viewer feel like they are there in the room, participating in the scene. Somatic psychologist Holly Richmond called this connection "neurological".
You aren't just watching and thinking about it," explained Richmond. "You are feeling it, and it's not just your genitals. There is literally a mind-body connection."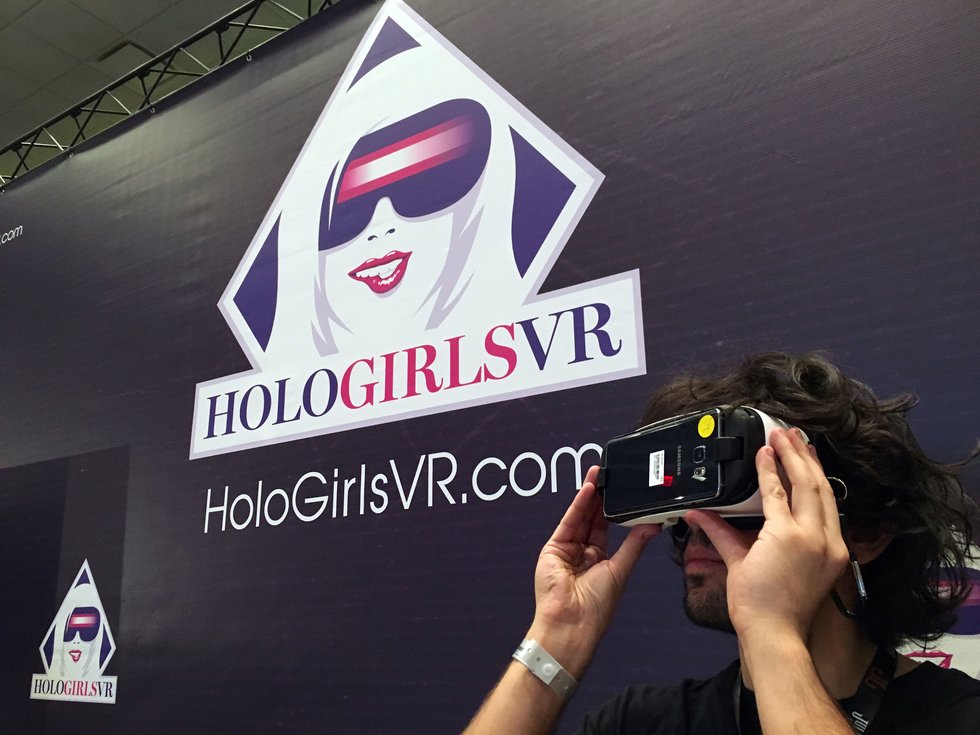 2016 Adult Entertainment Expo in Las Vegas. (Photo credit: JOHN M. GLIONNA/AFP/Getty Images)
Some worry that combining VR and sex will open up new avenues for abuse.  Bryony Cole, host of the Future of Sex podcast, thinks there will be new lines to consider:
"What are the lines between reality and fantasy and what can we do in this space?" asked Ms. Cole. "What does consent mean in virtual reality? Can you do something to your girlfriend in virtual reality that you wouldn't do in real life? If you are using someone's likeness in virtual reality, do you require their permission? And what about revenge porn? That will be even harsher in virtual reality," she says to the Times. 
And what would cheating mean in the age of VR if, let's say, you are caught in a VR space with an exact reproduction of somebody other than your significant other? While the VR technology is sure to continue to change us and offer us new challenges in exchange for new possibilities, one thing is for sure: porn will be a part of its future.
The most powerful editors in the world? Algorithms.
It isn't mind over matter as much as mind properly working with matter.
DENVER, CO - MAY 16: Brian and Monica Folts workout on treadmills at Colorado Athletic Club Tabor Center on May 16, 2018 in Denver, Colorado. The couple runs marathons and compete in Ironman triathlons and train on on treadmills. (Photo by RJ Sangosti/The Denver Post via Getty Images)
Mind & Brain
A new Stanford study finds believing you have genetic predispositions for obesity and low exercise endurance changes your physiology.
Participants told they had a protective obesity gene had a better response than those told they did not, even if they did not actually have the gene.
Runners performed poorly after learning they did not have the gene for endurance, even if they actually have the gene.
The findings of the controversial study flew in the face of past research on ice gains in Antarctica.
NASA
Politics & Current Affairs
A 2015 NASA study caused major controversy by claiming that Antarctica was gaining more ice than it was losing.
The study said that ice gains in East Antarctica were effectively canceling out ice losses in the western region of the continent.
Since 2015, multiple studies have shown that Antarctica is losing more ice than it's gaining, though the 2015 study remains a favorite of climate change doubters to this day.
Big think's weekly newsletter.
Get smarter faster from the comfort of your inbox.
See our newsletter privacy policy
here
Most Popular
Most Recent
Big think's weekly newsletter.
Get smarter faster from the comfort of your inbox.
See our newsletter privacy policy
here
© Copyright 2007-2018 & BIG THINK, BIG THINK EDGE,
SMARTER FASTER trademarks owned by The Big Think, Inc. All rights reserved.