Why the future of VR will be shaped by porn
Here's why the porn industry leads the way in developing virtual reality.
16 May, 2018
The porn industry leads the way in developing virtual reality. (Credit: Getty Images/Thinkstock)
Say what you will about porn, but it has undeniably affected the development of the Internet. There from the start, porn has led to pioneering improvements in streaming video, online payment systems, and other features of e-commerce. Now, for a number of years, the industry has turned its focus to virtual reality and has been one of the principal engines of the spread and further innovation of this technology.
---
This link between VR and porn has not gone unnoticed by the public. 'VR porn' is the #1 search item that's associated with virtual reality, found a study by VRPorn.com. In other words, if you are searching for virtual reality, chances are you are searching for VR porn. The site VRPorn.com is, in fact, the top VR site by monthly visits, beating out Oculus.com, which sells the top equipment technology associated with VR—the Oculus Rift headset.
In an interview with the Huffington Post, Brian Shuster, the CEO of HoloGirls VR, a top studio for VR porn content, sees this dominance by the porn industry in the VR sector as natural since the producers of VR porn can "innovate and develop filming and CG techniques for a real customer base, and the result is that VR porn companies are years ahead of non-adult companies in our understanding of what customers want in VR, and how to create it. In turn, VR porn is the biggest thing in adult entertainment since the Internet itself."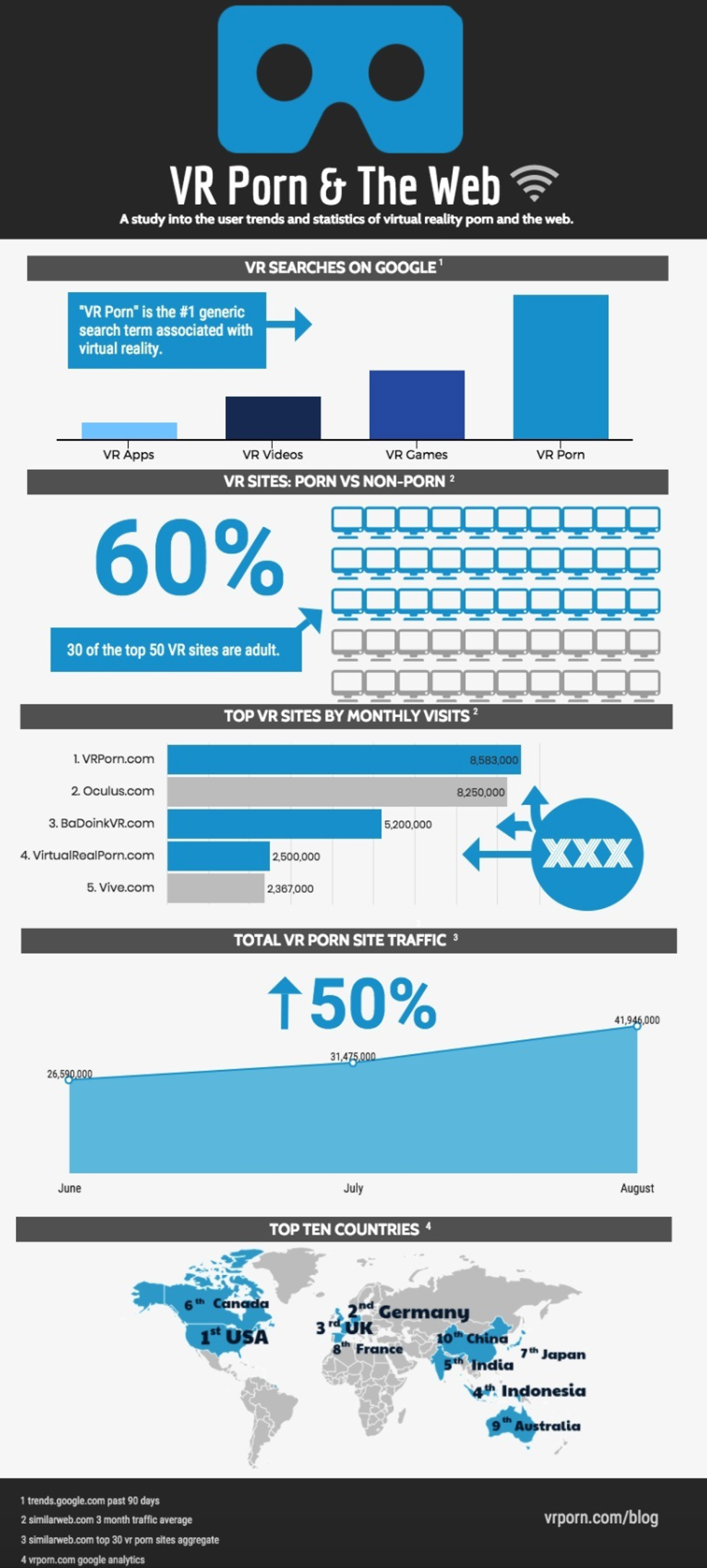 (Credit: VRporn.com)
The New York Times reported that according to the statistics from the porn juggernaut Pornhub.com, it averages about 500,000 views of VR porn on a daily basis. The numbers have shot up 275 percent since the feature debuted in 2016. And some days, like on Christmas, the numbers go up even more dramatically, as shows this graphic from Pornhub: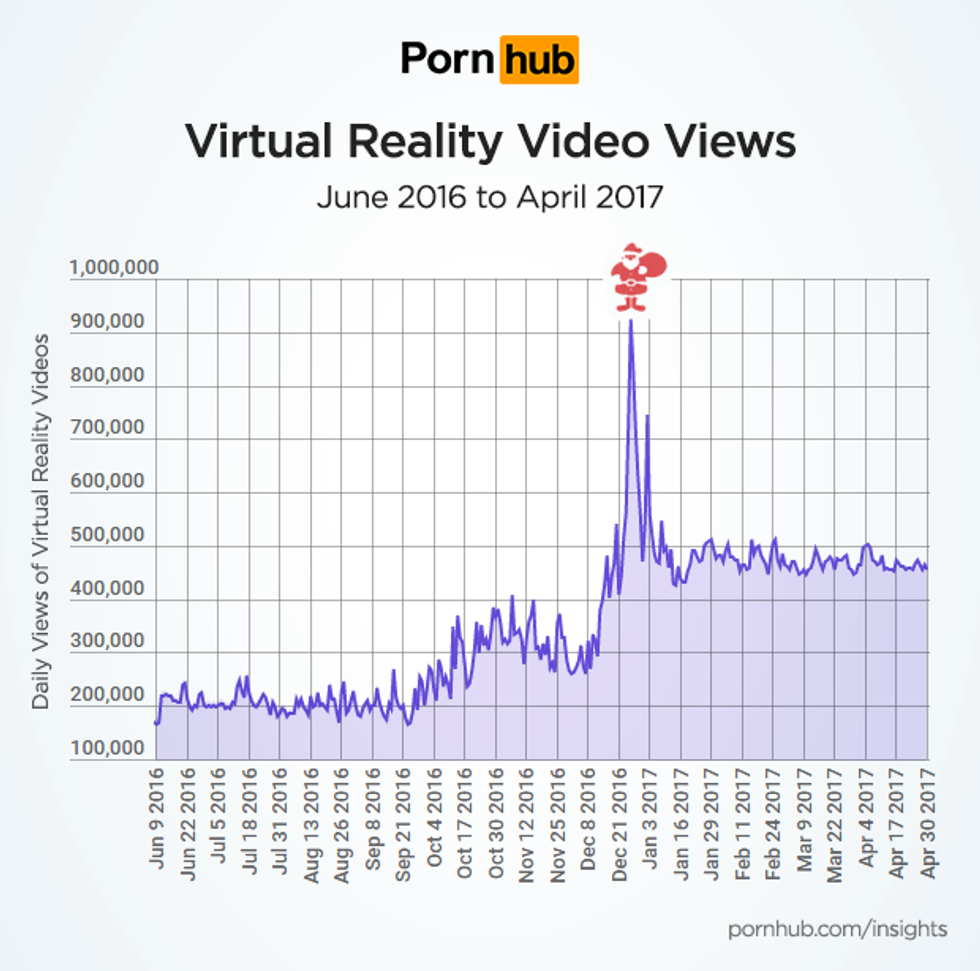 Porn will be the third largest section of VR by 2025, says a report from the investment and management firm Piper Jaffray. Video games and NFL content would be the only two industries ahead. Certainly, not many would be surprised if it turned out that porn was, in fact, the largest such VR section in the near future.  
"Sex sells, and where there is money to be made, there will be entrepreneurs who want to adopt it and make money from it," said Mark Kernes, senior editor at AVN Media Network that covers the industry, in an interview with The New York Times. He added that one way VR will spread will be for free, as some creators will offer it that way to increase clicks. 
As the reprinting of erotica helped popularize the early printing press, porn looks to drive innovation with virtual reality. Mr. Kernes is confident this is already happening, adding, "I'm pretty sure there is more porn VR out there than regular VR."
If you're wondering where VR is most popular, Thailand and Hong Kong appear to lead the way, report Pornhub statistics for 2017: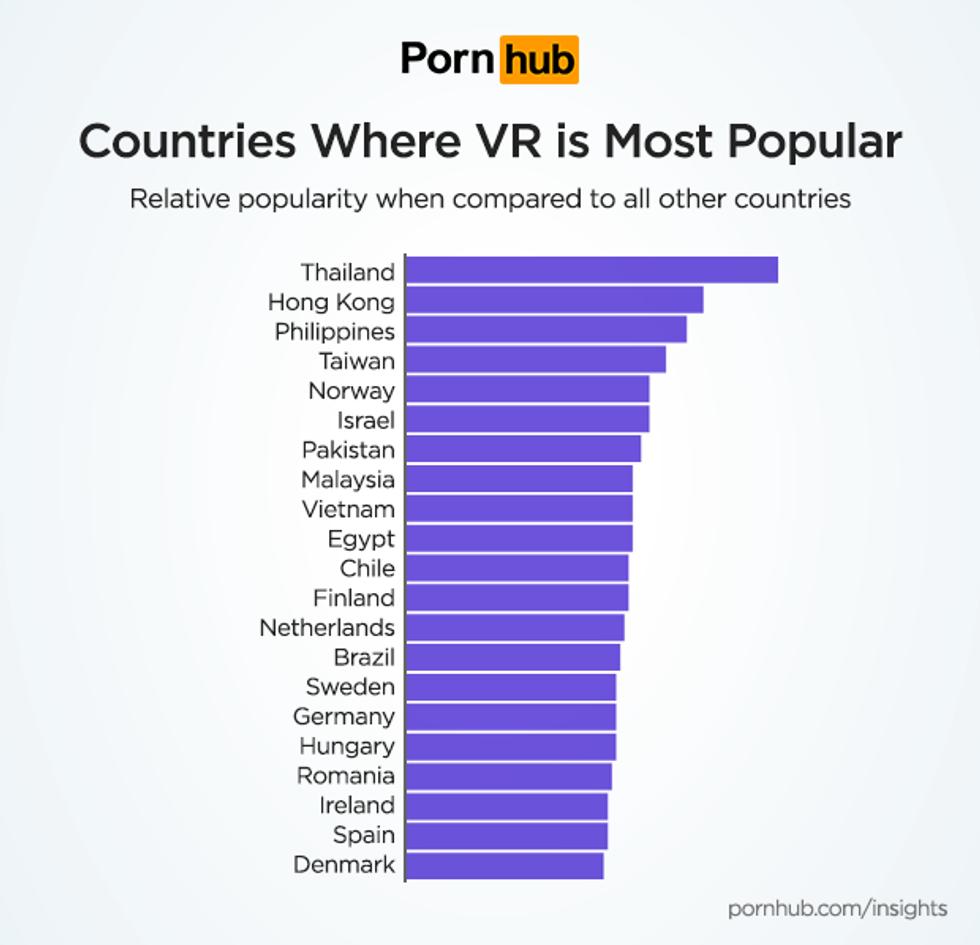 Among U.S. states, the greatest growth in VR porn popularity has been in Eastern states like New Hampshire, Vermont, Rhode Island and New Jersey. 
Why does porn seem like a good fit for VR? Virtual reality has been called the "empathy machine" for its ability to connect people to the action. The goal of a virtual reality sex experience is to make the viewer feel like they are there in the room, participating in the scene. Somatic psychologist Holly Richmond called this connection "neurological".
You aren't just watching and thinking about it," explained Richmond. "You are feeling it, and it's not just your genitals. There is literally a mind-body connection."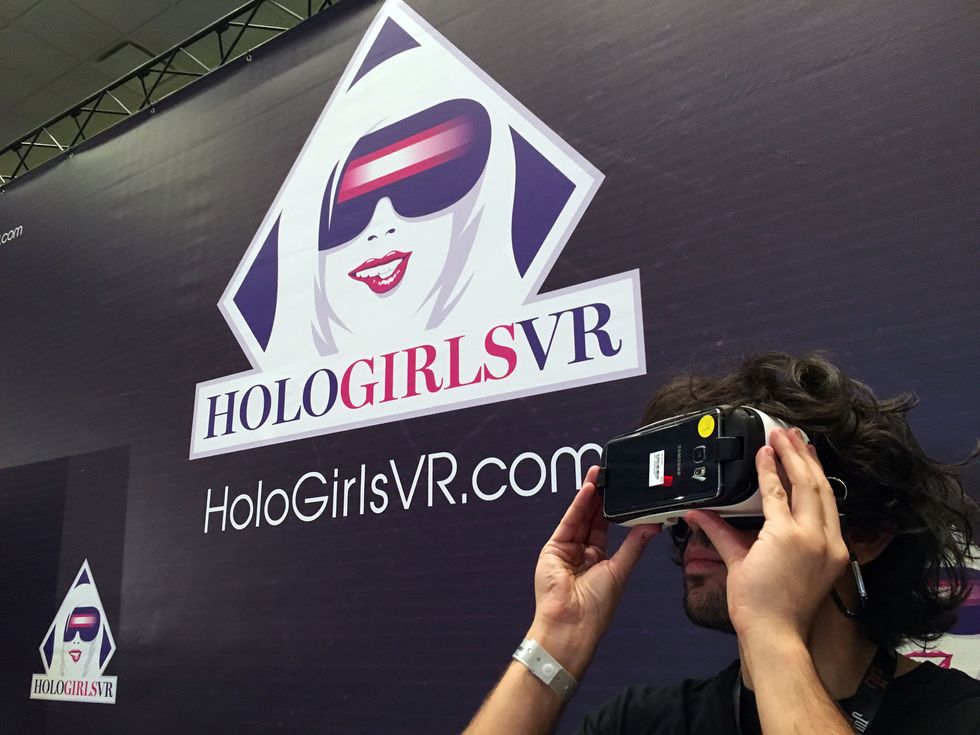 2016 Adult Entertainment Expo in Las Vegas. (Photo credit: JOHN M. GLIONNA/AFP/Getty Images)
Some worry that combining VR and sex will open up new avenues for abuse.  Bryony Cole, host of the Future of Sex podcast, thinks there will be new lines to consider:
"What are the lines between reality and fantasy and what can we do in this space?" asked Ms. Cole. "What does consent mean in virtual reality? Can you do something to your girlfriend in virtual reality that you wouldn't do in real life? If you are using someone's likeness in virtual reality, do you require their permission? And what about revenge porn? That will be even harsher in virtual reality," she says to the Times. 
And what would cheating mean in the age of VR if, let's say, you are caught in a VR space with an exact reproduction of somebody other than your significant other? While the VR technology is sure to continue to change us and offer us new challenges in exchange for new possibilities, one thing is for sure: porn will be a part of its future.
To create wiser adults, add empathy to the school curriculum.
Sponsored by Charles Koch Foundation
Stories are at the heart of learning, writes Cleary Vaughan-Lee, Executive Director for the Global Oneness Project. They have always challenged us to think beyond ourselves, expanding our experience and revealing deep truths.
Vaughan-Lee explains 6 ways that storytelling can foster empathy and deliver powerful learning experiences.
Global Oneness Project is a free library of stories—containing short documentaries, photo essays, and essays—that each contain a companion lesson plan and learning activities for students so they can expand their experience of the world.
Philosophers like to present their works as if everything before it was wrong. Sometimes, they even say they have ended the need for more philosophy. So, what happens when somebody realizes they were mistaken?
Numerous U.S. Presidents invoked the Insurrection Act to to quell race and labor riots.
Photo by Michael Ochs Archives/Getty Images
Politics & Current Affairs
U.S. Presidents have invoked the Insurrection Act on numerous occasions.
The controversial law gives the President some power to bring in troops to police the American people.
The Act has been used mainly to restore order following race and labor riots.
It looks like a busy hurricane season ahead. Probably.
Surprising Science
Before the hurricane season even started in 2020, Arthur and Bertha had already blown through, and Cristobal may be brewing right now.
Weather forecasters see signs of a rough season ahead, with just a couple of reasons why maybe not.
Where's an El Niño when you need one?
Welcome to Hurricane Season 2020. 2020, of course, scoffs at this calendric event much as it has everything else that's normal — meteorologists have already used up the year's A and B storm names before we even got here. And while early storms don't necessarily mean a bruising season ahead, forecasters expect an active season this year. Maybe storms will blow away the murder hornets and 13-year locusts we had planned.
NOAA expects a busy season
According to NOAA's Climate Prediction Center, an agency of the National Weather Service, there's a 60 percent chance that we're embarking upon a season with more storms than normal. There does, however, remain a 30 percent it'll be normal. Better than usual? Unlikely: Just a 10 percent chance.
Where a normal hurricane season has an average of 12 named storms, 6 of which become hurricanes and 3 of which are major hurricanes, the Climate Prediction Center reckons we're on track for 13 to 29 storms, 6 to 10 of which will become hurricanes, and 3 to 6 of these will be category 3, 4, or 5, packing winds of 111 mph or higher.
What has forecasters concerned are two factors in particular.
This year's El Niño ("Little Boy") looks to be more of a La Niña ("Little Girl"). The two conditions are part of what's called the El Niño-Southern Oscillation (ENSO) cycle, which describes temperature fluctuations between the ocean and atmosphere in the east-central Equatorial Pacific. With an El Niño, waters in the Pacific are unusually warm, whereas a La Niña means unusually cool waters. NOAA says that an El Niño can suppress hurricane formation in the Atlantic, and this year that mitigating effect is unlikely to be present.
Second, current conditions in the Atlantic and Caribbean suggest a fertile hurricane environment:
The ocean there is warmer than usual.
There's reduced vertical wind shear.
Atlantic tropical trade winds are weak.
There have been strong West African monsoons this year.
Here's NOAA's video laying out their forecast:
But wait.
ArsTechnica spoke to hurricane scientist Phil Klotzbach, who agrees generally with NOAA, saying, "All in all, signs are certainly pointing towards an active season." Still, he notes a couple of signals that contradict that worrying outlook.
First off, Klotzbach notes that the surest sign of a rough hurricane season is when its earliest storms form in the deep tropics south of 25°N and east of the Lesser Antilles. "When you get storm formations here prior to June 1, it's typically a harbinger of an extremely active season." Fortunately, this year's hurricanes Arthur and Bertha, as well as the maybe-imminent Cristobal, formed outside this region. So there's that.
Second, Klotzbach notes that the correlation between early storm activity and a season's number of storms and intensities, is actually slightly negative. So while statistical connections aren't strongly predictive, there's at least some reason to think these early storms may augur an easy season ahead.
Image source: NOAA
Batten down the hatches early
If 2020's taught us anything, it's how to juggle multiple crises at once, and layering an active hurricane season on top of SARS-CoV-2 — not to mention everything else — poses a special challenge. Warns Treasury Secretary Wilbur Ross, "As Americans focus their attention on a safe and healthy reopening of our country, it remains critically important that we also remember to make the necessary preparations for the upcoming hurricane season." If, as many medical experts expect, we're forced back into quarantine by additional coronavirus waves, the oceanic waves slamming against our shores will best be met by storm preparations put in place in a less last-minute fashion than usual.
Ross adds, "Just as in years past, NOAA experts will stay ahead of developing hurricanes and tropical storms and provide the forecasts and warnings we depend on to stay safe."
Let's hope this, at least, can be counted on in this crazy year.
Technology & Innovation
Got any embarrassing old posts collecting dust on your profile? Facebook wants to help you delete them.
Scroll down to load more…