Big ideas.
Once a week.
Subscribe to our weekly newsletter.
America's 10 most popular conspiracy theories
America's most popular conspiracy theories and the science behind them.
19 March, 2017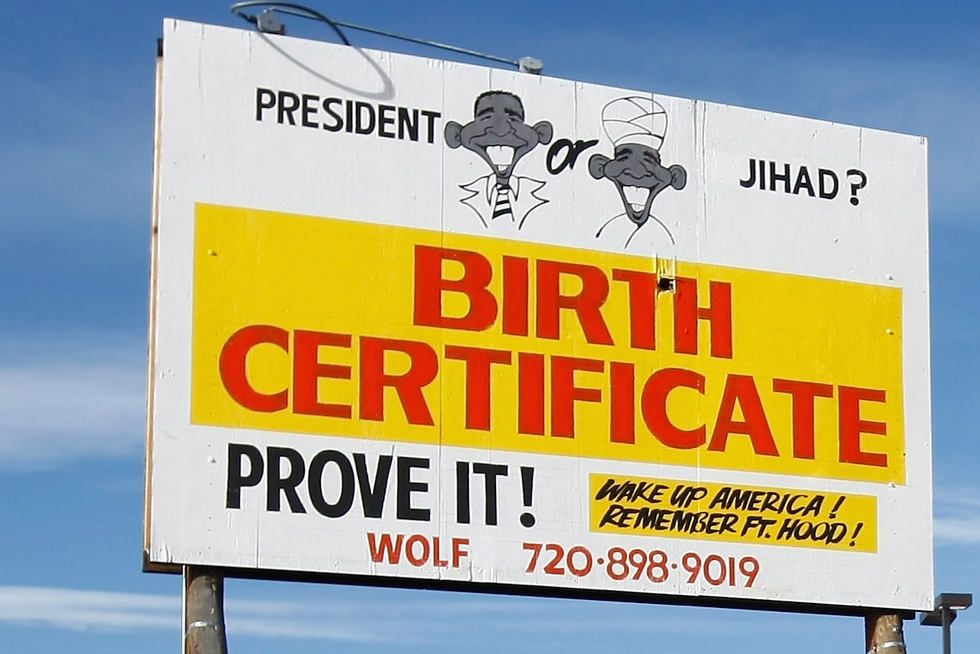 Phil Wolf, owner of Wolf Automotive used car dealership, paid $2,500 to install this "birther" billboard. (Photo by John Moore/Getty Images)
Why do people believe in conspiracy theories?
---
First of all, it's not just a few loners on the internet—prior research indicates that half the American public believes in at least one conspiracy theory in any given year.
Political scientists Eric Oliver and Thomas Wood, who studied the subject, defined a conspiracy theory as "an explanation that makes reference to hidden, malevolent forces seeking to advance some nefarious aim." A conspiracy theory does not have to be untrue, but it is sure to contradict the usual, popularly-accepted version of the same event or phenomena.
Once a conspiracy theory becomes the accepted explanation, it stops being a conspiracy theory and becomes a fact of history. This certainly is one reason people continue to believe—they hope their views will eventually be proven right.
Some have viewed conspiracy theories as a particular affectation of the American right, with President Trump being both a proponent and target of a number of conspiracy theories. Historian Richard J. Hofstadter's influential essay "The Paranoid Style in American Politics" described a paranoid strain that runs through the thinking of far right politicians in America's history that can be still discerned today. This approach views all of history as a "vast and sinister" conspiracy of sorts, whose "gigantic and yet subtle machinery of influence set in motion to undermine and destroy a way of life". This rather apocalyptic way of belief sees the world in constant turmoil, where only the one who understands the conspiracy can defend the attacked way of life, destroy the enemy and save humanity.
Modern researchers, however, challenge the view that conspiracies are an exclusively rightwing feature, seeing such theories as a kind of magical thinking that allows people from all walks of life and political persuasions to cope with complex emotions, often brought on by an inexplicable event.
Certainly, in the wake of President Trump's victory, there's been no shortage of conspiracy theories that sprang up on the left. Such an occasion can trigger people to look for patterns, to make sense of an emotional upheaval. But the mental shortcuts that we use when searching for patterns (called heuristics) can often find relationships between things and events that aren't necessarily there. An explanation that includes such heuristics can feel very compelling and emotionally satisfying.
The view that people believe in conspiracies when they feel a lack of control was studied by Professor Galinsky:
"The less control people have over their lives, the more likely they are to try and regain control through mental gymnastics," explained Galinsky. "Feelings of control are so important to people that a lack of control is inherently threatening. While some misperceptions can be bad or lead one astray, they're extremely common and most likely satisfy a deep and enduring psychological need."

This understanding can also lead to a strategy for combatting conspiracy theories, as studied by the Dutch researcher Jan-Willem van Prooijen.
"We found that if you give people a feeling of control, then they are less inclined to believe those conspiracy theories," said van Prooijen. "Giving people a sense of control can make them less suspicious over governmental operations."

Another recent theory posed by researchers actually sees conspiracy talk as a way to bolster the status quo. Potential existence of conspiracies can allow people to have a positive feeling about the society they live in when that social system is threatened. This way if something happens that is out of line with their views (like the election of Donald Trump was for many), people can blame a few bad apples instead of coming to feel like their whole country is against them. Although Russia's interference in the United States 2016 presidential election is proving to be true—a conspiracy that may soon enter history as fact.
Here are some of the most common conspiracy theories of the recent past:
1. Secret Group Controlling World - this conspiracy proposes that a secret group called the Iluminati has been really controlling the world and is looking to create a one world government. Their end-goal is supposedly to create the New World Order, which will dissolve national boundaries and people's identities, while allowing for total authoritarian control.
A version of this theory also sees other groups in a similar position of world domination - the Freemasons, the Jewish people, the Bilderberg Group or the "globalists" that are often invoked in rightwing media outlets like Alex Jones and Breitbart News. President Trump himself mentions "globalists" and invokes fighting against insidious "elites" as a battle cry for his base.
2. President Obama Wasn't Born in the U.S. and May Be a Secret Muslim - this untrue proposition was famously championed on Twitter and elsewhere by the current President Donald Trump. The theory that Barack Obama was actually born in Kenya and is not a natural-born citizen (and thus ineligible for U.S. Presidency) was used to delegitimize President Obama.
Despite Obama producing a long-form birth certificate to placate the doubters, showing that he was born in Hawaii to a Kenyan father and an American mother, 72% of Republicans in a 2016 NBC News/SurveyMonkey poll still expressed skepticism about the President's place of birth.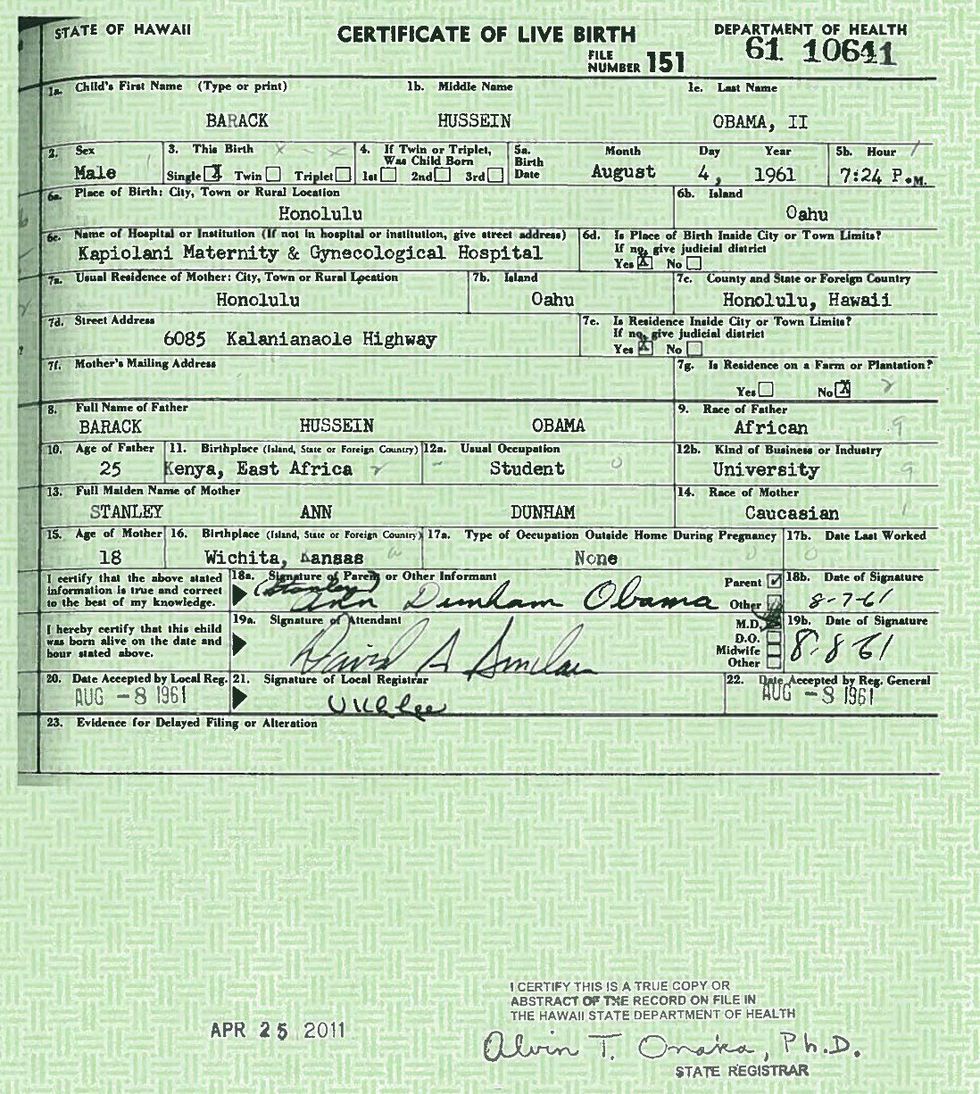 President Obama's long-form birth certificate.
Another aspect of this conspiracy alleges that Obama is actually a Muslim, although he is a very well-documented Christian. This idea is fueled by Obama living with his Muslim father as a baby and speaks to the anti-Muslim fears stoked by politicians and talkshow hosts.
3. The Attacks on 9/11 Were an Inside Job - a community of "truthers" has emerged around the idea that the terrorist attacks on 9/11 were actually orchestrated by the U.S. government, stemming from the White House itself. They believe the Bush administration had advanced knowledge of the attacks and allowed them to happen so they could invade Iraq and advance their agenda.
The "truthers" claim that jet fuel from the planes was not enough to melt the steel beams of the World Trade Center towers, which were actually brought down by a controlled demolition.
This theory was, of course, widely debunked but continues to live on. One reason for the idea's longevity is that historical facts did prove that the war in Iraq was justified using incorrect information about the supposed existence of weapons of mass destruction.
4. Lizard People aka "Reptilians" Are Running the World - this is a very sci-fi, Hollywood variation on secret groups controlling us, famously championed by David Icke, a professional conspiracy theorist from Britain, who is also a big player in the "truther" movement. The idea also has support from 12 million Americans, according to a 2013 national survey.
What they believe is that the top echelon of our government is actually controlled by shape-shifting reptilian aliens, who have been lording power over humans to make them into mindless slaves for their own purposes.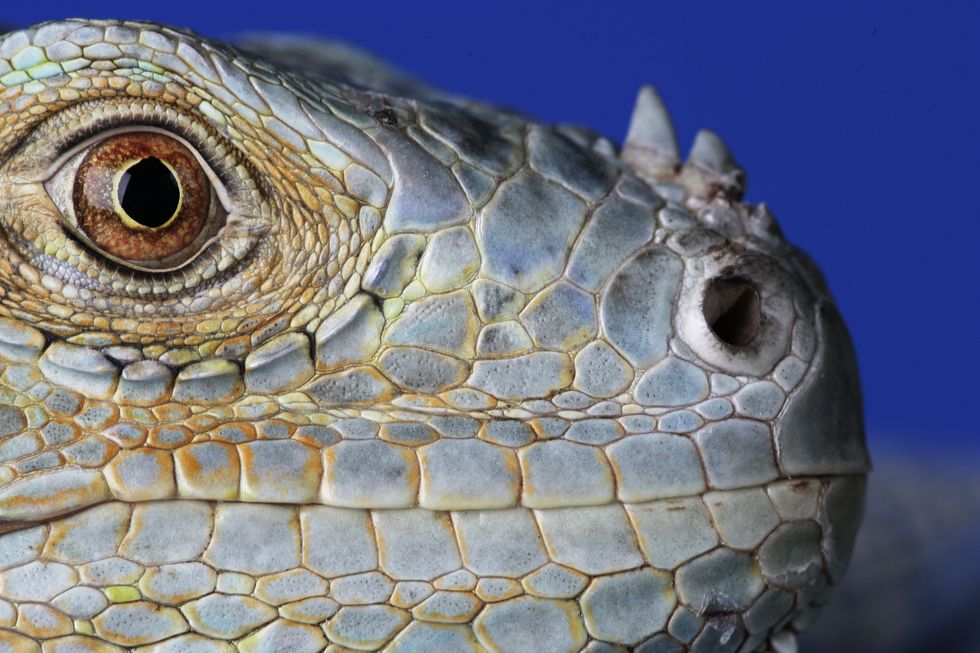 Photo taken 17 January 2005 in Amsterdam, of an iguana's head. (Photo credit: GABRIEL BOUYS/AFP/Getty Images)
5. JFK Assassination
51% of Americans believed that there was a conspiracy behind the assassination of President John F. Kennedy in a large national survey in 2013. The popularity of this particular theory stems from the horrific murder in 1963 of President Kennedy and the subsequent lack of a clear, satisfying explanation for who was really behind it.
While the shooter Lee Harvey Oswald got the official blame, parties as divergent as the CIA, KGB, or the mob have been implicated in the public consciousness. The particulars of the theory focus on analyzing whether there was just one gunman and if more shots were fired than officially claimed.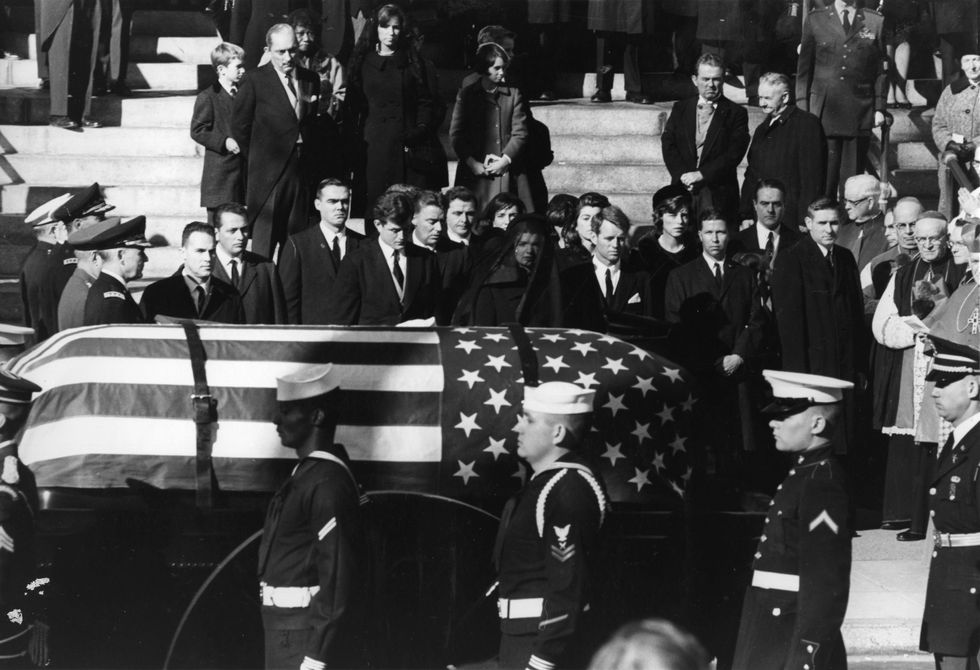 Photo: Jacqueline Kennedy, Edward Kennedy and Robert Kennedy stand as the coffin of President John Fitzgerald Kennedy passes them. (Photo by Keystone/Getty Images)
6. Aliens Are Contacting Us - a variety of events come under the rubric of beliefs in alien contact. Among these are mysteries like the alleged 1947 crash of a flying saucer in Roswell, New Mexico. The ensuing government coverup of that incident supposedly links to Area 51, a top-secret military base where experimental research is carried out, giving rise to rumors that the studies are actually on aliens and their technology.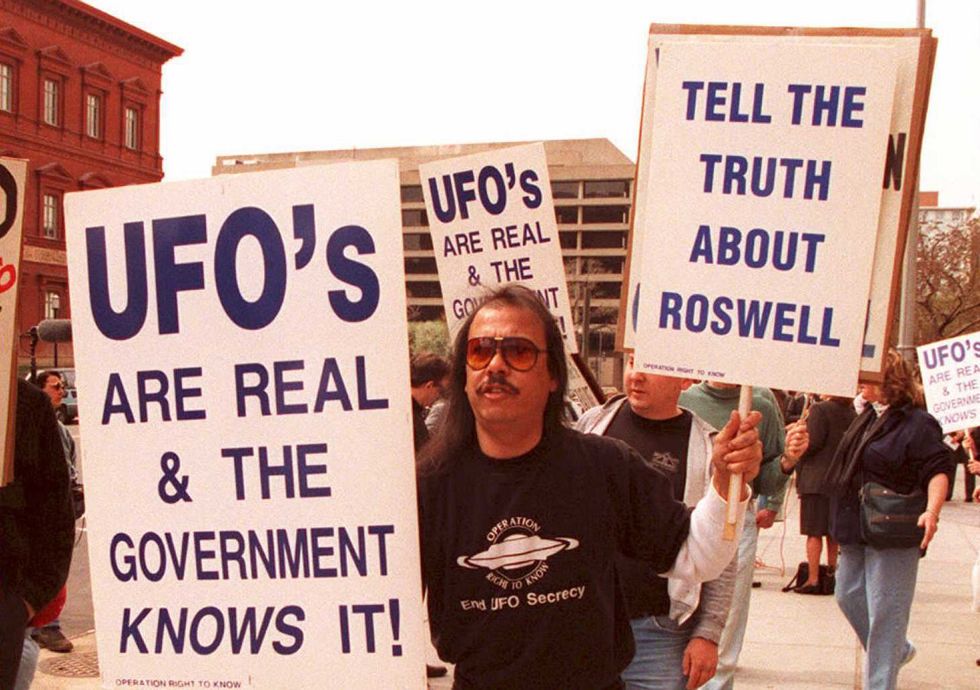 A group of protestors march in front of the General Accounting Office (GAO) 29 March to raise awareness about an examination being conducted by the GAO for documents about a weather balloon crash at Roswell, N.M. in 1947. The protestors believe the balloon was a crashed UFO.(Photo credit: JOSHUA ROBERTS/AFP/Getty Images)
Believing in UFOs is definitely one of the most widespread alternative beliefs, with ongoing explorations of the topic in cultural products and a steady stream of first-person claims that are spread through the Internet.
7. The Moon Landing Was Faked - one of the most significant scientific and political achievements of the last century, landing on the moon, often comes under attack.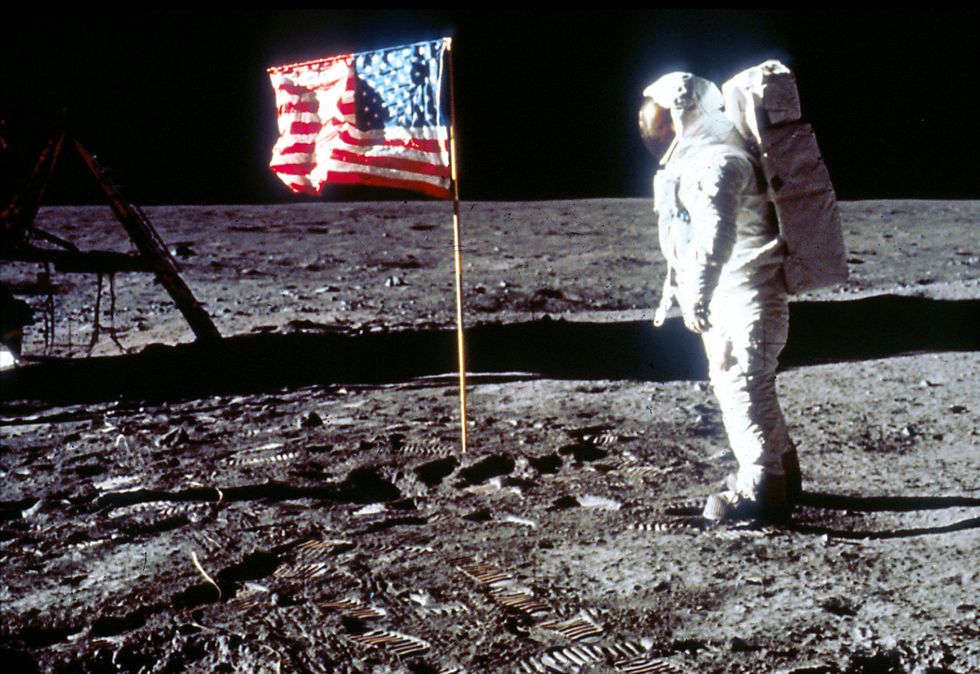 Photo: Astronaut Edwin 'Buzz' Aldrin poses next to the U.S. flag July 20, 1969 on the moon during the Apollo 11 mission. (Photo by NASA/Liaison)
Some people believe that the landing did not happen and its appearance was orchestrated by NASA/American government as part of the Cold War, to raise national pride and one up the arch-rival Soviet Union.
Supporters of the idea point to such things as the flag appearing to move in photos from the moon, something that should not happen as there is no wind in space. This was disproved by pointing out that the flag only appears to move during the moment of unfurling, something which would happen even without wind.
A variation of this theory even goes so far as to say that the famous film director Stanley Kubrick was the creative mastermind of the fake footage of the landing.
8. FDA is Withholding the Cure for Cancer - this idea maintains that the FDA and Big Pharmaactually figured out how to cure cancer a while back, but are not making the medicine available. While Big Pharma has not made itself many friends among the public, there is no evidence that such a vast conspiracy is possible as it would require the participation of thousands if not millions of people in both for-profit and non-profit sectors. It makes more sense that selling the cure would actually make more money. It's also hard to believe that these evil medical professionals would not use the cures on themselves and their families, a fact that would likely come to light eventually.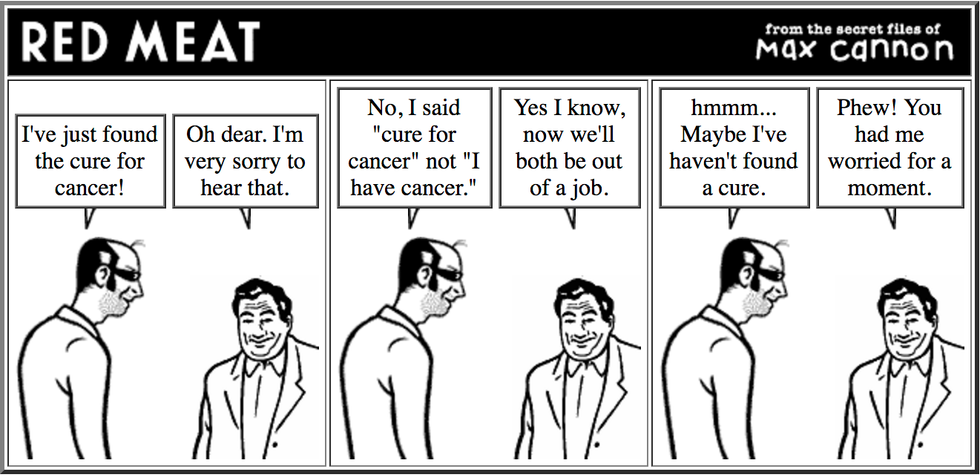 9. Chemtrails - another conspiracy theory mainstay, this idea says that the trails you can spot in the sky behind planes are actually "chemtrails" - some kind of chemical sprayed by the government to control the population. Of course, the trails are just "contrails," created by the combination of vapor from the plane's engine combined with low temperatures at night altitudes.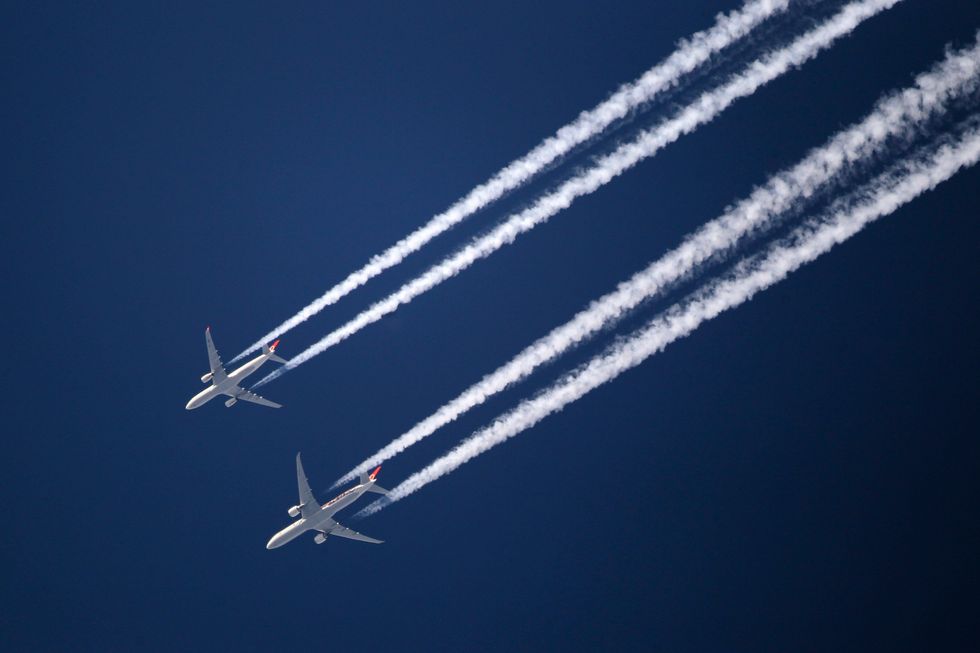 Photo: Two commercial airliners appear to fly close together as the pass over London on March 12, 2012 in London, England. (Photo by Dan Kitwood/Getty Images)
10. The Holocaust Did Not Happen - you would think there's no doubting a well-documented historical fact of 6 million Jews being exterminated by German Nazis in the recent past, supported by thousands of photos, films and first-hand accounts, but there are some people who believe the Holocaust did not happen.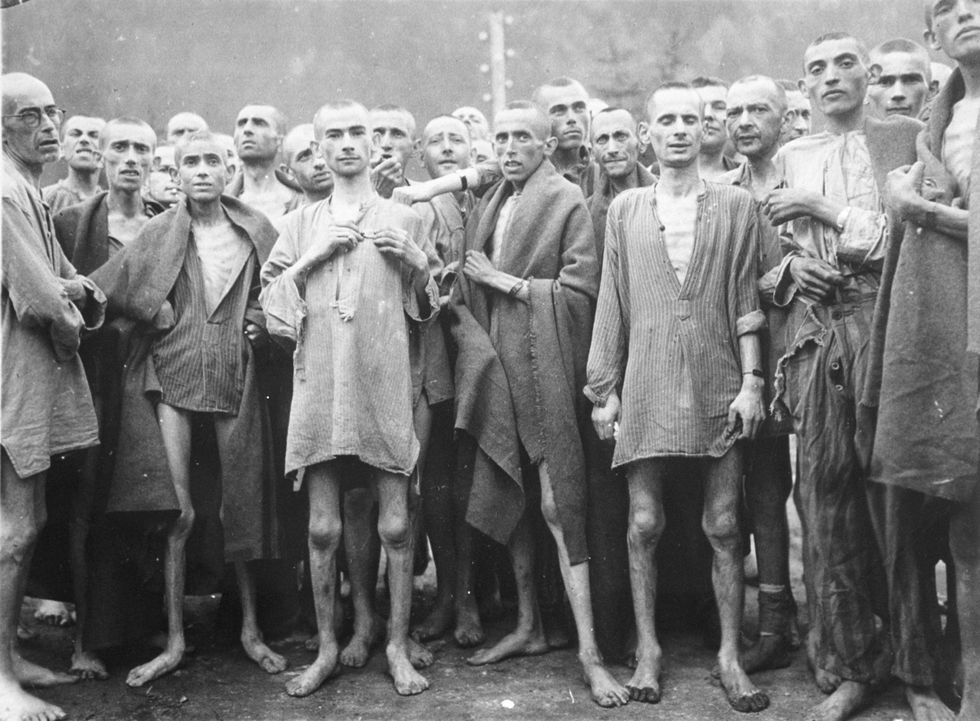 Photo: Starved prisoners, nearly dead from hunger, pose in concentration camp May 7, 1945 in Ebensee, Austria. The camp was reputedly used for 'scientific' experiments. (Courtesy of the National Archives/Newsmakers)
Only about 54% of the world's population has heard of the Holocaust, according to a large 100-country survey by the Anti-Defamation League. And only a third of those who've heard of it believe the Holocaust is portrayed correctly.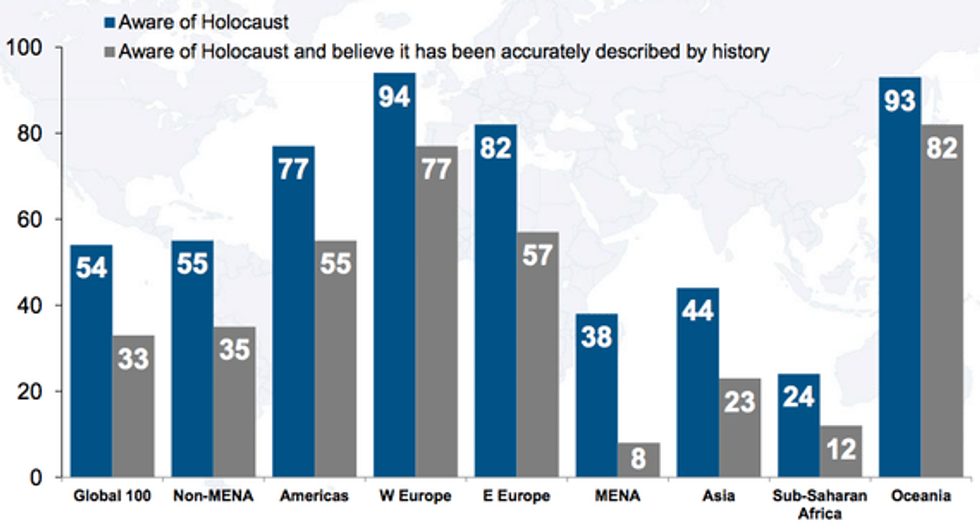 Given political realities, it's not a surprise that only 8% of responders in the Middle East heard of the Holocaust and believed its description was true.
Certain water beetles can escape from frogs after being consumed.
Surprising Science
A Japanese scientist shows that some beetles can wiggle out of frog's butts after being eaten whole.
The research suggests the beetle can get out in as little as 7 minutes.
Most of the beetles swallowed in the experiment survived with no complications after being excreted.
In what is perhaps one of the weirdest experiments ever that comes from the category of "why did anyone need to know this?" scientists have proven that the Regimbartia attenuata beetle can climb out of a frog's butt after being eaten.
The research was carried out by Kobe University ecologist Shinji Sugiura. His team found that the majority of beetles swallowed by black-spotted pond frogs (Pelophylax nigromaculatus) used in their experiment managed to escape about 6 hours after and were perfectly fine.
"Here, I report active escape of the aquatic beetle R. attenuata from the vents of five frog species via the digestive tract," writes Sugiura in a new paper, adding "although adult beetles were easily eaten by frogs, 90 percent of swallowed beetles were excreted within six hours after being eaten and, surprisingly, were still alive."
One bug even got out in as little as 7 minutes.

Sugiura also tried putting wax on the legs of some of the beetles, preventing them from moving. These ones were not able to make it out alive, taking from 38 to 150 hours to be digested.
Naturally, as anyone would upon encountering such a story, you're wondering where's the video. Thankfully, the scientists recorded the proceedings:
The Regimbartia attenuata beetle can be found in the tropics, especially as pests in fish hatcheries. It's not the only kind of creature that can survive being swallowed. A recent study showed that snake eels are able to burrow out of the stomachs of fish using their sharp tails, only to become stuck, die, and be mummified in the gut cavity. Scientists are calling the beetle's ability the first documented "active prey escape." Usually, such travelers through the digestive tract have particular adaptations that make it possible for them to withstand extreme pH and lack of oxygen. The researchers think the beetle's trick is in inducing the frog to open a so-called "vent" controlled by the sphincter muscle.
"Individuals were always excreted head first from the frog vent, suggesting that R. attenuata stimulates the hind gut, urging the frog to defecate," explains Sugiura.
For more information, check out the study published in Current Biology.
Are "humanized" pigs the future of medical research?
Surprising Science
In recent years, our team at Iowa State University has found a way to make pigs an even closer stand-in for humans. We have successfully transferred components of the human immune system into pigs that lack a functional immune system. This breakthrough has the potential to accelerate medical research in many areas, including virus and vaccine research, as well as cancer and stem cell therapeutics.
Existing biomedical models
Severe Combined Immunodeficiency, or SCID, is a genetic condition that causes impaired development of the immune system. People can develop SCID, as dramatized in the 1976 movie "The Boy in the Plastic Bubble." Other animals can develop SCID, too, including mice.
Researchers in the 1980s recognized that SCID mice could be implanted with human immune cells for further study. Such mice are called "humanized" mice and have been optimized over the past 30 years to study many questions relevant to human health.
Mice are the most commonly used animal in biomedical research, but results from mice often do not translate well to human responses, thanks to differences in metabolism, size and divergent cell functions compared with people.
Nonhuman primates are also used for medical research and are certainly closer stand-ins for humans. But using them for this purpose raises numerous ethical considerations. With these concerns in mind, the National Institutes of Health retired most of its chimpanzees from biomedical research in 2013.
Alternative animal models are in demand.
Swine are a viable option for medical research because of their similarities to humans. And with their widespread commercial use, pigs are met with fewer ethical dilemmas than primates. Upwards of 100 million hogs are slaughtered each year for food in the U.S.
Humanizing pigs
In 2012, groups at Iowa State University and Kansas State University, including Jack Dekkers, an expert in animal breeding and genetics, and Raymond Rowland, a specialist in animal diseases, serendipitously discovered a naturally occurring genetic mutation in pigs that caused SCID. We wondered if we could develop these pigs to create a new biomedical model.
Our group has worked for nearly a decade developing and optimizing SCID pigs for applications in biomedical research. In 2018, we achieved a twofold milestone when working with animal physiologist Jason Ross and his lab. Together we developed a more immunocompromised pig than the original SCID pig – and successfully humanized it, by transferring cultured human immune stem cells into the livers of developing piglets.
During early fetal development, immune cells develop within the liver, providing an opportunity to introduce human cells. We inject human immune stem cells into fetal pig livers using ultrasound imaging as a guide. As the pig fetus develops, the injected human immune stem cells begin to differentiate – or change into other kinds of cells – and spread through the pig's body. Once SCID piglets are born, we can detect human immune cells in their blood, liver, spleen and thymus gland. This humanization is what makes them so valuable for testing new medical treatments.
We have found that human ovarian tumors survive and grow in SCID pigs, giving us an opportunity to study ovarian cancer in a new way. Similarly, because human skin survives on SCID pigs, scientists may be able to develop new treatments for skin burns. Other research possibilities are numerous.

The ultraclean SCID pig biocontainment facility in Ames, Iowa. Adeline Boettcher, CC BY-SA
Pigs in a bubble
Since our pigs lack essential components of their immune system, they are extremely susceptible to infection and require special housing to help reduce exposure to pathogens.
SCID pigs are raised in bubble biocontainment facilities. Positive pressure rooms, which maintain a higher air pressure than the surrounding environment to keep pathogens out, are coupled with highly filtered air and water. All personnel are required to wear full personal protective equipment. We typically have anywhere from two to 15 SCID pigs and breeding animals at a given time. (Our breeding animals do not have SCID, but they are genetic carriers of the mutation, so their offspring may have SCID.)
As with any animal research, ethical considerations are always front and center. All our protocols are approved by Iowa State University's Institutional Animal Care and Use Committee and are in accordance with The National Institutes of Health's Guide for the Care and Use of Laboratory Animals.
Every day, twice a day, our pigs are checked by expert caretakers who monitor their health status and provide engagement. We have veterinarians on call. If any pigs fall ill, and drug or antibiotic intervention does not improve their condition, the animals are humanely euthanized.
Our goal is to continue optimizing our humanized SCID pigs so they can be more readily available for stem cell therapy testing, as well as research in other areas, including cancer. We hope the development of the SCID pig model will pave the way for advancements in therapeutic testing, with the long-term goal of improving human patient outcomes.
Adeline Boettcher earned her research-based Ph.D. working on the SCID project in 2019.

Christopher Tuggle, Professor of Animal Science, Iowa State University and Adeline Boettcher, Technical Writer II, Iowa State University
This article is republished from The Conversation under a Creative Commons license. Read the original article.
Satellite imagery can help better predict volcanic eruptions by monitoring changes in surface temperature near volcanoes.
Credit:
Ammit
via Adobe Stock
Surprising Science
A recent study used data collected by NASA satellites to conduct a statistical analysis of surface temperatures near volcanoes that erupted from 2002 to 2019.
The results showed that surface temperatures near volcanoes gradually increased in the months and years prior to eruptions.
The method was able to detect potential eruptions that were not anticipated by other volcano monitoring methods, such as eruptions in Japan in 2014 and Chile in 2015.
How can modern technology help warn us of impending volcanic eruptions?
One promising answer may lie in satellite imagery. In a recent study published in Nature Geoscience, researchers used infrared data collected by NASA satellites to study the conditions near volcanoes in the months and years before they erupted.
The results revealed a pattern: Prior to eruptions, an unusually large amount of heat had been escaping through soil near volcanoes. This diffusion of subterranean heat — which is a byproduct of "large-scale thermal unrest" — could potentially represent a warning sign of future eruptions.
Conceptual model of large-scale thermal unrestCredit: Girona et al.
For the study, the researchers conducted a statistical analysis of changes in surface temperature near volcanoes, using data collected over 16.5 years by NASA's Terra and Aqua satellites. The results showed that eruptions tended to occur around the time when surface temperatures near the volcanoes peaked.

Eruptions were preceded by "subtle but significant long-term (years), large-scale (tens of square kilometres) increases in their radiant heat flux (up to ~1 °C in median radiant temperature)," the researchers wrote. After eruptions, surface temperatures reliably decreased, though the cool-down period took longer for bigger eruptions.
"Volcanoes can experience thermal unrest for several years before eruption," the researchers wrote. "This thermal unrest is dominated by a large-scale phenomenon operating over extensive areas of volcanic edifices, can be an early indicator of volcanic reactivation, can increase prior to different types of eruption and can be tracked through a statistical analysis of little-processed (that is, radiance or radiant temperature) satellite-based remote sensing data with high temporal resolution."
Temporal variations of target volcanoesCredit: Girona et al.
Although using satellites to monitor thermal unrest wouldn't enable scientists to make hyper-specific eruption predictions (like predicting the exact day), it could significantly improve prediction efforts. Seismologists and volcanologists currently use a range of techniques to forecast eruptions, including monitoring for gas emissions, ground deformation, and changes to nearby water channels, to name a few.

Still, none of these techniques have proven completely reliable, both because of the science and the practical barriers (e.g. funding) standing in the way of large-scale monitoring. In 2014, for example, Japan's Mount Ontake suddenly erupted, killing 63 people. It was the nation's deadliest eruption in nearly a century.
In the study, the researchers found that surface temperatures near Mount Ontake had been increasing in the two years prior to the eruption. To date, no other monitoring method has detected "well-defined" warning signs for the 2014 disaster, the researchers noted.
The researchers hope satellite-based infrared monitoring techniques, combined with existing methods, can improve prediction efforts for volcanic eruptions. Volcanic eruptions have killed about 2,000 people since 2000.
"Our findings can open new horizons to better constrain magma–hydrothermal interaction processes, especially when integrated with other datasets, allowing us to explore the thermal budget of volcanoes and anticipate eruptions that are very difficult to forecast through other geophysical/geochemical methods."
Scroll down to load more…