Study Shows How LSD Mimics Infant's Mind as Ego Dissolves
Groundbreaking brain scans by a crowdfunded study at Imperial College London show how LSD affects the brain and consciousness.
12 April, 2016
A groundbreaking series of experiments show how LSD (Lysergic acid diethylamide) alters the operation of the brain.  Scientists gave LSD to 20 healthy volunteers in a specialist research center and used cutting-edge brain scanning techniques to understand what happens once the LSD is ingested.
---
One significant finding of the experiments was that when volunteers took LSD, many parts of their brain contributed to visual processing, not just the visual cortex.  They could essentially see things that weren't there, experiencing dreamlike hallucinations.
Dr Robin Carhart-Harris, from the Department of Medicine at Imperial College London, who led the research, elaborated on this discovery:
"We observed brain changes under LSD that suggested our volunteers were 'seeing with their eyes shut' -- albeit they were seeing things from their imagination rather than from the outside world. We saw that many more areas of the brain than normal were contributing to visual processing under LSD -- even though the volunteers' eyes were closed. Furthermore, the size of this effect correlated with volunteers' ratings of complex, dreamlike visions. "
Dr. Carthart-Harris explained further that under LSD, people's brain networks behave in a "unified" way, with specialized functions like vision, movement and hearing working without separation.  
He said: "Our results suggest that this effect underlies the profound altered state of consciousness that people often describe during an LSD experience. It is also related to what people sometimes call 'ego-dissolution', which means the normal sense of self is broken down and replaced by a sense of reconnection with themselves, others and the natural world. This experience is sometimes framed in a religious or spiritual way -- and seems to be associated with improvements in well-being after the drug's effects have subsided."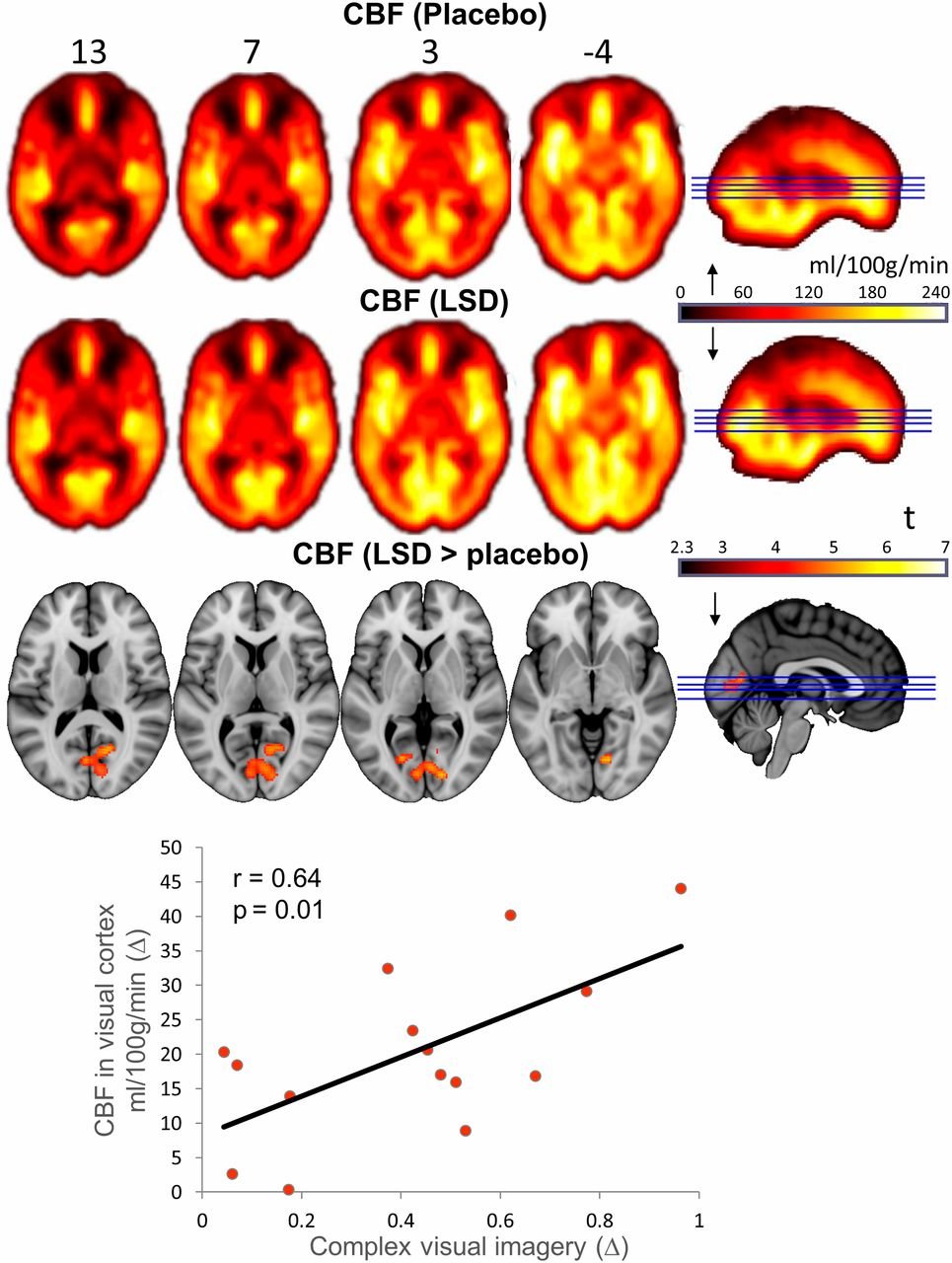 FIG. 1: Whole-brain cerebral blood flow maps for the placebo and LSD conditions, plus the difference map (cluster-corrected, P < 0.05; n = 15).
Interestingly, Dr. Carthart-Harris also said that the brain in the LSD state resembles the free and unconstrained brain of infancy, with its inherent hyper-emotionality and imaginative nature.  He added that "our brains become more constrained and compartmentalized as we develop from infancy into adulthood, and we may become more focused and rigid in our thinking as we mature."
It's noteworthy that the study was crowdfunded, raising almost $80,000 from individual donations. You can see their crowdfunding pitch which explains some of their approaches here:  
Additional research from the same team showed for the first time that listening to music while on LSD trigged more information to be received from the parahippocampus, which is involved in mental imagery and personal memory.  The combination of music and LSD triggered complex visions in the subjects, such as evoking scenes from their lives.
The researchers hope that their findings will eventually lead to new therapies involving LSD, in particular directed at conditions with entrenched negative thought patterns such as depression or addiction.  The intention is to disrupt negative patterns by employing psychedelics.
"Scientists have waited 50 years for this moment -- the revealing of how LSD alters our brain biology. For the first time we can really see what's happening in the brain during the psychedelic state, and can better understand why LSD had such a profound impact on self-awareness in users and on music and art. This could have great implications for psychiatry, and helping patients overcome conditions such as depression," said Professor David Nutt, the senior researcher on the study and Edmond J Safra Chair in Neuropsychopharmacology at Imperial College London.
The findings were published in Proceedings of the National Academy of Sciences (PNAS).
Related Articles
It's just the current cycle that involves opiates, but methamphetamine, cocaine, and others have caused the trajectory of overdoses to head the same direction
From the study: http://science.sciencemag.org/content/361/6408/eaau1184
popular
It appears that overdoses are increasing exponentially, no matter the drug itself
If the study bears out, it means that even reducing opiates will not slow the trajectory.
The causes of these trends remain obscure, but near the end of the write-up about the study, a hint might be apparent
Scientists think constructing a miles-long wall along an ice shelf in Antarctica could help protect the world's largest glacier from melting.
Image: NASA
Surprising Science
Rising ocean levels are a serious threat to coastal regions around the globe.
Scientists have proposed large-scale geoengineering projects that would prevent ice shelves from melting.
The most successful solution proposed would be a miles-long, incredibly tall underwater wall at the edge of the ice shelves.
The world's oceans will rise significantly over the next century if the massive ice shelves connected to Antarctica begin to fail as a result of global warming.
To prevent or hold off such a catastrophe, a team of scientists recently proposed a radical plan: build underwater walls that would either support the ice or protect it from warm waters.
In a paper published in The Cryosphere, Michael Wolovick and John Moore from Princeton and the Beijing Normal University, respectively, outlined several "targeted geoengineering" solutions that could help prevent the melting of western Antarctica's Florida-sized Thwaites Glacier, whose melting waters are projected to be the largest source of sea-level rise in the foreseeable future.
An "unthinkable" engineering project
"If [glacial geoengineering] works there then we would expect it to work on less challenging glaciers as well," the authors wrote in the study.

One approach involves using sand or gravel to build artificial mounds on the seafloor that would help support the glacier and hopefully allow it to regrow. In another strategy, an underwater wall would be built to prevent warm waters from eating away at the glacier's base.
The most effective design, according to the team's computer simulations, would be a miles-long and very tall wall, or "artificial sill," that serves as a "continuous barrier" across the length of the glacier, providing it both physical support and protection from warm waters. Although the study authors suggested this option is currently beyond any engineering feat humans have attempted, it was shown to be the most effective solution in preventing the glacier from collapsing.
Source: Wolovick et al.
An example of the proposed geoengineering project. By blocking off the warm water that would otherwise eat away at the glacier's base, further sea level rise might be preventable.
But other, more feasible options could also be effective. For example, building a smaller wall that blocks about 50% of warm water from reaching the glacier would have about a 70% chance of preventing a runaway collapse, while constructing a series of isolated, 1,000-foot-tall columns on the seafloor as supports had about a 30% chance of success.

Still, the authors note that the frigid waters of the Antarctica present unprecedently challenging conditions for such an ambitious geoengineering project. They were also sure to caution that their encouraging results shouldn't be seen as reasons to neglect other measures that would cut global emissions or otherwise combat climate change.
"There are dishonest elements of society that will try to use our research to argue against the necessity of emissions' reductions. Our research does not in any way support that interpretation," they wrote.
"The more carbon we emit, the less likely it becomes that the ice sheets will survive in the long term at anything close to their present volume."
A 2015 report from the National Academies of Sciences, Engineering, and Medicine illustrates the potentially devastating effects of ice-shelf melting in western Antarctica.
"As the oceans and atmosphere warm, melting of ice shelves in key areas around the edges of the Antarctic ice sheet could trigger a runaway collapse process known as Marine Ice Sheet Instability. If this were to occur, the collapse of the West Antarctic Ice Sheet (WAIS) could potentially contribute 2 to 4 meters (6.5 to 13 feet) of global sea level rise within just a few centuries."
The world's getting hotter, and it's getting more volatile. We need to start thinking about how climate change encourages conflict.
Christopher Furlong/Getty Images
Politics & Current Affairs
Climate change is usually discussed in terms of how it impacts the weather, but this fails to emphasize how climate change is a "threat multiplier."
As a threat multiplier, climate change makes already dangerous social and political situations even worse.
Not only do we have to work to minimize the impact of climate change on our environment, but we also have to deal with how it affects human issues today.
Big think's weekly newsletter.
Get smarter faster from the comfort of your inbox.
See our newsletter privacy policy
here
Most Popular
Most Recent
Big think's weekly newsletter.
Get smarter faster from the comfort of your inbox.
See our newsletter privacy policy
here
© Copyright 2007-2018 & BIG THINK, BIG THINK EDGE,
SMARTER FASTER trademarks owned by The Big Think, Inc. All rights reserved.