Study finds link between brain damage and religious fundamentalism
A new study finds a connection between brain lesions and the ability of a person to consider other beliefs.
06 May, 2017
Scientists found that damage in a certain part of the brain is linked to an increase in religious fundamentalism. In particular, lesions in the ventromedial prefrontal cortex reduced cognitive flexibility - the ability to challenge our beliefs based on new evidence.
---
The researchers, led by Jordan Grafman of Northwestern University, utilized data gathered from Vietnam War veterans as part of the Vietnam Head Injury Study. They compared levels of religious fundamentalism between 119 vets who had lesions and 30 veterans who didn't. 
The study further confirms that the prefrontal cortex is associated with religious beliefs and is the latest in a number of recent studies that look to find the neurological basis for religion.
"The variation in the nature of religious beliefs are governed by specific brain areas in the anterior parts of the human brain and those brain areas are among the most recently evolved areas of the human brain," said Grafman.
How free these areas are from disease, in particular the part known as the dorsolateral prefrontal cortex, may determine a person's mental openness - necessary to appreciate the "diversity of religious thought." The prefrontal cortex was previously linked to having a cognitive function in spiritual experiences.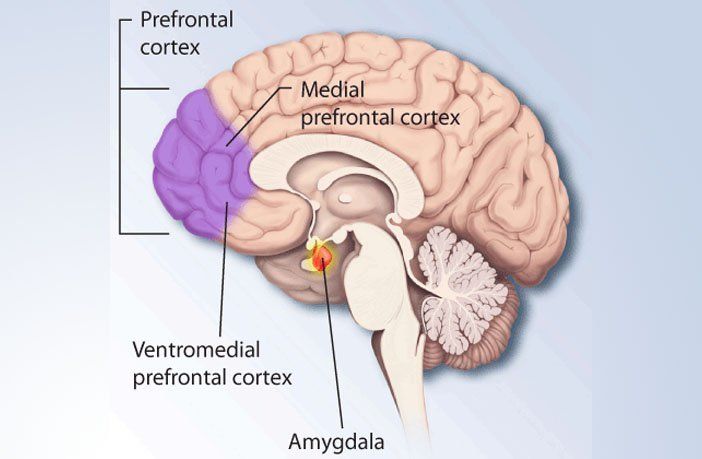 The scientists specify that they are not stating religious people overall are mentally inflexible or that belief is caused by brain damage. There are many cognitive processes involved in forming beliefs. But in some people, the system of "belief revision" may become suppressed due to brain damage. 
The researchers define fundamentalism as a cognitive approach that "embodies adherence to a set of firm religious beliefs advocating unassailable truths about human existence." They write in their paper that the appeal of such a rigid way of thinking is in promoting "coherence and predictability" within a religious group. People in fundamentalist groups tend to value strong commitment to their community, rejection of other beliefs, often combined with science denial and violence. Deliberation becomes victim to conviction.  
The scientists themselves point out the limitations of their study and call for more research into the subject. Grafman notes the fact that the sample was all male American veterans, certainly not representative of all demographic and cultural groups.
This study contributes to a growing body of knowledge about how religious experiences are formed in the brain. 
"We need to understand how distinct religious beliefs are from moral, legal, political, and economic beliefs in their representations in the brain, the nature of conversion from one belief system to another, the difference between belief and agency, and the nature of the depth of knowledge that individuals use to access and report their beliefs," Grafman added.
You can read the study "Biological and cognitive underpinnings of religious fundamentalism" here in the journal Neuropsychologia.
What can 3D printing do for medicine? The "sky is the limit," says Northwell Health researcher Dr. Todd Goldstein.
Northwell Health
Sponsored by Northwell Health
Medical professionals are currently using 3D printers to create prosthetics and patient-specific organ models that doctors can use to prepare for surgery.
Eventually, scientists hope to print patient-specific organs that can be transplanted safely into the human body.
Northwell Health, New York State's largest health care provider, is pioneering 3D printing in medicine in three key ways.
Big Think Edge
Push Past Negative Self-Talk: Give Yourself the Proper Fuel to Attack the World, with David Goggins, Former NAVY SealIf you've ever spent 5 minutes trying to meditate, you know something most people don't realize: that our minds are filled, much of the time, with negative nonsense. Messaging from TV, from the news, from advertising, and from difficult daily interactions pulls us mentally in every direction, insisting that we focus on or worry about this or that. To start from a place of strength and stability, you need to quiet your mind and gain control. For former NAVY Seal David Goggins, this begins with recognizing all the negative self-messaging and committing to quieting the mind. It continues with replacing the negative thoughts with positive ones.
If you don't want to know anything about your death, consider this your spoiler warning.
Culture & Religion
For centuries cultures have personified death to give this terrifying mystery a familiar face.
Modern science has demystified death by divulging its biological processes, yet many questions remain.
Studying death is not meant to be a morbid reminder of a cruel fate, but a way to improve the lives of the living.
Big Think Edge
Master Execution: How to Get from Point A to Point B in 7 Steps, with Rob Roy, Retired Navy SEALUsing the principles of SEAL training to forge better bosses, former Navy SEAL and founder of the Leadership Under Fire series Rob Roy, a self-described "Hammer", makes people's lives miserable in the hopes of teaching them how to be a tougher—and better—manager. "We offer something that you are not going to get from reading a book," says Roy. "Real leaders inspire, guide and give hope."Anybody can make a decision when everything is in their favor, but what happens in turbulent times? Roy teaches leaders, through intense experiences, that they can walk into any situation and come out ahead. In this lesson, he outlines seven SEAL-tested steps for executing any plan—even under extreme conditions or crisis situations.
Big think's weekly newsletter.
Get smarter faster from the comfort of your inbox.
See our newsletter privacy policy
here
Most Popular
Most Recent
Big think's weekly newsletter.
Get smarter faster from the comfort of your inbox.
See our newsletter privacy policy
here
© Copyright 2007-2019 & BIG THINK, BIG THINK EDGE,
SMARTER FASTER trademarks owned by The Big Think, Inc. All rights reserved.