Study Claims Quark Fusion May Be the Energy Source of the Future
Scientists propose that quark fusion may be an energy source eight times more powerful than nuclear fusion.
13 November, 2017
---
In a new paper, scientists have envisioned a new power source straight out of Star Trek. While nuclear fusion reactors, which produce energy in the same way as the sun, are still not a viable reality, researchers from Tel Aviv University and the University of Chicago are proposing quark fusion.
Quarks are super-tiny elementary particles that combine to form protons and neutrons. There are six kinds of quarks, including up and down quarks, which are found in protons and neutrons, and heavier charm quarks.  
The way we can produce quarks is through particle accelerators like the Large Hadron Collider in Switzerland, which can smash protons and neutrons to break them up into quarks.
What the researchers Marek Karliner and Jonathan Rosner, who wrote the paper, are saying in their analysis is that if these quarks were then recombined, they would release large amounts of energy. Specifically, the researchers calculate that quark fusion could produce as much as eight times the energy of nuclear fusion (which uses hydrogen atoms).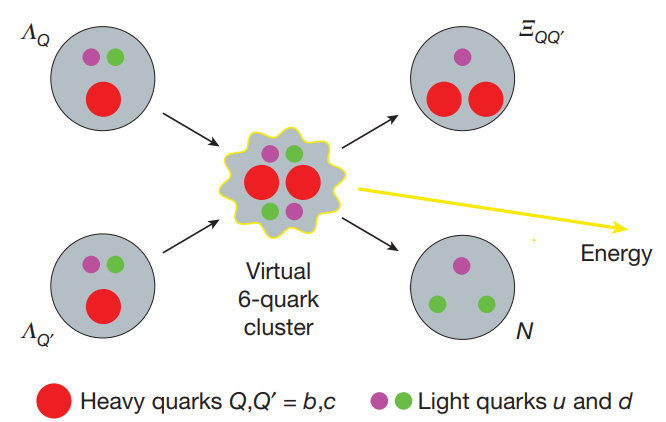 An illustration that shows quarks splitting and recombining, releasing energy via quark fusion. Credit: Nature.
The only challenge to this amazing source of cheap energy - figuring out how to do it. Among the challenges is understanding how to produce the heavier quarks which are to be combined with lighter quarks from the proton and neutron collisions. The researchers are planning to test the theory first using the Large Hadron Collider.
Of note is that the researchers didn't initially want to publish their theoretical findings, afraid of proposing this kind of massive energy release especially since hydrogen fusion is central to hydrogen bombs. They have subsequently calculated that a chain reaction necessary for such an explosion would be impossible using quarks as they exist for too short an amount of time.
You can check out the new paper "Quark-level analogue of nuclear fusion with doubly heavy baryons" here, in Nature magazine.
Related Articles
How a cataclysm worse than what killed the dinosaurs destroyed 90 percent of all life on Earth.
Credit: Ron Miller
Surprising Science
While the demise of the dinosaurs gets more attention as far as mass extinctions go, an even more disastrous event called "the Great Dying" or the "End-Permian Extinction" happened on Earth prior to that. Now scientists discovered how this cataclysm, which took place about 250 million years ago, managed to kill off more than 90 percent of all life on the planet.
A new study discovers the "liking gap" — the difference between how we view others we're meeting for the first time, and the way we think they're seeing us.
New acquaintances probably like you more than you think. (Photo by Simone Joyner/Getty Images)
Surprising Science
We tend to be defensive socially. When we meet new people, we're often concerned with how we're coming off. Our anxiety causes us to be so concerned with the impression we're creating that we fail to notice that the same is true of the other person as well. A new study led by Erica J. Boothby, published on September 5 in Psychological Science, reveals how people tend to like us more in first encounters than we'd ever suspect.
Using advanced laser technology, scientists at NASA will track global changes in ice with greater accuracy.
Firing three pairs of laser beams 10,000 times per second, the ICESat-2 satellite will measure how long it takes for faint reflections to bounce back from ground and sea ice, allowing scientists to measure the thickness, elevation and extent of global ice
popular
Leaving from Vandenberg Air Force base in California this coming Saturday, at 8:46 a.m. ET, the Ice, Cloud, and Land Elevation Satellite-2 — or, the "ICESat-2" — is perched atop a United Launch Alliance Delta II rocket, and when it assumes its orbit, it will study ice layers at Earth's poles, using its only payload, the Advance Topographic Laser Altimeter System (ATLAS).
Big think's weekly newsletter.
Get smarter faster from the comfort of your inbox.
See our newsletter privacy policy
here
Most Popular
Most Recent
Big think's weekly newsletter.
Get smarter faster from the comfort of your inbox.
See our newsletter privacy policy
here
© Copyright 2007-2018 & BIG THINK, BIG THINK EDGE,
SMARTER FASTER trademarks owned by The Big Think, Inc. All rights reserved.