Study Claims Quark Fusion May Be the Energy Source of the Future
Scientists propose that quark fusion may be an energy source eight times more powerful than nuclear fusion.
13 November, 2017
---
In a new paper, scientists have envisioned a new power source straight out of Star Trek. While nuclear fusion reactors, which produce energy in the same way as the sun, are still not a viable reality, researchers from Tel Aviv University and the University of Chicago are proposing quark fusion.
Quarks are super-tiny elementary particles that combine to form protons and neutrons. There are six kinds of quarks, including up and down quarks, which are found in protons and neutrons, and heavier charm quarks.  
The way we can produce quarks is through particle accelerators like the Large Hadron Collider in Switzerland, which can smash protons and neutrons to break them up into quarks.
What the researchers Marek Karliner and Jonathan Rosner, who wrote the paper, are saying in their analysis is that if these quarks were then recombined, they would release large amounts of energy. Specifically, the researchers calculate that quark fusion could produce as much as eight times the energy of nuclear fusion (which uses hydrogen atoms).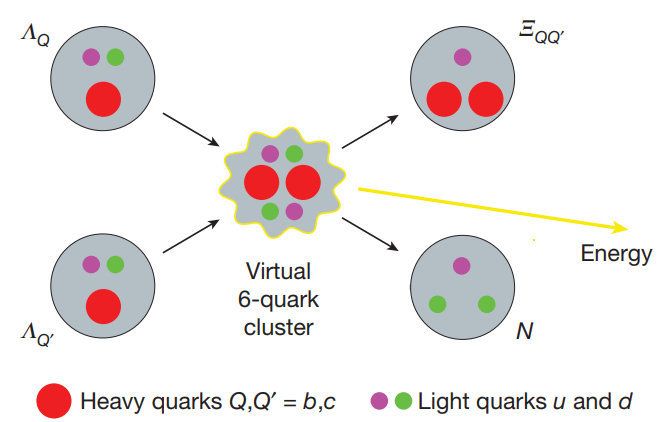 An illustration that shows quarks splitting and recombining, releasing energy via quark fusion. Credit: Nature.
The only challenge to this amazing source of cheap energy - figuring out how to do it. Among the challenges is understanding how to produce the heavier quarks which are to be combined with lighter quarks from the proton and neutron collisions. The researchers are planning to test the theory first using the Large Hadron Collider.
Of note is that the researchers didn't initially want to publish their theoretical findings, afraid of proposing this kind of massive energy release especially since hydrogen fusion is central to hydrogen bombs. They have subsequently calculated that a chain reaction necessary for such an explosion would be impossible using quarks as they exist for too short an amount of time.
You can check out the new paper "Quark-level analogue of nuclear fusion with doubly heavy baryons" here, in Nature magazine.
What can 3D printing do for medicine? The "sky is the limit," says Northwell Health researcher Dr. Todd Goldstein.
Northwell Health
Sponsored by Northwell Health
Medical professionals are currently using 3D printers to create prosthetics and patient-specific organ models that doctors can use to prepare for surgery.
Eventually, scientists hope to print patient-specific organs that can be transplanted safely into the human body.
Northwell Health, New York State's largest health care provider, is pioneering 3D printing in medicine in three key ways.
Cook's commencement speech at Tulane University urges students to take action.
Getty Images
Technology & Innovation
Apple CEO Tim Cook gave a commencement speech at Tulane University on May 18th.
Cook cautioned the graduates to not get caught up in echo chambers and algorithms.
He acknowledged the failures of his generation.
As Game of Thrones ends, a revealing resolution to its perplexing geography.
Strange Maps
The fantasy world of Game of Thrones was inspired by real places and events.
But the map of Westeros is a good example of the perplexing relation between fantasy and reality.
Like Britain, it has a Wall in the North, but the map only really clicks into place if you add Ireland.
Junk food causes weight gain, but it's not just about the calories.
Surprising Science
We know we should eat less junk food, such as crisps, industrially made pizzas and sugar-sweetened drinks, because of their high calorie content.
Big think's weekly newsletter.
Get smarter faster from the comfort of your inbox.
See our newsletter privacy policy
here
Most Popular
Most Recent
Big think's weekly newsletter.
Get smarter faster from the comfort of your inbox.
See our newsletter privacy policy
here
© Copyright 2007-2019 & BIG THINK, BIG THINK EDGE,
SMARTER FASTER trademarks owned by The Big Think, Inc. All rights reserved.