Study Claims Quark Fusion May Be the Energy Source of the Future
Scientists propose that quark fusion may be an energy source eight times more powerful than nuclear fusion.
13 November, 2017
---
In a new paper, scientists have envisioned a new power source straight out of Star Trek. While nuclear fusion reactors, which produce energy in the same way as the sun, are still not a viable reality, researchers from Tel Aviv University and the University of Chicago are proposing quark fusion.
Quarks are super-tiny elementary particles that combine to form protons and neutrons. There are six kinds of quarks, including up and down quarks, which are found in protons and neutrons, and heavier charm quarks.  
The way we can produce quarks is through particle accelerators like the Large Hadron Collider in Switzerland, which can smash protons and neutrons to break them up into quarks.
What the researchers Marek Karliner and Jonathan Rosner, who wrote the paper, are saying in their analysis is that if these quarks were then recombined, they would release large amounts of energy. Specifically, the researchers calculate that quark fusion could produce as much as eight times the energy of nuclear fusion (which uses hydrogen atoms).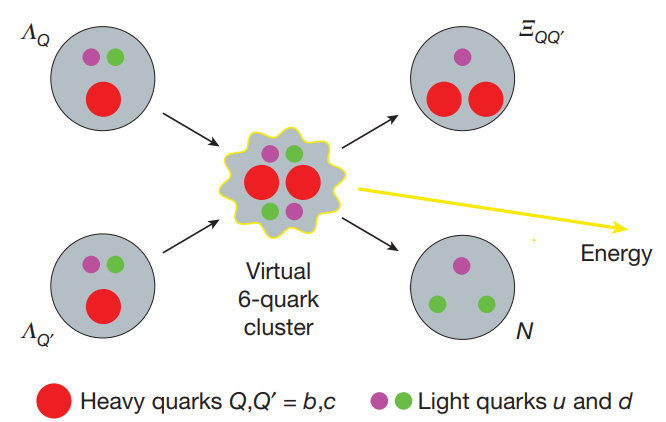 An illustration that shows quarks splitting and recombining, releasing energy via quark fusion. Credit: Nature.
The only challenge to this amazing source of cheap energy - figuring out how to do it. Among the challenges is understanding how to produce the heavier quarks which are to be combined with lighter quarks from the proton and neutron collisions. The researchers are planning to test the theory first using the Large Hadron Collider.
Of note is that the researchers didn't initially want to publish their theoretical findings, afraid of proposing this kind of massive energy release especially since hydrogen fusion is central to hydrogen bombs. They have subsequently calculated that a chain reaction necessary for such an explosion would be impossible using quarks as they exist for too short an amount of time.
You can check out the new paper "Quark-level analogue of nuclear fusion with doubly heavy baryons" here, in Nature magazine.
New research links urban planning and political polarization.
Pixabay
Politics & Current Affairs
Canadian researchers find that excessive reliance on cars changes political views.
Decades of car-centric urban planning normalized unsustainable lifestyles.
People who prefer personal comfort elect politicians who represent such views.
Progressive America would be half as big, but twice as populated as its conservative twin.
Image: Dicken Schrader
Strange Maps
America's two political tribes have consolidated into 'red' and 'blue' nations, with seemingly irreconcilable differences.
Perhaps the best way to stop the infighting is to go for a divorce and give the two nations a country each
Based on the UN's partition plan for Israel/Palestine, this proposal provides territorial contiguity and sea access to both 'red' and 'blue' America
Science and the squishiness of the human mind. The joys of wearing whatever the hell you want, and so much more.
Flickr / 13winds
Think Again Podcasts
Why can't we have a human-sized cat tree?
What would happen if you got a spoonful of a neutron star?
Why do we insist on dividing our wonderfully complex selves into boring little boxes
Big think's weekly newsletter.
Get smarter faster from the comfort of your inbox.
See our newsletter privacy policy
here
Most Popular
Most Recent
Big think's weekly newsletter.
Get smarter faster from the comfort of your inbox.
See our newsletter privacy policy
here
© Copyright 2007-2018 & BIG THINK, BIG THINK EDGE,
SMARTER FASTER trademarks owned by The Big Think, Inc. All rights reserved.