Study Claims Quark Fusion May Be the Energy Source of the Future
Scientists propose that quark fusion may be an energy source eight times more powerful than nuclear fusion.
13 November, 2017
Credit: Pixabay
---
In a new paper, scientists have envisioned a new power source straight out of Star Trek. While nuclear fusion reactors, which produce energy in the same way as the sun, are still not a viable reality, researchers from Tel Aviv University and the University of Chicago are proposing quark fusion.
Quarks are super-tiny elementary particles that combine to form protons and neutrons. There are six kinds of quarks, including up and down quarks, which are found in protons and neutrons, and heavier charm quarks.  
The way we can produce quarks is through particle accelerators like the Large Hadron Collider in Switzerland, which can smash protons and neutrons to break them up into quarks.
What the researchers Marek Karliner and Jonathan Rosner, who wrote the paper, are saying in their analysis is that if these quarks were then recombined, they would release large amounts of energy. Specifically, the researchers calculate that quark fusion could produce as much as eight times the energy of nuclear fusion (which uses hydrogen atoms).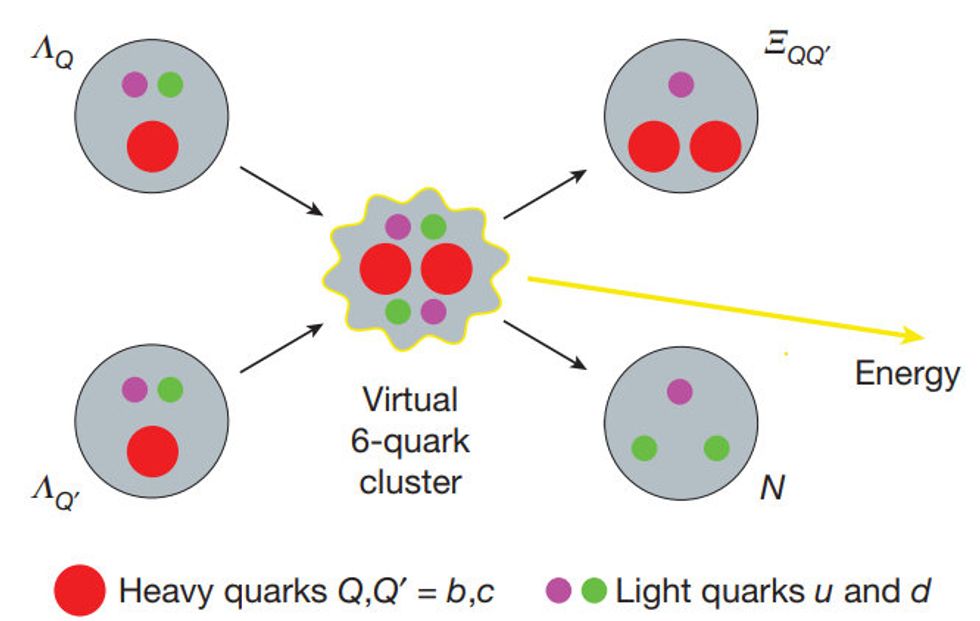 An illustration that shows quarks splitting and recombining, releasing energy via quark fusion. Credit: Nature.
The only challenge to this amazing source of cheap energy - figuring out how to do it. Among the challenges is understanding how to produce the heavier quarks which are to be combined with lighter quarks from the proton and neutron collisions. The researchers are planning to test the theory first using the Large Hadron Collider.
Of note is that the researchers didn't initially want to publish their theoretical findings, afraid of proposing this kind of massive energy release especially since hydrogen fusion is central to hydrogen bombs. They have subsequently calculated that a chain reaction necessary for such an explosion would be impossible using quarks as they exist for too short an amount of time.
You can check out the new paper "Quark-level analogue of nuclear fusion with doubly heavy baryons" here, in Nature magazine.
Who is to blame for the U.S.'s dismal college graduation rate? "Radical" educator Dennis Littky has a hunch.
Sponsored by Charles Koch Foundation
COVID-19 has magnified the challenges that underserved communities face with regard to higher education, such as widening social inequality and sky-high tuition.
At College Unbound, where I am president, we get to know students individually to understand what motivates them, so they can build a curriculum based on goals they want to achieve.
My teaching mantra: Everything is permitted during COVID-19. Everything is permitted during COVID-19. Everything is permitted during COVID-19.
Meteorologists propose a stunning new explanation for the mysterious events in the Bermuda Triangle.
Surprising Science
One of life's great mysteries, the Bermuda Triangle might have finally found an explanation. This strange region, that lies in the North Atlantic Ocean between Bermuda, Miami and San Juan, Puerto Rico, has been the presumed cause of dozens and dozens of mind-boggling disappearances of ships and planes.
Did you know that shifting to a positive perspective on aging can add 7.5 years to your life? Or that there is a provable U-curve of happiness that shows people get happier after age 50?
Sweden tops the ranking for the third year in a row.
AXEL SCHMIDT/DDP/AFP via Getty Images
Technology & Innovation
What does COVID-19 mean for the energy transition? While lockdowns have caused a temporary fall in CO2 emissions, the pandemic risks derailing recent progress in addressing the world's energy challenges.
Culture & Religion
Neo's superhuman powers were only inside of The Matrix. The outside world offered a different reality.
Scroll down to load more…