Does Clothing Make You a Terrorist? Scotland and France Make New Muslim Dress Policies.
Authorities in France and Scotland are taking very different approaches to Islamic dress in their societies.
25 August, 2016
Reactions to growing terrorist threats have varied in countries around the world and show Western countries divided in how to integrate their Muslim populations.
---
Coming off a series of horrific terror attacks over the past months, including the sea-side carnage in Nice that saw 86 people moved down by a truck, a number of French towns decided to ban burkinis, full-body swimsuits for Muslim women.
In particular, 15 French cities on the Mediterranean coast are banning the burkini, with some Muslim women already getting fines of about $42 for wearing them.
The idea behind the ban is that religious clothing, like a burkini, is incompatible with France's secular values. Nice's deputy mayor, Christian Estrosi said that "hiding the face or wearing a full-body costume to go to the beach is not in keeping with our ideal of social relations". 
Thierry Migoule, the head of municipal services for Cannes, which also banned the burkini, went even further in describing the burkini as "ostentatious clothing which refers to an allegiance to terrorist movements which are at war with us".
In a stark contrast to such thinking, police in Scotland have taken a very different path. They announced that the hijab, a head-covering scarf, will now be part of its official uniform, increasing diversity in the force. 
The hope is to attract more Muslim women who might not have considered a career in Scottish law enforcement. The hijab was already an optional part of the uniform, based on approval by senior staff. 
Chief constable Phil Gormley explained why they made the move to include hijabs:
"I am delighted to make this announcement and welcome the support from both the Muslim community, and the wider community, as well as police officers and staff. Like many other employers, especially in the public sector, we are working towards ensuring our service is representative of the communities we serve. I hope that this addition to our uniform options will contribute to making our staff mix more diverse and adds to the life skills, experiences and personal qualities that our officers and staff bring to policing the communities of Scotland." 
This move was welcomed by members of the Muslim community like Fahad Bashir, chair of the Scottish Police Muslim Association, who said:
"This is a positive step in the right direction, and I am delighted that Police Scotland is taking productive steps in order to ensure that our organisation is seen to be inclusive and represents the diverse communities that we serve across Scotland. No doubt this will encourage more women from Muslim and minority ethnic backgrounds to join Police Scotland." 
Of course, one big difference between Scotland and France is the number of Muslims in the countries. Scotland's Muslim population was at around 78,000 in 2011, about 1.4% of its population. In France, the Muslim population is estimated to be about 7.5-10% of its population, depending on who is counting, totaling around 4.7 to 6 million people.
In order to promote secularism, it's actually illegal in France to collect data on religious and ethnic affiliation of its citizens. Even officially asking such questions is seen as a kind of discrimination. Of course, the reality is that many view what is happening with the burkini bans as an instance of discrimination especially as no one is attempting to ban Catholic nuns from wearing their outfits on the beach or elsewhere.  
If you'd like to know more about some of the different outfits that Muslim women wear, here are a few helpful explanations:
A hijab is a veil or headscarf covering the head and chest, worn by Muslim women around adult males who are not part of their immediate family. It's a symbol of modesty and privacy. It does leave the face clear.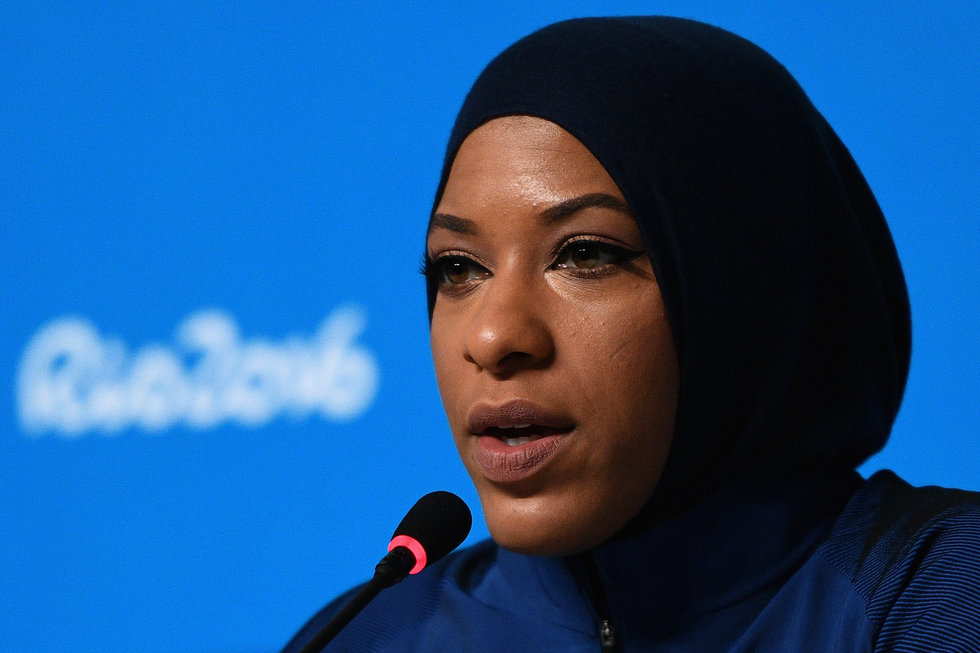 Wearing a hijab, American Olympic fencer Ibtihaj Muhammad faces the media during a press conference on August 4, 2016 in Rio de Janeiro, Brazil. (Photo by David Ramos/Getty Images)
A niqab, by comparison, is a veil for the face that leaves only the eyes clear. And there's a separate eye veil you can get to cover those up as well. Niqabs were banned in France in 2011.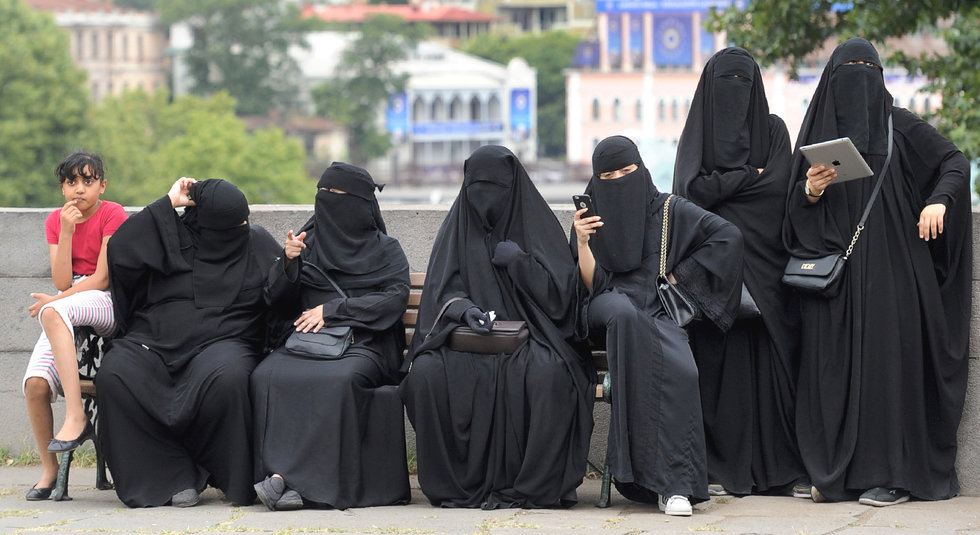 Foreign tourists wearing niqab have a rest on a bench in downtown Tbilisi in George on August 16, 2016. (Photo by VANO SHLAMOV/AFP/Getty Images)
A burka (burqa) is a piece of clothing that covers a woman's whole body when in public. It's the outfit that hides everything, including the face. There's just a mesh screen for seeing.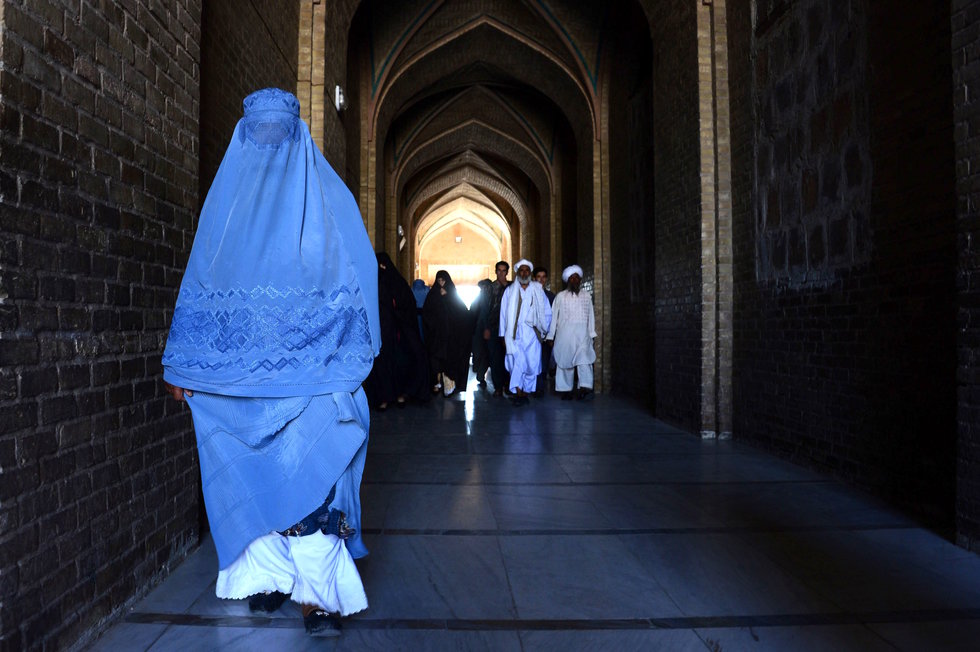 A burqa-clad Afghan woman walks prior to offering prayers at the start of Eid al-Fitr which marks the end of Ramadan, at the Jami mosque in Herat province on July 6, 2016. (Photo by AREF KARIMI/AFP/Getty Images)
A burkini or "burqini" covers everything but the face, hands and feet and is used for swimming.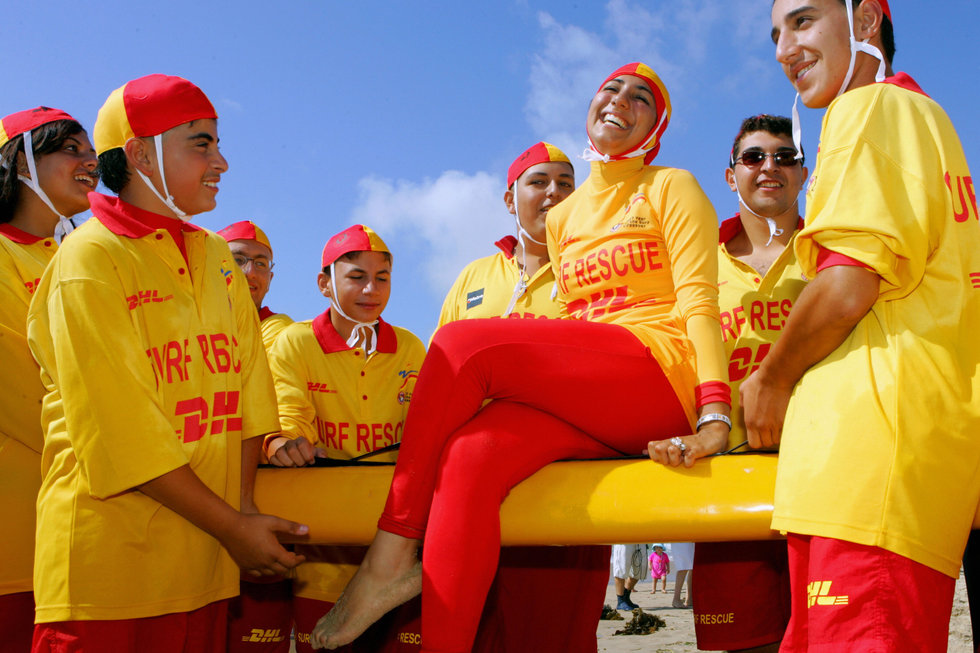 Sydney, AUSTRALIA: Mecca Laa Laa (center) wearing a full body covering known as the 'burqini', sits on a rescue board at Sydney's Cronulla beach, 04 February 2007. Australia's first group of Muslim lifesavers hit the sands of Sydney's Cronulla beach, just over a year after mobs of whites attacked Lebanese Australians there in a bid to 'reclaim the beach.' The race riots, the country's worst of modern times, sparked a series of retaliatory attacks in which churches, shops and cars were trashed and left Australians of Middle Eastern appearance fearful of going to the beach. (Photo by ANOEK DE GROOT/AFP/Getty Images)
Researchers discover a link between nonverbal synchronization and relationship success.
Pixabay
Sex & Relationships
Scientists say coordinating movements leads to increased intimacy and sexual desire in a couple.
The improved rapport and empathy was also observed in people who didn't know each other.
Non-verbal clues are very important in the development stages of a relationship.
Humans evolved to live in the cold through a number of environmental and genetic factors.
Image source: Wikimedia Commons
Surprising Science
According to some relatively new research, many of our early human cousins preceded Homo sapien migrations north by hundreds of thousands or even millions of years.
Cross-breeding with other ancient hominids gave some subsets of human population the genes to contend and thrive in colder and harsher climates.
Behavioral and dietary changes also helped humans adapt to cold climates.
The comics titan worked for more than half a century to revolutionize and add nuance to the comics industry, and he built a vast community of fans along the way.
(Photo: GABRIEL BOUYS/AFP/Getty Images)
Culture & Religion
Lee died shortly after being rushed to an L.A. hospital. He had been struggling with multiple illnesses over the past year, reports indicate.
Since the 1950s, Lee has been one of the most influential figures in comics, helping to popularize heroes that expressed a level of nuance and self-doubt previously unseen in the industry.
Lee, who's later years were marked by some financial and legal tumult, is survived by his daughter, Joan Celia "J.C." Lee.
Big think's weekly newsletter.
Get smarter faster from the comfort of your inbox.
See our newsletter privacy policy
here
Most Popular
Most Recent
Big think's weekly newsletter.
Get smarter faster from the comfort of your inbox.
See our newsletter privacy policy
here
© Copyright 2007-2018 & BIG THINK, BIG THINK EDGE,
SMARTER FASTER trademarks owned by The Big Think, Inc. All rights reserved.