Scientists discover possible first proof of parallel universes
A study on the strange Cold Spot in space may prove that we live in a multiverse.
18 May, 2017
A new study about one of the most inexplicable places in the cosmos may offer the first proof that we are living in a multiverse.
---
The idea of a "multiverse" proposes that an infinite amount of universes, including the one we are living in, exist in parallel to each other. These universes differ in a variety of physical properties, featuring multiple Big Bangs, space bubbles and maybe even an alternate version of you who is reading this article in a world run by slugs. The "multiverse" hypothesis has been so far been impossible to test but has supporters among such scientists as Stephen Hawking, Michio Kaku, Neil deGrasse Tyson and Leonard Susskind.
The study by British astronomers focuses on what's known as the "Cold Spot" - an especially cold area of space that has been observed in the microwave background radiation coming from the early Universe 13 billion years ago. Usually temperatures of the radiation vary throughout the universe, but this area of coolness is much larger than others (about 0.00015 degrees Celsius colder than its surroundings).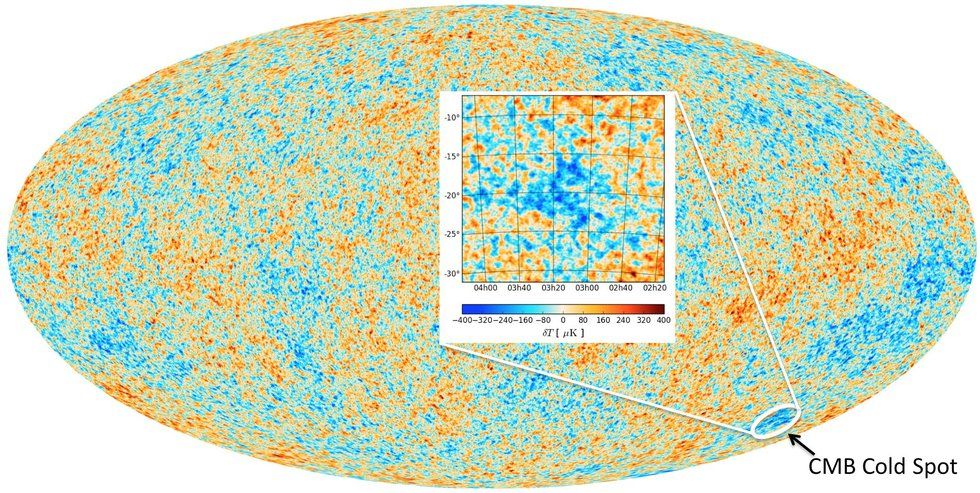 The map of the cosmic microwave background (CMB) sky produced by the Planck satellite. Red represents slightly warmer regions, and blue slightly cooler regions. Credit: ESA and Durham University.
The Cold Spot, first found by NASA in 2004, is a strange place 1.8 billion light years across that doesn't comfortably gel with existing cosmological models. One explanation is that it simply doesn't exist, being just an illusion created by the expansion of the universe. Spaces with lower amount of galaxies or "voids" form as the expansion accelerates. With 10,000 fewer galaxies, the Cold Spot would be a "supervoid".
But the study, published in UK's Royal Astronomical Society, claims to prove that the supervoid is not a valid solution to the Cold Spot's mystery. The researchers think that instead of one giant emptiness in that area, there are galaxy clusters gathered around smaller bubble-like voids. And, significantly, these would be too small to be responsible for lowering the temperature in the Cold Spot.
In fact, other answers must be sought. The scientists, led by postgraduate student Ruari Mackenzie and Professor Tom Shanks in Durham University's Centre for Extragalactic Astronomy, think one possible hypothesis is that the Cold Spot resulted from a collision between our universe during its early days and another universe. The energy release of such an impact would have created the Cold Spot.
"We can't entirely rule out that the Spot is caused by an unlikely fluctuation explained by the standard model. But if that isn't the answer, then there are more exotic explanations. Perhaps the most exciting of these is that the Cold Spot was caused by a collision between our universe and another bubble universe. If further, more detailed, analysis of CMB [Cosmic Microwave Background] data proves this to be the case then the Cold Spot might be taken as the first evidence for the multiverse – and billions of other universes may exist like our own," said Professor Tom Shanks.
The multiverse, while an exciting idea, has its detractors. Some physicists feel since it's not something observable or provable, then a discussion of it is pointless or even unscientific. But when more ordinary solutions come up empty, the doors of science open wider.
Check out this video by Michio Kaku for more ideas on multiverses:
What can 3D printing do for medicine? The "sky is the limit," says Northwell Health researcher Dr. Todd Goldstein.
Northwell Health
Sponsored by Northwell Health
Medical professionals are currently using 3D printers to create prosthetics and patient-specific organ models that doctors can use to prepare for surgery.
Eventually, scientists hope to print patient-specific organs that can be transplanted safely into the human body.
Northwell Health, New York State's largest health care provider, is pioneering 3D printing in medicine in three key ways.
An ordained Lama in a Tibetan Buddhist lineage, Lama Rod grew up a queer, black male within the black Christian church in the American south. Navigating all of these intersecting, evolving identities has led him to a life's work based on compassion for self and others.
Think Again Podcasts
"What I'm interested in is deep, systematic change. What I understand now is that real change doesn't happen until change on the inside begins to happen."
"Masculinity is not inherently toxic. Patriarchy is toxic. We have to let that energy go so we can stop forcing other people to do emotional labor for us."
We were gaining three IQ points per decade for many, many years. Now, that's going backward. Could this explain some of our choices lately?
The Flynn effect appears to be in retrograde. (Credit: Shutterstock/Big Think)
popular
There's a new study out of Norway that indicates our—well, technically, their—IQs are shrinking, to the tune of about seven IQ points per generation.
Here's why generalists triumph over specialists in the new era of innovation.
Videos
Since the explosion of the knowledge economy in the 1990s, generalist inventors have been making larger and more important contributions than specialists.
One theory is that the rise of rapid communication technologies allowed the information created by specialists to be rapidly disseminated, meaning generalists can combine information across disciplines to invent something new.
Here, David Epstein explains how Nintendo's Game Boy was a case of "lateral thinking with withered technology." He also relays the findings of a fascinating study that found the common factor of success among comic book authors.
Big think's weekly newsletter.
Get smarter faster from the comfort of your inbox.
See our newsletter privacy policy
here
Most Popular
Most Recent
Big think's weekly newsletter.
Get smarter faster from the comfort of your inbox.
See our newsletter privacy policy
here
© Copyright 2007-2019 & BIG THINK, BIG THINK EDGE,
SMARTER FASTER trademarks owned by The Big Think, Inc. All rights reserved.