Researchers Discover How Animals First Appeared on Earth
Australian scientists discover how complex life first appeared on Earth - one of the "greatest mysteries of science".
29 August, 2017
---
Australian researchers say they solved "one of the greatest mysteries of science" - how large complex animals first appeared on Earth. It was a key milestone that led to humans. The scientists found that the rise of algae was instrumental in triggering one of the most transformative ecological revolutions in the planet's history.
The new study comes from the Australian National University and was based on examining ancient sedimentary rocks, gathered in central Australia. The lead researcher Associate Professor Jochen Brocks explained that the scientists crushed the rocks to extract molecules of ancient organisms.
"These molecules tell us that it really became interesting 650 million years ago. It was a revolution of ecosystems, it was the rise of algae," said Brocks.
He set the stage for how algae had such an impact by describing an event called Snowball Earth which took place 700 million years ago. It resulted in Earth being completely frozen over for 50 million years. But once the ice started to melt, a tremendous amount of nutrients was released:
"The Earth was frozen over for 50 million years. Huge glaciers ground entire mountain ranges to powder that released nutrients, and when the snow melted during an extreme global heating event rivers washed torrents of nutrients into the ocean," elaborated Brocks.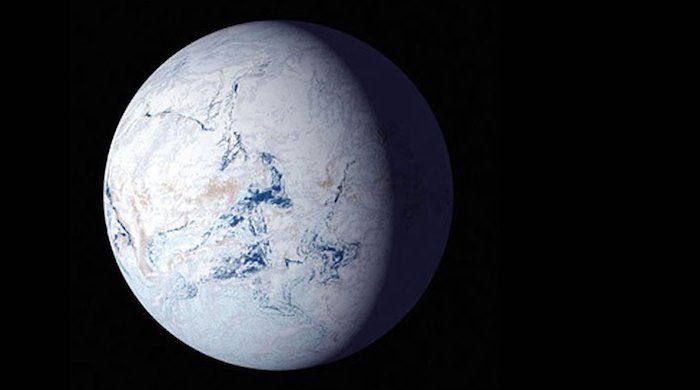 Snowball Earth. Credit: Harvard University.
The rush of nutrients and the cooling of global temperatures created the right conditions for the growth and rapid propagation of algae. The ocean was no longer just full of bacteria, moving towards hosting more complex life forms. This set of an evolutionary chain reaction that resulted in you and me.
"These large and nutritious organisms at the base of the food web provided the burst of energy required for the evolution of complex ecosystems, where increasingly large and complex animals, including humans, could thrive on Earth," proposed Brocks.
The research team's co-lead Dr. Amber Jarrett, who found the ancient rocks that were dated to just after the Snowball Earth period, called their discovery "ground-breaking" --
"In these rocks we discovered striking signals of molecular fossils," said Dr Jarrett. "We immediately knew that we had made a ground-breaking discovery that snowball Earth was directly involved in the evolution of large and complex life." 
You can read the published research in Nature magazine.
Check out also a video with the researchers describing their work here:
What can 3D printing do for medicine? The "sky is the limit," says Northwell Health researcher Dr. Todd Goldstein.
Northwell Health
Sponsored by Northwell Health
Medical professionals are currently using 3D printers to create prosthetics and patient-specific organ models that doctors can use to prepare for surgery.
Eventually, scientists hope to print patient-specific organs that can be transplanted safely into the human body.
Northwell Health, New York State's largest health care provider, is pioneering 3D printing in medicine in three key ways.
An ordained Lama in a Tibetan Buddhist lineage, Lama Rod grew up a queer, black male within the black Christian church in the American south. Navigating all of these intersecting, evolving identities has led him to a life's work based on compassion for self and others.
Think Again Podcasts
"What I'm interested in is deep, systematic change. What I understand now is that real change doesn't happen until change on the inside begins to happen."
"Masculinity is not inherently toxic. Patriarchy is toxic. We have to let that energy go so we can stop forcing other people to do emotional labor for us."
We were gaining three IQ points per decade for many, many years. Now, that's going backward. Could this explain some of our choices lately?
The Flynn effect appears to be in retrograde. (Credit: Shutterstock/Big Think)
popular
There's a new study out of Norway that indicates our—well, technically, their—IQs are shrinking, to the tune of about seven IQ points per generation.
Here's why generalists triumph over specialists in the new era of innovation.
Videos
Since the explosion of the knowledge economy in the 1990s, generalist inventors have been making larger and more important contributions than specialists.
One theory is that the rise of rapid communication technologies allowed the information created by specialists to be rapidly disseminated, meaning generalists can combine information across disciplines to invent something new.
Here, David Epstein explains how Nintendo's Game Boy was a case of "lateral thinking with withered technology." He also relays the findings of a fascinating study that found the common factor of success among comic book authors.
Big think's weekly newsletter.
Get smarter faster from the comfort of your inbox.
See our newsletter privacy policy
here
Most Popular
Most Recent
Big think's weekly newsletter.
Get smarter faster from the comfort of your inbox.
See our newsletter privacy policy
here
© Copyright 2007-2019 & BIG THINK, BIG THINK EDGE,
SMARTER FASTER trademarks owned by The Big Think, Inc. All rights reserved.