Physicists Find a Way Information Can Escape From Black Holes
Physicists propose a new kind of space structure that can allow information to escape from black holes.
21 November, 2017
Typically, one imagines a black hole as sort of a gigantic cosmic pit that sucks in everything around it. But physicists say a new kind of space structure is possible that allows some information to escape black holes.
---
Previously, wormholes, theoretical structures predicted by the theory of general relativity (as Einstein-Rosen bridges), have been considered as possible ways to escape black holes. But the physics of such potential tunnels between locations in space-time never panned out. The wormholes would collapse immediately upon forming. So scientists theorized that may be some advanced civilization could find a technology, perhaps utilizing an exotic material to stabilize the wormholes. Basically, pure sci-fi. 
But now, physicists proposed that a new type of wormhole is possible, called traversable. It would be be free of exotic material and could stay open on its own. 
The work on traversable wormholes was carried out by Ping Gao and Daniel Jafferies of Harvard University and Aron Wall of Stanford University. According to their 2016 paper, a repulsive negative energy can be generated by a special quantum connection between the black holes on both sides of the wormhole. With the right kind of connection, something could go from being in one black hole into the other one.
If this kind of wormhole is possible, it means there could be interiors to black holes and that you could theoretically get out of one and live to tell about it. 
Interestingly, the math involved in the work by the physicists on the wormholes is similar to the process called quantum teleportation, which can be demonstrated in a lab.
Here's how a traversable wormhole would work, in a graphic from Quanta Magazine: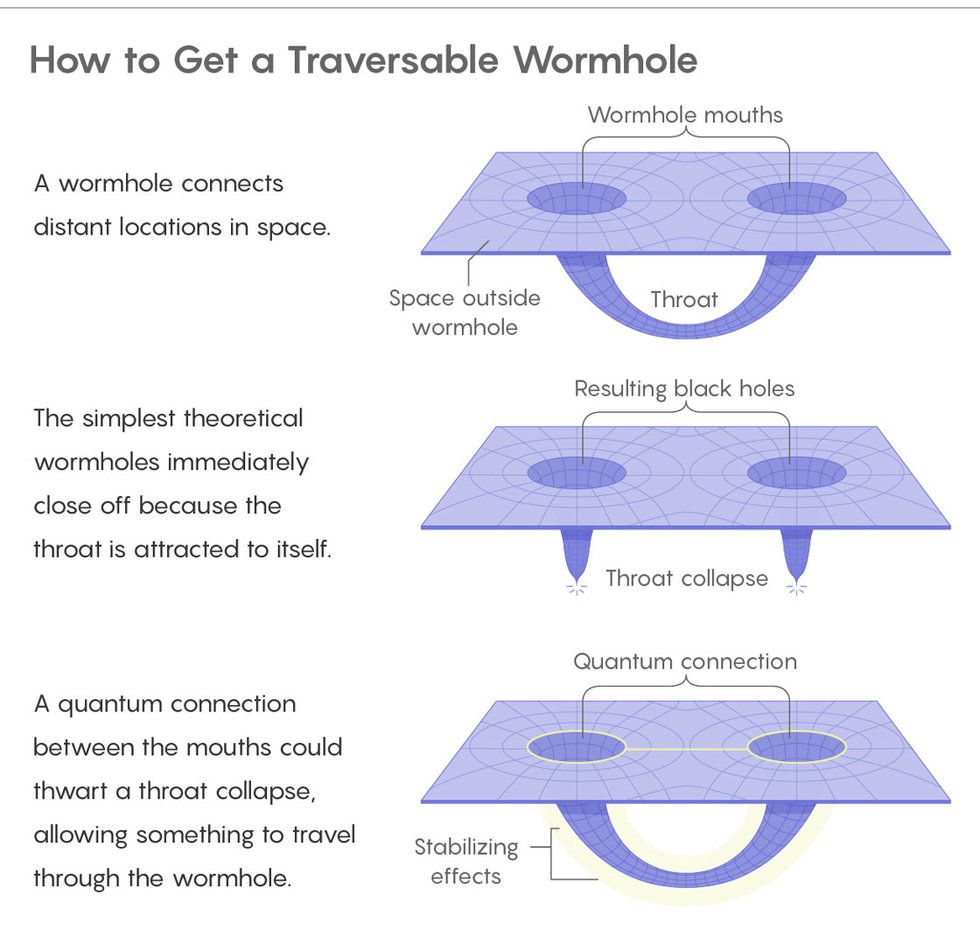 In case you're wondering, traversable wormholes do not seem to function as time machines. Rather they support the concept of unitarity - that no information is ever lost. As John Preskill, a black hole expert from Caltech noted to Quanta Magazine, the new wormholes also protect "what we call 'black hole complementarity,' which means that the interior and exterior of the black hole are not really two different systems but rather two very different, complementary ways of looking at the same system."
Traversable wormholes were further explored in a recent paper co-authored by Juan Maldacena, Douglas Stanford, and Zhenbin Yang. 
It bears noting that no actual wormholes have been discovered yet.
Big Think
Sponsored by Lumina Foundation
Upvote/downvote each of the videos below!

As you vote, keep in mind that we are looking for a winner with the most engaging social venture pitch - an idea you would want to invest in.
Having these financial life skills can help you navigate challenging economic environments.
Personal Growth
Americans are swimming in increasingly higher amounts of debt, even the upper middle class.
For many, this burden can be alleviated by becoming familiar with some straightforward financial concepts.
Here's some essential financial life skills needed to ensure your economic wellbeing.
When it comes to flirting, love meters have nothing on these researchers' findings.
(Photo from Wikimedia)

Sex & Relationships
Flirting is an important part of life. It can be a fun, adventurous way to meet others and develop intimate relationships.
Many people find flirting to be an anxiety-ridden experience, but science can help us discover principles to be more relaxed while flirting.
Smiling and eye contact are proven winners, while pick-up lines are a flirty fallacy.
Experts argue the jaws of an ancient European ape reveal a key human ancestor.
Big think's weekly newsletter.
Get smarter faster from the comfort of your inbox.
See our newsletter privacy policy
here
Most Popular
Most Recent
Big think's weekly newsletter.
Get smarter faster from the comfort of your inbox.
See our newsletter privacy policy
here
© Copyright 2007-2019 & BIG THINK, BIG THINK EDGE,
SMARTER FASTER trademarks owned by The Big Think, Inc. All rights reserved.