Humans and Supernova-Born Neutron Stars Have Similar Structures, Discover Scientists
Physicists discover strikingly similar structures in human cells and neutron stars.
03 November, 2016
As atoms in our bodies were made in stars millions of years ago, it's been common to propose that we are, in fact, made of stars. Now comes news of another mind-blowing cosmic relationship as physicists conclude that human cells and neutron stars share structural similarities, which look like multi-story parking garages.
---
Neutron stars are quite strange space objects. They come to life as a result of supernova explosions of massive stars and are incredibly dense. While they are the smallest stars, they can pack as much mass as two Suns into a star with the radius of just 10 kilometers. 
What the scientists found is that material inside human cell cytoplasms (fluid around a cell nucleus) looks like helices connecting stacks of evenly spaced sheets, dubbed "Terasaki ramps".
Interestingly, computer simulations showed similar shapes, called "nuclear pasta" inside neutron stars.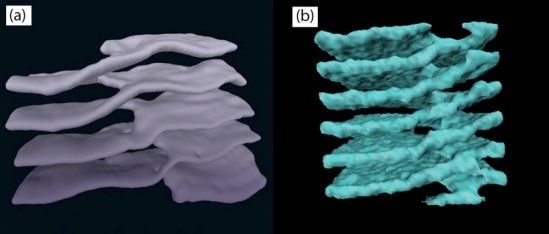 Structures that look like stacked sheets connected by helical ramps were found in a human cell cytoplasm (left) and neutron stars (right).
This conclusion comes as a result of collaborative research between physicists in two different fields. The soft condensed-matter physicist Greg Huber from U.C. Santa Barbara and nuclear physicist Charles Horowitz from Indiana University worked together to  explore the shapes. 
"I called Chuck and asked if he was aware that we had seen these structures in cells and had come up with a model for them," said Huber. "It was news to him, so I realized then that there could be some fruitful interaction."
How similar are the shapes?
"They see a variety of shapes that we see in the cell," Huber elaborated. "We see a tubular network; we see parallel sheets. We see sheets connected to each other through topological defects we call Terasaki ramps. So the parallels are pretty deep."
What's different are the physics involved.
"For neutron stars, the strong nuclear force and the electromagnetic force create what is fundamentally a quantum-mechanical problem," Huber continued. "In the interior of cells, the forces that hold together membranes are fundamentally entropic and have to do with the minimization of the overall free energy of the system. At first glance, these couldn't be more different."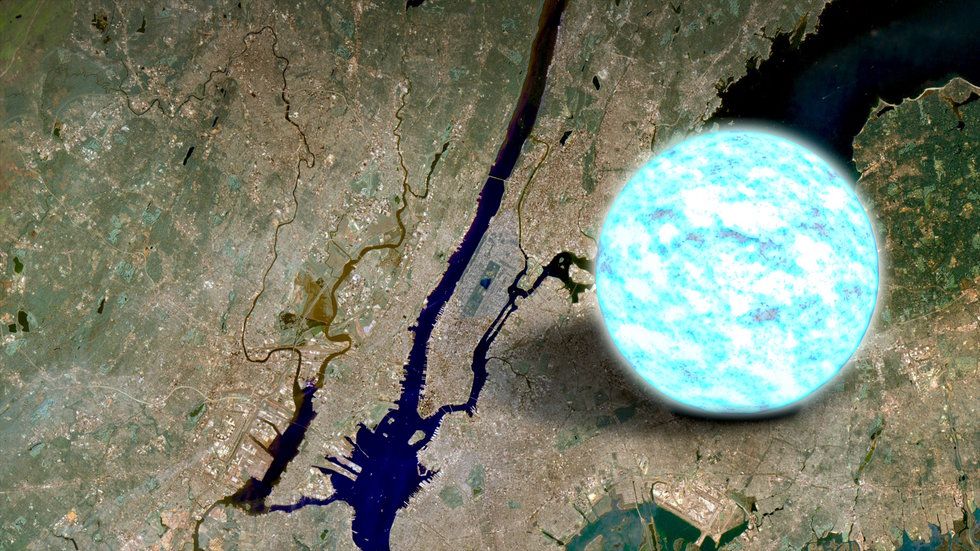 A neutron star is the densest object astronomers can observe directly, crushing half a million times Earth's mass into a sphere about 12 miles across, or similar in size to Manhattan Island, as shown in this illustration. Credit: NASA's Goddard Space Flight Center
What's also different, of course, is the scale. The building blocks of the shapes in neutron stars are a million times larger than those in a human cell. Still, the shapes look similar.
"This means that there is some deep thing we don't understand about how to model the nuclear system," said Huber. "When you have a dense collection of protons and neutrons like you do on the surface of a neutron star, the strong nuclear force and the electromagnetic forces conspire to give you phases of matter you wouldn't be able to predict if you had just looked at those forces operating on small collections of neutrons and protons." 
Charles Horowitz, the study's co-author, is also very intrigued, saying that:
"Seeing very similar shapes in such strikingly different systems suggests that the energy of a system may depend on its shape in a simple and universal way."  
The discovery is just the beginning of exploring this unexpected topic .  
Read the research here, published in the journal Physical Review C.
To learn more about neutron stars, check out this helpful video:
--
Harvard psychologists discover why we dislike the people who deliver bad news.
Getty Images
Surprising Science
A new study looked at why people tend to "shoot the messenger".
It's a fact that people don't like those who deliver them bad news.
The effect stems from our inherent need to make sense of bad or unpredictable situations.
He reminds us that meaning is wherever we choose to look.
Photo: Pictorial Parade/Getty Images
Personal Growth
Alan Watts suggests there is no ultimate meaning of life, but that "the quality of our state of mind" defines meaning for us.
This is in contradiction to the notion that an inner essence is waiting to be discovered.
Paying attention to everyday, mundane objects can become highly significant, filling life with meaning.
If life exists on Mars, there's a good chance it's related to us, say researchers.
NASA/JPL/USGS
Surprising Science
When MIT research scientist Christopher Carr visited a green sand beach in Hawaii at the age of 9, he probably didn't think that he'd use the little olivine crystals beneath his feet to one day search for extraterrestrial life.
Big think's weekly newsletter.
Get smarter faster from the comfort of your inbox.
See our newsletter privacy policy
here
Most Popular
Most Recent
Big think's weekly newsletter.
Get smarter faster from the comfort of your inbox.
See our newsletter privacy policy
here
© Copyright 2007-2019 & BIG THINK, BIG THINK EDGE,
SMARTER FASTER trademarks owned by The Big Think, Inc. All rights reserved.