Studies: One Dose of "Psilocybin" from Magic Mushrooms Relieves Depression in 80% of Cancer Patients
New studies from NYU and John Hopkins University show the effectiveness of psilocybin in treating depression and anxiety of cancer patients.
04 December, 2016
---
The largest studies to date, by arguably the most respected institutions up to this point, show that psilocybin, a compound within "magic mushrooms", can be effective in treating depression and anxiety in cancer patients. 
The studies were carried out on 29 patients by researchers at New York University (NYU) and on 51 patients at Johns Hopkins University.
Notably, up to 40% of all cancer patients are afflicted by psychological issues related to their illness.
Around 80% of the cancer patients in the studies got noticeably better after just one dose. And they sustained the psychological gains they made for up to seven months, with few minor side effects. Patients reported improvements in their quality of life, having more energy, going out more and having better relationships with family members. 
Interestingly, those who had a stronger trip reported the strongest gains in alleviating their depression and anxiety.
A number of authorities in psychiatry and addiction medicine expressed their support for the work. These include Dr. Jeffrey Lieberman, a former president of the American Psychiatric Association and Dr. Daniel Shalev from the New York State Psychiatric Institute, who wrote that the studies are "a model for revisiting criminalized compounds of interest in a safe, ethical way." 
The studies were also reviewed by regulators and were described by the New York Times as "most meticulous" to date.
The lead author of the Johns Hopkins study, psychiatrist Dr. Roland Griffiths, was optimistic on the possibilities of the new treatment, likening it to a groundbreaking surgery rather than the painstaking work to make feel people better used by traditional psychiatric approaches.  
"I really don't think we have any models in psychiatry that look like" the effects demonstrated in the two trials, said Griffiths. "Something occurs and it's repaired and it's better going forward … very plausibly for more than six months," he added. "In that sense it's a new model."
One of the participants in the study, Sherry Marcy, described the changes in how she felt this way: 
"The cloud of doom seemed to just lift… I got back in touch with my family and kids, and my wonder at life," said Marcy, whose been battling cancer from 2010. "Before, I was sitting alone at home, and I couldn't move … This study made a huge difference, and it's persisted."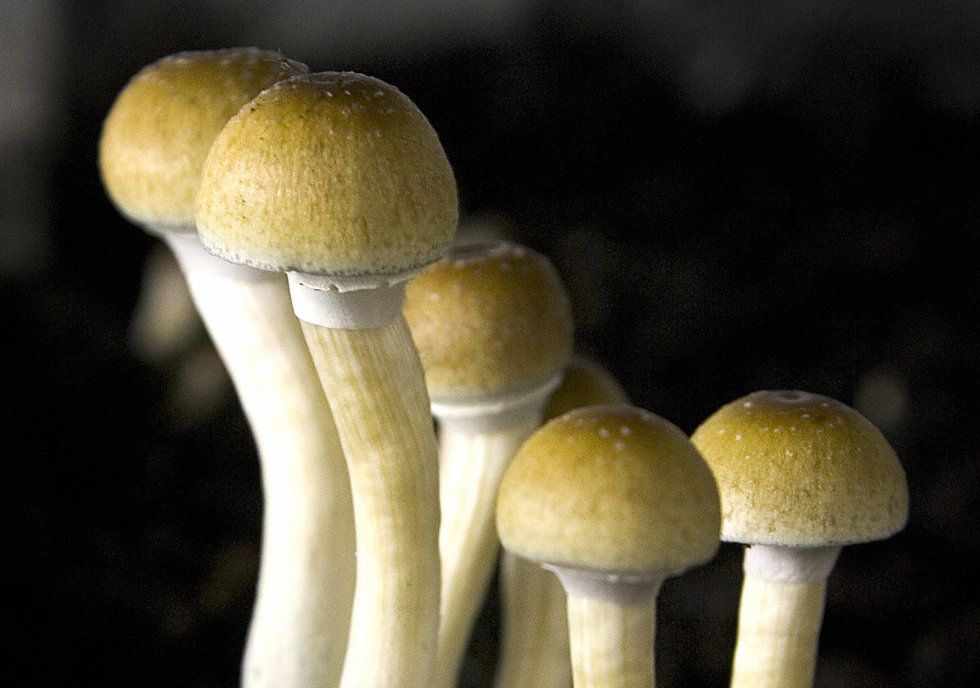 Psilocybin-containing "magic mushrooms". Credit: Getty Images.
The particulars of both studies involved randomly offering patients either psilocybin or a placebo at the first session, and then giving them the opposite treatment seven weeks later. This way all participants eventually took psilocybin. In both studies, the success rate of psilocybin versus the placebo was very clear, with 83% getting better on psilocybin and only 14% on the placebo in the NYU study. 
Psilocybin, of course, have been banned in the U.S. for over 40 years. While they were allowed to use it for their studies, the scientists warn against self-medicating depression by taking "magic mushrooms". They caution that professionals are needed to control the dosage and provide a supportive environment in which to experience the drug's effects. The psilocybin therapy may also not be appropriate for people with schizophrenia or young adults.
To move forward in this field, Dr. Shalev and Dr. Lieberman see a need to loosen research restrictions, because "there is much potential for new scientific insights and clinical applications." Ideally, the next step would be a trial with a larger sample, perhaps across several centers with hundreds of subjects. 
Not everyone is on board. Dr. William Breitbart, chairman of the psychiatry department at the Memorial Sloan-Kettering Cancer Center expressed his reservations about the use of cancer patients for the study.
"Medical marijuana got its foot in the door by making the appeal that 'cancer patients are suffering, they're near death, so for compassionate purposes, let's make it available,' " he said. "And then you're able to extend this drug to other purposes." 
The positive effect of psilocybin on depression was also demonstrated by studies earlier this year.
The current studies are published in the Journal of Psychopharmacology, with the NYU study available here and the John Hopkins study here.
Cover photo credit: Langone Medical Center/New York University. 
What can 3D printing do for medicine? The "sky is the limit," says Northwell Health researcher Dr. Todd Goldstein.
Northwell Health
Sponsored by Northwell Health
Medical professionals are currently using 3D printers to create prosthetics and patient-specific organ models that doctors can use to prepare for surgery.
Eventually, scientists hope to print patient-specific organs that can be transplanted safely into the human body.
Northwell Health, New York State's largest health care provider, is pioneering 3D printing in medicine in three key ways.
It's a "canary in the coalmine," said one climate scientist.
Surprising Science
A team of researchers discovered that permafrost in Northern Canada is melting at unusually fast rates.
This could causes dangerous and costly erosion, and it's likely speeding up climate change because thawing permafrost releases heat-trapping gasses into the atmosphere.
This week, Canada's House of Commons declared a national climate emergency.
One of Stephen Hawking's predictions seems to have been borne out in a man-made "black hole".
Image source: NASA/JPL-Caltech
Surprising Science
Stephen Hawking predicted virtual particles splitting in two from the gravitational pull of black holes.
Black holes, he also said, would eventually evaporate due to the absorption of negatively charged virtual particles.
A scientist has built a black hole analogue based on sound instead of light.
Not every part of a satellite burns up in reentry. Considering the growing number of satellites in orbital space, that's a big problem.
Technology & Innovation
Earth's orbital space is getting more crowded by the day.
The more satellites and space junk we put into orbit, the greater a risk that there could be a collision.
Not all materials burn up during reentry; that's why scientists need to stress test satellite parts to ensure that they won't become deadly falling objects.
Big think's weekly newsletter.
Get smarter faster from the comfort of your inbox.
See our newsletter privacy policy
here
Most Popular
Most Recent
Big think's weekly newsletter.
Get smarter faster from the comfort of your inbox.
See our newsletter privacy policy
here
© Copyright 2007-2019 & BIG THINK, BIG THINK EDGE,
SMARTER FASTER trademarks owned by The Big Think, Inc. All rights reserved.