Now That Amazon Bought Whole Foods, What's next for Shopping?
Amazon's blockbuster purchase of Whole Foods will lead to big changes in how we shop.
19 June, 2017
When Amazon bought the upscale grocery chain Whole Foods for $13.7 billion, it immediately set off speculation about the changing nature of shopping. Already the behemoth of online retailers, Amazon will now dramatically expand its physical presence, courtesy the 460 Whole Foods stores worldwide.
---
Amazon currently has a grocery delivery service called Amazon Fresh, available in about 20 cities in the U.S., but it struggled to make enough headway in becoming America's grocer. Michael Pachter, managing director at Wedbush Securities, says this purchase will bring Amazon into many more American homes in an unprecedented way. Whole Foods has a reputation for high quality products and one of its stores is a short distance away from most people.
"I think the most important aspect of the purchase is that it gives Amazon 440 refrigerated distribution centers in the U.S. and probably puts their distribution presence within 10 miles of 80% of the population and within 90% of the wealthy population," he wrote in an email to CNBC.
How does Walmart, the world's largest retailer, see its future in light of Amazon's moves? It has been making efforts to grow its online presence, buying the online apparel vendor Bonobos for $310 million and offering free, two-day shipping on millions of items. This in contrast to Amazon requiring a paid annual membership in Prime, which offers a similar shipping service. Walmart also has the advantage of appealing to lower-income consumers and having stores within 10 miles of 90% of most American homes.
Walmart is also expanding its online grocery business by offering curbside pickups for online orders and opening trial drive-up pickup kiosks. In another idea, it's testing whether it can use store staff to make deliveries in some markets.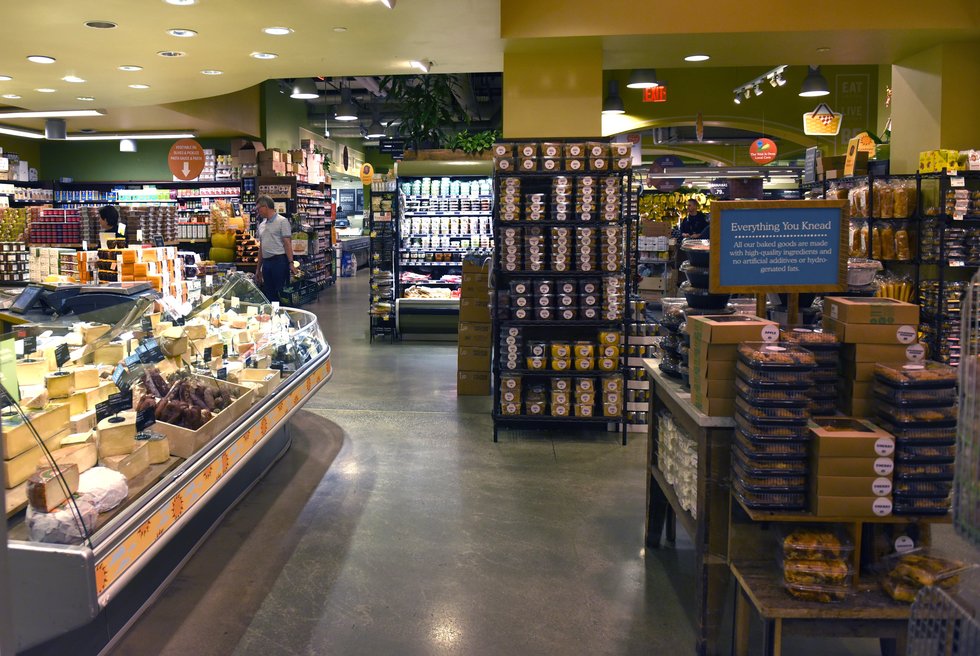 Amazon's purchase of Whole Foods ups the stakes in this battle of giant retailers by giving Amazon not just the physical spaces, but also the knowledge on how to run them. In fact, Farhad Manjoo from the New York Times thinks that one big reason for Amazon to buy Whole Foods is to figure out how to sell groceries online in a seamless way, something no one else has mastered. For Amazon, Whole Foods is a "sustainably sourced guinea pig," as Manjoo calls it.  
It's also important to note that even if the deal goes through, the Amazon and Whole Foods combo will represent about 3.5% of grocery spending in the U.S. So it's not yet as groundbreaking as it sounds. But with the incredible growth of Amazon under Jeff Bezos, now the second richest man in the world, it's hard not to imagine that this purchase will result in an industry disruption in the near term.
If you want to read about some of Amazon's most futuristic tech solutions to your shopping woes, check out this article on its giant airship warehouses. In the meantime, it's likely the retailer will bring its strong reliance on automation to streamline the operations at Whole Foods. Yes, we are talking more robots. Amazon has also been testing customer-tracking technology at some of its current physical stores. Expect changes to your shopping routine.
It's unlikely that there's anything on the planet that is worth the cost of shipping it back
Surprising Science
In the second season of National Geographic Channel's MARS (premiering tonight, 11/12/18,) privatized miners on the red planet clash with a colony of international scientists
Privatized mining on both Mars and the Moon is likely to occur in the next century
The cost of returning mined materials from Space to the Earth will probably be too high to create a self-sustaining industry, but the resources may have other uses at their origin points
Want to go to Mars? It will cost you. In 2016, SpaceX founder Elon Musk estimated that manned missions to the planet may cost approximately $10 billion per person. As with any expensive endeavor, it is inevitable that sufficient returns on investment will be needed in order to sustain human presence on Mars. So, what's underneath all that red dust?
Mining Technology reported in 2017 that "there are areas [on Mars], especially large igneous provinces, volcanoes and impact craters that hold significant potential for nickel, copper, iron, titanium, platinum group elements and more."
Were a SpaceX-like company to establish a commercial mining presence on the planet, digging up these materials will be sure to provoke a fraught debate over environmental preservation in space, Martian land rights, and the slew of microbial unknowns which Martian soil may bring.
In National Geographic Channel's genre-bending narrative-docuseries, MARS, (the second season premieres tonight, November 12th, 9 pm ET / 8 pm CT) this dynamic is explored as astronauts from an international scientific coalition go head-to-head with industrial miners looking to exploit the planet's resources.
Given the rate of consumption of minerals on Earth, there is plenty of reason to believe that there will be demand for such an operation.
"Almost all of the easily mined gold, silver, copper, tin, zinc, antimony, and phosphorus we can mine on Earth may be gone within one hundred years" writes Stephen Petranek, author of How We'll Live on Mars, which Nat Geo's MARS is based on. That grim scenario will require either a massive rethinking of how we consume metals on earth, or supplementation from another source.
Elon Musk, founder of SpaceX, told Petranek that it's unlikely that even if all of Earth's metals were exhausted, it is unlikely that Martian materials could become an economically feasible supplement due to the high cost of fuel required to return the materials to Earth. "Anything transported with atoms would have to be incredibly valuable on a weight basis."
Actually, we've already done some of this kind of resource extraction. During NASA's Apollo missions to the Moon, astronauts used simple steel tools to collect about 842 pounds of moon rocks over six missions. Due to the high cost of those missions, the Moon rocks are now highly valuable on Earth.
Moon rock on display at US Space and Rocket Center, Huntsville, AL (Big Think/Matt Carlstrom)
In 1973, NASA valuated moon rocks at $50,800 per gram –– or over $300,000 today when adjusted for inflation. That figure doesn't reflect the value of the natural resources within the rock, but rather the cost of their extraction.
Assuming that Martian mining would be done with the purpose of bringing materials back to Earth, the cost of any materials mined from Mars would need to include both the cost of the extraction and the value of the materials themselves. Factoring in the price of fuel and the difficulties of returning a Martian lander to Earth, this figure may be entirely cost prohibitive.
What seems more likely, says Musk, is for the Martian resources to stay on the Red Planet to be used for construction and manufacturing within manned colonies, or to be used to support further mining missions of the mineral-rich asteroid belt between Mars and Jupiter.
At the very least, mining on Mars has already produced great entertainment value on Earth: tune into Season 2 of MARS on National Geographic Channel.
It's an asteroid, it's a comet, it's actually a spacecraft?
(ESO/M. Kornmesser)
Surprising Science
'Oumuamua is an oddly shaped, puzzling celestial object because it doesn't act like anything naturally occurring.
The issue? The unexpected way it accelerated near the Sun. Is this our first sign of extraterrestrials?
It's pronounced: oh MOO-uh MOO-uh.
A study started out trying to see the effect of sexist attacks on women authors, but it found something deeper.
Maxpixel
Surprising Science
It's well known that abusive comments online happen to women more than men
Such comments caused a "significant effect for the abusive comment on author credibility and intention to seek news from the author and outlet in the future"
Some news organizations already heavily moderate or even ban comments entirely; this should underscore that effort
Big think's weekly newsletter.
Get smarter faster from the comfort of your inbox.
See our newsletter privacy policy
here
Most Popular
Most Recent
Big think's weekly newsletter.
Get smarter faster from the comfort of your inbox.
See our newsletter privacy policy
here
© Copyright 2007-2018 & BIG THINK, BIG THINK EDGE,
SMARTER FASTER trademarks owned by The Big Think, Inc. All rights reserved.