Now That Amazon Bought Whole Foods, What's next for Shopping?
Amazon's blockbuster purchase of Whole Foods will lead to big changes in how we shop.
19 June, 2017
When Amazon bought the upscale grocery chain Whole Foods for $13.7 billion, it immediately set off speculation about the changing nature of shopping. Already the behemoth of online retailers, Amazon will now dramatically expand its physical presence, courtesy the 460 Whole Foods stores worldwide.
---
Amazon currently has a grocery delivery service called Amazon Fresh, available in about 20 cities in the U.S., but it struggled to make enough headway in becoming America's grocer. Michael Pachter, managing director at Wedbush Securities, says this purchase will bring Amazon into many more American homes in an unprecedented way. Whole Foods has a reputation for high quality products and one of its stores is a short distance away from most people.
"I think the most important aspect of the purchase is that it gives Amazon 440 refrigerated distribution centers in the U.S. and probably puts their distribution presence within 10 miles of 80% of the population and within 90% of the wealthy population," he wrote in an email to CNBC.
How does Walmart, the world's largest retailer, see its future in light of Amazon's moves? It has been making efforts to grow its online presence, buying the online apparel vendor Bonobos for $310 million and offering free, two-day shipping on millions of items. This in contrast to Amazon requiring a paid annual membership in Prime, which offers a similar shipping service. Walmart also has the advantage of appealing to lower-income consumers and having stores within 10 miles of 90% of most American homes.
Walmart is also expanding its online grocery business by offering curbside pickups for online orders and opening trial drive-up pickup kiosks. In another idea, it's testing whether it can use store staff to make deliveries in some markets.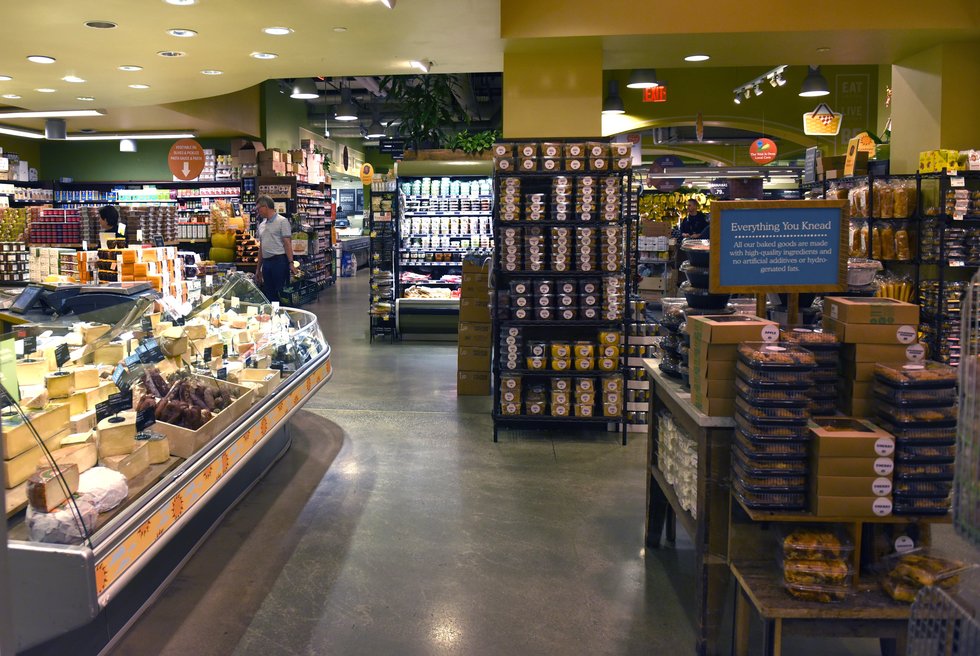 Amazon's purchase of Whole Foods ups the stakes in this battle of giant retailers by giving Amazon not just the physical spaces, but also the knowledge on how to run them. In fact, Farhad Manjoo from the New York Times thinks that one big reason for Amazon to buy Whole Foods is to figure out how to sell groceries online in a seamless way, something no one else has mastered. For Amazon, Whole Foods is a "sustainably sourced guinea pig," as Manjoo calls it.  
It's also important to note that even if the deal goes through, the Amazon and Whole Foods combo will represent about 3.5% of grocery spending in the U.S. So it's not yet as groundbreaking as it sounds. But with the incredible growth of Amazon under Jeff Bezos, now the second richest man in the world, it's hard not to imagine that this purchase will result in an industry disruption in the near term.
If you want to read about some of Amazon's most futuristic tech solutions to your shopping woes, check out this article on its giant airship warehouses. In the meantime, it's likely the retailer will bring its strong reliance on automation to streamline the operations at Whole Foods. Yes, we are talking more robots. Amazon has also been testing customer-tracking technology at some of its current physical stores. Expect changes to your shopping routine.
Related Articles
These five main food groups are important for your brain's health and likely to boost the production of feel-good chemicals.
Infographics show the classes and anxieties in the supposedly classless U.S. economy.
What is the middle class now, anyway? (JEWEL SAMAD/AFP/Getty Images)
Politics & Current Affairs
For those of us who follow politics, we're used to commentators referring to the President's low approval rating as a surprise given the U.S.'s "booming" economy. This seeming disconnect, however, should really prompt us to reconsider the measurements by which we assess the health of an economy. With a robust U.S. stock market and GDP and low unemployment figures, it's easy to see why some think all is well. But looking at real U.S. wages, which have remained stagnant—and have, thus, in effect gone down given rising costs from inflation—a very different picture emerges. For the 1%, the economy is booming. For the rest of us, it's hard to even know where we stand. A recent study by Porch (a home-improvement company) of blue-collar vs. white-collar workers shows how traditional categories are becoming less distinct—the study references "new-collar" workers, who require technical certifications but not college degrees. And a set of recent infographics from CreditLoan capturing the thoughts of America's middle class as defined by the Pew Research Center shows how confused we are.
Big think's weekly newsletter.
Get smarter faster from the comfort of your inbox.
See our newsletter privacy policy
here
Most Popular
Most Recent
Big think's weekly newsletter.
Get smarter faster from the comfort of your inbox.
See our newsletter privacy policy
here
© Copyright 2007-2018 & BIG THINK, BIG THINK EDGE,
SMARTER FASTER trademarks owned by The Big Think, Inc. All rights reserved.