Take this test to find out if you are a thinker
New psychology study finds people of higher intelligence to be much less physical than non-thinkers. You can take the utilized Need for Cognition Test yourself here to see if you're a thinker.
14 August, 2016
Here's a perfect excuse to lounge around. People of higher intelligence were found to spend more time in leisurely activity, being less physical than "non-thinkers". Such is the conclusion of a study carried out by researchers from Florida Gulf Coast University.
---
The more intelligent don't get bored easily as they can engage themselves in their inner worlds. The less intelligent, on the other hand, use physical activity as a way to beat the boredom.
The way researchers came to such realizations involved the Need for Cognition Test. Created in 1984, the psychology test measures "the tendency for an individual to engage in and enjoy thinking".
The scientists recruited 60 students, who were given the test. After pouring over the results, researchers broke the students into two groups of "thinkers" (high scorers) and "non-thinkers" (low scorers). All the participants were given a fitness tracker to wear on their wrists for a week to see how physically active they would be in their daily lives.
The thinkers were much less active during the business days of Monday through Friday than the non-thinkers. On the weekend, however, there was curiously no difference between the groups.
"It is important to note that part of the 'weekend effect' in our study may be due to our sample population, which consisted of college students," explained the researchers, led by Psychology Professor Todd McElroy.
Certainly, there are health risks associated with a sedentary lifestyle so be sure to exercise no matter how brainy you might be.
While the results of this research by the Florida scientists are undoubtedly interesting, there is clearly a need for further study with a larger sample group.
"Ultimately, an important factor that may help more thoughtful individuals combat their lower average activity levels is awareness," the researchers pointed out. "Awareness of their tendency to be less active, coupled with an awareness of the cost associated with inactivity, more thoughtful people may then choose to become more active throughout the day."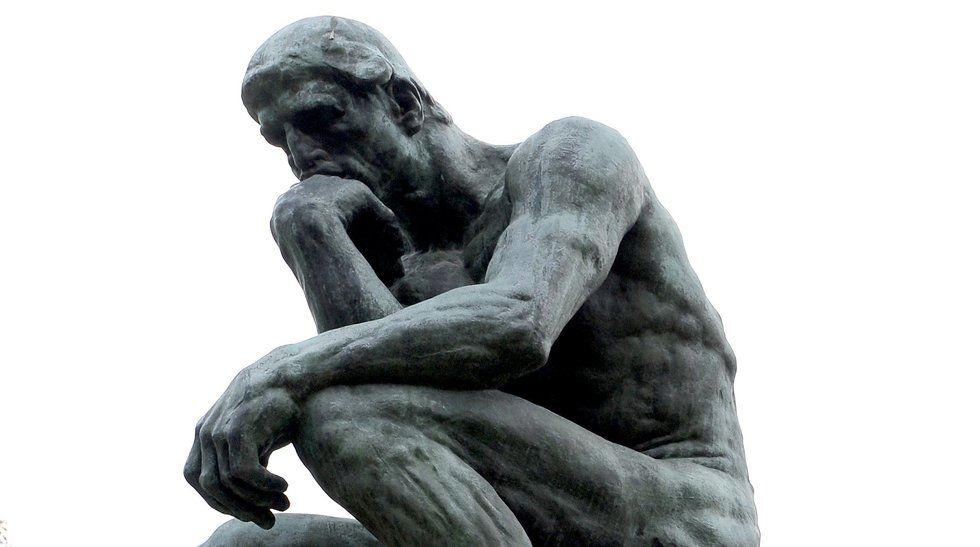 If you're curious about how the Need for Cognition Test works, here's more.
The 18-statement test can produce either high or low scores. As per notes from the researchers, here's how they interpret the results:
High scorers indicate that they readily engage in thinking about topics as they are presented, enjoy the thinking process, and are motivated to apply their thinking skills with little prompting. Such people are likely to be able to process and systematize information, sorting out the irrelevant from the important (Cacioppo & Petty, 1982, 1984). In an educational context, these personality traits and learned skills—particularly the ability to process information efficiently—can be linked with greater academic achievement (summarized in Sadowski & Gulgoz, 1996). Furthermore, as Sadowski and Cogburn have shown (1997), individuals who have high scores on the Need for Cognition Scale tend to be more conscientious and more open to experiences than are individuals who have a low need for cognition.
If you'd like to find out whether you're a thinker or non-thinker, here's your chance. Take the "Need for Cognition Test" now.
Here's how it works:
Describe the extent to which you agree with each of the following statements using this 9-point scale -
+4 = very strong agreement
+3 = strong agreement
+2 = moderate agreement
+1 = slight agreement
0 = neither agreement nor disagreement
-1 = slight disagreement
-2 = moderate disagreement
-3 = strong disagreement
-4 = very strong disagreement
1. I would prefer complex to simple problems.
2. I like to have the responsibility of handling a situation that requires a lot of thinking.
3. Thinking is not my idea of fun.
4. I would rather do something that requires little thought than something that is sure to challenge my thinking abilities.
5. I try to anticipate and avoid situations where there is likely a chance I will have to think in depth about something.
6. I find satisfaction in deliberating hard and for long hours.
7. I only think as hard as I have to.
8. I prefer to think about small, daily projects to long-term ones.
9. I like tasks that require little thought once I've learned them.
10. The idea of relying on thought to make my way to the top appeals to me.
11. I really enjoy a task that involves coming up with new solutions to problems.
12. Learning new ways to think doesn't excite me very much.
13. I prefer my life to be filled with puzzles that I must solve.
14. The notion of thinking abstractly is appealing to me.
15. I would prefer a task that is intellectual, difficult, and important to one that is somewhat important but does not require much thought.
16. I feel relief rather than satisfaction after completing a task that required a lot of mental effort.
17. It's enough for me that something gets the job done; I don't care how or why it works.
18. I usually end up deliberating about issues even when they do not affect me personally.
Out of the 18 statements on the Need for Cognition Scale, 9 are reverse scored (3, 4, 5, 7, 8, 9, 12, 16, and 17). The final score for each individual is a tally of the individual's points from each of the 18 questions. For example, if an individual very strongly agrees with "I like to have the responsibility of handling a situation that requires a lot of thinking," the individual is given 4 points since this item is scored positively. If the same individual very strongly disagrees with "Thinking is not my idea of fun," he or she is given an additional 4 points since this item is scored negatively (i.e., reverse scored). Using the 9-point scale, the highest possible score on the Need for Cognition Scale is 72 (18 items multiplied by 4 points each) and the lowest possible score is -72.
Credit: Wabash College
As religious diversity increases in the United States, we must learn to channel religious identity into interfaith cooperation.
Sponsored by Charles Koch Foundation
Religious diversity is the norm in American life, and that diversity is only increasing, says Eboo Patel.
Using the most painful moment of his life as a lesson, Eboo Patel explains why it's crucial to be positive and proactive about engaging religious identity towards interfaith cooperation.
The opinions expressed in this video do not necessarily reflect the views of the Charles Koch Foundation, which encourages the expression of diverse viewpoints within a culture of civil discourse and mutual respect.
Pulitzer Prize-winner Jared Diamond explains why some nations make it through epic crises and why others fail.
Videos
"A country is not going to resolve a national crisis unless it acknowledges that it's in a crisis," says Jared Diamond. "If you don't, you're going to get nowhere. Many Americans still don't recognize today that the United States is descending into a crisis."
The U.S. tends to focus on "bad countries" like China, Canada and Mexico as the root of its problems, however Diamond points out the missing piece: Americans are generating their own problems.
The crisis the U.S. is experiencing is not cause for despair. The U.S. has survived many tragedies, such as the War of Independence and the Great Depression – history is proof that the U.S. can get through this current crisis too.
If you don't want to know anything about your death, consider this your spoiler warning.
Culture & Religion
For centuries cultures have personified death to give this terrifying mystery a familiar face.
Modern science has demystified death by divulging its biological processes, yet many questions remain.
Studying death is not meant to be a morbid reminder of a cruel fate, but a way to improve the lives of the living.
When it comes to sniffing out whether a source is credible or not, even journalists can sometimes take the wrong approach.
Sponsored by Charles Koch Foundation
We all think that we're competent consumers of news media, but the research shows that even journalists struggle with identifying fact from fiction.
When judging whether a piece of media is true or not, most of us focus too much on the source itself. Knowledge has a context, and it's important to look at that context when trying to validate a source.
The opinions expressed in this video do not necessarily reflect the views of the Charles Koch Foundation, which encourages the expression of diverse viewpoints within a culture of civil discourse and mutual respect.