Stunning New Map of the Brain Shakes Up Neuroscience
Neuroscientists create the ultimate map of the brain, greatly advancing our understanding and leading to potential new cures.
20 July, 2016
It is hard to overestimate the importance of the brain. This organ determines who we are, what we do with our bodies, and controls pretty much everything that we find valuable about the human experience.
---
In a development sure to be a boon to neuroscience, researchers published a new map of the brain that identified numerous undiscovered areas. 
The 97 sections (per hemisphere) that were previously not known will allow scientists to delve much deeper into the brain's functions. The new map can help surgeons and lead to cures for diseases like Alzheimer's and autism as well a fresh understanding of how our most important organ develops and ages.
In particular, researchers from Washington University in Saint Louis found 360 sections in the cerebral cortex, the brain's outer layer of neural tissue. With 180 sections per hemisphere, each such section coordinates a particular activity, and the sheer abundance of new cortical areas shows how much there is still to learn about the brain's operations.
To create the map, researchers relied on brain scan data from 210 healthy young adults as well as artificial intelligence software that deduced where to find hidden regions. 
Each person's brain was scanned when they were doing nothing and another time when they were engaged in some uncomplicated tasks, like listening to a story. Brain scans from a second group of 210 people were used to confirm the initial findings.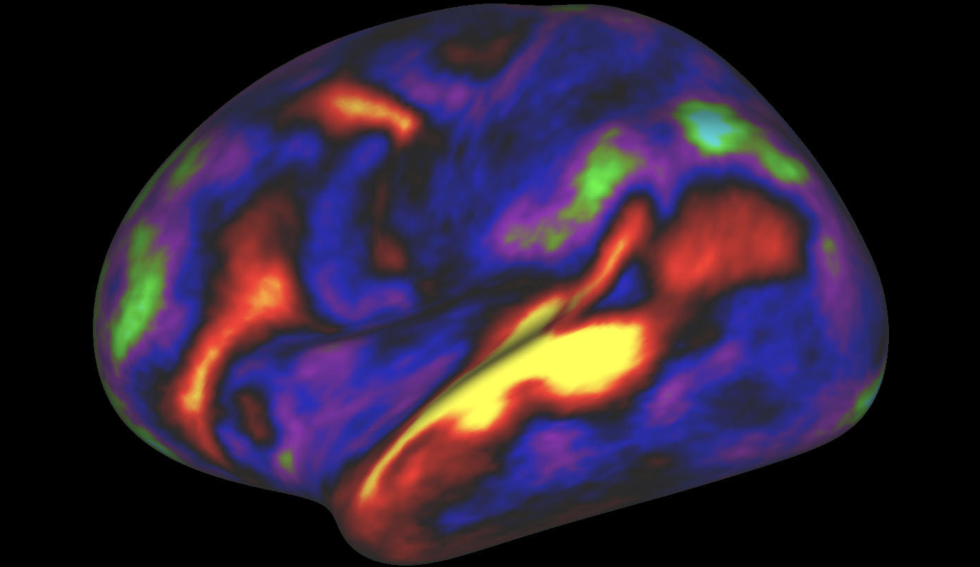 A brain scan that shows the pattern of brain activity in the left hemisphere of a person listening to stories. Credit: Matthew F. Glasser, David C. Van Essen.
While there have been previous brain maps made, the new one is a major improvement because it is based on a much larger sample of data and takes into account the brain's multiple properties. This allows for much greater precision. 
As the study's lead author, neuroscientist Matthew F. Glasser, told the New York Times:
"This map you should think of as version 1.0. There may be a version 2.0 as the data get better and more eyes look at the data. We hope the map can evolve as the science progresses."
Related Articles
Both schizophrenics and people with a common personality type share similar brain patterns.
(shutterstock)
Mind & Brain
A new study shows that people with a common personality type share brain activity with patients diagnosed with schizophrenia.
The study gives insight into how the brain activity associated with mental illnesses relates to brain activity in healthy individuals.
This finding not only improves our understanding of how the brain works but may one day be applied to treatments.
It's a development that could one day lead to much better treatments for osteoporosis, joint damage, and bone fractures.
Image: Nissim Benvenisty
Surprising Science
Scientists have isolated skeletal stem cells in adult and fetal bones for the first time.
These cells could one day help treat damaged bone and cartilage.
The team was able to grow skeletal stem cells from cells found within liposuctioned fat.
Gut bacteria play an important role in how you feel and think and how well your body fights off disease. New research shows that exercise can give your gut bacteria a boost.
National Institutes of Health
Surprising Science
Two studies from the University of Illinois show that gut bacteria can be changed by exercise alone.
Our understanding of how gut bacteria impacts our overall health is an emerging field, and this research sheds light on the many different ways exercise affects your body.
Exercising to improve your gut bacteria will prevent diseases and encourage brain health.
Big think's weekly newsletter.
Get smarter faster from the comfort of your inbox.
See our newsletter privacy policy
here
Most Popular
Most Recent
Big think's weekly newsletter.
Get smarter faster from the comfort of your inbox.
See our newsletter privacy policy
here
© Copyright 2007-2018 & BIG THINK, BIG THINK EDGE,
SMARTER FASTER trademarks owned by The Big Think, Inc. All rights reserved.