Stunning New Map of the Brain Shakes Up Neuroscience
Neuroscientists create the ultimate map of the brain, greatly advancing our understanding and leading to potential new cures.
20 July, 2016
It is hard to overestimate the importance of the brain. This organ determines who we are, what we do with our bodies, and controls pretty much everything that we find valuable about the human experience.
---
In a development sure to be a boon to neuroscience, researchers published a new map of the brain that identified numerous undiscovered areas. 
The 97 sections (per hemisphere) that were previously not known will allow scientists to delve much deeper into the brain's functions. The new map can help surgeons and lead to cures for diseases like Alzheimer's and autism as well a fresh understanding of how our most important organ develops and ages.
In particular, researchers from Washington University in Saint Louis found 360 sections in the cerebral cortex, the brain's outer layer of neural tissue. With 180 sections per hemisphere, each such section coordinates a particular activity, and the sheer abundance of new cortical areas shows how much there is still to learn about the brain's operations.
To create the map, researchers relied on brain scan data from 210 healthy young adults as well as artificial intelligence software that deduced where to find hidden regions. 
Each person's brain was scanned when they were doing nothing and another time when they were engaged in some uncomplicated tasks, like listening to a story. Brain scans from a second group of 210 people were used to confirm the initial findings.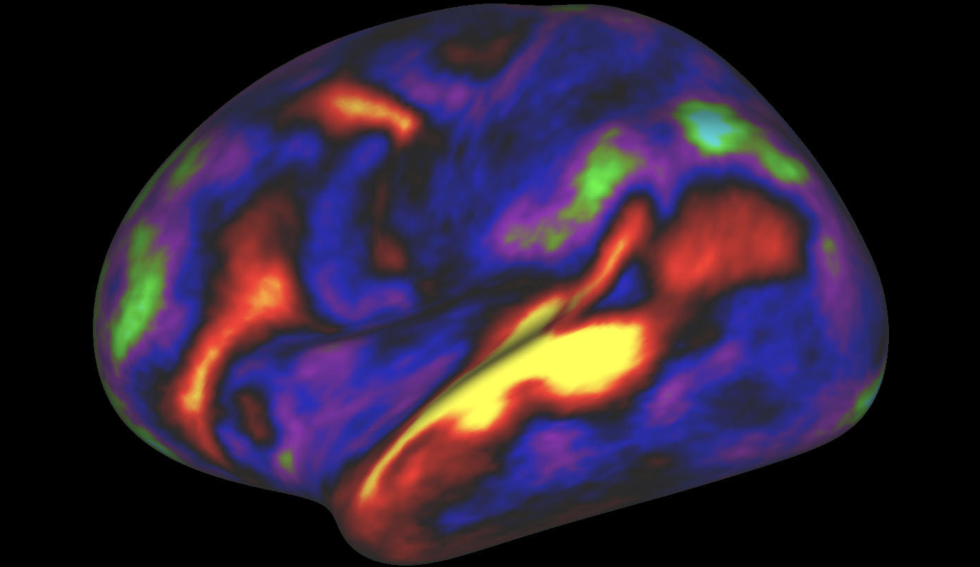 A brain scan that shows the pattern of brain activity in the left hemisphere of a person listening to stories. Credit: Matthew F. Glasser, David C. Van Essen.
While there have been previous brain maps made, the new one is a major improvement because it is based on a much larger sample of data and takes into account the brain's multiple properties. This allows for much greater precision. 
As the study's lead author, neuroscientist Matthew F. Glasser, told the New York Times:
"This map you should think of as version 1.0. There may be a version 2.0 as the data get better and more eyes look at the data. We hope the map can evolve as the science progresses."
The Russian robot named "Boris" was revealed to be an actor.
Technology & Innovation
A state-owned channel showed a report on a "robot" which turned out to be an actor in a suit.
The robot "Boris" was supposed to be good at math and dancing.
Russian journalists who raised questions ultimately found out the truth.
It's been demonstrated that women are more attracted to men with attitudes of benevolent sexism. A new study asks why.
Just relax, young lady. We men can sort you out. (Credit: Wikimedia Commons)
popular
It's a minefield: Another new study presents evidence of what heterosexual women want. Still, the lead author of the study is a woman, Pelin Gul. (Her co-author is Tom R. Kupfer.) The study, recently published in Sage Journals, is called "Benevolent Sexism and Mate Preferences: Why Do Women Prefer Benevolent Men Despite Recognizing That They Can Be Undermining?" Previous studies suggest that this happens more often than you'd expect.
Empathy makes us human. Humans make structures that rob us of empathy when we need it most. Helen Riess is trying to reverse that trend.
Think Again Podcasts
Heart – mind = emotional quicksand. Mind – heart = greeting card sympathy
The doctor burnout epidemic and how to fix it
Big think's weekly newsletter.
Get smarter faster from the comfort of your inbox.
See our newsletter privacy policy
here
Most Popular
Most Recent
Big think's weekly newsletter.
Get smarter faster from the comfort of your inbox.
See our newsletter privacy policy
here
© Copyright 2007-2018 & BIG THINK, BIG THINK EDGE,
SMARTER FASTER trademarks owned by The Big Think, Inc. All rights reserved.