Microsoft predicts everyone will soon have an AI "second self" to boost intelligence
Microsoft researchers work to create a digital "alter ego" that will know everything about you and make you much smarter.
26 February, 2018
A new book by two industry titans predicts that in the near future everyone will have a digital "alter ego". 
---
The book "The Future Computed" comes from Microsoft's President Brad Smith and the EVP of AI and Research Harry Shum. In this freely-available (and worth checking out) look into what's just around the bend, the two argue that companies have to embrace AI if they want to be successful going forward. But progress can move faster if researchers do not sit on the knowledge they are developing but share it with competitors, ensuring that AI will reach its full potential. 
One big AI advancement that the two tech gurus predict will be created within the next 20 years is the advent of digital assistants. We are not talking the current versions of Apple's Siri, Microsoft's Cortana or Amazon's Alexa, but assistants that control all aspects of your life, knowing everything about you (with your permission). Internally, Microsoft uses the words "alter ego" or "a second self" to describe the kind of amazingly sophisticated digital help you'll be getting.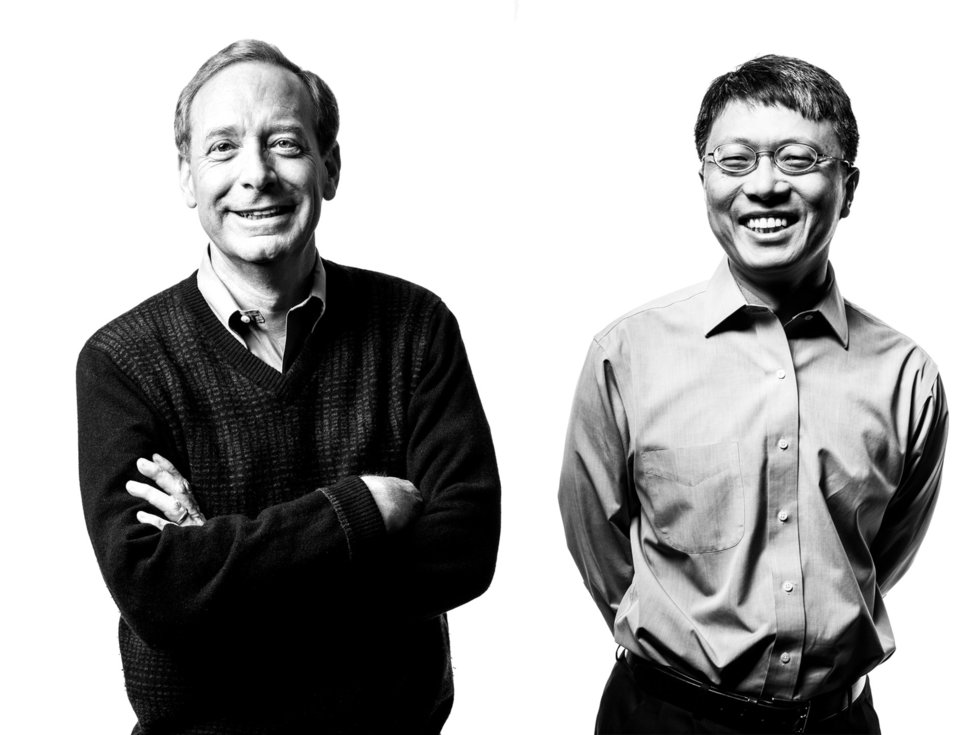 Microsoft president Brad Smith and EVP of AI and Research Harry Shum. Credit: Microsoft Corp.
Another interesting point the tech giants make involves the importance of humanities. The authors propose that once AI is close to being given decision-making responsibilities, researchers with backgrounds in humanities will be needed to guide the AI to become more human-like in its thinking. Tech companies can help create the tools, but how the society uses them should be part of a much broader conversation. Smith and Shum also highlight the significance of starting to discuss and coming to a consensus on the ethics of AI.
"We make the point that tech companies will know more than anybody else about how the technology works, but that doesn't mean that tech companies will know best how AI should be used in ways that are societally responsible and beneficial," Smith said in an interview with Business Insider. 
What are some of the abilities that your future digital "alter ego" might have? While Microsoft hasn't necessarily shared many details of such plans, other industry insiders have some ideas. For one, our communication with such an assistant will likely be conversational, but instead of talking to one out loud, the interaction might take place entirely in your head. 
Elon Musk is betting on that kind of future as well, founding Neuralink to create a brain-computer interface. 
Another advance to look forward to - the AI second self will likely make you much smarter. It will be able to not only keep track of where you need to go, who you need to see, what pill you need to take, or order things for you based just on what you are thinking, but it will be an inexhaustible supply of immediately available information, calculations and well-informed decisions for you to make. 
An AI layer will be "amplifying human ingenuity in untold ways", write Smith and Shum.
If we don't get enslaved or somehow destroyed by AI, as Elon Musk and other experts also often caution, a future with a digital second self is certainly worth looking forward to. 
A theory from cosmology claims the Universe could rip apart to shreds.
Pixabay
Surprising Science
A cosmological model predicts that the expanding Universe could rip itself apart.
Too much dark energy could overwhelm the forces holding matter together.
The disaster could happen in about 22 billion years.
Researchers believe that the practice of sleeping through the whole night didn't really take hold until just a few hundred years ago.
The Bed by Henri de Toulouse-Lautrec.
Surprising Science
She was wide awake and it was nearly two in the morning. When asked if everything was alright, she said, "Yes." Asked why she couldn't get to sleep she said, "I don't know." Neuroscientist Russell Foster of Oxford might suggest she was exhibiting "a throwback to the bi-modal sleep pattern." Research suggests we used to sleep in two segments with a period of wakefulness in-between.
Researchers find an amazing amount of often-weird forms of life below the planet's surface.
Credit: Gaetan Borgonie (Extreme Life Isyensya, Belgium).
Surprising Science
Scientists found a rich ecosystem deep inside the planet.
The "deep biosphere" contains mostly bacteria and microbes.
The amount of life below the surface is hundreds of times greater than the combined weight of all the humans.
Big think's weekly newsletter.
Get smarter faster from the comfort of your inbox.
See our newsletter privacy policy
here
Most Popular
Most Recent
Big think's weekly newsletter.
Get smarter faster from the comfort of your inbox.
See our newsletter privacy policy
here
© Copyright 2007-2018 & BIG THINK, BIG THINK EDGE,
SMARTER FASTER trademarks owned by The Big Think, Inc. All rights reserved.