Lack of Intellectual Humility Plagues Our Times, Say Researchers
A recent psychology study examines the importance of intellectual humility in decision-making related to politics, health and work.
12 November, 2017
---
Researchers from Duke University say that intellectual humility is an important personality trait that has become in short supply in our country. 
Intellectual humility is like open-mindedness. It is basically an awareness that your beliefs may be wrong, influencing a person's ability to make decisions in politics, health and other areas of life. An intellectually humble person can have strong opinions, say the authors, but will still recognize they are not perfect and are willing to be proven wrong.
This trait is not linked to a specific partisan view, with researchers finding no difference in levels of the characteristic between conservatives, liberals, religious or non-religious people. In fact, the scientists possibly managed to put to rest an age-old stereotype, explained the study's lead author Mark Leary, a professor of psychology and neuroscience at Duke.
"There are stereotypes about conservatives and religiously conservative people being less intellectually humble about their beliefs," said Leary. "We didn't find a shred of evidence to support that." 
The researchers carried out four separate studies to understand intellectual humility. One study involved subjects reading essays for and against religion. They were then asked to judge the writers of the essays on such qualities as morality, honesty, and competence. Intellectually humble people were less likely to make judgements about the character of the essay's writer based on the expressed views. 
Participants who showed more intellectual humility were also better at evaluating the quality of evidence, opting for fact-based arguments.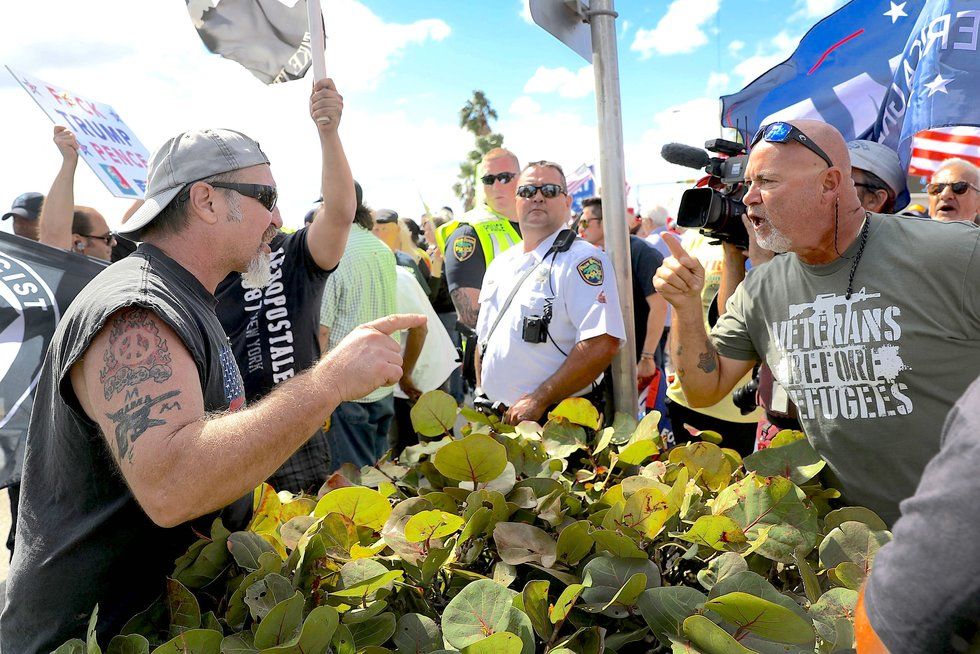 John Pope (L) expresses his disagreement with supporters of President Donald Trump near the Mar-a-Lago resort home of President Trump on March 4, 2017 in West Palm Beach, Florida. (Photo by Joe Raedle/Getty Images)
Another study involved examining how people felt about flip-flopping politicians. Intellectually humble Republicans were more likely than other Republicans to vote for a candidate if their position changed over time on account of new evidence. On the other side, both intellectually arrogant and humble Democrats were generally less likely to offer criticisms for "flip-flopping".
Based on his observations, Leary thinks lack of intellectual humility could be at the root of what's ailing Washington and can be having a negative effect on our daily lives.
"If you think about what's been wrong in Washington for a long time, it's a whole lot of people who are very intellectually arrogant about the positions they have, on both sides of the aisle," Leary said. "But even in interpersonal relationships, the minor squabbles we have with our friends, lovers and coworkers are often about relatively trivial things where we are convinced that our view of the world is correct and their view is wrong." 
The Professor also thinks business leaders could benefit from more intellectual humility - 
"If you're sitting around a table at a meeting and the boss is very low in intellectual humility, he or she isn't going to listen to other people's suggestions," explained Leary. "Yet we know that good leadership requires broadness of perspective and taking as many perspectives into account as possible."
Leary and his co-authors think that intellectual humility is a "value" that can be taught and are actively promoting it. If everyone was more intellectually humble, suggests Leary, "we'd all get along better, we'd be less frustrated with each other."
You can read his paper, published in the Personality and Social Psychology Bulletin, here.
And here's a course on intellectual humility that you can take from the philosophy department of the University of Edinburgh:
What can 3D printing do for medicine? The "sky is the limit," says Northwell Health researcher Dr. Todd Goldstein.
Northwell Health
Sponsored by Northwell Health
Medical professionals are currently using 3D printers to create prosthetics and patient-specific organ models that doctors can use to prepare for surgery.
Eventually, scientists hope to print patient-specific organs that can be transplanted safely into the human body.
Northwell Health, New York State's largest health care provider, is pioneering 3D printing in medicine in three key ways.
Torn between absolutism on the left and the right, classical liberalism—with its core values of compassion and incremental progress whereby the once-radical becomes the mainstream—is in need of a good defense. And Adam Gopnik is its lawyer.
Think Again Podcasts
Liberalism as "radical pragmatism"
Intersectionality and civic discourse
How "a thousand small sanities" tackled drunk driving, normalized gay marriage, and could control gun violence
Irish president believes students need philosophy.
Personal Growth
President of Ireland Michael D. Higgins calls for students to be thought of as more than tools made to be useful.
Higgins believes that philosophy and history should be a basic requirement forming a core education.
The Irish Young Philosopher Awards is one such event that is celebrating this discipline among the youth.
The lost practice of face-to-face communication has made the world a more extreme place.
Videos
The world was saner when we spoke face-to-face, argues John Cameron Mitchell. Not looking someone in the eye when you talk to them raises the potential for miscommunication and conflict.
Social media has been an incredible force for activism and human rights, but it's also negatively affected our relationship with the media. We are now bombarded 24/7 with news that either drives us to anger or apathy.
Sitting behind a screen makes polarization worse, and polarization is fertile ground for conspiracy theories and fascism, which Cameron describes as irrationally blaming someone else for your problems.
Big think's weekly newsletter.
Get smarter faster from the comfort of your inbox.
See our newsletter privacy policy
here
Most Popular
Most Recent
Big think's weekly newsletter.
Get smarter faster from the comfort of your inbox.
See our newsletter privacy policy
here
© Copyright 2007-2019 & BIG THINK, BIG THINK EDGE,
SMARTER FASTER trademarks owned by The Big Think, Inc. All rights reserved.