Lack of Intellectual Humility Plagues Our Times, Say Researchers
A recent psychology study examines the importance of intellectual humility in decision-making related to politics, health and work.
12 November, 2017
---
Researchers from Duke University say that intellectual humility is an important personality trait that has become in short supply in our country. 
Intellectual humility is like open-mindedness. It is basically an awareness that your beliefs may be wrong, influencing a person's ability to make decisions in politics, health and other areas of life. An intellectually humble person can have strong opinions, say the authors, but will still recognize they are not perfect and are willing to be proven wrong.
This trait is not linked to a specific partisan view, with researchers finding no difference in levels of the characteristic between conservatives, liberals, religious or non-religious people. In fact, the scientists possibly managed to put to rest an age-old stereotype, explained the study's lead author Mark Leary, a professor of psychology and neuroscience at Duke.
"There are stereotypes about conservatives and religiously conservative people being less intellectually humble about their beliefs," said Leary. "We didn't find a shred of evidence to support that." 
The researchers carried out four separate studies to understand intellectual humility. One study involved subjects reading essays for and against religion. They were then asked to judge the writers of the essays on such qualities as morality, honesty, and competence. Intellectually humble people were less likely to make judgements about the character of the essay's writer based on the expressed views. 
Participants who showed more intellectual humility were also better at evaluating the quality of evidence, opting for fact-based arguments.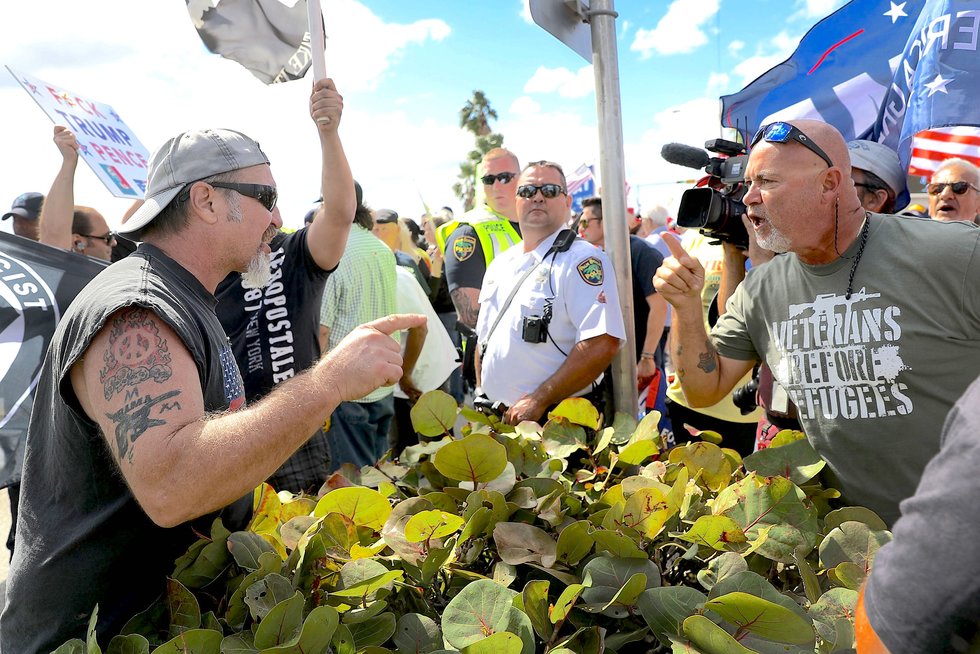 John Pope (L) expresses his disagreement with supporters of President Donald Trump near the Mar-a-Lago resort home of President Trump on March 4, 2017 in West Palm Beach, Florida. (Photo by Joe Raedle/Getty Images)
Another study involved examining how people felt about flip-flopping politicians. Intellectually humble Republicans were more likely than other Republicans to vote for a candidate if their position changed over time on account of new evidence. On the other side, both intellectually arrogant and humble Democrats were generally less likely to offer criticisms for "flip-flopping".
Based on his observations, Leary thinks lack of intellectual humility could be at the root of what's ailing Washington and can be having a negative effect on our daily lives.
"If you think about what's been wrong in Washington for a long time, it's a whole lot of people who are very intellectually arrogant about the positions they have, on both sides of the aisle," Leary said. "But even in interpersonal relationships, the minor squabbles we have with our friends, lovers and coworkers are often about relatively trivial things where we are convinced that our view of the world is correct and their view is wrong." 
The Professor also thinks business leaders could benefit from more intellectual humility - 
"If you're sitting around a table at a meeting and the boss is very low in intellectual humility, he or she isn't going to listen to other people's suggestions," explained Leary. "Yet we know that good leadership requires broadness of perspective and taking as many perspectives into account as possible."
Leary and his co-authors think that intellectual humility is a "value" that can be taught and are actively promoting it. If everyone was more intellectually humble, suggests Leary, "we'd all get along better, we'd be less frustrated with each other."
You can read his paper, published in the Personality and Social Psychology Bulletin, here.
And here's a course on intellectual humility that you can take from the philosophy department of the University of Edinburgh:
Related Articles
Research shows that the way math is taught in schools and how its conceptualized as a subject is severely impairing American student's ability to learn and understand the material.
One derivative coming right up... (Photo: Getty Images)
Technology & Innovation
Americans continually score either in the mid- or bottom-tier when it comes to math and science compared to their international peers.
Students have a fundamental misunderstanding of what math is and what it can do. By viewing it as a language, students and teachers can begin to conceptualize it in easier and more practical ways.
A lot of mistakes come from worrying too much about rote memorization and speedy problem-solving and from students missing large gaps in a subject that is reliant on learning concepts sequentially.
The surprisingly simple treatment could prove promising for doctors and patients seeking to treat depression without medication.
Photo by Luis Marina/Flickr
Mind & Brain
A new report shows how cold-water swimming was an effective treatment for a 24-year-old mother.
The treatment is based on cross-adaptation, a phenomenon where individuals become less sensitive to a stimulus after being exposed to another.
Getting used to the shock of cold-water swimming could blunt your body's sensitivity to other stressors.
Maybe try counseling first before you try this, married folks.
Surprising Science
The study looks at cannibalism in fish.
If it doesn't look like the brood is going to be 'productive,' it might get eaten.
Don't try this at home. Seriously, don't. Human beings deserve love and respect.
Big think's weekly newsletter.
Get smarter faster from the comfort of your inbox.
See our newsletter privacy policy
here
Most Popular
Most Recent
Big think's weekly newsletter.
Get smarter faster from the comfort of your inbox.
See our newsletter privacy policy
here
© Copyright 2007-2018 & BIG THINK, BIG THINK EDGE,
SMARTER FASTER trademarks owned by The Big Think, Inc. All rights reserved.