Lack of Intellectual Humility Plagues Our Times, Say Researchers
A recent psychology study examines the importance of intellectual humility in decision-making related to politics, health and work.
12 November, 2017
---
Researchers from Duke University say that intellectual humility is an important personality trait that has become in short supply in our country. 
Intellectual humility is like open-mindedness. It is basically an awareness that your beliefs may be wrong, influencing a person's ability to make decisions in politics, health and other areas of life. An intellectually humble person can have strong opinions, say the authors, but will still recognize they are not perfect and are willing to be proven wrong.
This trait is not linked to a specific partisan view, with researchers finding no difference in levels of the characteristic between conservatives, liberals, religious or non-religious people. In fact, the scientists possibly managed to put to rest an age-old stereotype, explained the study's lead author Mark Leary, a professor of psychology and neuroscience at Duke.
"There are stereotypes about conservatives and religiously conservative people being less intellectually humble about their beliefs," said Leary. "We didn't find a shred of evidence to support that." 
The researchers carried out four separate studies to understand intellectual humility. One study involved subjects reading essays for and against religion. They were then asked to judge the writers of the essays on such qualities as morality, honesty, and competence. Intellectually humble people were less likely to make judgements about the character of the essay's writer based on the expressed views. 
Participants who showed more intellectual humility were also better at evaluating the quality of evidence, opting for fact-based arguments.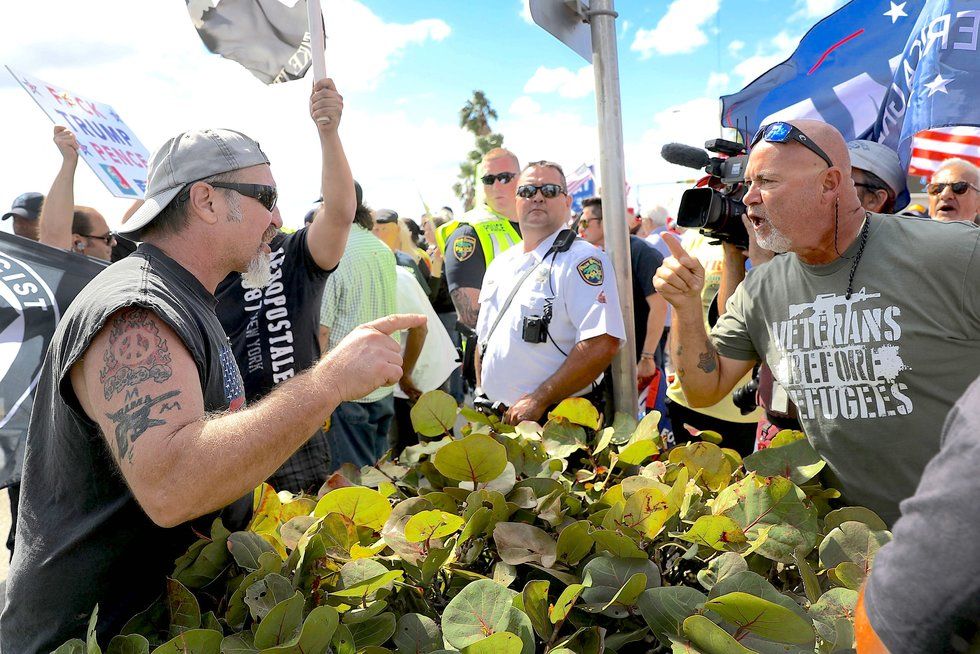 John Pope (L) expresses his disagreement with supporters of President Donald Trump near the Mar-a-Lago resort home of President Trump on March 4, 2017 in West Palm Beach, Florida. (Photo by Joe Raedle/Getty Images)
Another study involved examining how people felt about flip-flopping politicians. Intellectually humble Republicans were more likely than other Republicans to vote for a candidate if their position changed over time on account of new evidence. On the other side, both intellectually arrogant and humble Democrats were generally less likely to offer criticisms for "flip-flopping".
Based on his observations, Leary thinks lack of intellectual humility could be at the root of what's ailing Washington and can be having a negative effect on our daily lives.
"If you think about what's been wrong in Washington for a long time, it's a whole lot of people who are very intellectually arrogant about the positions they have, on both sides of the aisle," Leary said. "But even in interpersonal relationships, the minor squabbles we have with our friends, lovers and coworkers are often about relatively trivial things where we are convinced that our view of the world is correct and their view is wrong." 
The Professor also thinks business leaders could benefit from more intellectual humility - 
"If you're sitting around a table at a meeting and the boss is very low in intellectual humility, he or she isn't going to listen to other people's suggestions," explained Leary. "Yet we know that good leadership requires broadness of perspective and taking as many perspectives into account as possible."
Leary and his co-authors think that intellectual humility is a "value" that can be taught and are actively promoting it. If everyone was more intellectually humble, suggests Leary, "we'd all get along better, we'd be less frustrated with each other."
You can read his paper, published in the Personality and Social Psychology Bulletin, here.
And here's a course on intellectual humility that you can take from the philosophy department of the University of Edinburgh:
Former president of the ACLU Nadine Strossen discusses whether our society should always defend free speech rights, even for groups who would oppose such rights.
Sponsored by Charles Koch Foundation
Former ACLU president Nadine Strossen understands that protecting free speech rights isn't always a straightforward proposition.
In this video, Strossen describes the reasoning behind why the ACLU defended the free speech rights of neo-Nazis in Skokie, Illinois, 1977.
The opinions expressed in this video do not necessarily reflect the views of the Charles Koch Foundation, which encourages the expression of diverse viewpoints within a culture of civil discourse and mutual respect.
Going back to the moon will give us fresh insights about the creation of our solar system.
Videos
July 2019 marks the 50th anniversary of the moon landing — Apollo 11.
Today, we have a strong scientific case for returning to the moon: the original rock samples that we took from the moon revolutionized our view of how Earth and the solar system formed. We could now glean even more insights with fresh, nonchemically-altered samples.
NASA plans to send humans to a crater in the South Pole of the moon because it's safer there, and would allow for better communications with people back on Earth.
Pugs and bulldogs are incredibly trendy, but experts have massive animal welfare concerns about these genetically manipulated breeds. 
Photo by terriermandotcom.blogspot.com
popular
Pugs, Frenchies, boxers, shih-tzus and other flat-faced dog breeds have been trending for at least the last decade.
Higher visibility (usually in a celebrity's handbag), an increase in city living (smaller dogs for smaller homes), and possibly even the fine acting of Frank the Pug in 1997's Men in Black may be the cause.
These small, specialty pure breeds are seen as the pinnacle of cuteness – they have friendly personalities, endearing odd looks, and are perfect for Stranger Things video montages.
Jokesters and serious Area 51 raiders would be met with military force.
Politics & Current Affairs
Facebook joke event to "raid Area 51" has already gained 1,000,000 "going" attendees.
The U.S. Air Force has issued an official warning to potential "raiders."
If anyone actually tries to storm an American military base, the use of deadly force is authorized.