Study: How You React to Facebook Likes Is Linked to Self-Esteem
Have you ever refreshed your social media page, tallying each new like or lamenting that there are none? A new study reveals what that says about your self-esteem and your sense of purpose.
23 September, 2016
There are nearly 4.5 billion likes generated daily on Facebook, with half of all users liking at least one post every day, according to the Pew Research Center. And as most people who ever posted a photo on Facebook can attest, getting likes feels good while being ignored by all your online friends can be potentially depressing. Now a new study sheds more light on how all these likes make us feel, finding that those with a sense of purpose are less likely to be affected. 
---
"We found that having a sense of purpose allowed people to navigate virtual feedback with more rigidity and persistence. With a sense of purpose, they're not so malleable to the number of likes they receive," explained Cornell University professor Anthony Burrow, the study's co-author. "Purposeful people noticed the positive feedback, but did not rely on it to feel good about themselves."
What is a "sense of purpose"? To Burrow and his team, it was people who agreed with such statements as "To me, all the things I do are worthwhile" and "I have lots of reasons for living." Basically, goal-oriented people with internal motivation.
In contrast, if you keep glancing at your phone to see how many likes your latest vacation photo received, you may be setting yourself up for some negative emotions.
Professor Burrow elaborated:
"Otherwise, on days when you receive few likes, you'll feel worse. Your self-esteem would be contingent on what other people say and think. Over time that's not healthy, that's not adaptive. You want to show up with rigidity: 'I know who I am and I feel good about that.'"
The researchers propose that because goal-oriented people see their achievements in the future, they are less likely to get excited or upset over immediate rewards that Facebook likes provide.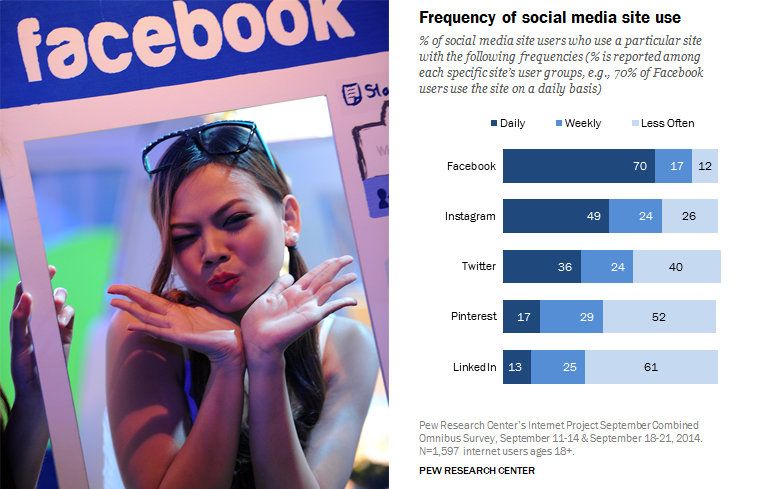 70% of Facebook users are on the site on a daily basis. 
How did the researchers come up with their conclusions? First, they studied the responses of nearly 250 active Facebook users, measuring their self-esteem and sense of purpose. Those who were deemed to have purpose did not care much about how many likes they got, while those with lower levels of purpose reported greater self-esteem if they got more likes.  
For a second study, the researchers involved a mock social media site "Faces of the Ivies" and a 100 Cornell students, who were asked to takes a selfie and post it to the site. Students with less purpose were excited to get more likes and felt a boost in self-esteem.
"In fact, those higher in purpose showed no elevation in self-esteem, even when they were told they received a high number of likes," said Burrow.
Being less reactive to positive affirmations like a Facebook like may not sound like a big deal, but having a sense of purpose has clear benefits. In fact, if you lack purpose, you can actually act against your own best interests even when good things happen.
Nicolette Rainone, the study's co-author and a program assistant for the Program for Research on Youth Development and Engagement at Cornell's Bronfenbrenner Center for Translational Research explained: 
"For example, if I'm studying for a big exam and get a good score on a practice test, that can make me think, 'Oh, I really don't need to study.' And that may ultimately decrease my final score, because I stopped persisting. Having a purpose keeps you emotionally steady which is essential for successful academic and work performance."
You can read the study 'How many likes did I get?: Purpose moderates links between positive social media feedback and self-esteem' in the Journal of Experimental Social Psychology.
Don't underestimate the power of play when it comes to problem-solving.
Videos
As we get older, the work we consistently do builds "rivers of thinking." These give us a rich knowledge of a certain kind of area.
The problem with this, however, is that as those patterns get deeper, we get locked into them. When this happens it becomes a challenge to think differently — to break from the past and generate new ideas.
How do we get out of this rut? One way is to bring play and game mechanics into workshops. When we approach problem-solving from a perspective of fun, we lose our fear of failure, allowing us to think boldly and overcome built patterns.
Controversial map names CEOs of 100 companies producing 71 percent of the world's greenhouse gas emissions.
Image: Jordan Engel, reused via Decolonial Media License 0.1
Strange Maps
Just 100 companies produce 71 percent of the world's greenhouse gases.
This map lists their names and locations, and their CEOs.
The climate crisis may be too complex for these 100 people to solve, but naming and shaming them is a good start.
The surprising results come from a new GLAAD survey.
Culture & Religion
The survey found that 18- to 34-year-old non-LGBTQ Americans reported feeling less comfortable around LGBTQ people in a variety of hypothetical situations.
The attitudes of older non-LGBTQ Americans have remained basically constant over the past few years.
Overall, about 80 percent of Americans support equal rights for LGBTQ people.
Big think's weekly newsletter.
Get smarter faster from the comfort of your inbox.
See our newsletter privacy policy
here
Most Popular
Most Recent
Big think's weekly newsletter.
Get smarter faster from the comfort of your inbox.
See our newsletter privacy policy
here
© Copyright 2007-2019 & BIG THINK, BIG THINK EDGE,
SMARTER FASTER trademarks owned by The Big Think, Inc. All rights reserved.