How to diet and exercise like the genius inventor Nikola Tesla
The famous inventor Nikola Tesla shared his views on dieting and exercising that helped him think better and live longer.
04 August, 2016
The inventor Nikola Tesla had one of the most creative and prolific brains humanity has ever produced. He kept working on ingenious projects well into the late years of his life, staying energetic and focused (albeit leading a somewhat ascetic, asexual and aloof life). How did Tesla keep sharp and achieve so much? In a 1933 interview, the 77 year-old Tesla spoke about what kept him going in life.
---
He believed that it was important to get a good start in life, developing healthy personal habits even as young people -
"our condition of body and mind in old age is merely a certificate of how we have spent our youth. The secret of my own strength and vitality today is that in my youth I led what you might call a virtuous life."

Tesla's virtuosity stemmed from an understanding that he had to control his "passions and appetites" if he wanted to make his dreams come true and continue working until he died.
With that in mind, he set out from an early age to live a disciplined and planned life, doing something he wanted to do.
"I want no vacation - no surcease from my labors. If people would select a life work compatible with their temperaments, the sum total of happiness would be immeasurably increased in the world," Tesla revealed.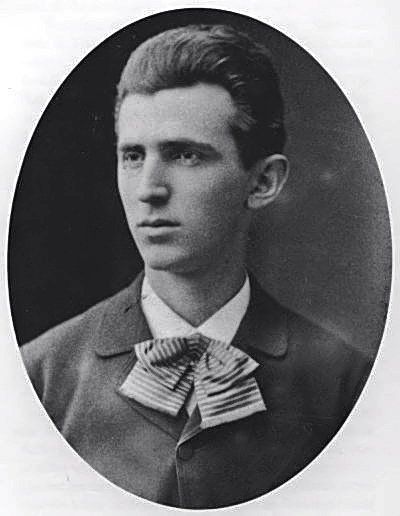 Tesla in 1879, while 23.
What was Tesla's plan to living a long life?
"Many are saddened and depressed by the brevity of life. 'What is the use of attempting to accomplish anything?' they say. 'Life is so short. We may never life to see the completion of the task.' Well, people could prolong their lives considerably if they would but make the effort. Human beings do so many things that pave the way to an early grave."

Indeed, there are many ways in which we make ourselves unproductive. One sure way is through a bad diet. This is what Tesla thought about eating habits:
"First of all, we eat too much , but this we have heard said often before. And we eat the wrong kinds of foods and drink the wrong kinds of liquids. Most of the harm is done by overeating and under-exercising, which bring about toxic conditions in the body and make it impossible to throw off the accumulated poisons."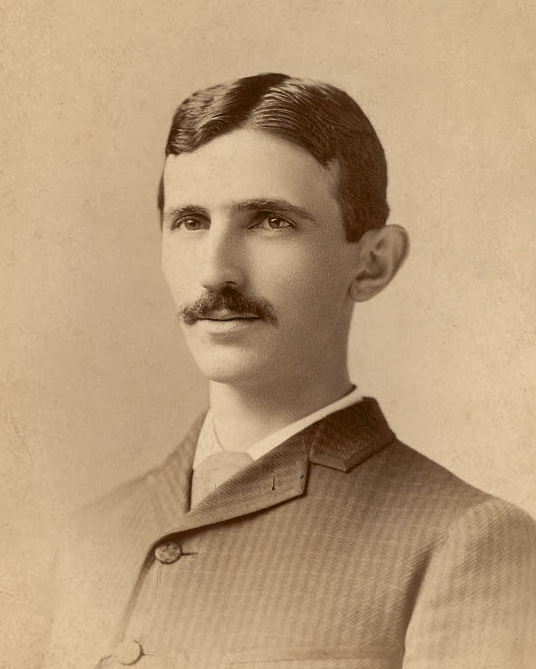 29-year-old Tesla in 1885.
What were the most important ingredients of Tesla's diet? He drank a lot of milk and water and took care of his stomach.
"Why overburden the bodies that serve us? I eat but two meals a day, and I avoid all acid-producing foods. Almost everyone eats too many peas and beans and other foods containing uric acid and other poisons. I partake liberally of fresh vegetables, fish and meat sparingly, and rarely. Fish is reputed as fine brain food, but has a very strong acid reaction, as it contains a great deal of phosphorus. Acidity is by far the worst enemy to fight off in old age."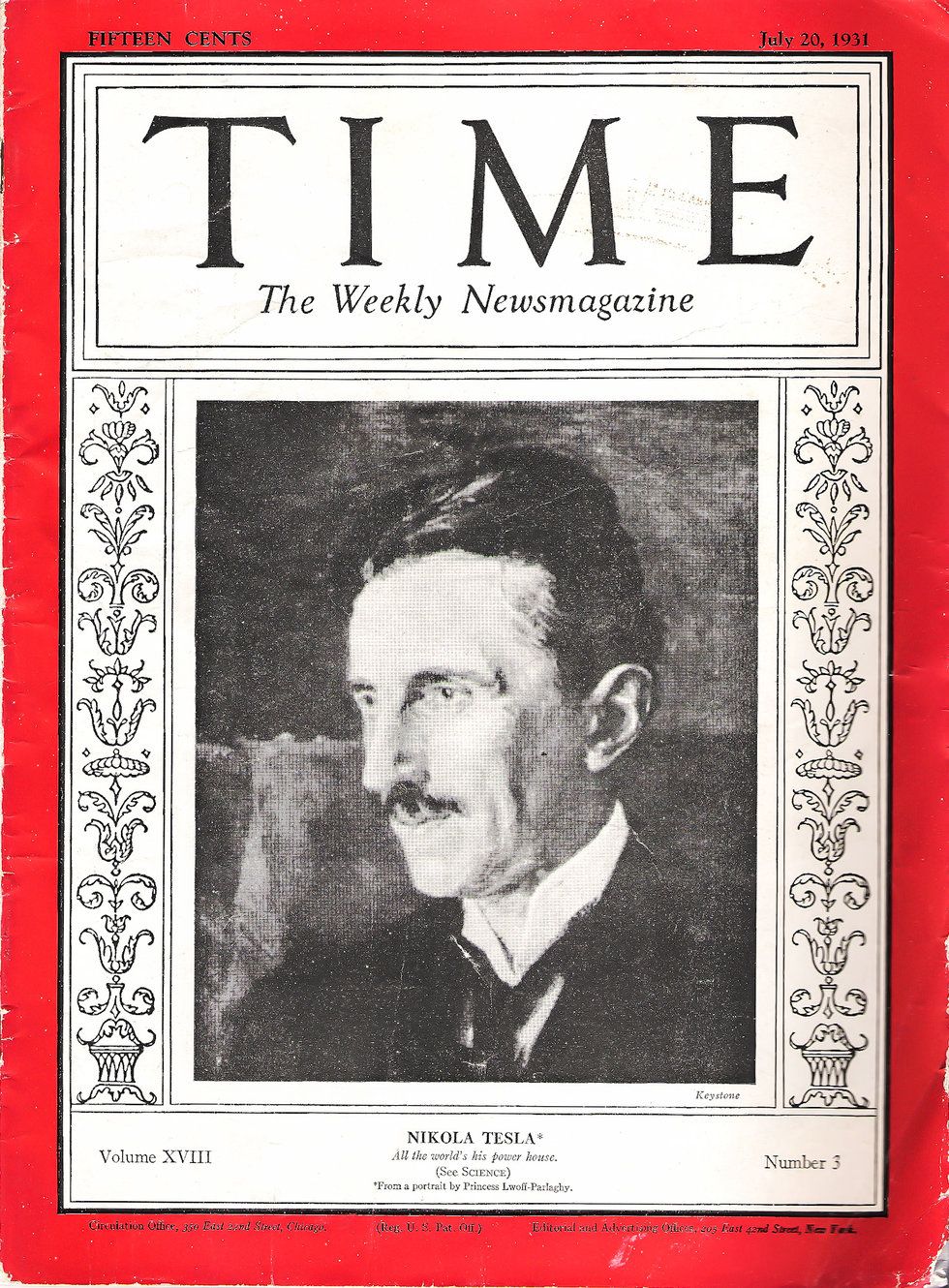 Tesla on the 1931 cover of Time Magazine, at around 75.
Tesla confirmed the fact that he ate meat rarely in a different interview in 1935:
"I myself eschew all stimulants. I also practically abstain from meat. I am convinced that within a century coffee, tea, and tobacco will be no longer in vogue. Alcohol, however, will still be used. It is not a stimulant but a veritable elixir of life."

There you have it. Stay away from acid and keep to a mostly vegetarian diet while potentially boozing it up. Actually, Tesla was known to drink a whiskey every day.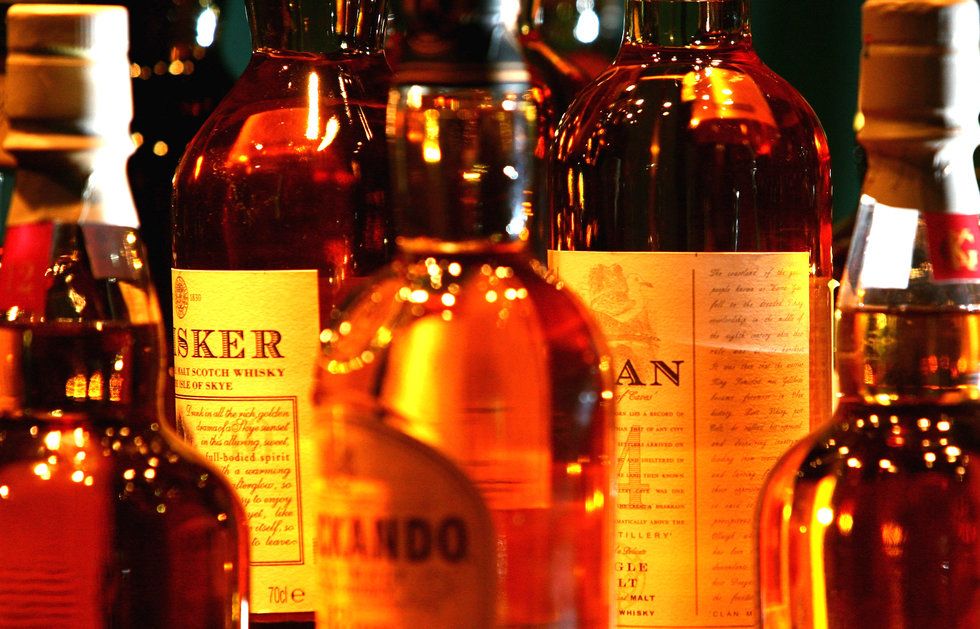 Something else Tesla liked to partake of were potatoes -
"Potatoes are splendid, and should be eaten at least once a day. They contain valuable mineral salts and are neutralizing."

Tesla was also a firm believer in the value of exercise.
"I believe in plenty of exercise. I walk eight or ten miles every day, and never take a cab or other conveyances when I have the time to use leg power. I also exercise in my bath daily, for I think that this is of great importance. I take a warm bath, followed by a prolonged cold shower."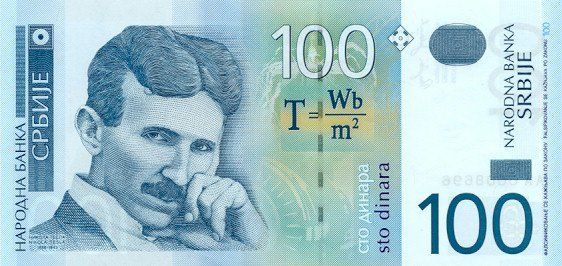 Tesla on the Serbian dinar note
Tesla's strict daily regimen culminated in an attitude towards sleep contrary to the popular assertions of the scientific community and government agencies about the importance of sleeping for eight hours nightly.
"Sleep? I scarcely ever sleep. I come of a long-lived family, but it is noted for its poor sleepers. I expect to match the records of my ancestors and live to be at least 100. My sleeplessness does not worry me. Sometimes I doze for an hour or so. Occasionally, however, once in a few months, I may sleep for four or five hours. Then I awaken virtually charged with energy, like a battery. Nothing can stop me after such a night. I feel great strength then. There is no doubt about it but that sleep is a restorer, a vitalizer, that it increases energy. But on the other hand, I do not think it is essential to one's well being, particularly if one is habitually a poor sleeper."

Clearly, he did not value sleep all that much. If you're curious, he didn't make it to 100, dying during his 86th year.
And if you thought being old was some kind of impediment to Tesla, he also shared how good he felt, being 77:
" I have an excellent certificate of health. I never felt better in my life. I am energetic, strong, in full possession of all my mental facilities. In my prime I did not possess the energy I have today. And what is more, in solving my problems I use but a small part of the energy I possess, for I have learned how to conserve it. Because of my experience and knowledge gained through the years, my tasks are much lighter."

He appreciated being older and wiser and had this fascinating insight about working while older:
"Contrary to general belief, work comes easier for older people if they are in good health, because they have learned through years of practice how to arrive at a given place by the shortest path."

Words to live by if you want to get to a point in your life when you too can publish such articles as that below, written by Tesla for a 1935 issue of Liberty Magazine: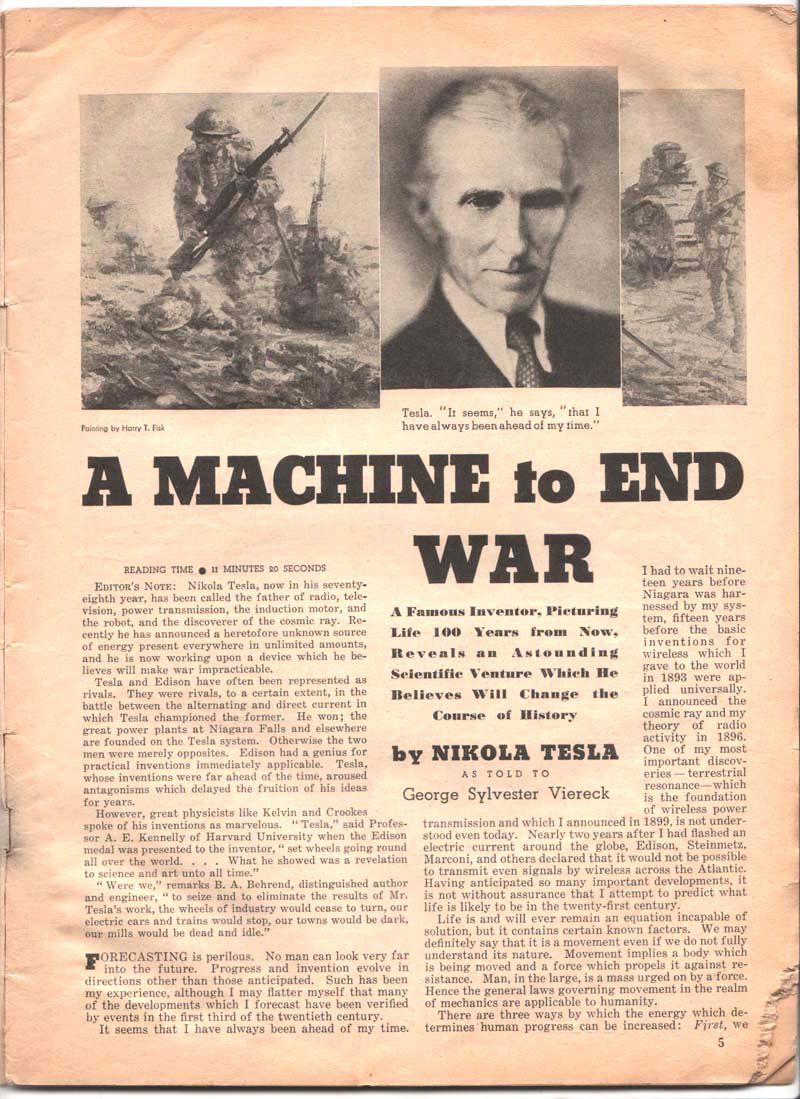 What can 3D printing do for medicine? The "sky is the limit," says Northwell Health researcher Dr. Todd Goldstein.
Northwell Health
Sponsored by Northwell Health
Medical professionals are currently using 3D printers to create prosthetics and patient-specific organ models that doctors can use to prepare for surgery.
Eventually, scientists hope to print patient-specific organs that can be transplanted safely into the human body.
Northwell Health, New York State's largest health care provider, is pioneering 3D printing in medicine in three key ways.
The 'People Map of the United States' zooms in on America's obsession with celebrity
Strange Maps
Replace city names with those of their most famous residents
And you get a peculiar map of America's obsession with celebrity
If you seek fame, become an actor, musician or athlete rather than a politician, entrepreneur or scientist
Chicagoland is Obamaland
Image: The Pudding
Chicagoland's celebrity constellation: dominated by Barack, but with plenty of room for the Belushis, Brandos and Capones of this world.
Seen from among the satellites, this map of the United States is populated by a remarkably diverse bunch of athletes, entertainers, entrepreneurs and other persons of repute (and disrepute).
The multitalented Dwayne Johnson, boxing legend Muhammad Ali and Apple co-founder Steve Jobs dominate the West Coast. Right down the middle, we find actors Chris Pratt and Jason Momoa, singer Elvis Presley and basketball player Shaquille O'Neal. The East Coast crew include wrestler John Cena, whistle-blower Edward Snowden, mass murderer Ted Bundy… and Dwayne Johnson, again.
The Rock pops up in both Hayward, CA and Southwest Ranches, FL, but he's not the only one to appear twice on the map. Wild West legend Wyatt Earp makes an appearance in both Deadwood, SD and Dodge City, KS.
How is that? This 'People's Map of the United States' replaces the names of cities with those of "their most Wikipedia'ed resident: people born in, lived in, or connected to a place."
'Cincinnati, Birthplace of Charles Manson'
Image: The Pudding
Keys to the city, or lock 'em up and throw away the key? A city's most famous sons and daughters of a city aren't always the most favoured ones.
That definition allows people to appear in more than one locality. Dwayne Johnson was born in Hayward, has one of his houses in Southwest Ranches, and is famous enough to be the 'most Wikipedia'ed resident' for both localities.
Wyatt Earp was born in Monmouth, IL, but his reputation is closely associated with both Deadwood and Dodge City – although he's most famous for the Gunfight at the O.K. Corral, which took place in Tombstone, AZ. And yes, if you zoom in on that town in southern Arizona, there's Mr Earp again.
The data for this map was collected via the Wikipedia API (application programming interface) from the English-language Wikipedia for the period from July 2015 to May 2019.
The thousands of 'Notable People' sections in Wikipedia entries for cities and other places in the U.S. were scrubbed for the person with the most pageviews. No distinction was made between places of birth, residence or death. As the developers note, "people can 'be from' multiple places".
Pageviews are an impartial indicator of interest – it doesn't matter whether your claim to fame is horrific or honorific. As a result, this map provides a non-judgmental overview of America's obsession with celebrity.

Royals and (other) mortals
Image: The Pudding
There's also a UK version of the People Map – filled with last names like Neeson, Sheeran, Darwin and Churchill – and a few first names of monarchs.
Celebrity, it is often argued, is our age's version of the Greek pantheon, populated by dozens of major gods and thousands of minor ones, each an example of behaviours to emulate or avoid. This constellation of stars, famous and infamous, is more than a map of names. It's a window into America's soul.
But don't let that put you off. Zooming in on the map is entertaining enough: celebrities floating around in the ether are suddenly tied down to a pedestrian level, and to real geography. And it's fun to see the famous and the infamous rub shoulders, as it were.

Barack Obama owns Chicago, but the suburbs to the west of the city are dotted with a panoply of personalities, ranging from the criminal (Al Capone, Cicero) and the musical (John Prine, Maywood) to figures literary (Jonathan Franzen, Western Springs) and painterly (Ivan Albright, Warrenville), actorial (Harrison Ford, Park Ridge) and political (Eugene V. Debs, Elmhurst).
Freaks and angels
Image: Dorothy
The People Map of the U.S. was inspired by the U.S.A. Song Map, substituting song titles for place names.
It would be interesting to compare 'the most Wikipedia'ed' sons and daughters of America's cities with the ones advertised at the city limits. When you're entering Aberdeen, WA, a sign invites you to 'come as you are', in homage to its most famous son, Kurt Cobain. It's a safe bet that Indian Hill, OH will make sure you know Neil Armstrong, first man on the moon, was one of theirs. But it's highly unlikely that Cincinnati, a bit further south, will make any noise about Charles Manson, local boy done bad.
Inevitably, the map also reveals some bitterly ironic neighbours, such as Ishi, the last of the Yahi tribe, captured near Oroville, CA. He died in 1916 as "the last wild Indian in North America". The most 'pageviewed' resident of nearby Colusa, CA is Byron de la Beckwith, Jr., the white supremacist convicted for the murder of Civil Rights activist Medgar Evers.
As a sampling of America's interests, this map teaches that those aiming for fame would do better to become actors, musicians or athletes rather than politicians, entrepreneurs or scientists. But also that celebrity is not limited to the big city lights of LA or New York. Even in deepest Dakota or flattest Kansas, the footlights of fame will find you. Whether that's good or bad? The pageviews don't judge...
Average waiting time for hitchhikers in Ireland: Less than 30 minutes. In southern Spain: More than 90 minutes.
Image: Abel Suyok
Strange Maps
A popular means of transportation from the 1920s to the 1980s, hitchhiking has since fallen in disrepute.
However, as this map shows, thumbing a ride still occupies a thriving niche – if at great geographic variance.
In some countries and areas, you'll be off the street in no time. In other places, it's much harder to thumb your way from A to B.
Technology may soon grant us immortality, in a sense. Here's how.
Videos
Through the Connectome Project we may soon be able to map the pathways of the entire human brain, including memories, and create computer programs that evoke the person the digitization is stemmed from.
We age because errors build up in our cells — mitochondria to be exact.
With CRISPR technology we may soon be able to edit out errors that build up as we age, and extend the human lifespan.
Big think's weekly newsletter.
Get smarter faster from the comfort of your inbox.
See our newsletter privacy policy
here
Most Popular
Most Recent
Big think's weekly newsletter.
Get smarter faster from the comfort of your inbox.
See our newsletter privacy policy
here
© Copyright 2007-2019 & BIG THINK, BIG THINK EDGE,
SMARTER FASTER trademarks owned by The Big Think, Inc. All rights reserved.