Why "social jet lag" may cause worse grades and poor work performance
A study finds the link between biological clocks and poor performance at school and work.
31 March, 2018
If you always felt that the world's against you with its unreasonably early start times, there's a new study that says just that. Researchers found that the biological clocks of students are often at odds with class schedules, resulting in worse academic performance. 
---
By tracking two years worth of daily online activity for around 15,000 college students from Northeastern Illinois University, who made 3.4 million logins into college servers, the scientists were able to sort students into "night owls," "daytimes finches," and "morning larks." These groupings were based on the activities of the students on their days off from school. Having established such divisions, the researchers correlated the times their classes started with the grades they received. 
What the study revealed is that whenever the circadian rhythms of the students were out of alignment with the start times of their classes, they got worse grades. An example of this would be night owls taking classes in the morning. The condition that precipitates this outcome is "social jet lag" (SJL) which occurs when the times of peak alertness do not match the demands of school, everyday life or work. 
The study was co-authored by Benjamin L. Smarr, a postdoctoral student from UC Berkeley, and Aaron Schirmer, an associate professor of biology at Northeastern Illinois University. 
"We found that the majority of students were being jet-lagged by their class times, which correlated very strongly with decreased academic performance," said Smarr.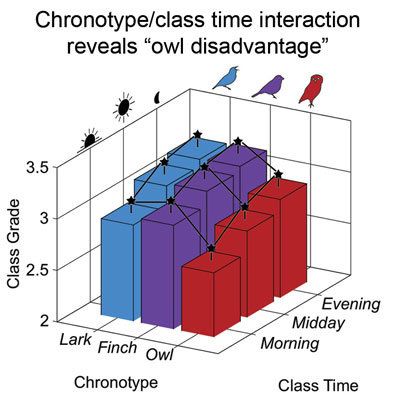 The chart shows that owls have a grade disadvantage at different times of the day. Credit: Benjamin Smarr.
Night owls were found to be at a particular disadvantage due to the early class times. And what's more - the owls seem to be chronically jet-lagged and unable to do their best at any point of the day. Larks and finches also had their issues, not doing as well in classes that start later.
On the other hand, if there's a choice in the matter, a student may use this knowledge to devise a schedule that works best for them. Those who were more in sync with their class times had higher GPAs.
"Our research indicates that if a student can structure a consistent schedule in which class days resemble non-class days, they are more likely to achieve academic success," explained professor Schirmer.
Another way to look at the study is to conclude that there is no solution that would work for every person as people have different biological clocks. As such, the report urges educators to take this issue into account when creating class schedules.  
And in a statement that can surely go up on the wall of many a student trying not to go to bed when their parents tell them, Starr said that "rather than admonish late students to go to bed earlier, in conflict with their biological rhythms, we should work to individualize education so that learning and classes are structured to take advantage of knowing what time of day a given student will be most capable of learning."
You can read the new study in Scientific Reports.
As religious diversity increases in the United States, we must learn to channel religious identity into interfaith cooperation.
Sponsored by Charles Koch Foundation
Religious diversity is the norm in American life, and that diversity is only increasing, says Eboo Patel.
Using the most painful moment of his life as a lesson, Eboo Patel explains why it's crucial to be positive and proactive about engaging religious identity towards interfaith cooperation.
The opinions expressed in this video do not necessarily reflect the views of the Charles Koch Foundation, which encourages the expression of diverse viewpoints within a culture of civil discourse and mutual respect.
Ask very silly questions to spur very serious innovation.
Videos
To get really innovative solutions to complex problems, you need to abandon logic, says Dan Seewald.
Asking provocative and ridiculous 'what if?' questions pushes us down lateral paths of thinking versus the vertical or logical path. The latter approach is practical but it doesn't break new ground.
Breaking with tradition through lateral thinking allows us to solve really serious problems, from climate change to political turmoil. Or, as Dan Seewald explains, it could just help you solve all your laundry headaches.
If you don't want to know anything about your death, consider this your spoiler warning.
Culture & Religion
For centuries cultures have personified death to give this terrifying mystery a familiar face.
Modern science has demystified death by divulging its biological processes, yet many questions remain.
Studying death is not meant to be a morbid reminder of a cruel fate, but a way to improve the lives of the living.
When it comes to sniffing out whether a source is credible or not, even journalists can sometimes take the wrong approach.
Sponsored by Charles Koch Foundation
We all think that we're competent consumers of news media, but the research shows that even journalists struggle with identifying fact from fiction.
When judging whether a piece of media is true or not, most of us focus too much on the source itself. Knowledge has a context, and it's important to look at that context when trying to validate a source.
The opinions expressed in this video do not necessarily reflect the views of the Charles Koch Foundation, which encourages the expression of diverse viewpoints within a culture of civil discourse and mutual respect.