Why "social jet lag" may cause worse grades and poor work performance
A study finds the link between biological clocks and poor performance at school and work.
31 March, 2018
If you always felt that the world's against you with its unreasonably early start times, there's a new study that says just that. Researchers found that the biological clocks of students are often at odds with class schedules, resulting in worse academic performance. 
---
By tracking two years worth of daily online activity for around 15,000 college students from Northeastern Illinois University, who made 3.4 million logins into college servers, the scientists were able to sort students into "night owls," "daytimes finches," and "morning larks." These groupings were based on the activities of the students on their days off from school. Having established such divisions, the researchers correlated the times their classes started with the grades they received. 
What the study revealed is that whenever the circadian rhythms of the students were out of alignment with the start times of their classes, they got worse grades. An example of this would be night owls taking classes in the morning. The condition that precipitates this outcome is "social jet lag" (SJL) which occurs when the times of peak alertness do not match the demands of school, everyday life or work. 
The study was co-authored by Benjamin L. Smarr, a postdoctoral student from UC Berkeley, and Aaron Schirmer, an associate professor of biology at Northeastern Illinois University. 
"We found that the majority of students were being jet-lagged by their class times, which correlated very strongly with decreased academic performance," said Smarr.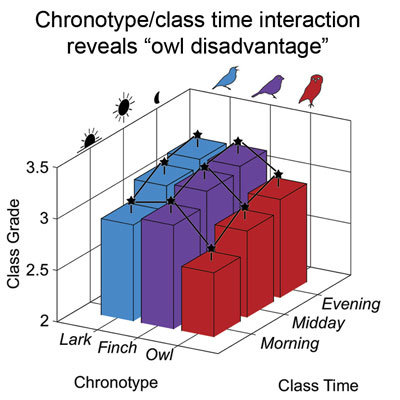 The chart shows that owls have a grade disadvantage at different times of the day. Credit: Benjamin Smarr.
Night owls were found to be at a particular disadvantage due to the early class times. And what's more - the owls seem to be chronically jet-lagged and unable to do their best at any point of the day. Larks and finches also had their issues, not doing as well in classes that start later.
On the other hand, if there's a choice in the matter, a student may use this knowledge to devise a schedule that works best for them. Those who were more in sync with their class times had higher GPAs.
"Our research indicates that if a student can structure a consistent schedule in which class days resemble non-class days, they are more likely to achieve academic success," explained professor Schirmer.
Another way to look at the study is to conclude that there is no solution that would work for every person as people have different biological clocks. As such, the report urges educators to take this issue into account when creating class schedules.  
And in a statement that can surely go up on the wall of many a student trying not to go to bed when their parents tell them, Starr said that "rather than admonish late students to go to bed earlier, in conflict with their biological rhythms, we should work to individualize education so that learning and classes are structured to take advantage of knowing what time of day a given student will be most capable of learning."
You can read the new study in Scientific Reports.
New research links urban planning and political polarization.
Pixabay
Politics & Current Affairs
Canadian researchers find that excessive reliance on cars changes political views.
Decades of car-centric urban planning normalized unsustainable lifestyles.
People who prefer personal comfort elect politicians who represent such views.
Progressive America would be half as big, but twice as populated as its conservative twin.
Image: Dicken Schrader
Strange Maps
America's two political tribes have consolidated into 'red' and 'blue' nations, with seemingly irreconcilable differences.
Perhaps the best way to stop the infighting is to go for a divorce and give the two nations a country each
Based on the UN's partition plan for Israel/Palestine, this proposal provides territorial contiguity and sea access to both 'red' and 'blue' America
Science and the squishiness of the human mind. The joys of wearing whatever the hell you want, and so much more.
Flickr / 13winds
Think Again Podcasts
Why can't we have a human-sized cat tree?
What would happen if you got a spoonful of a neutron star?
Why do we insist on dividing our wonderfully complex selves into boring little boxes
Big think's weekly newsletter.
Get smarter faster from the comfort of your inbox.
See our newsletter privacy policy
here
Most Popular
Most Recent
Big think's weekly newsletter.
Get smarter faster from the comfort of your inbox.
See our newsletter privacy policy
here
© Copyright 2007-2018 & BIG THINK, BIG THINK EDGE,
SMARTER FASTER trademarks owned by The Big Think, Inc. All rights reserved.